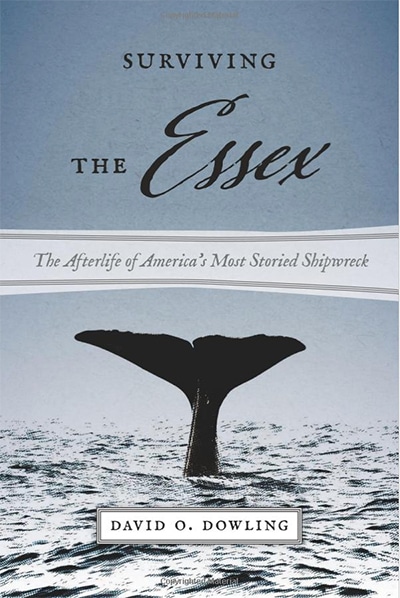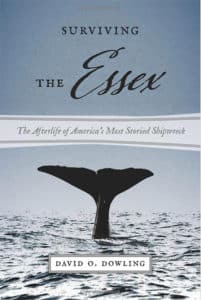 Author David O. Dowling will present his latest book Surviving the Essex: The Afterlife of America's Most Storied Shipwreck on Monday, June 20 at 6 pm in the Whaling Museum, 13 Broad Street.
In this book, Dowling explores the survivors' accounts of the ill-fated voyage of the whaleship Essex and the role one's viewpoint plays in shaping memories of an event. He delves into the impact the story had on Herman Melville when he penned Moby-Dick. This is his second book on a Melvillerelated topic.
"The NHA is thrilled to welcome David Dowling to the Whaling Museum for this evening lecture and book signing," says Brianne Roth, NHA Public Programs Coordinator. "Dowling's research into the survivors' accounts of the Essex is a nice complement to our 'Stove by a Whale' exhibition and our continued Essex-themed programming."
David O. Dowling is the author of six books and more than thirty articles and essays on the topics of authorship, media, and the publishing industry. His current book project is under contract with Yale, and recent articles on Ralph Waldo Emerson, Horace Greeley, and Karl Marx have appeared in Litteraria Pragensia and Sur Le Journalisme. Dowling's research on the careers of 19th century American writers and journalists has appeared in a variety of academic journals.
Dowling is Associate Professor and Director of Undergraduate Studies in the School of Journalism and Mass Communication at the University of Iowa. He grew up near the Pacific Ocean in Marin County north of San Francisco and worked at Point Reyes National Seashore.
Tickets for this special lecture are $10 per person and free for NHA members. Advance registration is recommended at nha.org/tickets. Doors open at 5:30 pm, with the lecture beginning promptly at 6 pm. A book signing will follow the presentation.