by Sanibel Chai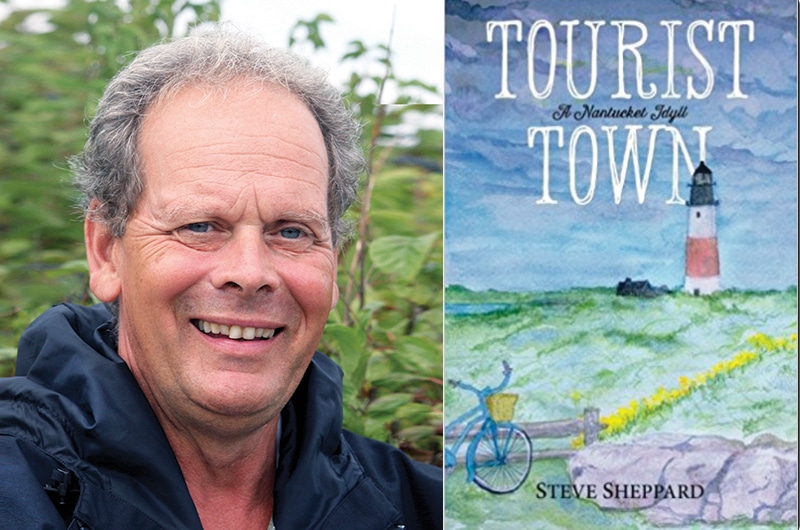 Steve Sheppard was attending a book club meeting on the south shore of Massachusetts when he realized one of the characters had an uncanny resemblance to someone he knew: himself. The Marshfield book club was discussing Sheppard's first novel Tourist Town and asked him pointedly if the character Addie was designed in his own image. Sheppard balked at first, denying that Addie was a reflection of himself. Then Sheppard realized that he had written himself into the character inadvertently.
How peculiar it must feel to have a book group point out that you feature in your text. Steve Sheppard expressed amusement and appreciation at the identification of his persona in his fiction. The book group members are such fans of Sheppard's novel that they are helping to craft discussion questions for other book groups. The book group also offered input on Sheppard's next novel, a follow-up to Tourist Town, also set in Nantucket. At present, Steve Sheppard is juggling a number of fiction projects but his journey to his role as novelist has been as winding as a Nantucket tour bus route.
Sheppard grew up in Brockton, MA where his love of literature first burgeoned. Sheppard's father was a writer whose work was published in magazines.
While attending Bridgewater State College (now Bridgewater State University), Sheppard met his wife Karin. Sheppard said there was no question about what he was interested in, and he majored in English without any hesitation. Karin first brought Sheppard to her hometown of Nantucket in 1979. Sheppard witnessed a bit of Nantucket history on his first visit to the island. He, Karin, and friends planned to spend the evening at the Preston Airport Lounge, but that very night it burned down. An enduring backup plan, they went to the Chicken Box instead. Following a stint in the mailroom at IBM, Sheppard moved with Karin to Nantucket in 1980. Karin is an accomplished weaver, having fallen in love with the craft as a young girl, and was able to secure a position as a weaver for Sheppard. Sheppard took up his post at Nantucket Looms and became proficient himself. When asked if he has practiced weaving much lately, Sheppard takes a moment to think before mentioning that he helped Karin a few years ago and, "like riding a bike," weaving came back to him with ease. Sheppard says that he and Karin had intended to stay in Nantucket for one year only, but ended up making the island their permanent home. Apart from one year Sheppard spent at The Patriot Ledger in Quincy, MA he has lived on Nantucket uninterrupted.

After a year spent weaving at Nantucket Looms, Sheppard began work as a reporter at The Inquirer and Mirror. He recalls that his first story ever was "Eating with Teachers," an article about a back-to-school breakfast for teachers. Sheppard is now a teacher at the elementary school, teaching music to students in grades three, four, and five. Music figures prominently in Sheppard's life and he can play the guitar, piano, and drums. Sheppard's band The Shepcats is well-known on the island for their bluegrass sound. Their regular gig at the Nantucket Yacht Club is not open to the public but you can enjoy their music during off-season concerts they sometimes play in the Nantucket Atheneum. Two years ago the Shepcats played a program of the Everly Brothers and last January they played a program of Bob Dylan. This upcoming winter they hope to play a program of John Prine.
It was in Nantucket Magazine that Sheppard's first piece of fiction, a short story, was published. Sheppard served as editor for that now defunct publication from 1998-2005. The periodical celebrated the culture, history, photography, and what was special about the island, Sheppard says.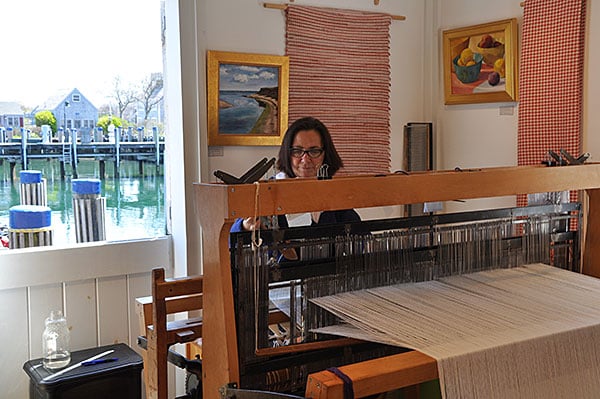 He learned a lot during his years working in journalism, and Sheppard shared what he described as the tenets of journalism. "You have to know your subject or, if you don't, you have to learn it and then put it in language that anybody would understand," Sheppard explains. He uses sports as an example of "translation" that requires deftness. Even if someone is unfamiliar with the rules of baseball or football, they should be able to enjoy an article about the sport nonetheless so long as it is written by a skilled journalist. In Sheppard's novel Tourist Town, the character Addie is a tour bus driver and guide. Sheppard himself played this exact role in the late eighties and early nineties in Nantucket. His real life experiences informed many of the features of Addie's career. Just as the characters in the book do, Sheppard and his fellow tour guides used to race around the island on the five o'clock tour to see who could arrive back at base first. Sheppard speaks fondly of his time as a tour guide but remembers a decidedly unpleasant obstacle. The state inspector arrived for Sheppard's test on the 11 am ferry during Fourth of July weekend. Amidst some of the largest crowds of the summer, Sheppard had to navigate a bus to various destinations under the inspector's guidance. This sort of story is ripe for fiction.
The initial writing blast, as Sheppard refers to it, of Tourist Town took roughly six months. Two additional years were required to re-write, tinker, and incorporate suggestions and feedback into the story.
Sheppard has received overwhelmingly positive feedback since the publication of Tourist Town. His readers have been asking when his next book is coming out and I am pleased to report that he is working on two novels and a children's book. One novel is the follow-up to Tourist Town and the second work in progress is a novel called Macaroni Man that has been gestating for years. Set in Sheppard's hometown of Brockton, MA, Macaroni Man concerns the closure of a plant that makes macaroni and cheese for Howard Johnson's. Sheppard offered a few details about the story: the shutdown of the plant affects the jobs of Brockton's population and everyone reacts in different ways.
One character takes up a new career as an undertaker and another begins building a bomb shelter. Sheppard is more tight-lipped about his children's book, but did reveal that it concerns the natural history of Nantucket. When asked whether he believed Nantucket catered to a writer's life, Sheppard was quick to affirm. He cites the supportive writer's community in Nantucket and the "constant inspiration you get from the island" as the main elements that make it conducive to writing. Sheppard continues, explaining that the Nantucket Book Festival does so well because "there's no pretense. It's not like a manufactured festival. It's really of the fabric of the island." Sheppard's fiction tends to pull from his own life and is the stronger for it. His dual career as teaching musician-writer will provide him with ample content the fiction his loyal fan base is insisting upon.
For a glimpse of the island through Sheppard's observant eyes, pick up a copy of Tourist Town at Mitchell's Book Corner or at Nantucket Bookworks.