by Dr. Sarah Treanor Bois
Director of Research & Education at the Linda Loring Nature Foundation
After a winter that seemed excessively long (in fact, it seems to have lasted a year) many of us are ready to get out into spring 2021. We have explored every inch we could of our island over the 12 months, and we may be ready for some new adventures.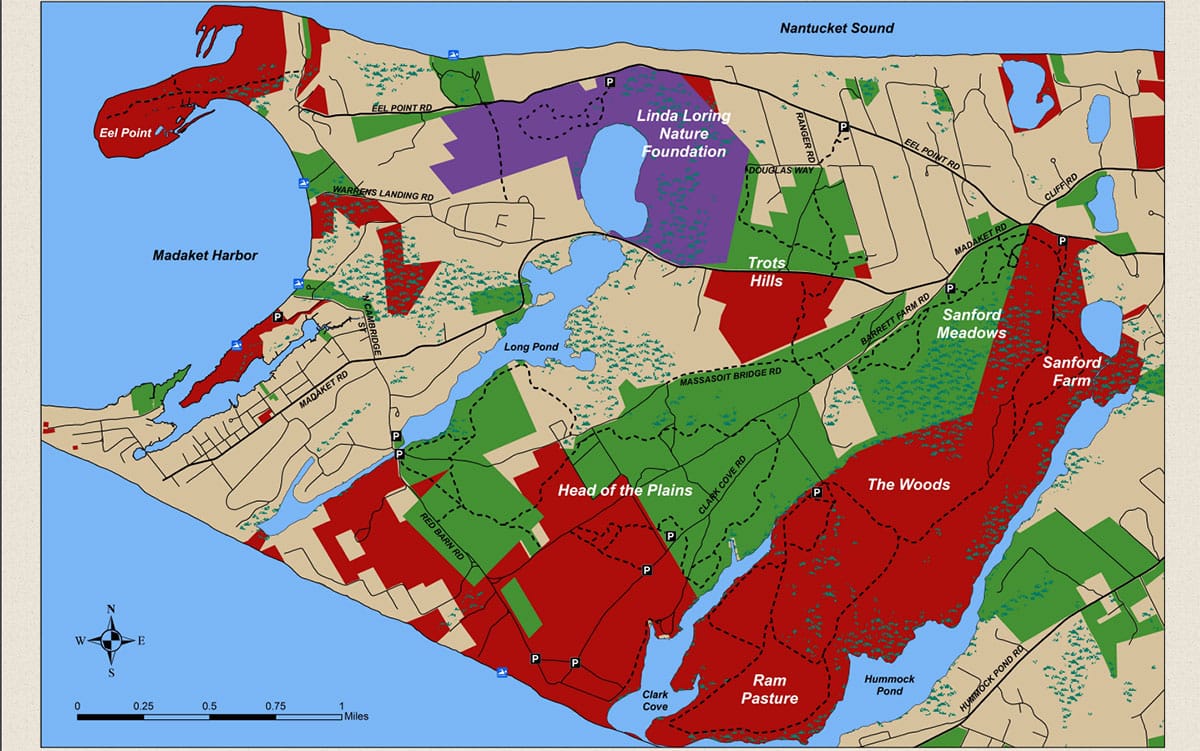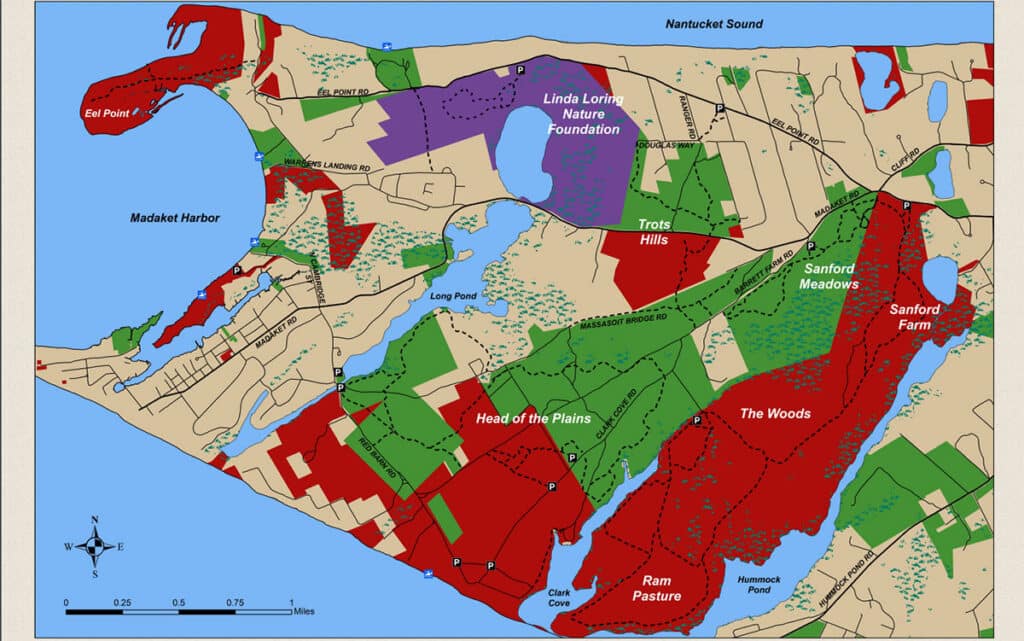 Well, there is no need to leave the island just yet. A recent collaboration spearheaded by the Nantucket Land Bank has led to a brand new trails map connecting the properties of three island organizations. The West End Trail Map highlights properties from the Nantucket Land Bank, the Nantucket Conservation Foundation, and the Linda Loring Nature Foundation.
This new map highlights well-known properties such as Sanford Farm and also explores lesser-known additions such as Trott's Hills and Sanford Meadows. The properties of this western end create a mosaic of conservation ownership. However, as the crow flies, the adjoining acreage provides significant area for wildlife and outdoor enthusiasts. This area of the island now contains one of the largest, contiguous blocks of protected conservation land, second only to the Middle Moors.
Sanford Farm, owned by the Nantucket Conservation Foundation (NCF), marks the easternmost property on the map. Already one of the most popular properties on the island, Sanford Farm connects to Sanford Meadows, immediately to the west and owned by the Nantucket Land Bank. Both properties are part of the agricultural history of Nantucket and were once a dairy farm. The long history of grazing by sheep and cows removed much of the tall, woody vegetation. As a result, the area is now comprised of rolling sandplain grassland full of sedges, grasses, wildflowers, and a plethora of other herbaceous species.
Remnants of the agrarian past also include an old dairy farm, hunting preserve, and a woodland known as the "Long Woods" that was referenced in documents and land agreements dating back centuries to the first few years of English settlement on the island.
South of Sanford Meadows, multiple trails connect to Head of the Plains (HOP), an area owned by both NCF and the Nantucket Land Bank (NLB). HOP is a vast region of conservation land, with more than 1,000 acres to explore. The sandplain grassland and heathland habitats support a colorful array of wildflowers that bloom throughout the season, leading to a diverse assembly of insect pollinators. This area was part of the "common land" that was set aside by Nantucket's colonial shareholders for grazing sheep and cows and for farming.
Some of the trails from Sanford Meadows cross over into an area off of Madaket Road known as Trott's Hills. Trott's Hills is another area owned in parts by NCF and NLB. The rolling hills of these properties are remnants of Nantucket's glacial history. According to the map, "The weathered hills that are now found here are the remains of sand, gravel, and cobble that was transported with the ice and deposited as the glacier began to melt and retreat to the north."
To the west of Trott's Hills, the Linda Loring Nature Foundation's 275 acres surrounds the north head of Long Pond. Comprised of sandplain grasslands, heathlands, coastal shrublands, and a diversity of wetlands, the LLNF property is maintained as a wildlife preserve with no hunting or dogs allowed. The trails meander through the property, offering views of Nantucket Sound as well as Long Pond and to Madaket Harbor on clear days.
Long Pond itself has an interesting history. It was created by glacial outwash running primarily north-south like many of Nantucket's great ponds. Long Pond is now tidally influenced due to the "Madaket Ditch" which connects Long Pond out to Hither Creek and Madaket harbor. These waterways were fruitful fishing grounds and home to a historic fishing weir used by the Wampanoag and the earliest English settlers of the island, who dug the original ditch in the 1600s.
Moving even further west we come to Eel Point, a productive barrier beach habitat and adjacent harbor-facing saltmarsh that is popular with fisherman and birders. Eel Point is home to a healthy and vibrant population of shorebirds (Piping Plover, Least Tern, American Oystercatcher) and marsh-dwelling birds (Saltmarsh Sparrows). This dynamic property is shaped by westerly currents and storms accreting sand on the north side of the island.
Much of this area on the West End Trail Map is made up of early successional habitats, primarily the globally rare sandplain grasslands and coastal heathlands. As such, these habitats require regular disturbance to be maintained. As you walk through these various properties, you may see evidence of mowed habitats, cut trees and shrubs, and other disturbances, possibly including prescribed fires. These methods are used by various on-island organizations to manage the habitats. Management has also been conducted for fire prevention such as seen at Trott's Hills adjacent to the Madaket Landfill.
The West End Trail Map highlights multiple parking lots where the properties and trails can be accessed. If you've been to some of these properties before, this map may help you can locate a new entrance or trail connection, bringing a new perspective to a familiar spot. The trails of Trott's Hills, for example, have been a brand new experience for me this past fall and early winter.
Explore a new trail one day at a time. Or you join in the next cross-island hike organized by the Nantucket Land Bank (slated for October 2021).
Hardcopies of this new map are available at any of the participating organizations: the Linda Loring Nature Foundation at 110 Eel Point Road, the Nantucket Land Bank downtown at 22 Broad Street, or the Nantucket Conservation Foundation at 118 Cliff Road. And a PDF of The West End Trail Map can be downloaded from llnf.org/s/West-End-Pamphlet-Final-011921.pdf