by Jack Fritsch
"Neil Cocker will bring us the freshest scallops in Nantucket, even if he's the one who ends up getting frozen." It is a pretty wild poster hanging in Stubby's, an image once seen all around D.C., but did you ever wonder about the guy dripping icicles from his oilskins? Just who is that Neil Cocker? Well, you'll be happy to learn that despite that photo, Neil isn't frozen solid inside an iceberg like a wooly mammoth by now, but is well thawed, still fishing, and happy as a clam here on Nantucket.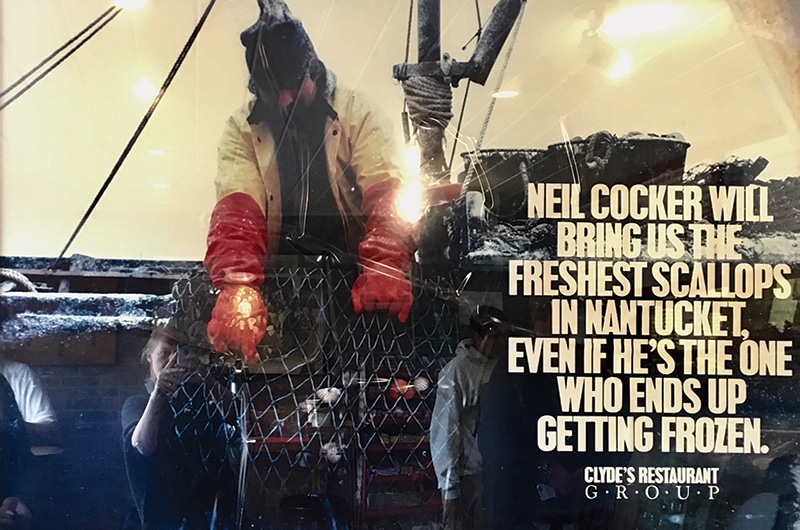 Neil followed a friend to Nantucket Island one summer while he was a student at Franklin Pierce College. He figured he would have some fun in the sun while doing a little landscaping, maybe a little house painting. He was lucky to get a job at the Relaxed Lobster, as The Skipper was called during a brief interlude at its mooring at the foot of Steamship Wharf. The Skipper is reverently remembered as the most iconic of Nantucket restaurants from the past: an old schooner permanently tied to the wharf bulkhead in the Easy Street basin, almost dry-docked on the bottom. Guests crossed over a gangway to board the schooner and enjoy lobster, chowder, and all the new England classics while the floating dining room gently rocked with the waves. Neil remembers looking out the galley window one day…seeing a little kid, probably only 10 years old, sailing by in a catboat by himself, he thought "Wow, Nantucket is quite a place; even little kids sail around all by themselves!"
Neil learned how to cook from Bill Seretta, as did nearly everyone out here in those days, and he returned every summer to work aboard the Relaxed Lobster, eventually becoming head chef. When Henry Fee (of Henry's and Something Natural fame) bought the schooner and changed it back to The Skipper, Neil decided to stay on through the winter. With the restaurant closed during the offseason, he signed on with commercial fisherman Charlie Sayle and headed off-shore for a few trips on the Sankaty dredging sea scallops. He was a deckhand, but also the cook: he remembers the captain being a bit fussy about how he liked his breakfast cooked… the first meal Neil cooked for him was flipped overboard, plate and all.
Neil worked at The Skipper for ten years. He helped open the Rose & Crown, and designed their pub-style menu (new for the island at the time). He remembers that they advertised half price off the entire menu for their opening day, and the line of people awaiting entrance went all the way down South Water Street past the Dreamland Theatre. He helped open the Lobster Trap and introduced their first expediting system to allow much higher volume. He became the manager at The Tavern and oversaw that business build to over 1000 meals served per day. He is still proud that they made their own chowder from scratch…120 gallons at a pop! His sous chef from back then is still working at the Tavern today, as the head chef. Neil also encouraged his friend Susan Warner when she started her Nantucket Clambake Company.
Nowadays Neil is the face of commercial fishing on Nantucket. As we sat on my shop's back porch on Whaler's Lane recently, people walking by shouted out to Neil: "How's the scallop season looking? Have you checked out the clams up harbor lately? Any market for eels these days? The Blue Claws are at a ten year high – you been gettin' any?" This reminds me to ask how he moved away from cooking and into fishing. I knew he went scalloping every winter, like every single man, woman, and yellow dog on island during the 70s and 80s. How did he end up going so far beyond that?
Staying year-round, Neil continued to fish every winter. There was good money in sea scallops, but the trips were too few and far between. The 1970s were boom times here for bay scallops, so he turned his attention inshore. He bought his first boat, a 16-foot plywood skiff from Brant Point Marine, and learned how to dredge for bay scallops. Thinking back on these times with his friends, he laughed: "None of us knew what we were doing when we started. I used to grab the dredge with a meat hook to fling it onto the culling board, then climb up on top of the board myself to hold up the dredge and empty it out." When he brought his catch into Shirley and Joe Cabral's shanty, she recognized him as "that guy that stands on top of his culling board!" Shirley wouldn't let him hire a shucker, instead making him shuck every single one of the scallops he caught because she wanted him to learn every part of the business inside and out. Neil remains grateful and fond of the memory: "The Cabrals really taught me how to scallop."
I tried to draw out a few war stories about scalloping back then, but Neil just shrugged and said there wasn't much to tell. "We worked really hard, caught a lot of scallops. Never sank, never got stuck in the ice…we just scalloped." Of course there was a lot more to it, and Neil painstakingly learned the bottom of the harbor. The secret to scalloping, as in all fishing, is to know the bottom. Neil learned well, and eventually he was able to successfully fish both ends of the island, from Madaket to Pocomo. The next time you tuck into a dish of Nantucket's finest, give a thought to the years of hard work that goes into harvesting those shellfish.
Neil loved working on the water, and he kept itching to head offshore. His opportunity came when a friend invited him to help sail the 65-foot wooden sloop Good News from Buzzards Bay to Antigua. Although they were keeping a close watch on the weather, a tropical depression took a sharp turn to the west and caught them off the Outer Banks, blowing 80 knots with 25- foot seas. They kept reefing…even a storm try-sail was too much to carry. They pretty much had to strip everything down to the deck, and crabbed along by continually falling off to the lee, sliding down the sides of the waves. Neil remembers looking aft at the wall of white water tumbling down towards the taff rail, but the sloop always managed to keep on top. They limped into Bermuda under just a storm jib, and Neil decided that was enough of offshore.
Back on Nantucket Neil decided to get really serious about the inshore fisheries. In addition to dredging bay scallops, he also started raking quahogs, commercial fishing striped bass, and even gathering mussels. New England had always been steamer country—mussels were just starting to catch on here. Neil started the Nantucket Blue Mussel Company and sold the shellfish wholesale to adventurous restaurants here and on the Cape. He said a lot of kitchens were still leery of them, but one chef in Hyannis (a young Emeril Lagasse just starting his career) was particularly excited about them… "I know what to do with those!" Unfortunately blue mussels seem to run on an eight- to ten-year cycle of boom and bust in population; the mussel beds disappeared and the business folded. I still wish I had one of those cool looking Nantucket Blue Mussel Company T-shirts from back then.
Neil remains optimistic about the future of Nantucket bay scallops. We hear a lot about the effects of run-off and algae blooms and the eel grass disappearing. Healthy eel grass beds are essential for scallop spat to survive. If the eel grass comes back, the scallop population will come back strong. He especially thinks that Town Shellfish Biologist Tara Riley is doing a great job. Propagation efforts could well prove to be the salvation of the fishery, not by providing next year's crop for the dredging, but by providing enough individuals to facilitate the re-establishment of a larger natural breeding population here.
Neil wholeheartedly loves being on the water. It remains his favorite aspect of life on Nantucket (as for the flipside–what he dislikes about the island –that's the intense competitiveness here, getting in the way of community). After fishing, his next paramour is sailing. He loved sailing when he was growing up along the New Jersey coast, and he later did a little Laser Class racing over on the Cape. When the fledgling Nantucket Community Sailing program was proposed, he quickly volunteered to help. All these years later he is still eager to help wherever he can: launching and hauling boats, fixing gear, making his famous Sea Scallop Soup for the fundraisers. As he looks out at the Optis and Sailcubes racing their courses in the harbor, Neil remembers that day back at The Skipper watching the little kid sailing his catboat… Nantucket is still quite the place!
So what is the story behind that poster of Neil on his scallop boat? The Clyde Restaurant Group is one of the largest in the country, now operating 14 establishments in the Washington D.C. area, more in Maryland and Virginia. They are known for their strict use of only the freshest ingredients. When they decided they wanted to feature Nantucket Bay Scallops on their menu, they came to Neil for a photograph for their poster. It was not an easy prospect: they needed rough, rugged weather for the drama, but had to remain inshore and protected for all their cameras and gear. The weather did not cooperate at all… it was too nice. Neil still laughs about the day: "We were pulled up in the shallow sand in the lee of Esther's Island. It was pretty warm and mild, so the crew had to make the weather. There was one guy kneeling off to the side below me, throwing buckets of water in my face to make it look good!" The resulting advertisement ran in huge backlit posters in subway stations all around the D.C. Metro area. Neil Cocker is the face of Nantucket fisheries indeed.