by Jack Fritsch
When you hear mention of Nantucket, you think of our amazing history, unique town, unspoiled beaches and island landscapes, and of course Nantucket Lightship Baskets. And when you think about Nantucket Baskets, you quickly think of Nap Plank… or you should… he is one of our finest masters of this historic craft. I met with him recently at The Corner Table for a great conversation.
Nap hails originally from just off Cape in the coastal town of Cohasset. He grew up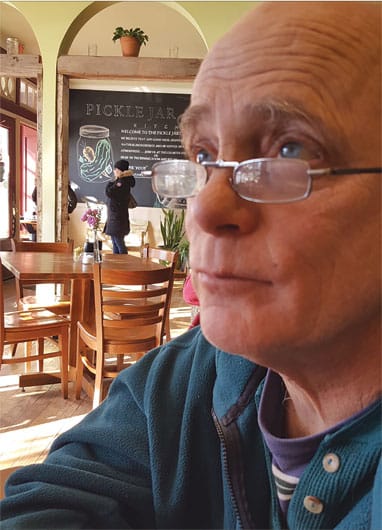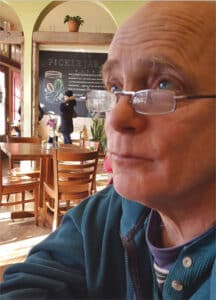 enamored with the sea and shore, boats and sailing, raised as he says "a free range child," allowed the freedom to roam and explore, with the support and encouragement of his parents to follow his muse. A talented carpenter and woodworker by training, he ventured out to Montana but was quickly disappointed: he explains that he didn't like what they were doing there, and could take no pride in his work. He knew he belonged in New England, comfortable with our traditions of architecture and craftsmanship.
He first came out to Nantucket in 1972 and returned many times over the next decade (camping out in the State Forest he admits mischievously, adding he hopes the Statute of Limitations has run out on that little infraction). He was drawn here initially by our harbor and close ties to the water. He loved the history of Nantucket, and the magic feel of the town in its state of preservation. He moved here full time in 1981 or '82, and didn't set foot off-island for almost nine months. After finally stepping off for a few days, he was surprised on his return by having such a strong feeling of "I'm home. This is where I belong."
In those early days out here he quickly became friends with Allen Reed, another master craftsman that came from a hometown near his own. Allen hired Nap to help with carpentry and repairs around the Chicken Box and other properties. He turned his talent to pursuing his own projects, and remembers with pride making a dinghy rigged with a bowsprit, a dovetailed box, and a unique quarterboard fashioned in the unusual form of looking down on the deck of a ship. The joy he had from this craftsmanship made him realize he would never be suited for an office job… he had to be working with his hands. When Allen taught him how to make Nantucket baskets, his fate was sealed. "I loved that you could make a living here working in the arts or crafts. Artists are encouraged and enabled here, in a way you wouldn't find many places on the mainland."
Nap became a full time basket maker, and was soon recognized as one of the great innovators in the trade. While working away filling orders for the usual open baskets and covered purses, his mind would wander in other directions. He always liked "little things" he explained with a laugh, and one day he started making a very small (4-inch or so) heart-shaped basket of all things. When another professional basket maker saw what he was doing, they chided "Why are you wasting your time with that? No one will ever buy that silly thing!" Of course someone soon came along and bought the unique basket before it was even half finished. Our free-range basket maker was off following his own muse again.
He continued making unique shapes and ever smaller baskets. He remembers Joyce Gardner, a woman who traveled out here in the 80s just to take basket-making lessons, encouraging him to pursue his miniatures and to make them true, proper miniatures, where all the components are diminished in correct proportion. A quick tour of his miniatures at the Nantucket Lightship Basket Museum will show that the rest is truly history.
Looking ahead, Nap is very encouraged about the future of the Nantucket basket tradition. He explains that in years past most baskets were made by professionals who, under economic constraints, had to make baskets quickly, and in a fairly limited variety of traditional forms. These days many baskets are made by hobbyists, who have the leisure to devote the time necessary for high quality and a freedom of imagination. Nantucket baskets have also become hugely popular in Japan, bringing this tradition into a new era: the Japanese love of precise craftsmanship and artistic detail are helping to elevate Nantucket baskets to a new height. Nap has in fact just returned from several weeks touring and teaching in Japan (keep your eyes out around town for a rare "Nap PlankWorld Tour 2018 concert t-shirt)!
Nap has now been making Nantucket baskets for about 35 years. He still loves living here ("even in the summer it's a great place to be… most of the tourists—90% of them—are so happy, walking around with big smiles on their faces! It's great to be around that"). He and his wife Gabrielle have raised two accomplished children: Chloe has inherited Nap's love of sailing and the sea, pursuing a career at Mass Maritime, and Phaedra has clearly inherited the Plank artistic talent in music and more. He enthuses that "Nantucket is a great environment for kids, the community is very encouraging… there is so much here, extracurricular and all, the girls experienced so much… they're very well rounded."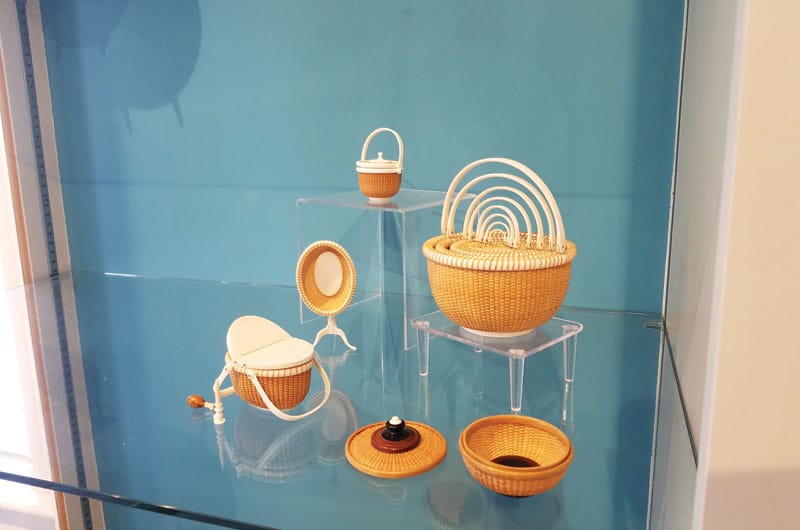 Is there anything he doesn't love about Nantucket? The build-up. The over-development is threatening what makes the island and town so special. Does he have any proud secrets? Would he share something that nobody knows about Nap Plank? With a smart nod of the head… and a delighted grin, he explains "Yes. I am a card-carrying member of the sovereign Cherokee Nation." Who knew? (Well I did actually, but we go way back).
After 35 years of basket making, what lies in the future? Is there anything you would love to do? He answers without hesitation: "Build boats. Small, large, any really, any kind of sailing vessel. It would be wonderful to be able to get away and sail, a lot. Even just out in the harbor every day. Mmm, to be able to go gunk holing up and down the coast." Anything else? Staring me straight in the eye with a determined smile, he responds " I would like to become, really become, an expert on the Ukulele. I'd like to give everyone in the world a ukulele!" George Harrison would have agreed. Nap can be found by appointment only at The Nantucket Basket Works, 508-228-2518.