• by Sarah Teach •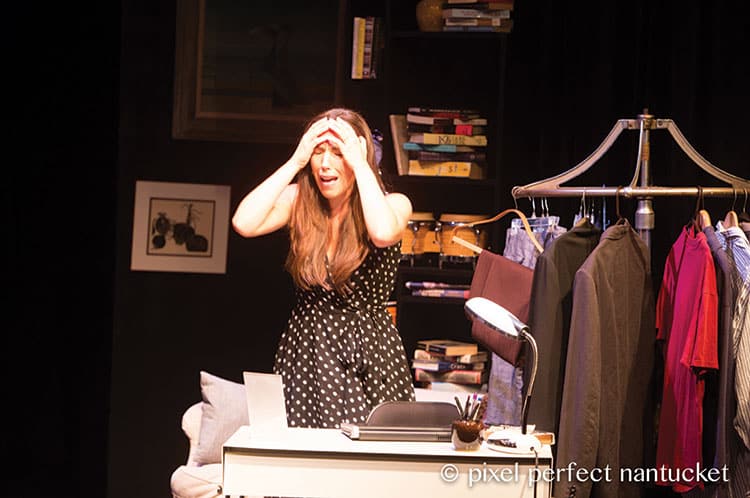 Marriages end for many reasons. Loss of connection, lack of mutual respect and support, extramarital affairs. Sometimes it is a mixture of all of those, as is seen in the saga of Cathy Hiatt and Jamie Wellerstein. Currently being shown by Theatre Workshop of Nantucket (TWN) is composer and lyricist Jason Robert Brown's adult-themed revue The Last Five Years, which illustrates the gradual rise and demise of a marriage between two ambitious young New Yorkers.
Punctuated with spoken word interludes, The Last Five Years is a tragicomedy musical with just two characters: Jamie (Donald Dallaire) and Cathy (Vanessa Calantropo), whose five-year-long love story we witness. Jamie's account is presented chronologically, while Cathy's side of the story is told in reverse order. We watch as Jamie slowly transforms from a motivated young writer—a polite Jewish boy who is falling fast for his "Shiksa Goddess"—into an egomaniac novelist who worships his own genius. When we first meet Cathy, it's the jaded, heartbroken, post-Jamie version of her. We then gradually see her spirit grow as soft as it was on the day she met her charming future husband. Though both characters are almost constantly onstage, they rarely interact directly. Throughout the entire play, there is but a single song ("The Next Ten Minutes") during which they address one another face-to-face and in the same time period of the story. That scene where their tales converge, though short, radiates affection and trust that the story very much needs. Up until the couple's tender wedding embrace while they sing "The Next Ten Minutes," I found myself wondering why these two ever got together in the first place. In the couple's final duet, Jamie says a forever goodbye to Cathy while she flirtatiously says her very first goodbye to him, right after their first date. Perhaps they were doomed from the start.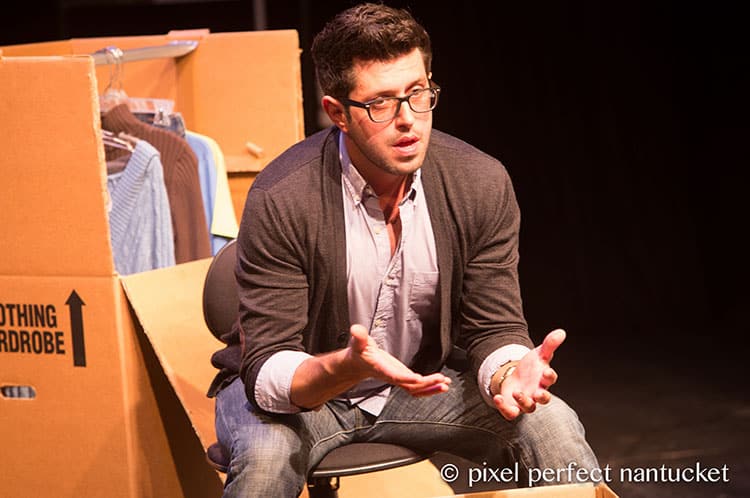 Brown's lyrics, which generate laugh after laugh, are casually put together and aimed at the modern musical theatre enthusiast. Though funny, the lyrics hold a lot of emotion. Onto her (unseen) father, Cathy unloads the harried lyrics of "Climbing Uphill," which describes the near-impossibility of making it as an actor in New York. Cathy's solo "I'm A Part of That" highlights the pleasures and difficulties of being a floundering professional with an ultra-successful spouse. Cathy must constantly reassure herself that she, a struggling actor, is worthy of her famous novelist husband's love, all while stubbornly hiding her jealousy of him. Jamie's solo "Moving Too Fast," full of both self-doubt and self-confidence, could be sung by any young adult whose life has just started swimming faster than the current. ("I'm riding hot as a rocket blast; I just expected it ten years later.")
Unlike a traditional musical with definite starts and stops to songs, Brown's pieces often flow from one right into the next. Since Calantropo and Dallaire are both bold, dramatic singing actors, their numbers follow and precede each other seamlessly. Using live Steinway baby grand accompaniment, musical director Robert Behrman guides the actors through their snaking maze of rapid-fire lines and drastic musical transitions.
Stunner Calantropo makes it easy to believe that anyone could fall for Cathy in an instant. Calantropo gives her character a genial, hopeful countenance, marked by bashful smiles and positive self-talk. This role allows Calantropo to unleash a comic bent that we don't always get to see in her. After being a winsome and funny Audrey in TWN's 2012 production of Little Shop of Horrors, this part furthers her identity as an able comedy actor. Dallaire's robust tenor soars through the theater, filling every crevice of the room, and lands somewhere between a boy band star and Luciano Pavarotti. His interactive expressiveness makes it always a pleasure to sit in his audience.
Costume designer Anne Breeding puts Cathy in a Little Black Dress that, naturally, works for every occasion in the story. Jamie dons a smart getup that conveys his elevated place in the world. Director Evan Bergman and set designer Dani Henke give us all the props we need to travel from scene to scene, while letting our imaginations do the rest. To start, basic furnishings put us in the couple's home. White blocks that are half the size of a Smart car get slid all over the stage as they alternatively separate the couple and serve as a love roost. Bergman lent considerable storytelling power to the lighting designer, Sandra Galley. When Jamie makes a poor choice that locks him into telling a lie, Galley binds him behind shadowy bars of Venetian blinds. Galley's stained glass window design puts us in a chapel for the couple's wedding. The light immerses them, a symbol of their unity. And at several points throughout the show, Galley tore the couple apart, using darkness as her tool. Ultimately, the darkness covers all.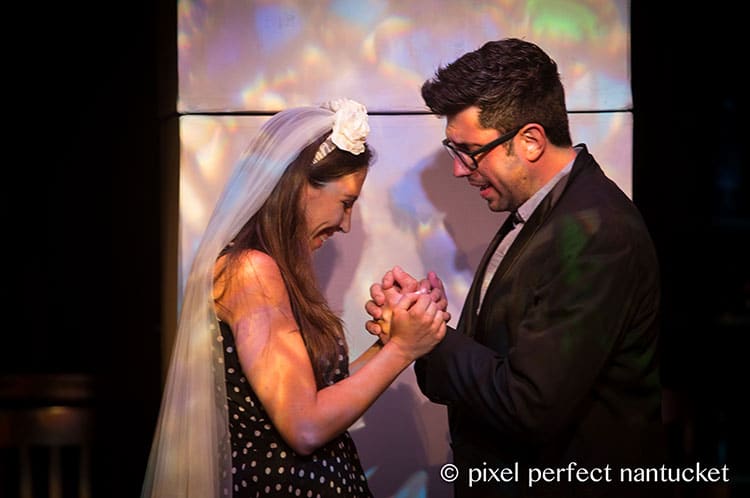 Since its 2001 Chicago premiere, The Last Five Years has been staged in seven countries, and is slated to be adapted into a movie by Richard LaGravenese, director of the 2007 box office hit P.S. I Love You. If you were on Broadway this past spring, you may have caught Jason Robert Brown's musical adaptation of the sad romance The Bridges of Madison County at Gerald Schoenfeld Theatre, where the show spent three months. Brown's work is well worth a watch, and you have a rare chance to see it on Nantucket.
The Last Five Years shows at Centre Stage, 2 Centre Street until September 6. It runs 80 minutes with no intermission. Tickets are $30 at www.theatreworkshop.com.