Nantucket Swim Across America will hold its eighth annual swim next Saturday, August 24. This annual open water swimming event brings more than 500 people to Jetties Beach at 8 am to either volunteer or dive into the warm waters of Nantucket Sound. Since 2012, the Swim has raised more than $2 million for cancer treatment and patient care on Nantucket Island. This year's target is to raise over $400,000; donations are being accepted now at swimacrossamerica.org/nantucket.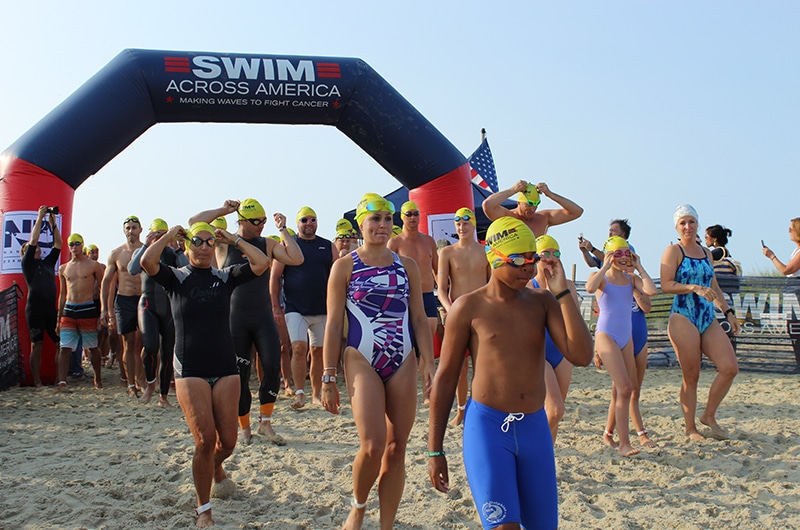 The Swim is a driving force behind the oncology and palliative care services which are now available at the Nantucket Cottage Hospital. A new infusion center, the Erwin and Stephanie Greenberg – Swim Across America Infusion Center, opened to rave reviews this year. Cancer treatments at the Cottage Hospital are on the rise and now record more than 425 oncology visits a year. World-class cancer care is provided by Massachusetts General Hospital oncologists at the Cottage Hospital. There is also a full-time oncology nurse practitioner, Ugne Aleknaite, on-island. Summer and year-round residents can get infusion and chemotherapy without leaving Nantucket.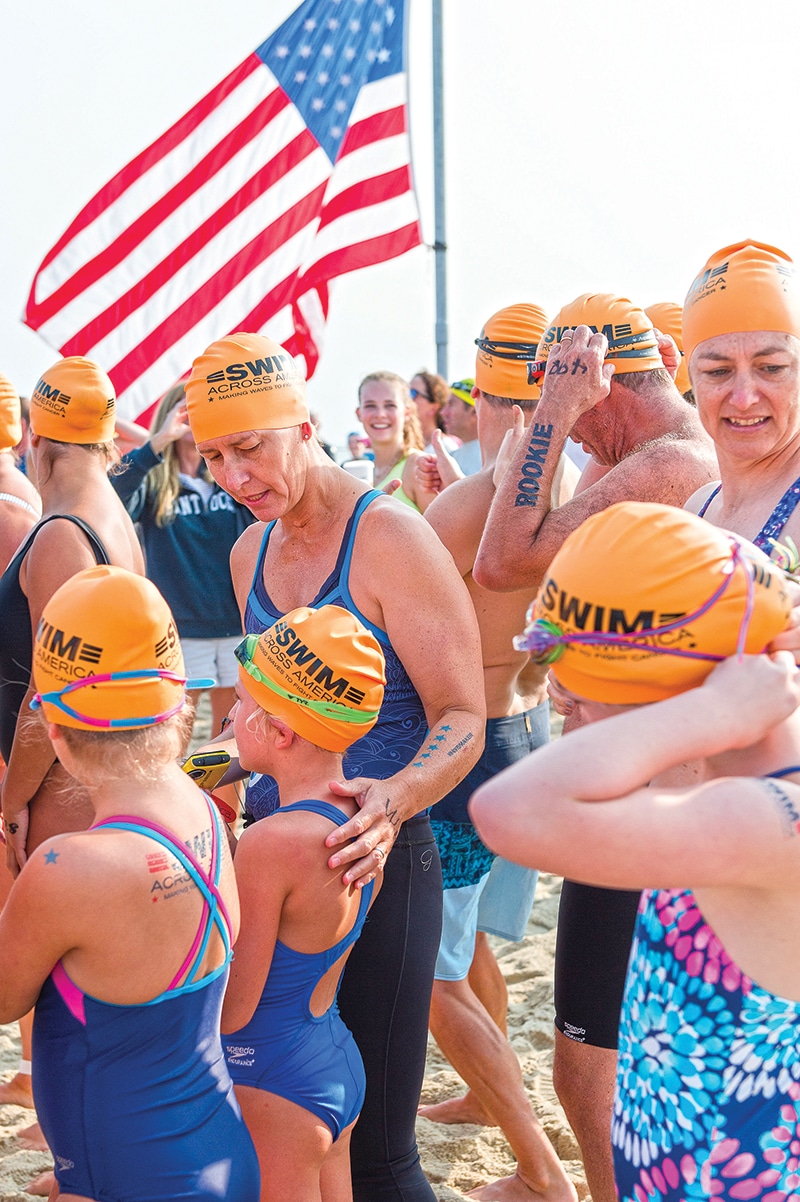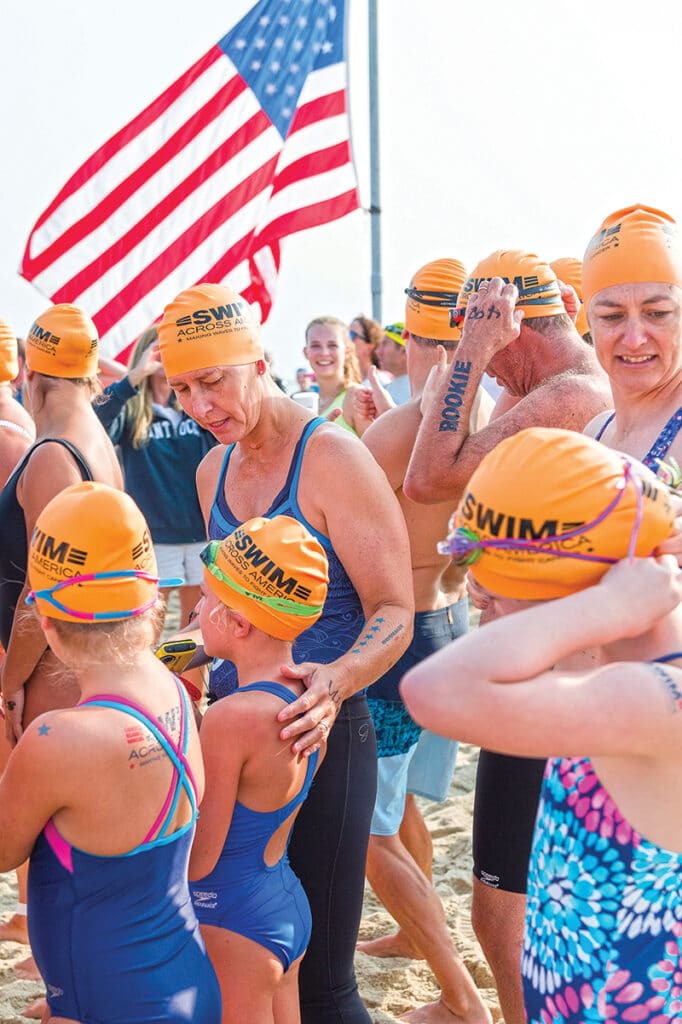 Proceeds from the Swim also support the palliative care mission of Palliative and Supportive Care of Nantucket (PASCON). Dianne Bein is the nurse practitioner and program director who leads the palliative care service delivery and assists patients faced with serious illness. "The demand for palliative care services is rising nationally and Nantucket is no exception. We leverage a terrific corps of professional staff and volunteers to provide care. PASCON could not do this without the tremendous support from Swim Across America," said Dianne Bein.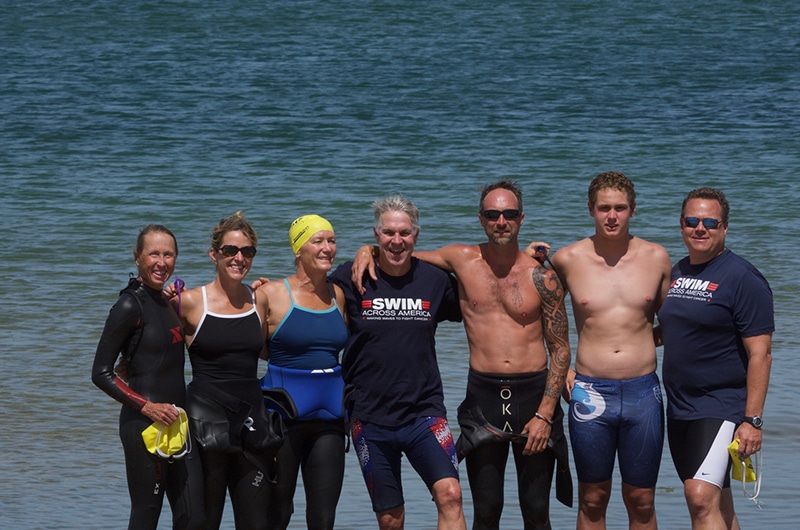 The Swim offers a number of options for swimmers. "There is a kid splash, a one-quarter mile, a half mile and a mile swim for all levels of swimmers. It is a moving morning, and you get a great breakfast sandwich generously donated from Island Kitchen to top off the swim," said Co-director Jim Pignato. There will also be a Swim Across America team of 12 runners entered in the Falmouth Road Race that will raise more than $10,000. This Saturday, August 17, fourteen intrepid swimmers will traverse the island's North Shore in a four-mile swim from 40th Pole to Jetties and will raise more than $80,000 alone in this marathon event.
There is still time to sign up for the August 24 swim and join in on this exciting event. Co-Director Jill Roethke noted, "There is an easy on-line registration process at swimacrossamerica.org/nantucket. This event represents the best of Nantucket; our beautiful water and our community, caring for one another. I don't think there is a better way to cap off your summer. You will walk away from the event knowing that you have helped a fellow islander."