by Suzanne Daub
Kathleen Knight's passion for art has brought internationally known painters, sculptors, glass artists, and artisans to Nantucket at her downtown gallery for more than three decades. Her love of art makes for an exciting and enlightening gallery visit, as she shares her discoveries with all who come up the stairs to her expansive second-floor space that is Gallery at Four India. The collection of traditional and contemporary art there is like nothing else anywhere on our island.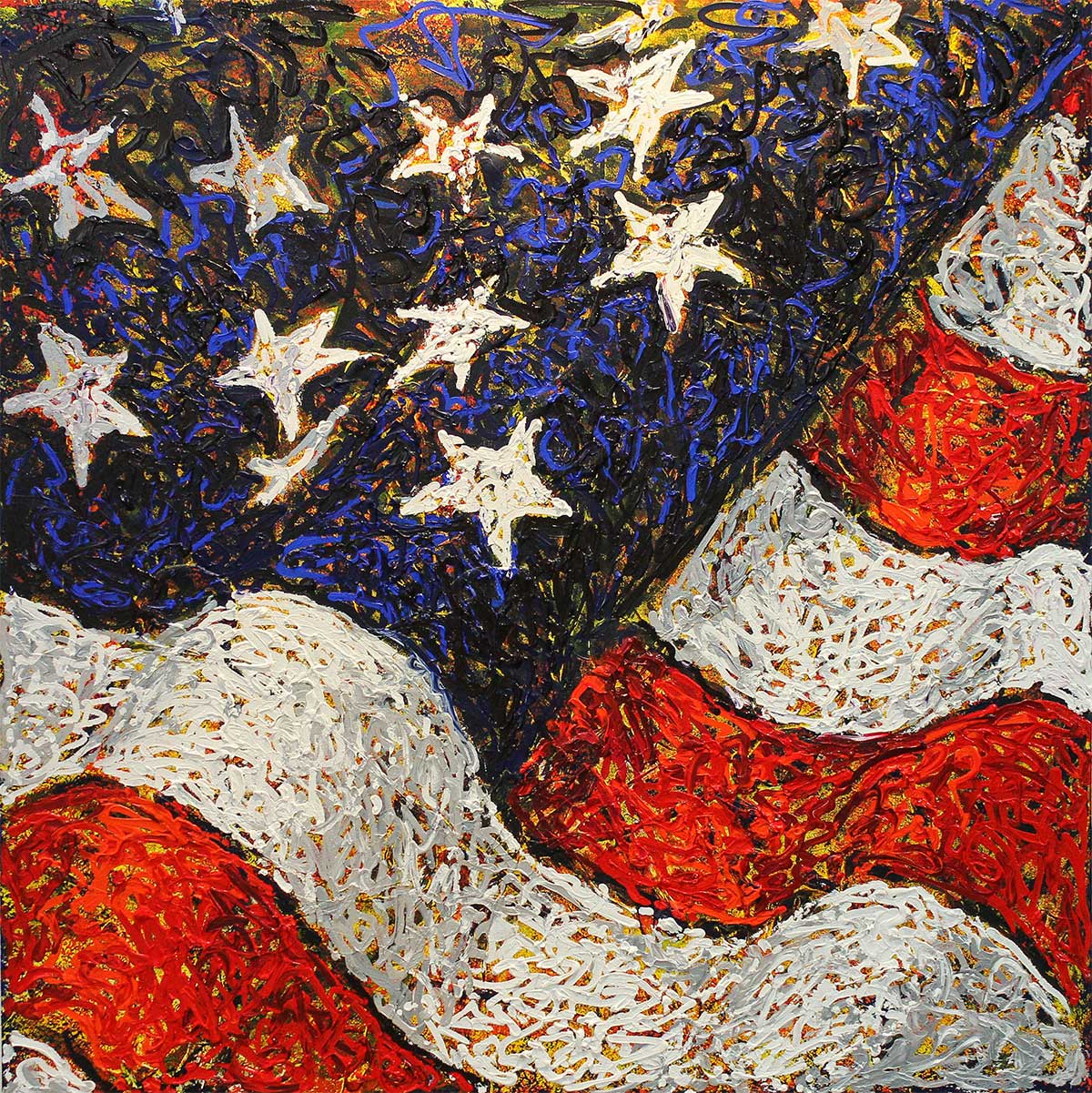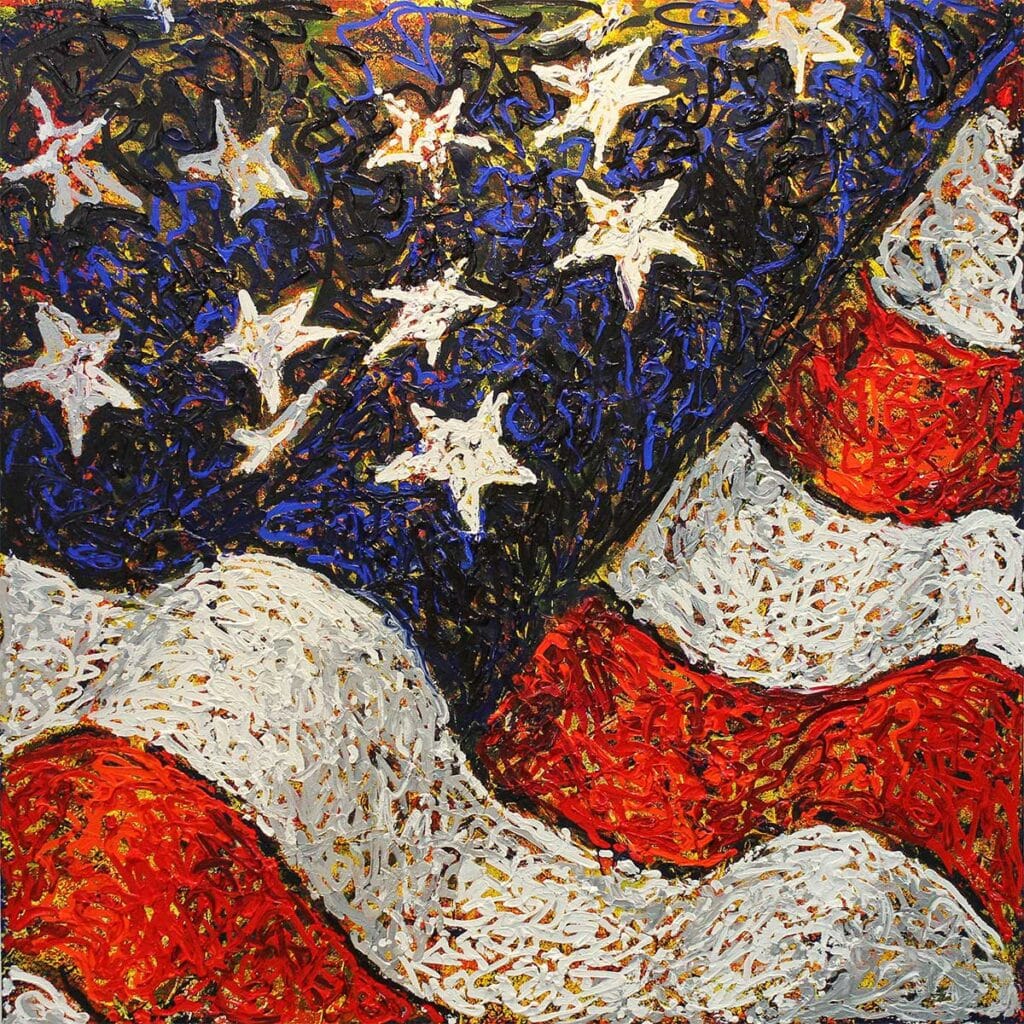 This week, Kathleen is hosting a "double-feature." Thursday, July 15 from 6 to 8 pm is the opening reception for Nantucket in Bloom, an exhibition of paintings by American Impressionist Candace Whittemore Lovely. Her Nantucket paintings capture the essence of an island summer and will be on display to July 23.
Starting this Saturday, July 17, The Gallery at Four India is hosting the return to Nantucket of internationally acclaimed painter Giovanni DeCunto in an exhibition named Love—Trust—Evolve. The artist will attend an opening reception Saturday evening from 6 to 8 pm, and his art will be on display at the Gallery at Four India through the end of August.
A world traveler based in Boston, Giovanni De- Cunto is described as a Global Expressionist; his 2021 exhibition here on Nantucket combines pop and modern art in a form that is all his own. DeCunto's work consists of abstract and representational forms made with acrylic paint—poetic, gracefully formed, and at times boldly colored—that hang in perfect balance. He has developed a technique that no other contemporary painter is using that excludes the use of tools. He manipulates the paint through movement and, occasionally, with the touch of his hands to create a oneof- a kind pieces unlike anything else currently on the market. Giovanni also spoke of a new technique he is using in some of his abstract expressionist paintings— a technique that makes them seem to glow: "depending on the light, they change radically…All in painting is either reflection or absorption: I've taken it to a new level. I trap light and bend it in the painting."
Kathleen Knight has been collaborating with Giovanni DeCunto since 1990 and believes he sets the standard for combining pop and modern art with classical impressionism. She explains: "Giovanni has more depth, thought, and emotion than other pop artists. His extraordinary work is unique and on par with Jean-Michel Basquiat and Andy Warhol.
"Giovanni has always been ahead of his time," Knight continued. "His work moves people at a time when we need peace, harmony, unity, and love the most. And, his unparalleled ability to combine different art genres together yields very emotional and powerful original pieces that contemporary art collectors will appreciate beyond measure."
The Love—Trust—Evolve exhibit features original artistic works of flags, abstracts, and portraits. The "Love" portion of the exhibit is an ode to the "Women We Love," showcasing 36 x 36 portraits of iconic, beloved women such as Marilyn Monroe, Sophia Loren, and Twiggy. The "Evolve" section of the exhibit represents how artists have evolved from traditional art to abstract art, featuring 50 x 60 abstracts of flowers and other miracles of nature. The "Trust" part of the exhibit addresses the unity and patriotism people crave as we heal our nation, featuring 48 x 48 paintings of freedom flags.
The theme of the exhibit reflects the current state of our country. Giovanni, always the patriot, says he tries to see positive results of the pandemic: "I'm very sorry for all the losses, but I'm trying to regard it as something that was happening to the world that would get us to understand what the future could bring. People are starting to identify that we need each other…there's no real platform we can follow to build the future, but when we can trust the people around you, we can build a building. When you cannot trust them, you cannot build anything.
"What we really need is a language that we can speak universally to be able to convey trust to each other and work together–my art is presenting itself as that language," he explained. "I believe that art will help you share with the person next to you, and when you can share, you can love. When you can love, you can trust, and when the country can start to love ourselves again and start trusting, then we can evolve."
Giovanni is thrilled to be exhibiting again at Gallery at Four India with Kathleen Knight: "I really like Nantucket: for a lot of great artists it has been part of their journey. I feel lucky to be represented there. There is a truism on the island, an identity."
Kathleen is excited to host Giovanni in-person at the opening on July 17 and to again show his work: "What excites me about his return is to give artists who dream of having a successful career the opportunity to meet and speak to Giovanni, who has worked very hard to get where he is today."
"We will bring together art aficionados, community leaders, and local friends," added deCunto, "to celebrate the concept of Love, Trust, and Evolve when we need it the most—during the first post-COVID summer. Art brings healing and beauty during this critical time."
July 17 to August 31: Love—Trust—Evolve in The Gallery at Four India upstairs at 4 India Street • 508-228-8509 • thegallerynantucket.com