~ by Amy Jenness ~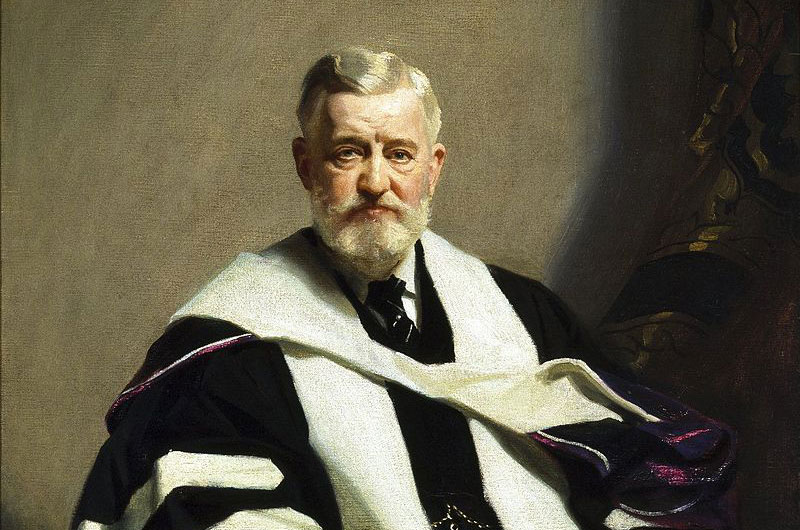 In 1849 three Folger brothers left Nantucket for the gold fields of northern California. By April of 1850 Edward Folger, age 20, Henry Folger, age 16 and James Folger, age 14, had reached the west coast of Panama after a ship voyage, rafting trip and a hike across the tip of the country. They left Panama City onboard the Pacific mail steamer Isthmus. When the brothers reached San Francisco there was only enough money for two to continue on to the mining camps. The youngest, J.A., as he was called, stayed in the city to work for his travel costs so he could join his brothers.
Folger met 27-year-old entrepreneur William H. Bovee, who planned to build a mill in San Francisco and hired Folger. Bovee named his business The Pioneer Steam Coffee and Spice Mills. In a new twist for consumers used to roasting and grinding their own coffee beans, Bovee offered ready-to-brew prepackaged coffee.
James saved enough money working for Pioneer Steam Coffee and Spice Mills to be able to join his brothers. When he left the city, Folger agreed to act as a Pioneer sales representative to stores catering to the miners. He gave out samples to store owners and relayed their orders to Bovee.
James returned to San Francisco in 1865 and became a full partner in The Pioneer Steam Coffee and Spice Mills. In 1872, he bought out his partners and renamed the company J.A. Folger & Co.
Eventually James' brothers Edward and Henry tired of mining for gold. Edward established a San Francisco whaling business next to the Pioneer Steam Coffee and Spice Mill and died at age 40 in Nevada from injuries sustained in a stagecoach accident.
Henry returned to Nantucket and later married Eliza Jane Clark. They settled in New York City and had eight children.
Among the three brothers' children, two Folger sons would acquire great wealth building dynasties that still exist today.
In June of 1889, at age 51, JA died of a heart condition. His oldest son, James A. Folger, II, age 26, had worked in the company for seven years and succeeded his father as president of J.A. Folger & Co. James II expanded the company, which sold coffee on both a wholesale and retail basis.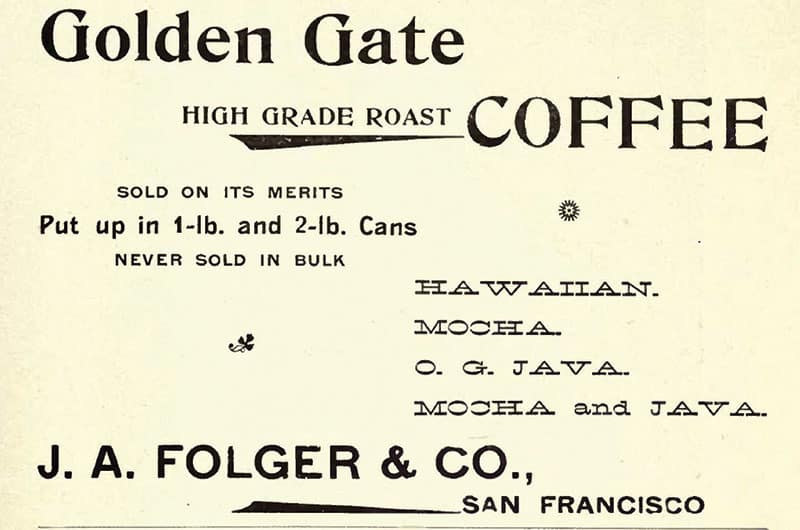 In 1901 the company's ambitious salesman Frank P. Atha further expanded its territory into Texas. Folger's Coffee remained under family control until 1963, when the Procter & Gamble Company of Cincinnati, OH, acquired it and began to distribute Folger's Coffee nationally In 1969 James Folger II's granddaughter, Abigail Folger was murdered by followers of Charles Manson. Folger Coffee changed hands once more in 2008 when the JM Smucker Company purchased it.
Henry Clay Folger, Jr., born in 1857, was Henry, Sr and Eliza Jane's oldest child. His father had not been a successful businessman, so when Henry, Jr. attended Amherst College, he paid his tuition by competing in essay contests and by borrowing the money. While at Amherst, Folger was a Phi Beta Kappa scholar who studied Latin, Greek, French German and English literature.
Folger continued on to Columbia Law School. And after passing the bar exam, he went to work at the Standard Oil Company of New Jersey as a statistical clerk in 1881. His prowess at mathematics and his methodical tracking of the company's oil production attracted the admiration of his employer. He was chairman of the manufacturing committee by 1899, and became a trusted confidante to John D. Rockefeller. Folger and Rockefeller resisted the anti-trust movement favored by President Theodore Roosevelt. But in 1911 a US Supreme Court ruling broke up the company and Folger became president of the Standard Oil Company of New York.
By that time Folger was a wealthy man and a significant shareholder at Standard Oil and its subsidiaries. He retired as president in 1923, but stayed at Standard Oil another five years as the company's first chairman of the board.
Folger and his wife, Emily, a Vassar graduate and Shakespeare scholar, used their great wealth to collect Shakespearean documents and by the time he died Henry had amassed the largest collection of first folio editions of Shakespearean plays. The couple had no children and committed their energy and a considerable amount of money to building their collection.
The pair never discussed their holdings publicly and did not give scholars access to it. But privately they struggled with how best to care for their rare books and manuscripts. In the end, the couple built a library intended as a gift to the American people. They looked at sites in the United States and England, they even considered building their library on Nantucket. But finally settled on Washington, D.C. near the close of World War I. It took Henry nine years to purchase a city block worth of row houses between First and Second Streets.
Folger immersed himself the library's design and in 1930 helped lay a cornerstone of what would be the Folger Shakespeare Library. But he died that year after undergoing surgery. Folger left the majority of his wealth in a trust for the library and named Amherst College the trust's administrator. The library opened in 1932 on April 23, the date believed to be William Shakespeare's birthday. Today the Folger Shakespeare Library is considered the most important repository of material related to William Shakespeare. It holds more than 275,000 books about the playwright as well as playbills, costumes, furniture and paintings. Holdings also include 82 First Folios, the first edition of the "complete works" of Shakespeare, compiled in 1623 by two of Shakespeare's actor friends.
Amy Jenness is the author of On This Day In Nantucket History.