by C. Oscar Olson
For those of us who like to dine out, this recent hiatus from restaurants has been a bear. Weeks quickly turned into months, and though takeout has been an option, we missed the experience of dining out. Last week was the first chance in what felt like ages we had to sit down and be served: to relax and enjoy a stressfree evening with great service, excellent food and drink, and all the ambiance we could ask for. Fifty-Six Union made this possible in a way no other island eatery could match.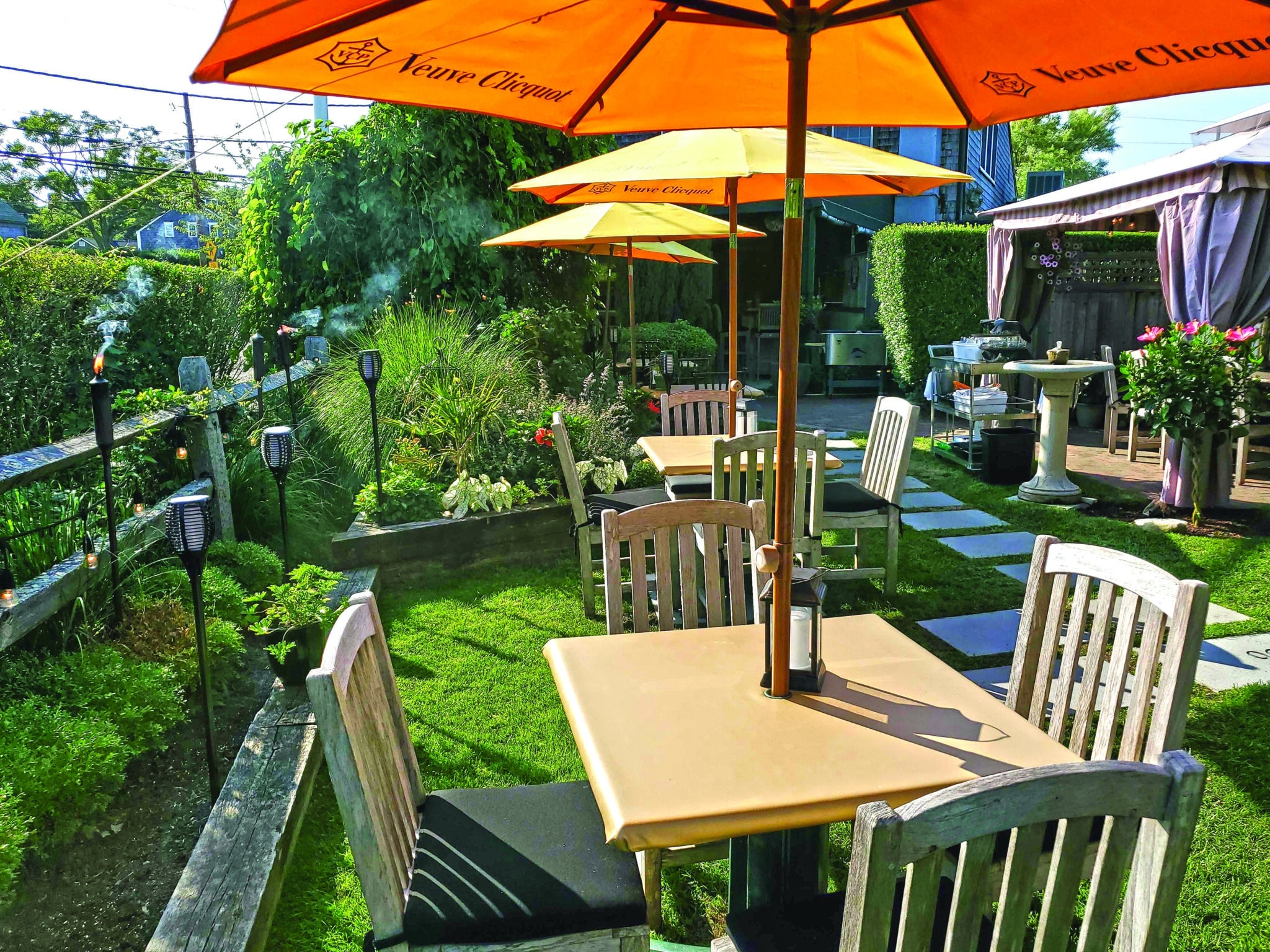 With an ideal location close to downtown but away from the noise and traffic, Fifty-Six Union boasts plenty of parking and ample seating in their private outdoor garden for all your friends and family.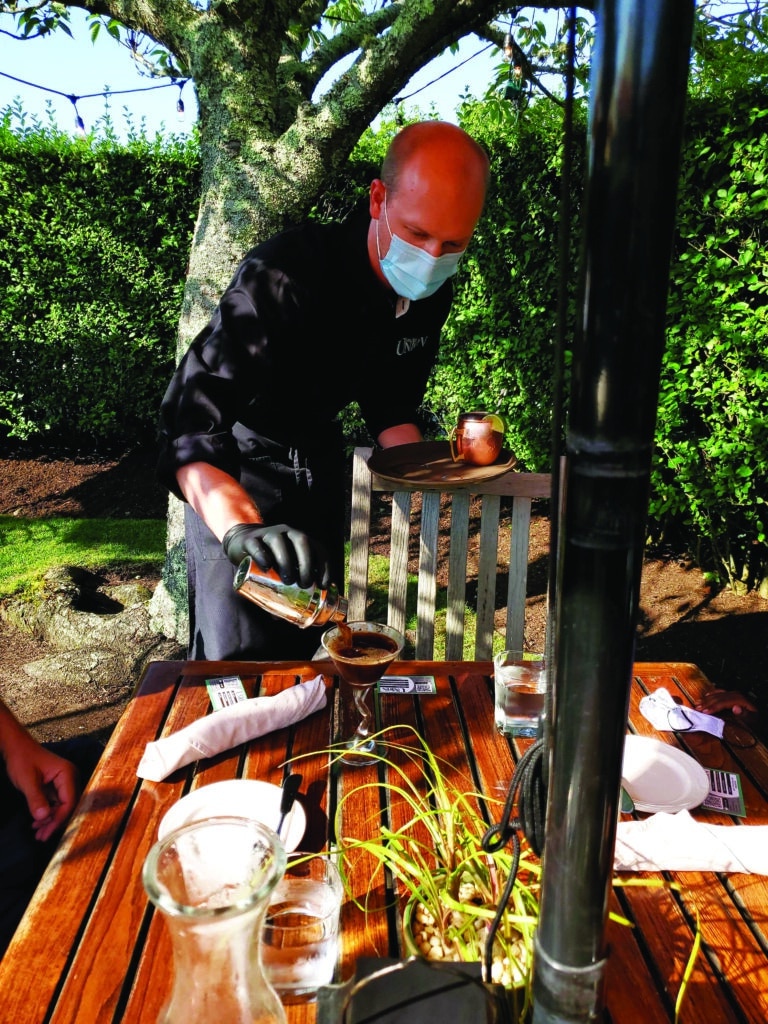 For this season, owners Wendy and Peter Jannelle have added more tables to this prized garden setting, complete with propane powered heaters and ultra-soft fleece throws for those cooler nights. Newly laid bluestone provides a walkway and undertable surfaces to keep your feet grass-free. There's another outdoor area under cover where starry lights shine overhead at night, along with dining indoors and hightop tables at the bar.
When we arrived, the sun was still shining and the weather was warm, so some cold drinks were just what we needed. Their specialty cocktails are all worth trying, and Wendy recommended the ACK Mule. It hit all the spots with the island's own 888 Cranberry Vodka, Canton ginger liqueur, ginger beer, and fresh lime. Served in a copper cup, it is slightly sweet with nice ginger spice and so refreshing. We might not have guessed the Huckleberry Lemonade was even a cocktail with its incredibly smooth sip-ability. 44 North Huckleberry Vodka mingles with fresh lemonade and splash of soda for some sparkle. For an alternative that actually is alcohol-free, fresh-brewed Hibiscus Iced Tea has a beautiful red hue and is full of flavor. A squeeze of fresh lemon enhanced the floral fruitiness.
The dinner menu is awesomely diverse, featuring flavors from home and around the world. A couple of cold starters sounded just right. A delicious and generous plate of Rocket Greens is sized to share with a peppery crunch from the arugula, pops of savory sweetness from sun-dried tomatoes, tangy acidic lemon and balsamic, toasty pignoli, and just enough salt from some parmesan.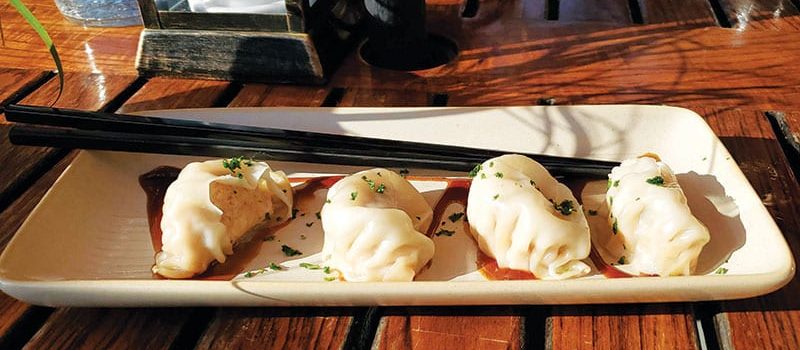 Four perfect potstickers come in an order of Chicken Dim Sum, which wasjust enough for everyone to try. The wrapper was paper thin and delicately delicious, giving way to the moist, tender, seasoned filling. A scrumptious soy-mirin glaze enhanced every nibble.
We'll be in a pinch trying to find a better Crab Cake than the one served at Fifty-Six. A crispy crust from the light breading crackles in every bite of Jonah and lump crab, peppers, scallions, and cilantro. The gleaming lobster americaine sauce underneath is brimming with complexity and just enough cayenne for a warming kick.
Wendy and Peter are well known for their commitment to the craft as well as to their island community. Peter runs the back of the house, having honed his skills as a graduate of The Culinary Institute of America. He first went to work at the Holland America Lines, and his global travels helped inspire the eclectic complexity of flavors on the menu today. Wendy holds down the front and hand-picks the well-priced and well-varied wine list, full of excellent offerings you don't often see on-premise. They have been serving the island community on Union Street for twenty years, keeping the tastes fresh, tables full, and customers coming back all year long. The couple are in attendance at the restaurant every evening.
We couldn't imagine a better beginning to our first night out in ages, and the excitement was palpable when our entrees came out of the kitchen. With the heat hanging on til sunset and the warmth of the day lingering longer, the Seared Rare Tuna is a hot item at Fifty-Six. It's served cool and 7-spice dusted with a slight sear around the edges and a sprinkling of black and white sesame seeds. Several slices sit atop a bed of udon noodles alongside a pickled ginger aioli and nuoc cham, and garlic-lime asian style sauce, for dipping. The noodles are tossed in a creamy tahini base atop al dente asparagus for a verdant crunch.
Grilled Rib Eye Heart of Beef is a steakhouse favorite, and the mac & cheese served alongside left us at a loss for words. Curly cavatappi was covered with a creamy, complex, out-of-this-world blend of cheeses and peppered with crisp, thick cut bacon. The tender meat was spot-on medium rare and served with sauce au poivre: a peppery pan sauce made with cream and cognac. Bright and crisp haricot vert helped lighten things up.
A new item on the menu, the Eggplant Involtini, is a sampling of summer vegetables. Baked to order in an au gratin dish, it's piping hot and served with a slice of crusty, buttery bread. Under the browned, bubbling provolone awaits eggplant, bell pepper, spinach, ricotta and parmesan cheeses in a Tuscan tomato sauce. It's rich and meaty and very much vegetarian.
Our waiter, Dan, was incredibly kind and accommodating and knew the menu like a well-read book. He was never far away but did not hover, and he answered questions without guessing or hesitation, just one of the many reasons why Fifty Six Union keeps us coming back.
The only restaurant in town I'd run to just for dessert is Fifty-Six Union. Wendy and the kitchen take great care in crafting their unique treats, and you'll almost always find a few new options to satisfy your sweet tooth.
When it comes to butter, we like the good stuff. And since Kerrygold is the best, we couldn't miss the Kerrygold Creme Brulee. We cracked through the crust to find a filling rich and creamy beyond compare, yet still light and full of fluff. The sweetness comes from the burned sugar on top, so the quality of the cream isn't lost in the mix.
The Gelato Cookie Sandwich brings out the kid in all of us. This rustic, homemade classic brings two white chocolate, peanut butter, and pretzel cookies together with a salted caramel gelato, and we loved the salty pops throughout. This option changes a few times throughout the season, and we can't wait to see what's next.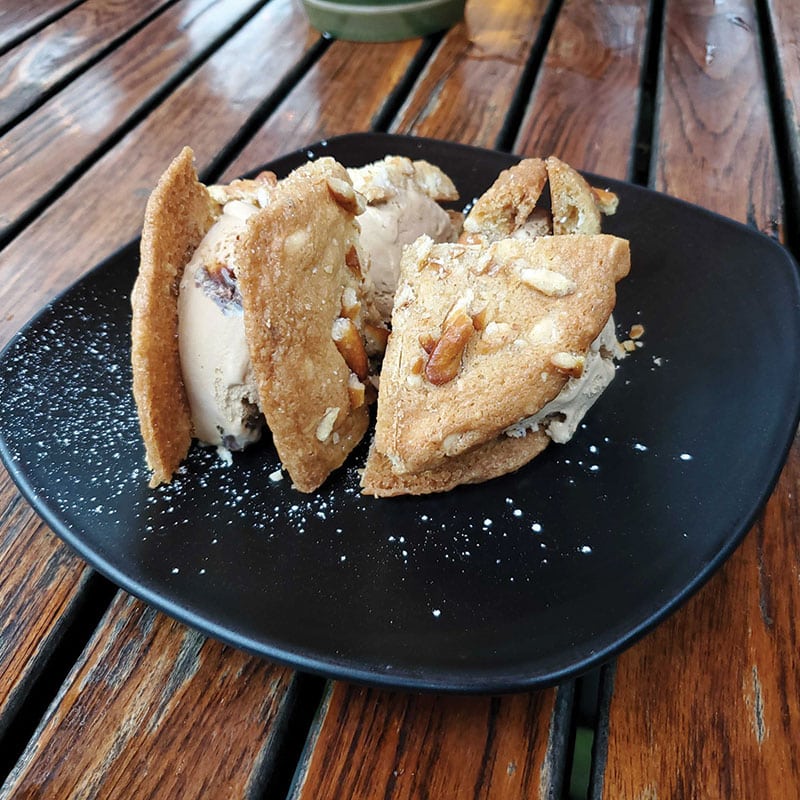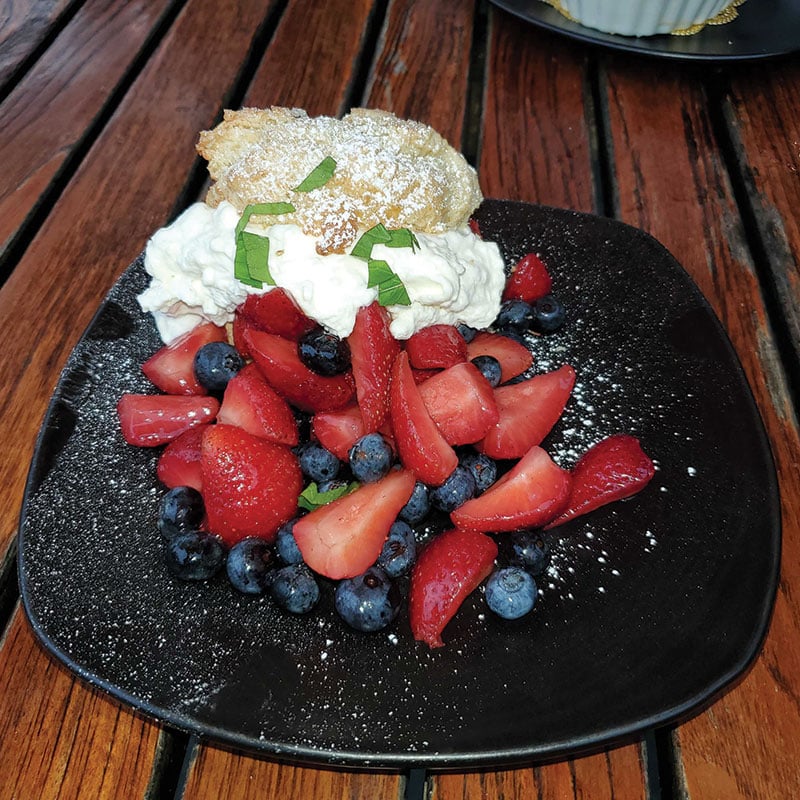 Our all-time favorite finale at Fifty-Six, Berry Shortcake, is a Nantucket summertime staple. Wendy quite literally brings grandma's shortcake recipe to life, enhanced with the essence of orange. Strawberries and blueberries shine under peaks of whipped cream making this one delicious and patriotic epilogue to dinner.
If you're finishing your meal with a cup of coffee, make sure you ask about the biscotti. We were lucky to land a fresh batch of Cranberry Pistachio Biscotti: two of our favorite flavors dipped in dark chocolate and dusted with powdered sugar. Simple, delicious, and too good to miss.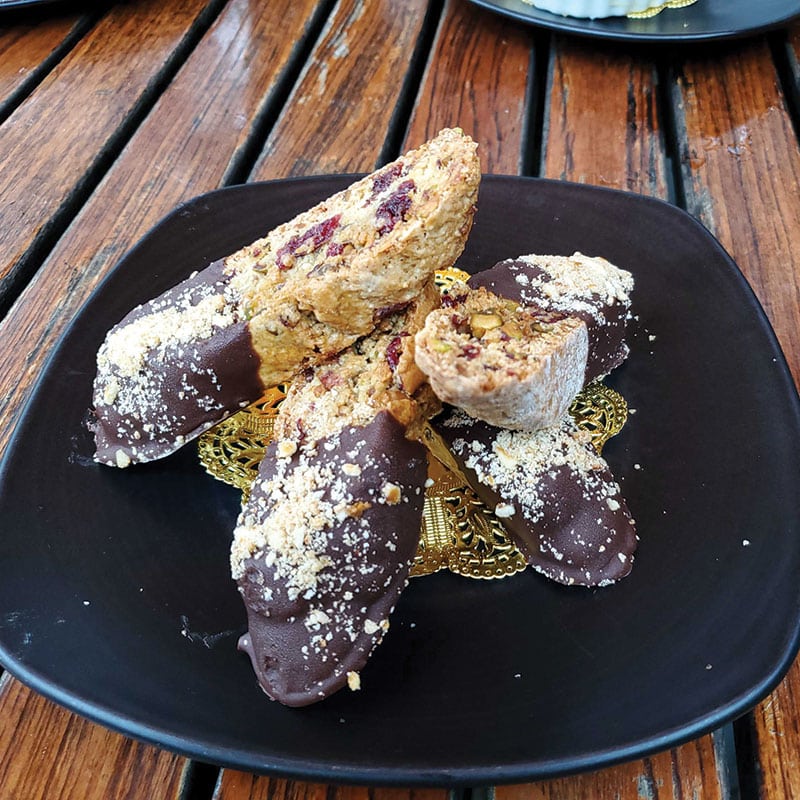 Our visit to Fifty-Six Union left us feeling not only fully satisfied, but fully comfortable with once again dining out of the house. Every precaution is taken without sacrificing a single thing we've grown to love about this dining destination. Call today to make Fifty-Six part of your island summer.
Fifty-Six Union
56 Union Street
Reservations strongly suggested: 508-228-6135
Table 56 is highly sought-after, so reserve this special spot in advance!
Bar opens at 5 pm; Dinner served nightly
Distanced indoor dining, patio & garden tables, and takeout available
Entree price range is $27 to $46
dining rooms available for private celebrations
major credit cards accepted • plenty of parking