There's nothing quite like a good, hearty breakfast. Or fresh seafood served piping hot and perfectly prepared. Not to mention a simple sandwich that satisfies, along with subs, salads wraps, or tacos topped off with just what you want. Simply put, Easy Street Cantina has it all.
Smack dab in the heart of the harbor area, where Steamboat wharf becomes Broad Street, the menu at Easy Street Cantina has a little bit of everything. Complete with ocean views and dining in or out, takeout or delivery, and a limitless lunch buffet, this restaurant stands out from the crowd. The menu is as mouthwatering as it is eclectic, with small, simple bites or big, bold burgers to please every patron.
With kids in tow, we took a table on their spacious brick patio, enjoying the sea breeze and watching people pass by. The boats were coming and going, but our plan was to relax and enjoy a diverse and delicious dinner served up by The Cantina's long-time captain of the kitchen Chef Reid. 
We figured finger food was a good place to begin, so why not Nachos? Served in a pizza box for easy portability, these will satisfy several hungry friends with your choice of chicken, beef, or beans, along with all the fixings. We got the Grande Box of Nachos, which comes complete with all three. The crunchy corn tortilla chips come standard with melty cheese, chopped onions and tomatoes, black olives, sweet corn, cool lettuce, and pickled jalapeños. Served with sides of salsa and sour cream, reach for some of the house hot sauce to kick things up a notch.
Easy Street Cantina is one of the few downtown eateries that is perfect for children, with everything they love and lots of fun things to try. Ours love the Cantina's Popcorn Shrimp for a takeout treat, so couldn't get enough of the shrimp found in the famous Fisherman's Platte —fresh, fried, and fully loaded with plump clams, pristine cod, cole slaw, French fries, and, of course, shrimp. The bright, tangy housemade tartar sauce served on the side is some of the best on the island. 
With the new addition of the Easy Street Park and many more outdoor options across Nantucket, takeout has never been more appealing. Everything on the menu can be boxed or bagged for convenient meals any time of day, wherever your Nantucket travels take you. New this year at Easy Street Cantina are Park Picnic Baskets for the easiest takeaway ever. They come complete with chips and water, and your choice of Basil Chicken, Turkey Club, or B.L.T Wrap all boxed up in a convenient tote and ready to go. There's even a freshly baked cookie from the Nantucket Cookie Company (located within The Cantina) tucked into the Picnic Box for dessert. Call ahead to order picnics for a quick stop on your way.
Savory and satisfying, the Vegetarian Bean Burrito will calm even the most voracious carnivores. It's absolutely oversized, so you'll need two hands to take on this superbly packed powerhouse.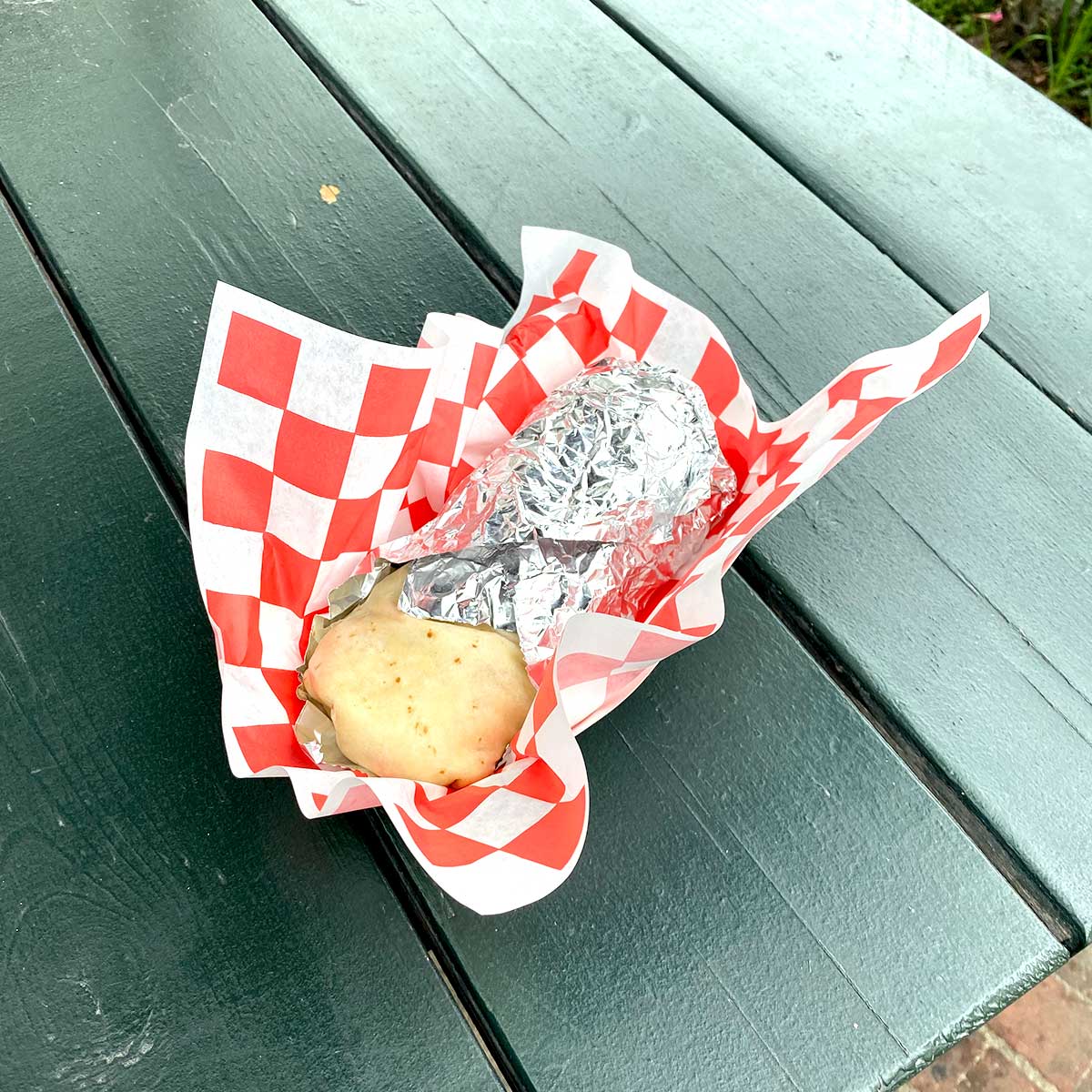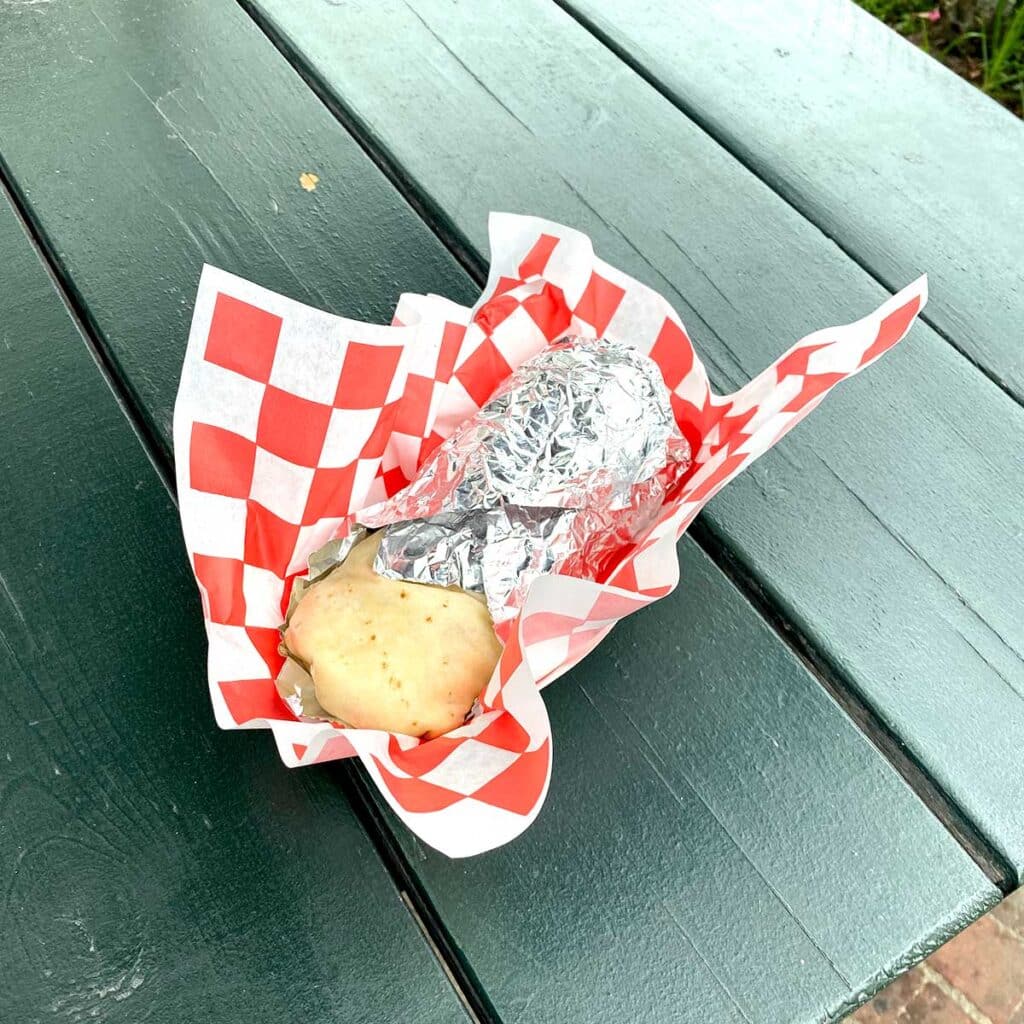 Breakfast is an option all day long on Easy Street, so whether you're waking up early, getting a late start, or just want to satisfy that craving, Easy Street Cantina has you covered. Omelettes are stuffed with the fillings of your favor, Breakfast Sandwiches are satisfying and perfect when you're on-the-go, and you can make Pancakes a sweet treat morning, noon, or night.
As reuben connoisseurs, this delicious deli standard gets met with stern criticism. The Cantina's Grilled Reuben did not disappoint. Butterycrisp marble rye reveals layers of juicy sliced corned beef and pickled sauerkraut with a healthy helping of Swiss cheese and thousand island dressing.
If you like your lobster to speak for itself, Easy Street Cantina has you covered. When making the lobster for the Lobster Rolls, Chef Reid likes to set a few pounds aside to leave undressed, naked, as is. He warms it on the grill with plenty of butter and lets the sweet red meat do the talking. No matter how you like it, the Lobster Roll is sure to please at Easy Street Cantina. Ours was served on their signature buttery croissant bun, a divine delivery device for this seasonal treat that pairs well with the sweet lobster meat while crisp lettuce adds a crisp, contrasting crunch.
If you happen to be downtown on a Thursday, Wing Day at the Cantina is a must-try. Every Thursday, you can chow down on a basket of 16 Jumbo Wings for just $13.95—plain, BBQ, Teriyaki, or Buffalo. Not sure you can eat that much? There's a Half-Basket option, too…
Check out nantucketcookie.net for great gifts or something to savor later. Also available at the restaurant, you'll find a variety of sweet treats, real Nantucket sea salt, and our absolute favorite seasoning: Bartholomew's Nantucket Island Spice. Almost everything on the menu gets a shake of this superb seasoning featuring the flavors of 65 ingredients. You'll absorb it's aroma on every plate presented, and there's a reason it is a staple in our home kitchen.
They say your can't please everyone, but Bart and the team on Easy Street have found the formula. The food is fresh and flavorful, service is fast, friendly and efficient. We just know we'll be back before summer comes to a close.
Easy Street Cantina
508-228-5418 • Corner of Easy & Broad Streets • easystreetcantina.com
Open every day
Breakfast foods served all day with prices from $9.95 to $13.95
Prices range from $4.95 to $29.95
Indoor Dining, Outdoor Dining, Window Service, & Takeout
Picnic Baskets and Party Platters available
Home of the Nantucket Cookie Company:nantucketcookiecompany.net