by Cara Godlesky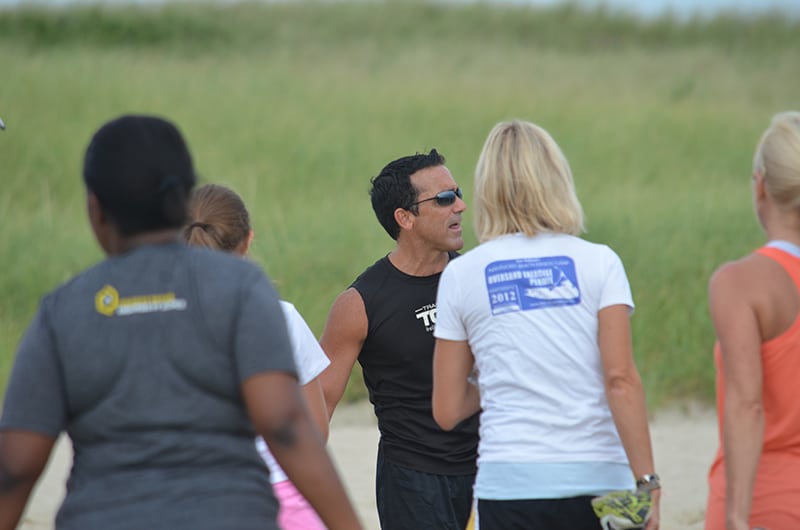 When most people come to Nantucket, they are looking for a world away from reality with sights set on ultimate relaxation time at the beach. Few people think they should go to the beach on vacation to get full body workout. However, vacationers and locals may reconsider for fitness guru Tom Holland holds his two week, workout beach camp every summer in the sand of Jetties Beach.
For the past 19 years, Holland has held his Nantucket Beach Fitness Camp during the first two weeks of August. Holland's beach camp is not like every other group workout. Holland, who holds a master's degree in exercise science and sports psychology, has an education about fitness that creates a workout environment suitable for all abilities.
"I feel so fortunate for 19 years that I've been able to do this, and it's one of the most beautiful beaches in one of the most beautiful settings. To have exercise and the Nantucket beach and to start your day that way, I think that's why people keep coming back. It's totally unique," said Holland.
Holland's fitness camp, also known as ACKfit, is open to people of all ages. The exercises in the camp are not based on repetition but instead use time intervals. The idea behind using intervals is to not compete with anyone else beside yourself and simply do what you are capable of doing. With a wide range of ages, there are participants with varying fitness levels. It doesn't matter what others are doing long as you are pushing yourself to finish as a better version of you.
"It's really easy to kill you and make you do 100 pushups. It's easy to do nonstop burpees until you're throwing up but that's not science," said Holland. "The real challenge is you have the 65 year old guy who maybe has a knee injury and the 16 year old woman who is training for crew in high school, to give both of those people the same workout — a great workout is doable. But it takes some experience."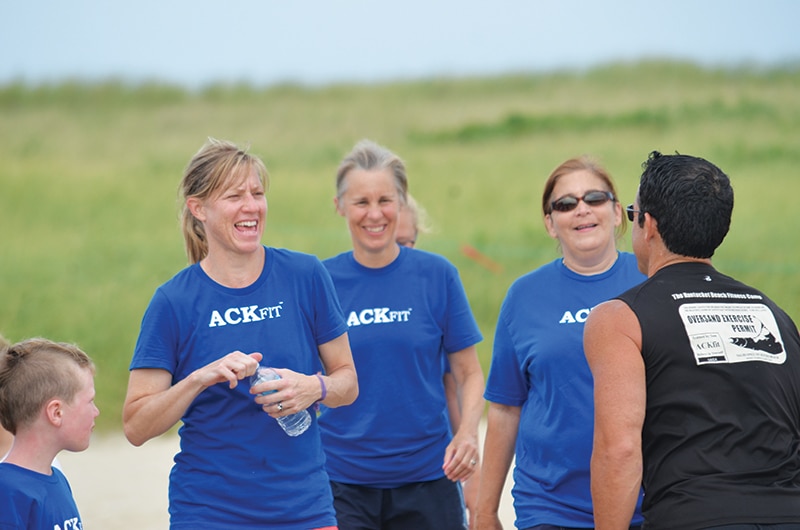 Holland's background in fitness also helps him educate the participants about health and exercising. ACKfit emphasizes ideals such as "work hard, play hard" and how health and nutrition is "not about deprivation. It's about moderation." To translate his words into actions, Holland brings in doughnuts from The Downyflake on Fridays to treat the campers after completing a long week of exercising.
"It's not just the exercise. Throughout the entire hour and for two weeks, I'm talking and educating, and I'll say, how many calories are in a pound. By the third day, people are saying 3,500," said Holland
ACKfit uses minimal equipment such as flags and cones. Through body weight exercises, Holland teaches participants they do not necessarily need a gym to get a good workout. The exercises can be done anywhere, even in one's home. It is possible to use body weight and the land around the individual to complete a full body workout session. He emphasizes that the workouts can be done by anyone, of any age.
By using these fitness techniques at Jetties Beach, participants can get workout while burning more calories due to the unstable conditions of sand. Workouts on sand require the body to do more work, from the traction and greater need for balance, which results in more muscles used and more progress made.
"I want people to be educated and motivated, so I want lead the camp with really good knowledge about exercise and nutrition and debunking so many myths that are out there thanks to the internet now… I want them to be motivated," said Holland.
Holland succeeds in motivating people for he humbly says that is not unusual to get an email with participants saying thank you or they ran their first 5K because of the camp. But Holland claims that he is not the only motivator. He believes it is the other participants who really inspire each other. Throughout the sessions, campers are broken into teams and rotating stations. Holland says during these activities people will cheer each other on and bring out the best in one another.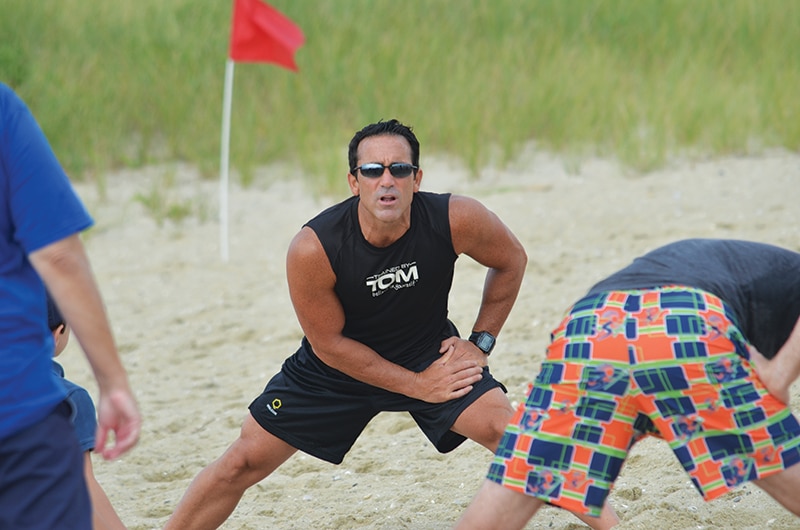 "I think one really big thing about the camp is that everyone starts to encourage each other," said Holland.
In a motivating setting, by campers and Holland, the atmosphere is welcoming and upbeat. So welcoming that Holland once had a few guest participants join for free. One summer, the camp was in session when he noticed four, fully dressed mascots walking down the beach. Holland said the mascots were so large that they looked like something one would see at professional sporting event.
The camp continued on, and then the mascots jumped in and starting doing the exercises with their giant costumes on. After a few exercises, the mascots continued their way down the shoreline. A few weeks later, Holland browsed through the internet. He stumbled upon a video of the costumed campers doing the exercises at the camp. He learned it was just a group of pranksters trying to get a laugh out of Holland and the participants.
ACKfit was not always as popular as it is today. Many years ago while vacationing on the island, young Holland realized he needed to make some extra money, and conceived of the idea of a fitness camp on the beach. Holland recalls the early days when it was just himself, his girlfriend (who is now his wife), and three or four participants during a session. Holland wasn't sure if people would want to come to a fitness class during their vacations but now, ACKfit has full classes of 40 to 50 people.
"It was like a 'Field of Dreams,' if they build it, they will come," said Holland. "It's vacation and does anyone want to get up early? The answer is absolutely." Holland has developed quite a following of summer residents. Not only is he well-known within our island community, but he has been nationally recognized as well. Holland was featured in the Los Angeles Times, Chicago Tribune, New York Times, and Men's and Women's Health and more. ACKfit was also featured in a segment on Fox TV.
"We have people now who literally make their vacation around [ACKfit], who come even though it's just an hour," said Holland. "It's just kinda their thing, their marathon, their color run, and they come as couples, families. Just about every type of group."
Some participants have attended to the camp since the early years and return every summer. Holland recalls one woman who first came to the camp when she was just fourteen years old. The woman is now in her thirties and still participates. Holland has seen people progress and grow in fitness and in their lives.
The Brannocks are a family of three generations who participate in ACKfit— this summer will be their fifteenth season with the camp. Tommy Brannock, whose father, sister, brother, and children all participate, believes Holland is an "engaging, fun, and very knowledgeable guy" who practices what he preaches. Brannock shared that his family enjoys ACKfit so much, they created custom T-shirts to wear and surprise the Hollands.
"ACKfit has become a family tradition. We start every weekday of our vacation with Tom Holland and his family," said Brannock. "Plus, we love the camaraderie, seeing many of the same folks year after year, and have become close friends with the Hollands. Some of the campers stay in touch after we leave the island."
The Brannocks often refer back to the health and fitness advice they've learned in the sessions throughout the year. Brannock says he would never miss a day of ACKfit, no matter the weather conditions.
"[ACKfit is] truly a great way to kick start your day on Nantucket. ACKfit is fun and, once complete, it makes you feel good about the rest of the day's activities, be they healthy or not," said Brannock.
From mysterious costumed characters to relay races to the encouraging energy of the camp, Holland's Nantucket Beach Fitness Camp is not only a workout but an hour of fun. Whether you are an island tourist a local resident, woman or man, young or old, the beach camp is a fitness experience unlike many others.
For details about the Nantucket Beach Fitness Camp and to register, visit teamholland.com/ackfit.htm. For 2017, the camp runs from July 31 to August 11, Monday through Friday from 8 to 9 am at Jetties Beach.