by Carl Oscar Olson
As New Englanders, we know well the sweet smell of seafood rising from our favorite seaside shacks and shanties. Every village and town along the coast is home to at least one, that famed destination where we slow down and fill up on the bounty from the deep. Naturally, Nantucket has one, too. Located happily on the harbor at the beginning of Broad Street, Easy Street Cantina has been serving the island for close to 30 years.
It was the end of another hot August afternoon, and we had waited all day to relax on the patio and unwind. With ample seating in the restaurant and plenty of picnic tables outside plus free convenient curbside delivery, the options abound on Easy Street.
As we sipped our ice cold bottomless beverages from the fountain and admired the smiles strolling by, we looked over the lengthy menu and made some very important decisions.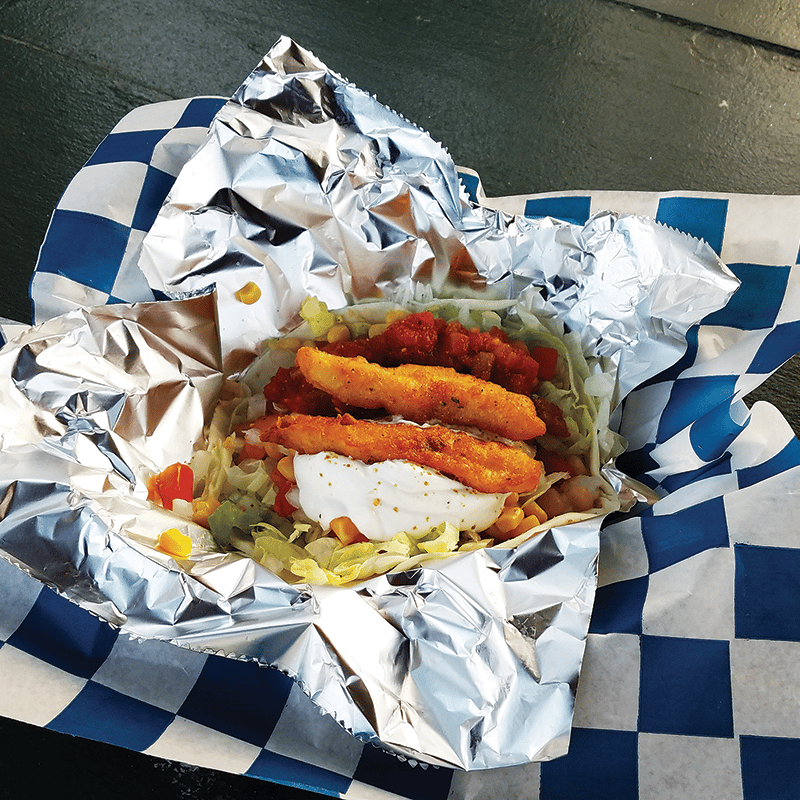 The Tacos are terrific on Easy Street, so we went with two of our favorites. The sweet corn in the Soft Shell Fish Taco helps temper the heat in the salsa. Flaky white fried fish gleams from inside along with cooling lettuce and sour cream.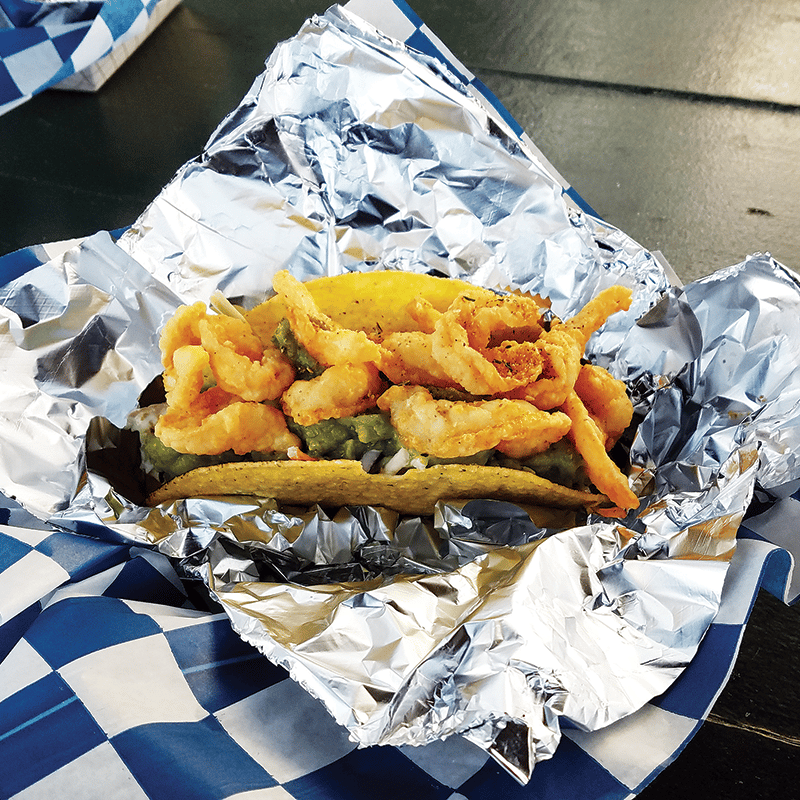 The Hard Shell Shrimp Taco overflows with fried shrimp, perfectly cooked and tender. Verdant green guacamole brings contrasting creaminess, with a sweet crunch from coleslaw hiding within. With just one in an order you might consider ordering two, but think twice: these are what we like to call "two-handed tacos," and one order is plenty for most.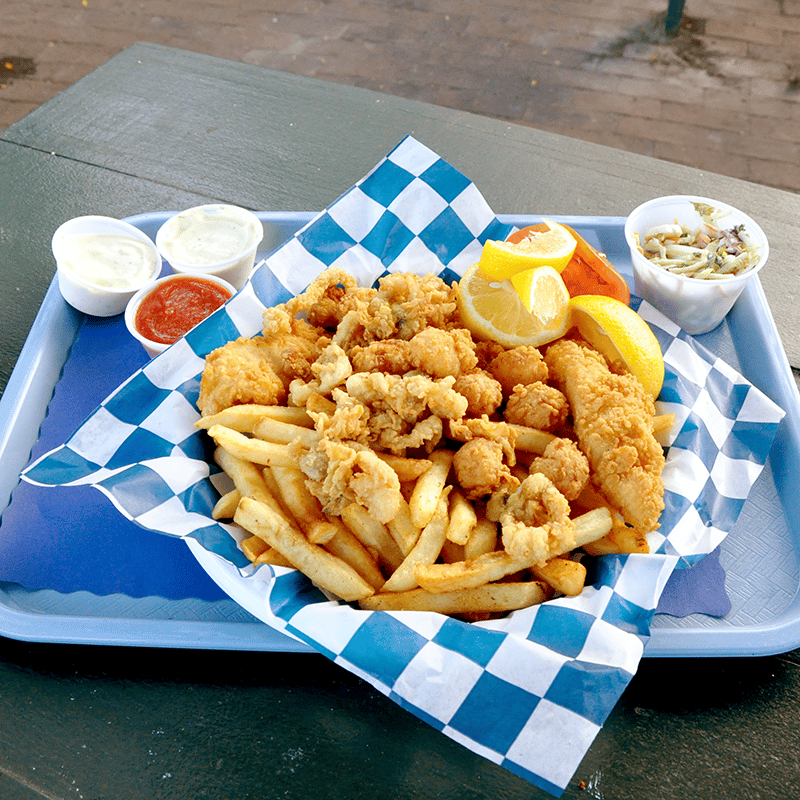 The fan favorite Fisherman's Platter is a seaside spectacle that feeds a few. It's piled high with fresh fried scallops, shrimp, whole clams, thick-cut cod, and french fries. Every component is cooked to perfection, and it comes complete with plenty of tartar and cocktail sauces plus a side of slaw that is a unique mixture of lightly dressed and shredded carrots, cabbage, brussels sprouts, and kale.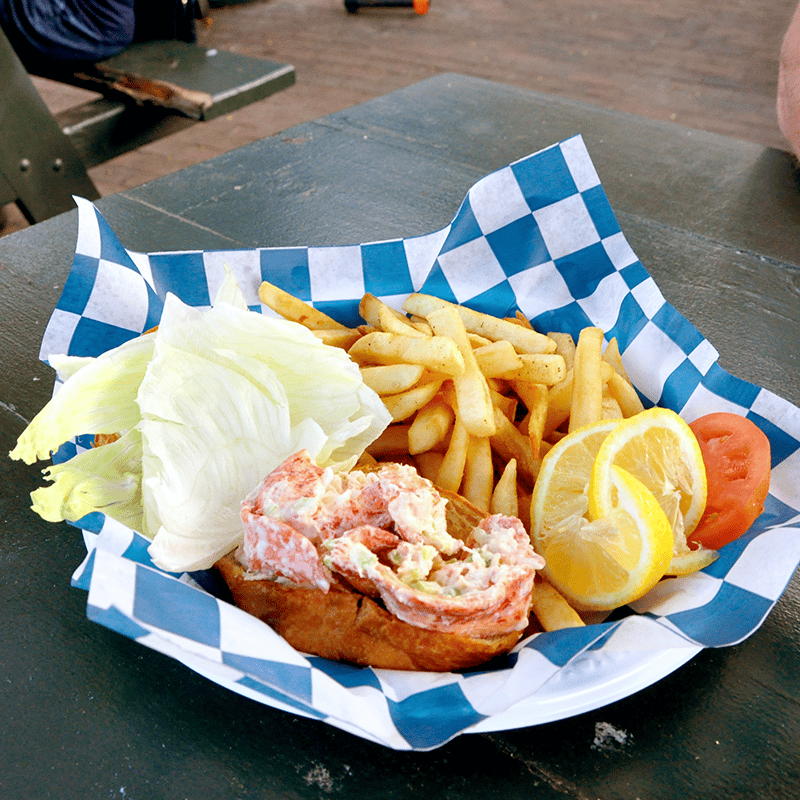 If you like your lobster to speak for itself, Easy Street Cantina has you covered. When making the lobster for the Lobster Rolls, Chef Reid likes to set a few pounds aside to leave undressed, naked, as is. He warms it on the grill with plenty of butter and lets the sweet red meat do the talking. No matter how you like it, the Lobster Roll is sure to please at Easy Street Cantina. It's served on a signature buttery croissant bun, a divine delivery device for this seasonal treat. Add some lettuce for a refreshing crunch and plenty of seasoned fries on the side and call it a day.
Though they do it right every time, Easy Street Cantina is so much more than seafood. Keep everyone happy with subs and salads, wraps, burgers, and breakfast all day long. They even boast some of the best Mexican fare Nantucket has to offer. Whether you're traveling solo or feeding a crowd, there's only one place you need to go for fresh, fast food in a fun, friendly locale.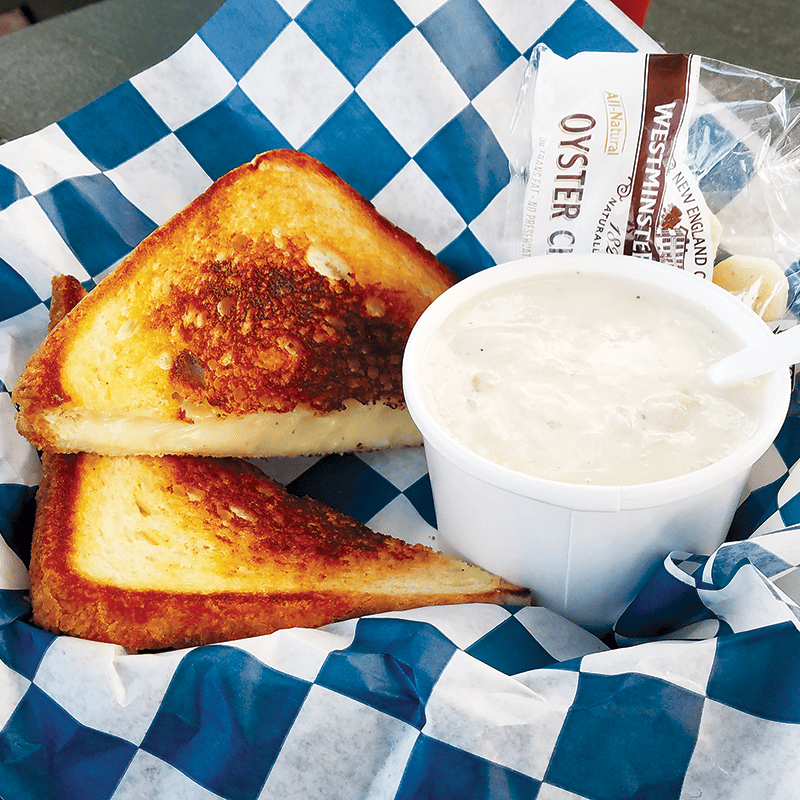 There's something about a Grilled Cheese Sandwich that just makes us happy, so adding a cup of fresh, hot, creamy Chowder sends us over the moon. The sandwich is golden brown and buttery, bursting with melty cheese, and the chowder is some of our favorite. It's lighter bodied than most, the clams are abundant and never rubbery. Forget your tomato soup, there's a new perfect pair in town.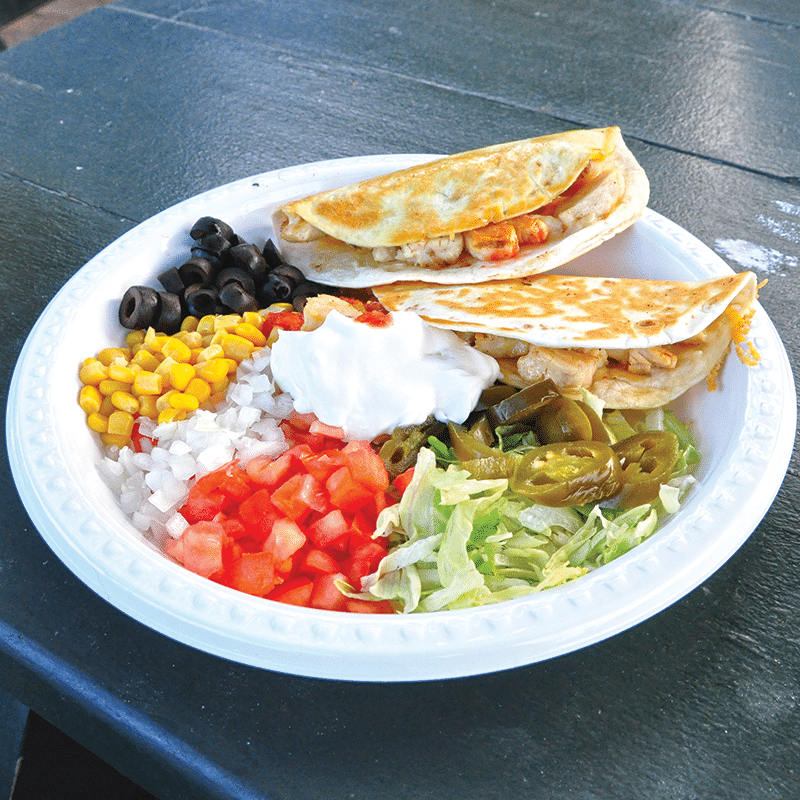 Another southwestern standby, Quesadillas, are as dynamic as you are. We got ours filled with moist white meat chicken, and it came complete with all the fixings you want. Black olives, sweet corn, spicy jalapenos, onion, tomato, and sour cream all share the plate so you can customize every bite to your heart's delight.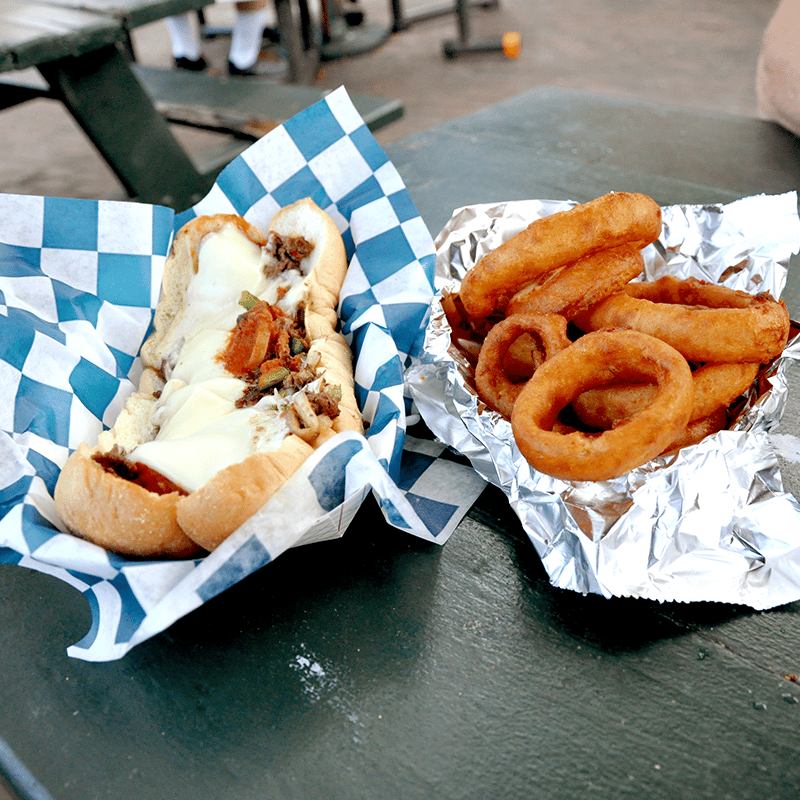 With a few Pennsylvania natives among us, Cheesesteaks are very serious business. The Cantina knows this about us, and they know how to do justice to this lunchtime classic. You can order it however you want, but we like them loaded with peppers and onions, mushrooms, red sauce, and plenty of cheese. Served in a footlong loaf, it's comfort food done right.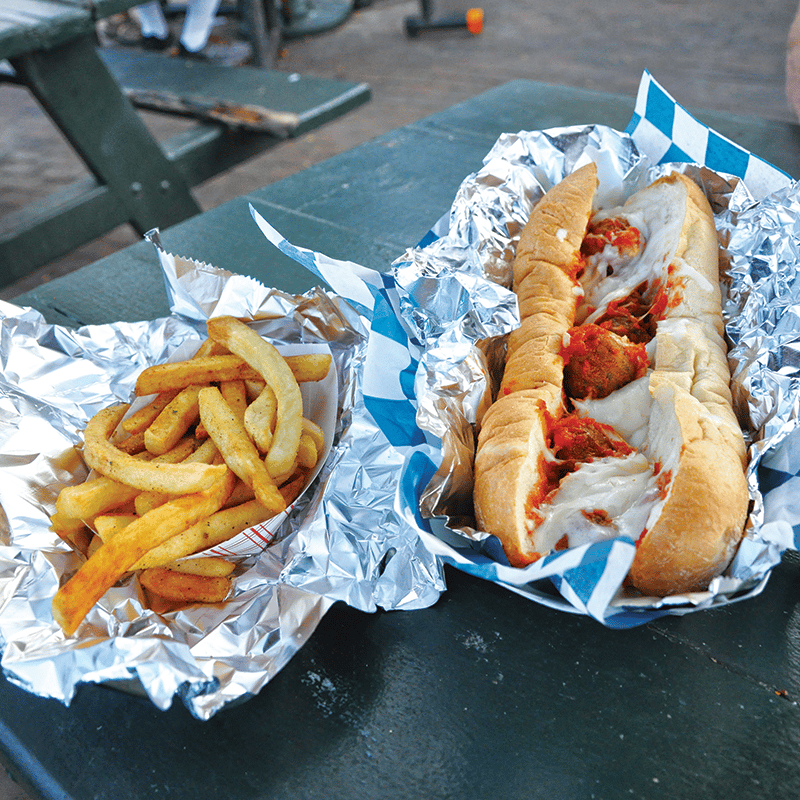 For more fun in a bun, we tried one of the evening's specials: A Meatball Sub with Fries. It's piping hot and sized to share, loaded with meatballs and marinara with just the right bite. The fries on the side are our favorite island wide: crispy outside and creamy within, seasoned to perfection every time.
Even the salads are exciting on Easy Street. The Teriyaki Salad boasts warm, sweet and savory white meat atop chopped, lettuce, tomatoes, and onions. It's sprinkled with cheese and finished with fresh fried pita chips. A delicious combination of tastes and textures that you can feel good about.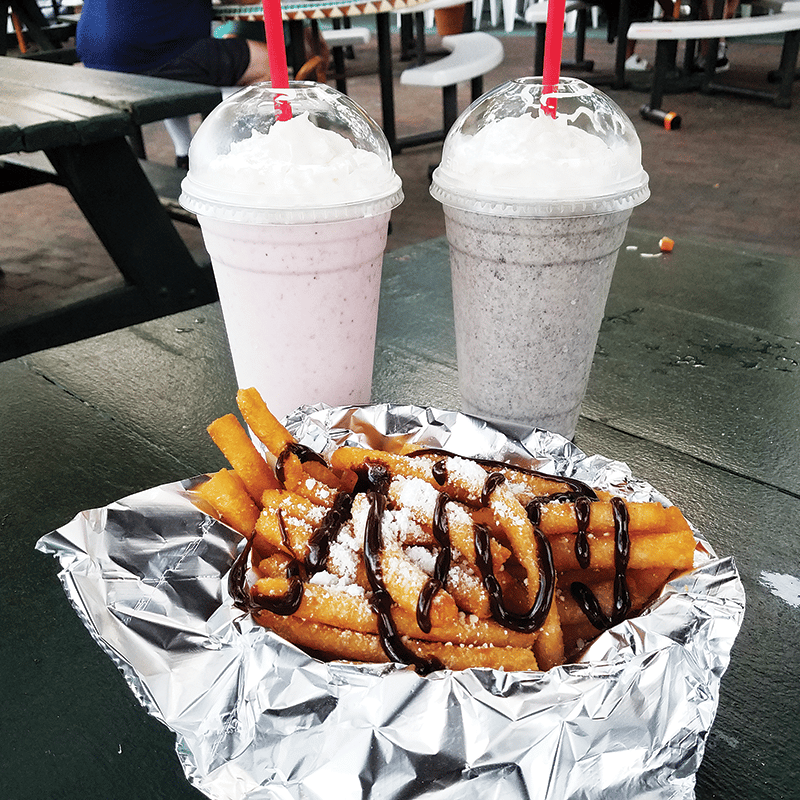 Save room for dessert, because The Cantina is just getting started. Not only are they home to the Nantucket Cookie Company, but the shakes made in house are to die for. The Strawberry Shake is creamy, cool, and pretty in pink, bursting with bits of real fruit. The Oreo Shake is a cookie lover's dream with real Oreos in every sip.
The Funnel Fries bring fun fair food to Nantucket. Crispy sticks of fried dough are dusted with sugar and drizzled with chocolate, and we dare you to eat just one. They're as delicious as they are addictive and we almost didn't want to share.
When we said breakfast is served all day, we meant it. Bart and the Cantina team get started at 7:30 am every day to serve the early birds among us, and they keep on cranking all day long. They're open til 10 pm Sunday through Thursday and till midnight on Fridays and Saturdays, so stop by any time. Just remember to bring your appetite!
This summer marks owner Bart Gangemi's 28th year serving the Nantucket community. Over the years, he has given back over $1,000,000 to islanders and visitors with his 10% discount program. Valid all year 'round and available on their website, it's something rarely seen on Nantucket or elsewhere. It puts on display The Cantina's passion for their patrons and the island as a whole. Head down to Easy Street and bring some friends, because the prices are great and the food is fantastic.
Easy Street Cantina
508-228-5418
Corner of Easy & Broad Streets • easystreetcantina.com
Open every day from 7:30 am to 10 pm
and till midnight on Friday and Saturday
Breakfast foods served all day
All-You-Can-Eat Buffet is back on Sept. 5
Prices range from $4.95 to $19.95
Indoor Dining, Outdoor Dining, & Takeout • Party Platters available
Home of the Nantucket Cookie Company: NantucketCookie.net