by Catherine Macallister
Wop ba-ba lu-mop and wop bam boom! Grab your lettermans, saddle shoes, and leather jackets and prepare to be transported back the 1950s at Rydell High. The cast of Grease can do it all: sing, dance, and act, making them the latest triple threat at the Theatre Workshop of Nantucket. This satirical take on high school life in the 50s will leave you laughing, singing, and bopping along to the classic and wildly popular Grease by Warren Casey and Jim Jacobs.
Sandy (Melissa Brausch) and Danny (Abraham Shaikh) first meet on the beach before senior year of high school, and after a summer romance, they are certain they won't see each other again. Sandy shares her summer escapades with her neighbor Frenchy (Brooke Sweeney) and the Pink Ladies, while Danny shares his version with his gang, The T-birds, during the memorable Summer Nights. Then they realize they are at the same school, and Sandy, a saddle shoe wearing, demure young lady, sees Danny in his true form: a wise cracking Greaser.
Trying to fit in, Sandy joins the cheerleading team, tries to get in with the Pink Ladies, even tries a cigarette: "Go ahead and try it, it ain't gonna kill you," says Rizzo to Sandy, drawing knowing laughs from the audience. Danny and Sandy attempt to get back together throughout the show, but it can't happen until they are tested by drama, the desire to grow up, and their impending graduation. Melissa Brausch and Abraham Shaikh make a memorable duo. Brausch's sweet and ultimately defiant portrayal of Sandy, combined with her strong and clear voice will have you taking Sandy's side as she tries to find somewhere to fit in. Shaikh nails the "tough guy" attitude of Danny, while also showing off a softer side as he tries to win back Sandy.
Many audience members will remember the 1970s movie version of Grease with popular songs like Summer Nights, We Go Together, and Greased Lightnin'. You will find yourself humming along, and tapping your feet as the cast delivers each song with vigor. The talents in each individual character, as well as the ensemble work in the Pink Ladies and T-Birds, help to carry this show to new heights. The cool Kenickie (Zach Stark) and the T Birds deliver a spirited Greased Lightnin' aboard their junk "car." The T-Birds draw laugh after laugh with their back-and-forth, particularly for their jabs at Roger (Cody Westbrook) and Sonny (Jameson May). The Pink Ladies are a comical and skilled group of women who bring freshness to favorites like Rizzo, Jan, Frenchy, and Marty. Hannah Bonnett plays a powerhouse Rizzo, skillfully delivering a bold Look at Me, I'm Sandra Dee followed by an emotional, There are Worse Things I Could Do in Act II. Brooke Sweeney as Frenchy is the sweet, first friend of Sandy, and Sweeney's portrayal in both vocal quality and believability will have you hoping she changes beauty school plans so she can graduate high school with her friends. Marty (Hannah-Jo Weisberg) is the all-too-grown up Pink Ladies member who has her sights set on life post high school, singing a sultry rendition of Freddy My Love, while donning the latest gifts from her pen pal marine. Jan's (Liz Erardi) goofy nature compliments and completes the Pink Ladies group.
The best part of this show is the work by all the cast members, some of whom have additional songs that you may not be familiar with if you've only seen the movie. On top of the palpable camaraderie between everyone and the comedic moments shared by many cast members, there are also some standout performances. Doody (Tyler Sodoma) performs Magic Changes, which is indeed a magical addition to the top of Act 1, showcasing guitar and vocal skills. Similarly, Roger (Cody Westbrook) and Jan (Liz Erardi) deliver a fantastic and funny Mooning in Act 1, showcasing clear vocal talents and bringing comedic timing that had the audience laughing throughout the whole production.
The iconic song Beauty School Dropout sung by Teen Angel (Joshua Clifton Powell) is Frenchy's reminder to "go back to high school," and had the audience in hysterics as Powell appeared and departed the stage in a cloud of hairspray all while crooning a marvelous rendition of the song. The top of Act II features Born To Hand Jive with Johnny Casino (Nick Wilders) and Vince Fontaine (Joshua Clifton Powell) leading the dance-off between the attendees of the school dance. The power of the ensemble is especially bright in this song, showcasing the talents of characters like Cha Cha (Skylar Wright) who dances alongside Danny (Abraham Shaikh) to win the dance contest. Miss Lynch, played by Annie Travolta (formerly Frenchy on Broadway) has the audience laughing from beginning to end as she pops up to reprimand the unruly T-birds before joyfully joining, We Go Together at the end of the show. The intrepid enthusiasm of Patty Simcox (Jackie McGrath), humorous nerdiness of Eugene (Andrew Daume), and ensemble members (Cate Oberly, and Max Quidley) round out an amazing cast of characters who help bring the Nantucket audience back to the hopping 50s.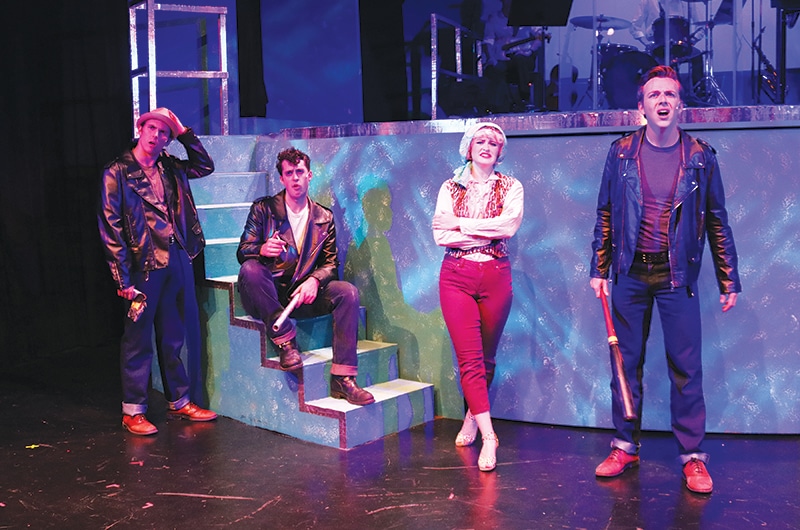 Director, Justin Cerne and his artistic team have put together an exciting and talented company that will have you laughing and singing along until the end of Act II. Little touches like Miss Lynch snapping Polaroids and handing them out to audience members at the end, is part of what makes this production memorable and will make you want to come back again. Grease will be playing at Bennett Hall until August 24 and is produced by the Theater Workshop of Nantucket. Tickets are $70 for adults and $42 for children 5-12 years old. While there were some children at the opening night performance, attendees should note that the play includes some suggestive language and adult themes. Tickets are available at theatrenantucket.org.
Can't get enough of the cast? Check them out in the kid-friendly production, Seussical the Musical that opens July 23 and features some of the cast members from Grease.