by Carl Oscar Olson
When dining out, keeping a crowd happy is no easy task. Some want to sit outside, others prefer indoors. Some are craving a steak and potatoes, others want to dive in to some seafood. And let's not even start with the kids. For fresh, fun, family friendly fare, the aim to please always hits the mark at Rose & Crown.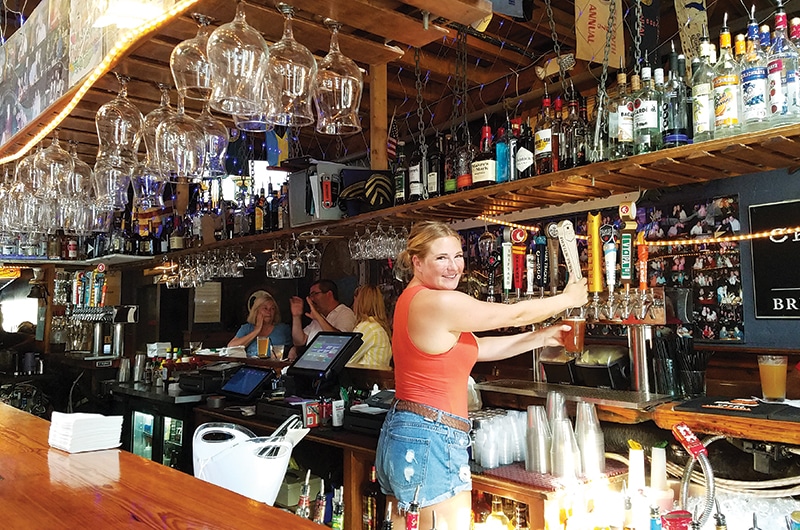 With an eye-catching new menu complete with the classics and a few new recipes to boot, live music all night every night, and the most relaxed ambiance in town, there are so many reasons to put The Rose & Crown on your island itinerary. Grab a table in the spacious, breezy dining room or belly up to the bar peppered with the smiling faces of patrons past and enjoy yourself. This is the place for you.
We found parking easily and made our way to 23 South Water Street with three kids in tow. Welcomed with smiles, we were quickly seated and served our drinks. The list of libations is long and diverse, offering everything from custom cocktails, classic wines, and a daunting list of drafts. If you just can't decide on a beer, ask for a flight to taste a few the eclectic options. The night we dined, Debba suggested we try some of the house mocktails. These crafted concoctions are complete with the complexity of a mixed drink minus the alcohol. There's a reason for their growing popularity.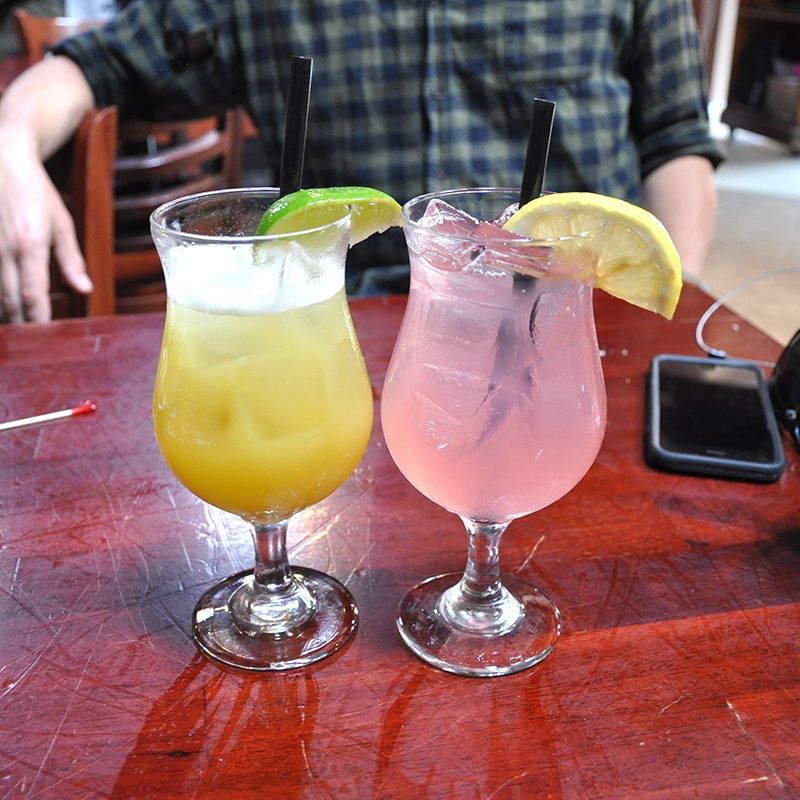 The Lavender Lemonade injects an instant chill with a sweet and sour herbal kick. It was gone in a flash; the kids couldn't get enough. The Pineapple Ginger Beer mixed fresh lime, pineapple, and house ginger simple syrup. It was nice with spice and no need to think twice.
You'll find Debba, the Queen of The Crown, working every angle of the restaurant. If she's not showing you to your table, she'll be taking your drink orders or bringing you dinner. It's an obvious display of the passion she and the rest of her crew have, making it their mission that you leave happy. So come alone, come with friends, or come with family.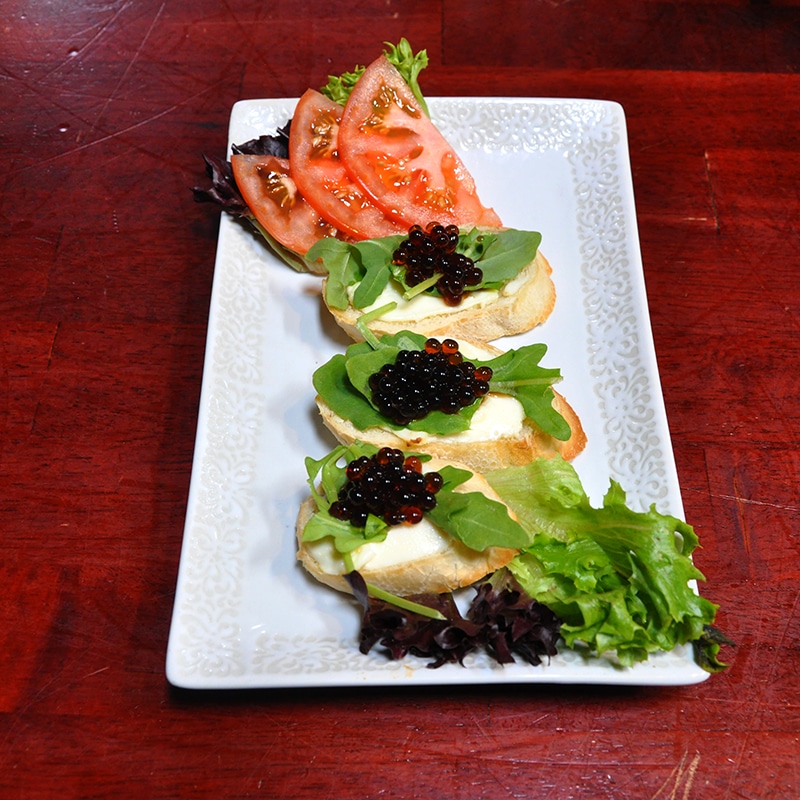 The starters section of the menu offers a great variety of perfect bites, salads, and shareable platters. We wanted a little bit of everything but were blown away by the Balsamic Pearl and Cream Cheese Toast. Tiny spheres of purple resembled caviar and popped with radiant flavor. The smooth tang of cream cheese and peppery arugula were just perfect atop crisp bite-sized toasts.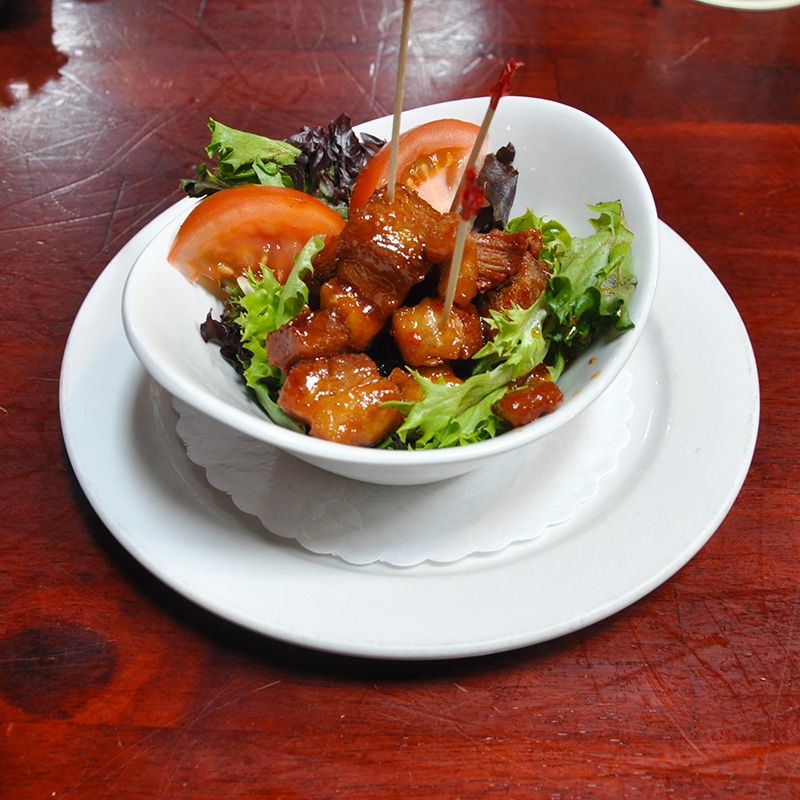 We loved the sweet heat provided by the Crispy Sriracha Honey Pork Belly Lardons. These fun finger foods were served with toothpicks and were so addictive.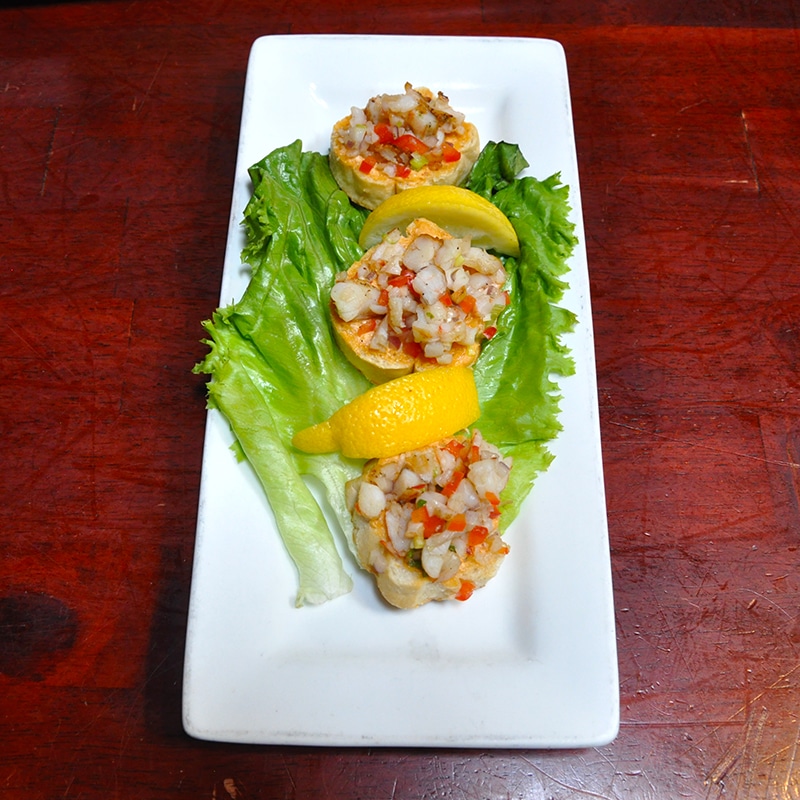 The Grilled Shrimp Toasts tasted like summer with their delicate charred flavor, and a squeeze of lemon makes them sing ceviche. Chipotle cream cheese brought out a bit of smoke and a cool, creamy contrast.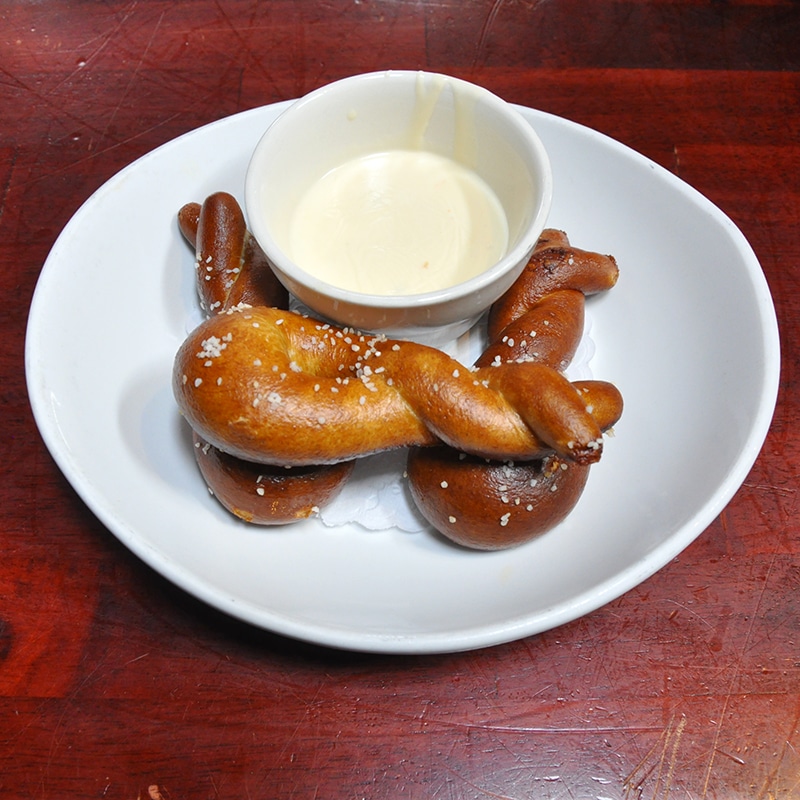 Find a favorite bar snack in the Pretzel Twists. They're baked fresh, sea salted, and served alongside warm cheddar ale sauce. Doughy and delicious.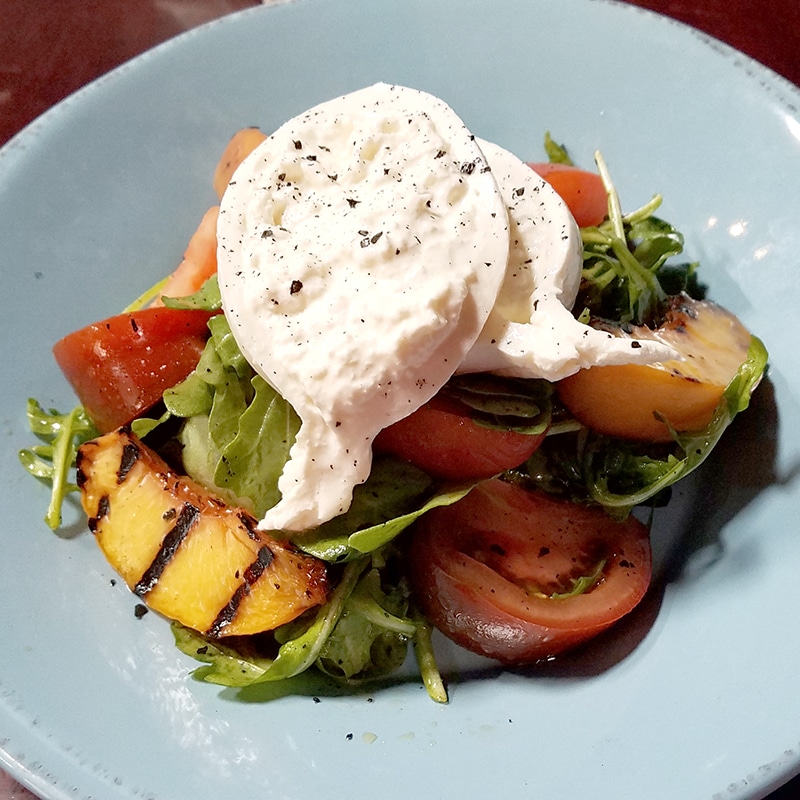 Our favorite first was a new offering, the Grilled Peaches and Burrata Salad. The mild spicy crunch from fresh arugula was made for the enhanced sweetness brought by warm grilled peaches. Creamy white burrata tied it all together and could make it a meal.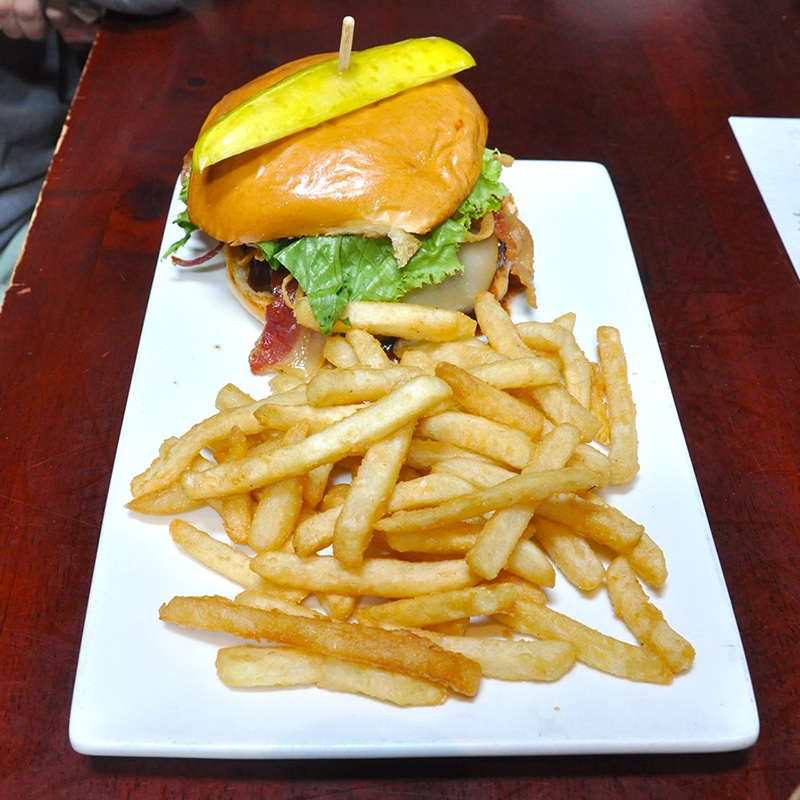 Moving on to entrees, the burgers are a force to be reckoned with at The Rose & Crown. You can build your own with all of your favorite fixings or keep with the classics. Our favorite is The Smokehouse: You'll need two hands to wrap around the buttery bun, half pound of fresh black Angus beef, melty smoked gouda, crispy bacon, and onion straws, and a fresh crunch from lettuce. All are cooked to order and made to please.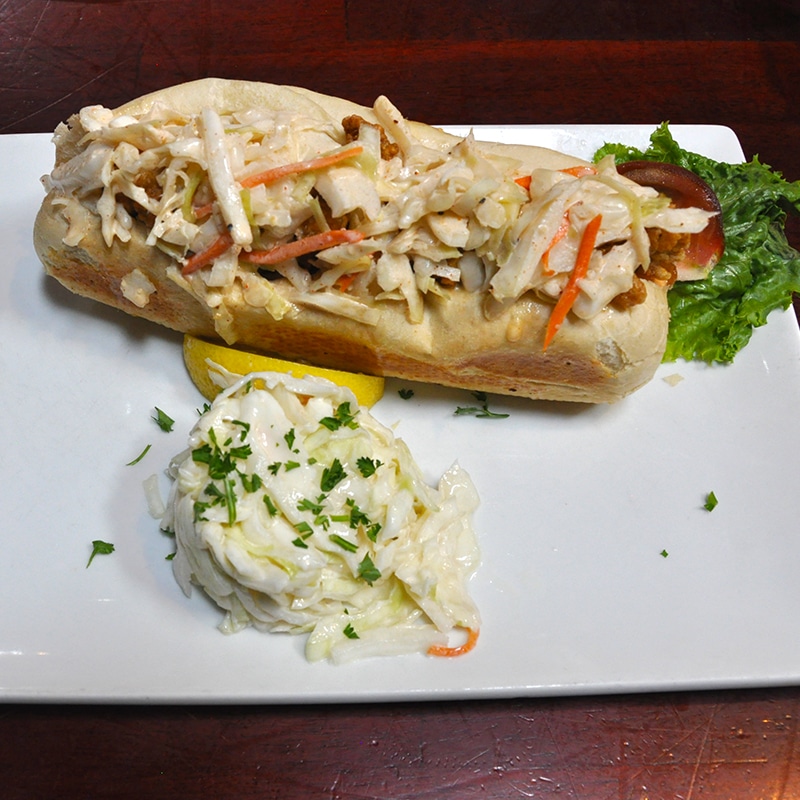 We loved the layers of mouthwatering crispiness in the Fried Oyster Po'Boy. It all starts with the perfect toasted baguette. A few strips of bacon at the bottom meet a rich remoulade, fried oysters, and crunchy Cajun slaw. This southern twist on a seaside staple will have you coming back for more.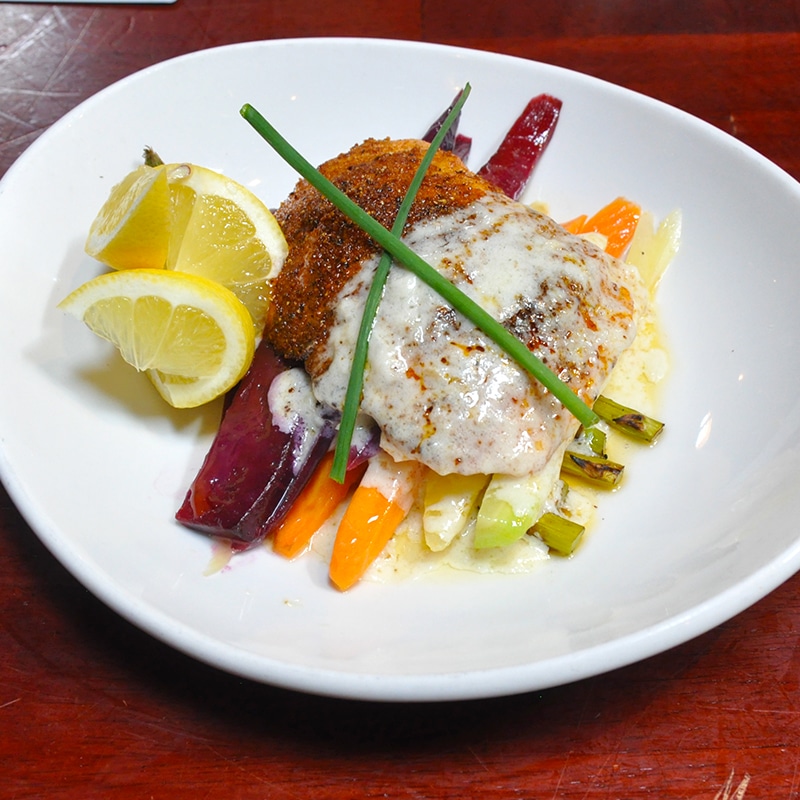 Fresh and flavorful, the Blackened Faroe Island Salmon was one of our favorites. Seasoned with a smattering of spice and sauteed, it's served atop colorful carrots and grilled asparagus. It was pristine pink and cooked to perfection.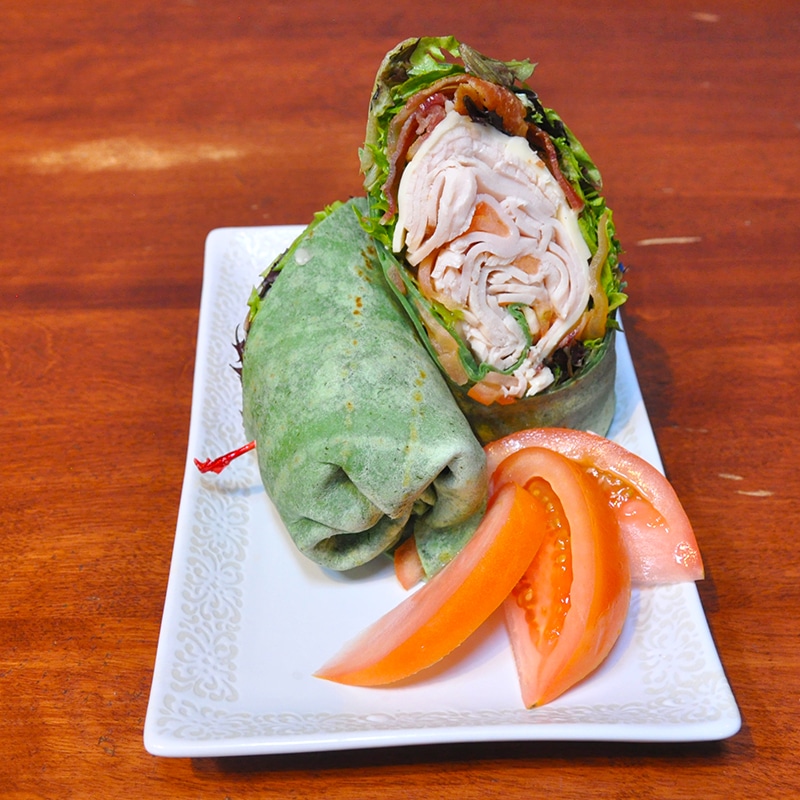 Great for lunch or dinner and easy on the go, the Turkey Club Wrap is a favorite for a reason. Loaded with thin sliced roast turkey, bacon, tomato, cheese, and greens, it's wrapped up tight in a verdant spinach tortilla.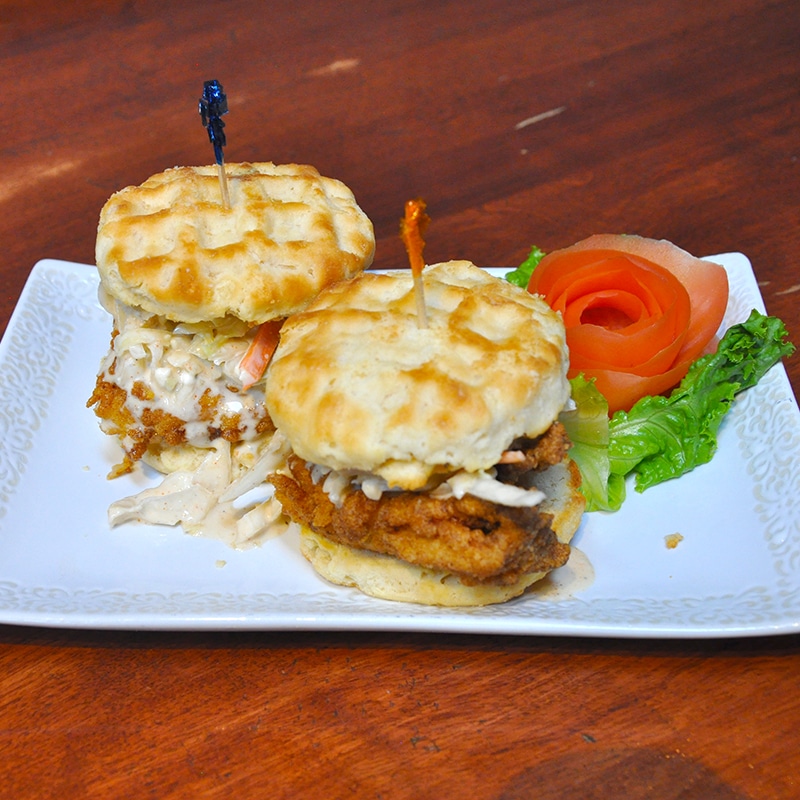 Delightful Chicken & Waffle Sliders marry a slightly sweet waffle biscuit with golden fried chicken, bleu cheese, and slaw. There's an explosion of tastes and textures that you might not want to share and definitely don't want to miss.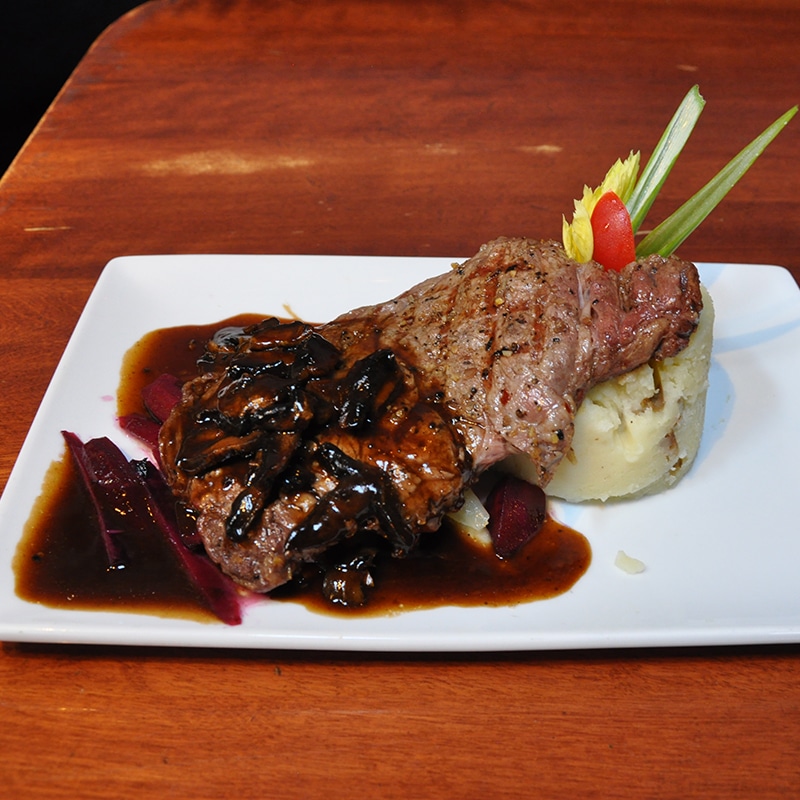 You'll want to write home about the mushroom demi-glaze poured over the Grilled Rib Eye. Fork-tender and served with rustic skin-on mashed potatoes and crunchy carrots, every bite was better than the last.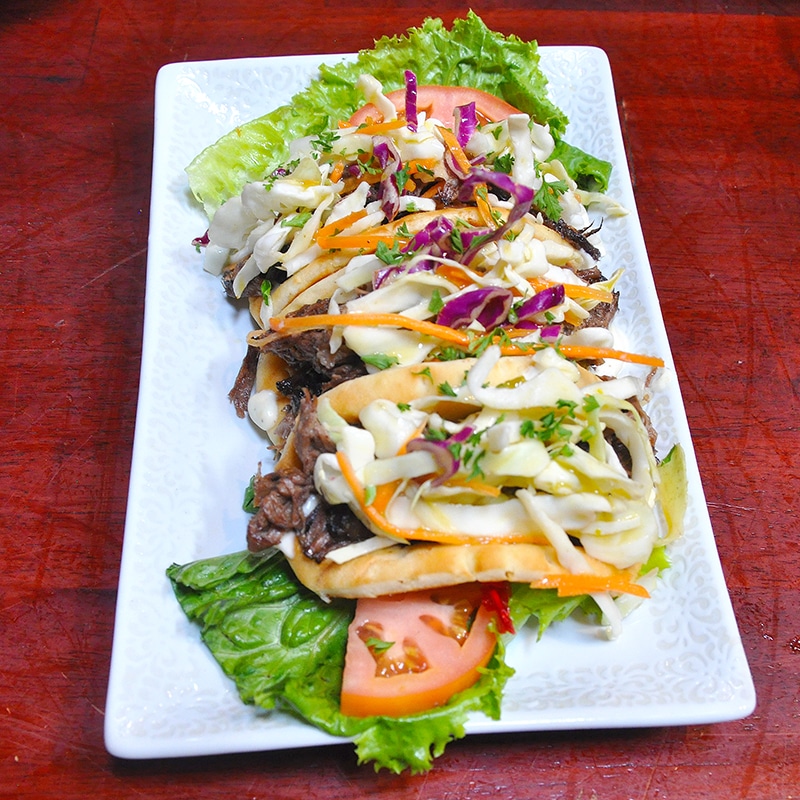 Airy onion naan made the Pork Belly Tacos something special. Crisp coleslaw and smoky, succulent pork filled them out and three on the plate was hardly enough.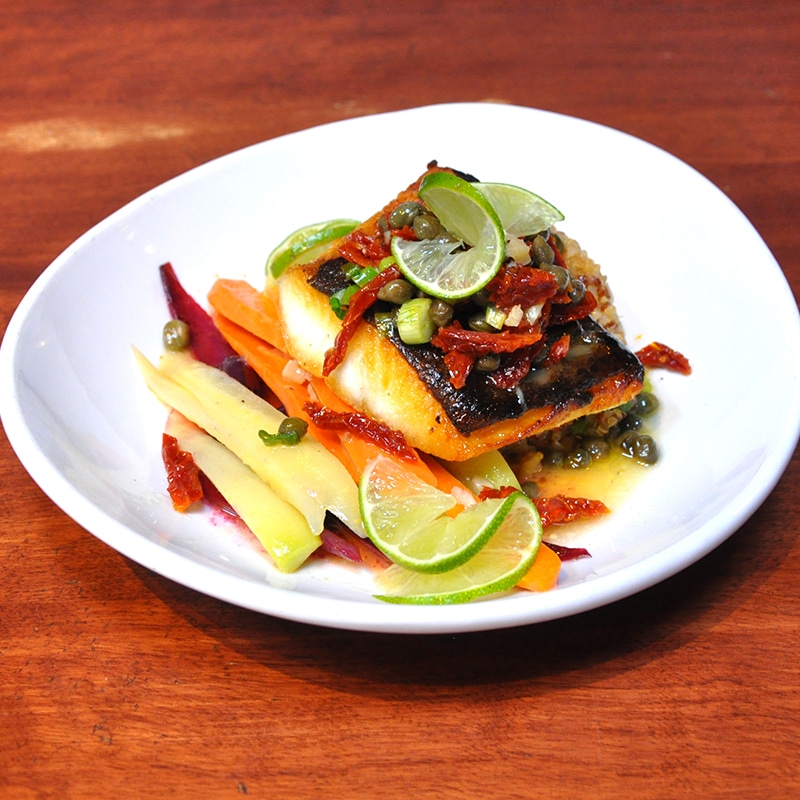 The first pick for all of us was the Halibut. Seared to a crackle yet pearly white within, it was served with Korean spiced quinoa and a lemon caper butter sauce. This and many other options are made gluten free, so you can indulge while staying healthy.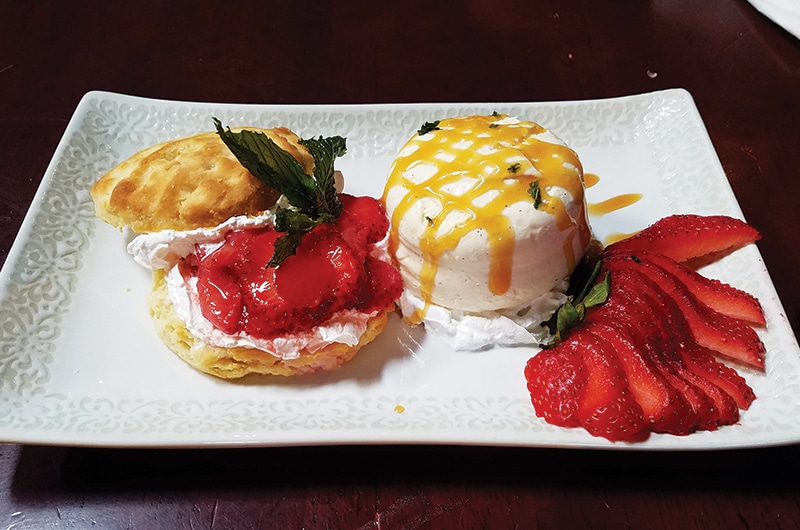 The Crown has a few favorites for the finale, we opted for the one that just screams summer: Strawberry Shortcake. Juicy red berries and plenty of whipped cream rest easy on a warm, sweet biscuit. A healthy scoop of ice cream and caramel sauce sit beside and the fried mint is more than just a garnish.
Erected in the 1800s, The Rose and Crown was originally a livery stable for keeping horses and carriages. After that it was home to a gas station and art gallery, then in the mid-seventies it transformed into the restaurant we know and love today. Their 40 years of steadfast service is a tradition we are proud to be a part of, and they'd love to have you be a part of it too.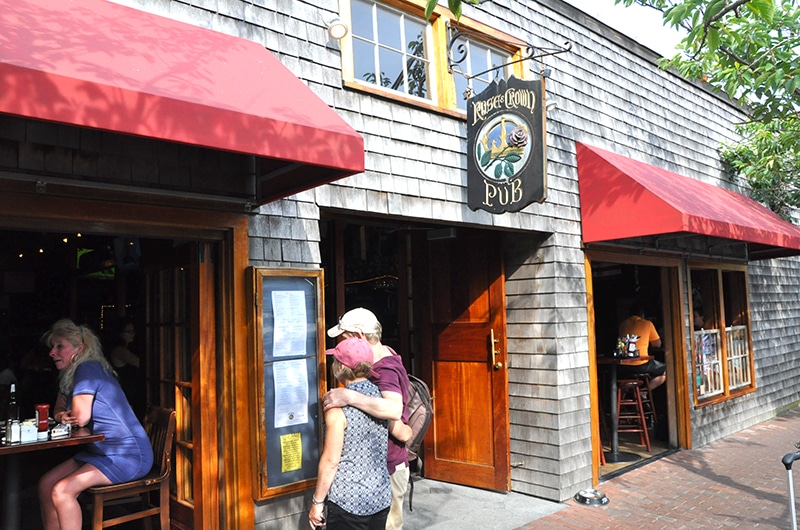 Rose & Crown
23 South Water Street • 508-228-2595 • theroseandcrown.com
Serving food continuously from 11:30 am to 10 pm; entrees from 5pm
Entree prices range from $17.99 to $30.99, plus
burgers, meal-size sandwiches & salads most under $17
Bar open until 1 AM with craft beers on tap
Entertainment • Air-conditioned
Children's Menu available for 12 & younger
MasterCard, Visa, Amex accepted