• by Sarah Teach •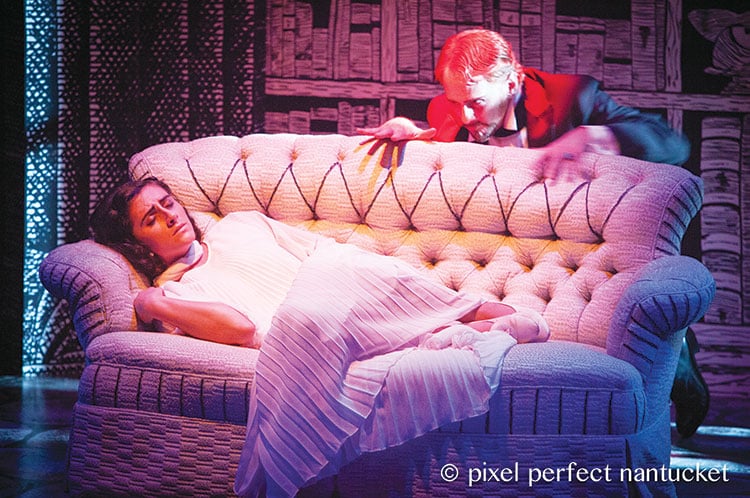 Ve all know of ze tale: Bram Stoker's Transylvanian count who lived (sort of, that is) in Castle Dracula.  In the 1920s, Irish playwright Hamilton Deane and American playwright John Balderston each took their pens to the story to craft a brilliantly terrifying stage adaptation.  In 1973, Nantucket resident and theatre producer John Wulp gave the play its island debut, which featured the costuming and set artwork of American illustrator Edward Gorey.  The show was so successful that it moved on to Broadway, where it spent three years and landed a couple of Tony wins, including one for Best Costume Design.  A young actor billed as John V. Shea was cast as Butterworth.  Fifty movies, an Emmy and more than two dozen On and Off-Broadway plays later, Shea has revived Gorey's Dracula on Nantucket, this time hailing from the back of the room as director of this Theatre Workshop of Nantucket production.
The first thing that grabs you is the set.  It is classic Gorey, whose name bears an uncanny correspondence to his gothic style.  Hidden everywhere in the darkly inked backdrop are skulls, bats, and other elements that denote Stoker's modern vampire creation.  Theatre Workshop of Nantucket (TWN) obtained the rights to Gorey's award-winning artwork; and Master Scenic Artist Gayl Michael and assistants Jessilyn Dearborn and Phillip Slay have painted a set of rooms worthy of the late, great Gorey.  Architecturally, the set is not simple, but Architectural Interpreter Eric Schultz adapted it to the space masterfully.  Sandra Galley's lighting dances on the shadowy area between realistic and dreamlike.  Shea has taken full advantage of her skills to guide the audience's attention wherever he wants.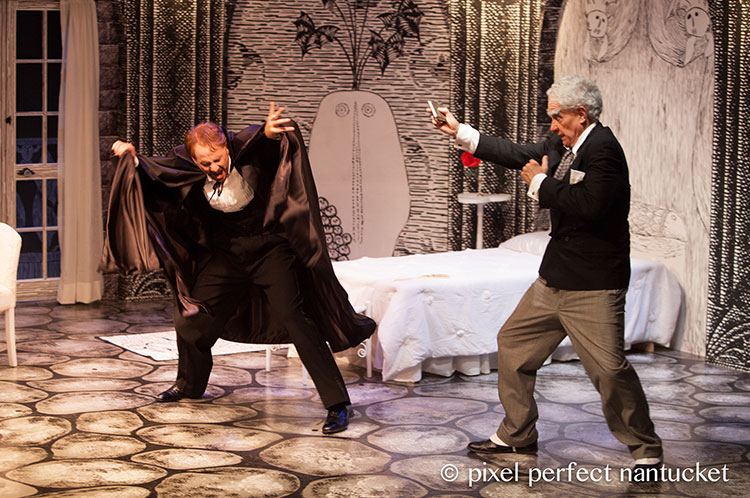 Toby Miller as Count Dracula is simultaneously incredibly terrifying and distinguished. Costume/Property Designer Anne Breeding has him dressed to the nines in black and white with a pocket watch chain doubled into two curves, reminiscent of a bat.  Nantucket Ballroom owner and dance instructor Andrey Stanev was called in to direct Miller's movements as the count. Stanev says, "Dracula is two completely different characters, and the transformation from high class gentleman into animal must be stark.  Since Toby is a very talented actor, our collaboration only took two sessions."  Miller's accent was absolutely flawless; I later found out that actress Bianca Ilich had worked with him on his pronunciation. Ilich hails from Bulgaria, just a few hundred miles from the Transylvanian region of Romania.
The earnest Jonathan Harker is played by Townsend Ambrecht, who is dashing enough to do justice to the unflawed protagonist.  Harker's fiancé Lucy (played by Sarah Nabulsi) is a delicate creature with beauty that flows from her like her long white dresses.  Nabulsi shows us a Lucy who may be topped with sugar, but is laced with some strong spice.  John Devaney is well cast as the eccentric Van Helsing, whose appetite for the offbeat gets the story rolling.  David McCandless is a proper Dr. Seward, and produces his character's decidedly British manner of intelligence brushed with selective emotionality.  Fritz Michel's Renfield is greasy, gross, and utterly weird… exactly as he should be.  Asa Jean is as winsome and grimy a Butterworth we could hope for: the perfect proletariat counterpart for the maid, Miss Wells.  Katie Croyle's Stepford-wife-like trance is a surreal lead into a dramatic ante upping. The entire company exhibits a great sense of chemistry, and plays off of one another's actions.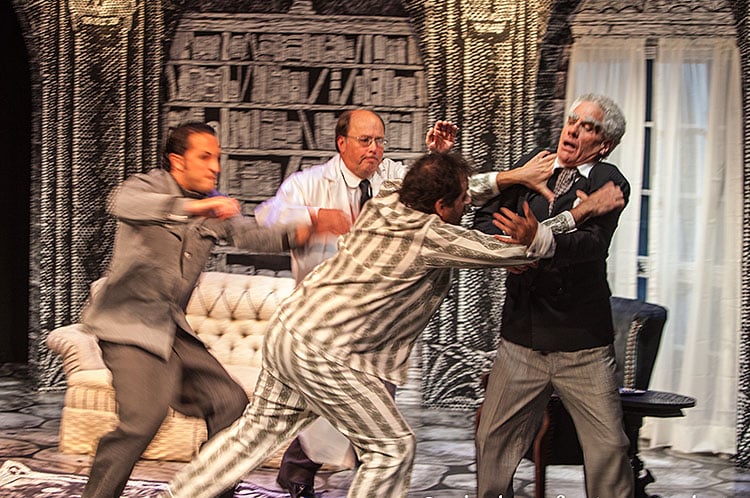 Composer A.W. Bullington created original music and scored it down to the moment.  Bullington says that he aimed away from contemporary and veered towards the subterranean and spooky.  "I had this idea of [the characters] in a dungeon," says Bullington, "So I have a casket squeaking open; I used a lot of strings; and I even collected some sounds from around the house.  This project was right up my alley.  A lot of times, people will ask me to compose for a documentary and will say, 'We want it to be positive and uplifting,' so for me, this was a really fun project that allowed me to go in the direction I naturally go."  His inclination to the eerie hits the audience in all the right moments, adding the crucial audio element to an already scary show.
Dracula may very well be the single best piece of work I have seen in three years of Nantucket theatergoing.  Being the stuff of nightmares and all, this vampire play is just for adults (who, incidentally, may still need to check some bedroom closets after the show).  Plus, the company surely doesn't want any small children to loudly reveal which one is the bad guy.  Running time is one hour and 50 minutes.  It's a good thing we are forced to take a ten-minute intermission between acts; this show sucks you right in.  Tickets are $30 at theatreworkshop.com. Shows are held at Centre Stage at 2 Centre Street. Until September 7, the curtain rises at 7:30 Wednesday- Saturday, with 6 p.m. shows on Sunday, August 25 and Sunday, September 1.