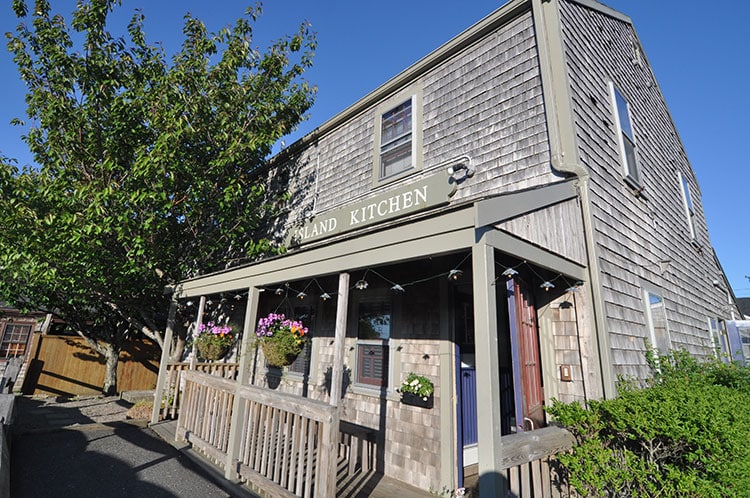 As we scoot between tables to settle in on a comfy bench seat, the couple next to us greets us warmly and the women two tables down smile and start a short "hey, how are you, it's been a while" chat. We're not surprised that even in June we know most of the people in the dining room at Island Kitchen—this mid-island eatery has become a favorite among island residents. With dozens of high quality restaurants within a 10-minute drive and not a McDonald's in sight, Nantucketers have high standards when they go out to eat. Island Kitchen is much loved for their fine dining cuisine served in an easygoing café ambiance. Why deal with summer crowds and parking frustrations when you can enjoy a meal here that measures up to the best of downtown dining?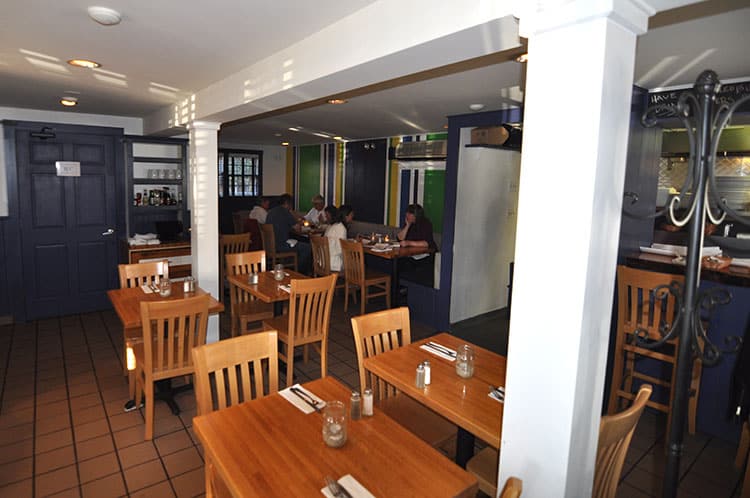 Executive chef/owner Patrick Ridge was head chef at Le Languedoc before opening his own place last season, and the creativity, attention to detail, and perfect technique that this CIA-trained chef honed at that classic Nantucket restaurant are what keeps his Island Kitchen patrons coming back for more.
Every morning from 7am, Island Kitchen serves breakfasts well worth getting up, getting dressed, and going out to enjoy! Wake up with freshly squeezed orange or grapefruit juice as you peruse the menu. The "Morning Essentials" include omelets, scrambles, pancakes, french toast, and classic benedict, all consistently delicious and served with the best breakfast potatoes on the island.
Click on images to view enlargements.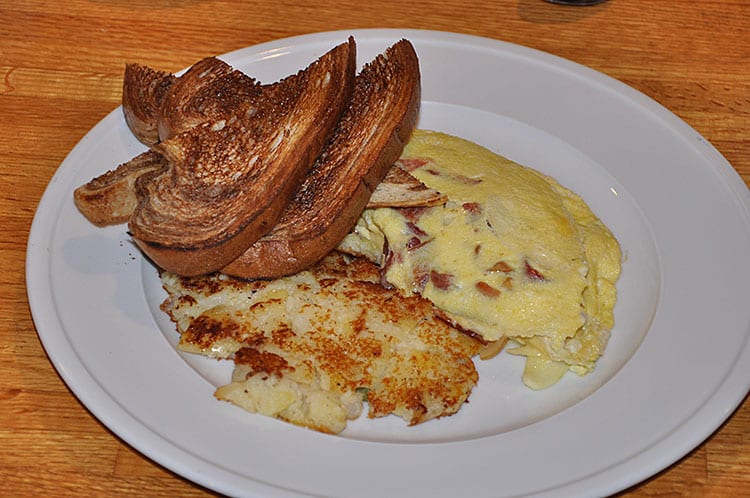 But we usually order from the House Specialties section, where you'll find delights like Blue Cheese, Apple, & Bacon Omelet (order this with the potato cake)  …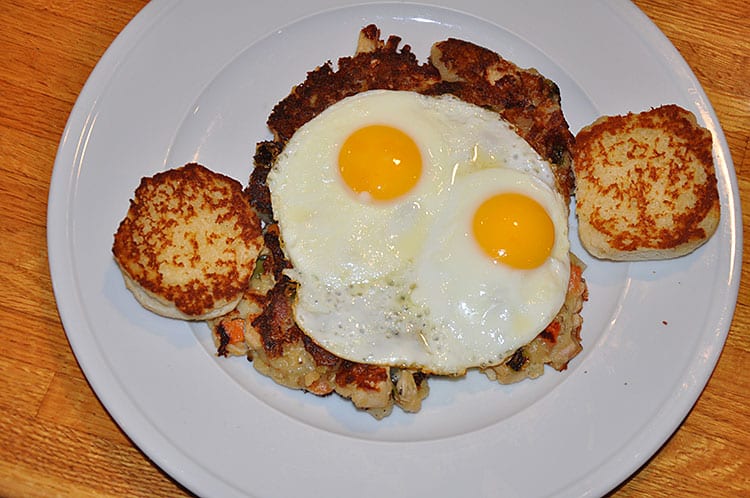 …  and a Roasted Turkey Hash that has all the hearty flavors of a turkey dinner. The Finnan Haddie has been our favorite among the house specialties since we first tasted this dish last summer: the smoky haddock filets seared and bathed in an herbed cream sauce are delicious for lunch and even better with two poached eggs for breakfast.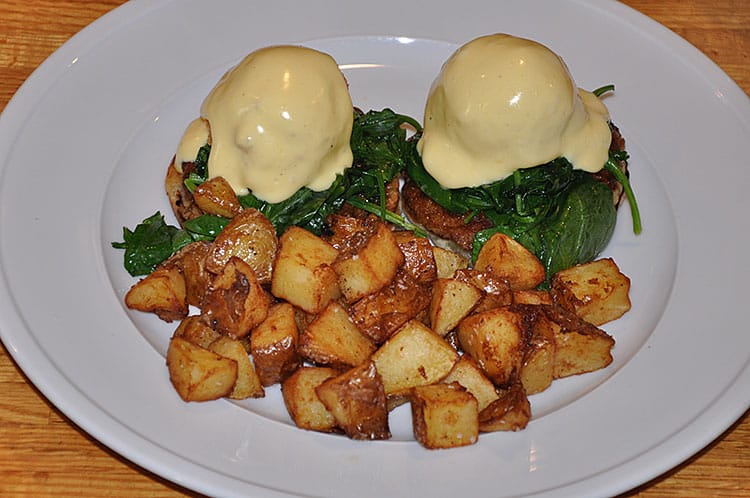 But this week we discovered Chef Ridge's new version of eggs benedict—Panko Eggs Benedict. For this, a pair of perfectly poached eggs that have a light crispy coating of panko are served on English muffins topped with sausage patties and spinach and drenched with rich hollandaise. You'll not see this dish on the menu (not yet, anyway), but it is a regular morning special.
Island Kitchen serves breakfast till 2 and lunch until 3, then at 5:30 pm, they reopen for dinner featuring dishes full of clear, honest flavors that are sophisticated without being pretentious.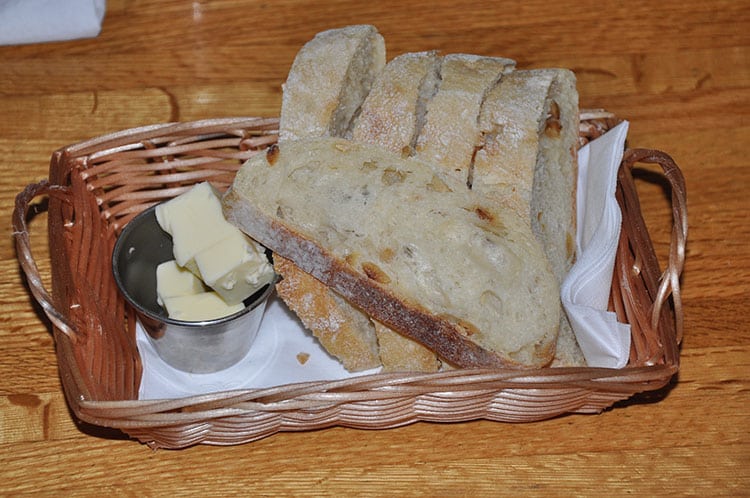 Order a basket of bread as you look over the menu: there's nothing like a thick slice of a peasant style bread studded with soft, mellow cloves of roasted garlic to pique your appetite.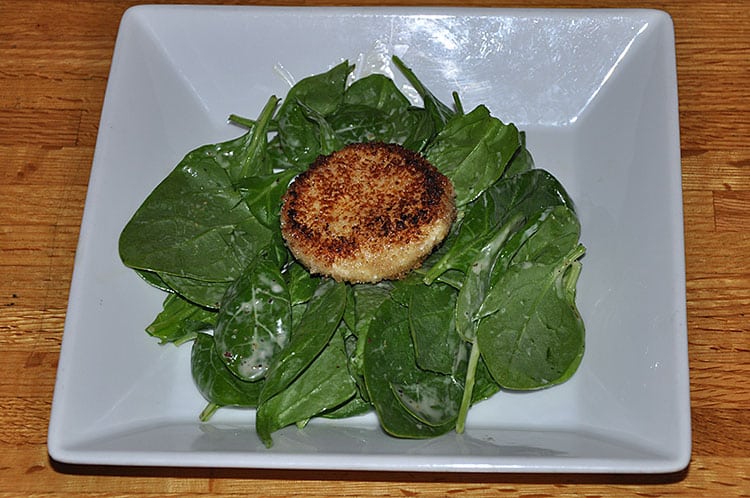 Chef Ridge changes his dinner menu seasonally and adds a miminum of three specials every evening to the regular offerings. We started our recent meal with his Warm Goat Cheese Spinach Salad. Like many of his dishes, this is simple and simply delicious. Very fresh, tender leaves of spinach tossed in an excellent housemade red wine vinaigrette serve as the bed for a large cake of goat cheese. The cheese is rolled in panko so that the golden-brown exterior is has a tasty crunch, and the cheese inside kept warm and creamy.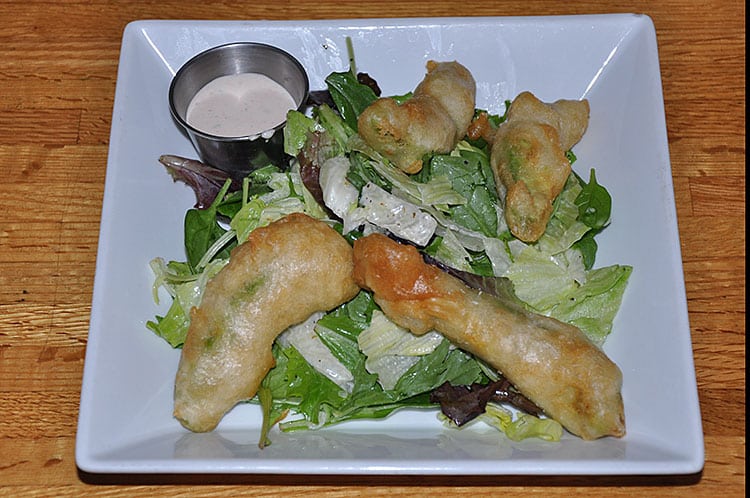 His patrons will probably never permit Chef Ridge to remove the popular Tempura Avocado from his dinner menu. Somewhat of a cross between a salad and an appetizer, the thick slices of avocado dipped in batter and fried are crispy and creamy and very good. Don't ignore the chipotle cream served alongside for dipping: it adds a nice spark of heat. After you devour the avocado, you have a good sized salad of fresh greens tossed with the superb house vinaigrette.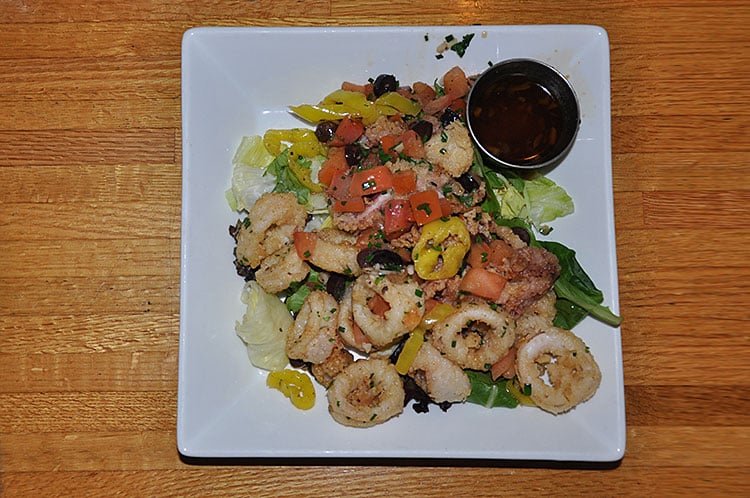 Calamari is offered on many island menus, and it's one of those foods that is either really good or really not. The deft hands at Island Kitchen know just how to handle this delicate seafood. The rings and tentacles are cooked just right so that the light breading is crisp but the squid is tender. Olives, diced tomato, and bold banana peppers are tossed with the calamari and add extra flavor, a salty kick, and a touch of heat to each bite.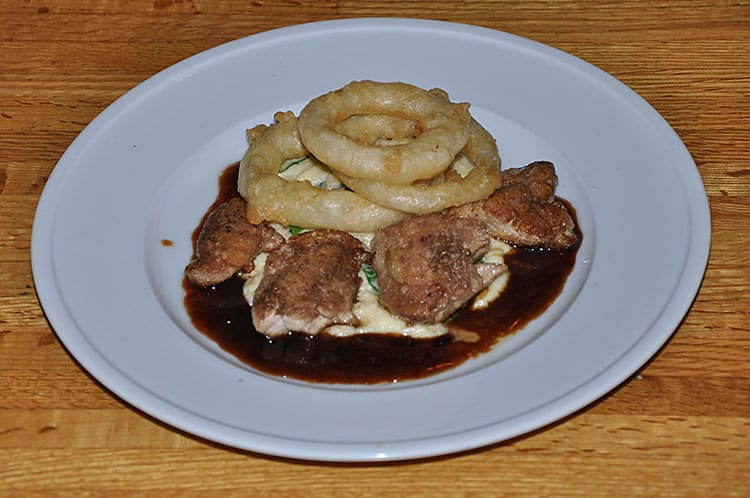 If Chef Ridge is offering his Veal Sweetbreads the evening you dine at Island Kitchen, don't hesitate to order this special appetizer. To us, this dish embodies the wonderful mix of sensibilities at this restaurant: fun and fancy, haute cuisine and casual café. The bite-sized sweetbreads are sauteed and nestled into a light and creamy polenta flavored with blue cheese but not overpowered by it. A pool of dark, rich veal demi-glaze surrounds the sweetbreads and crispy onion rings are stacked on top.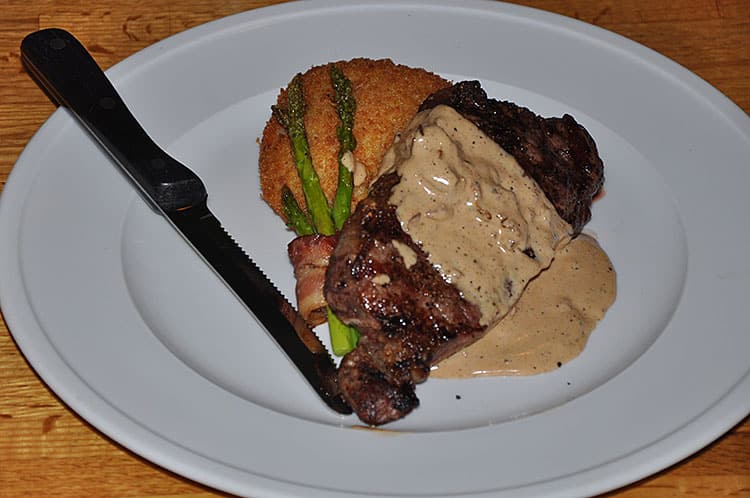 Entrees at Island Kitchen are comfort food with a touch of something extra; each one we tasted was very satisfying. Portions are generous and prices are very reasonable. We're hard-pressed to think of another island restaurant that serves a thick and juicy, perfectly Grilled Sirloin Steak with classic bearnaise, grilled asparagus wrapped in bacon, and a potato croquette for just $26!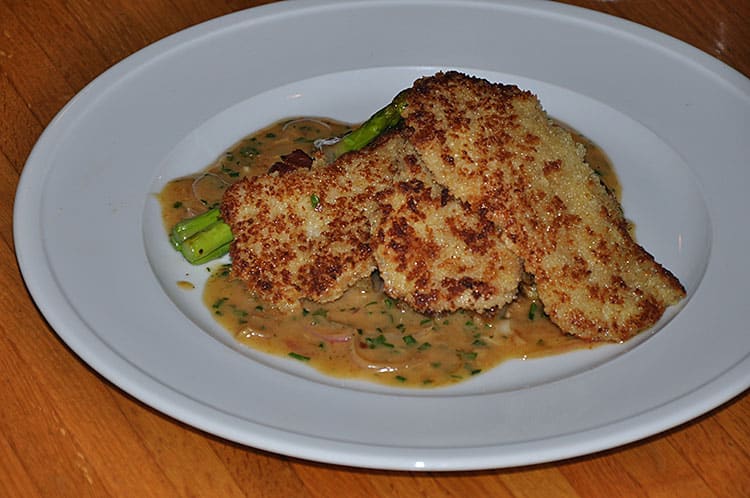 Last season, Chef Ridge reintroduced us to his modern version of an old-fashioned favorite: Wiener Schnitzel. For this he drapes thin and tender cutlets of veal with a golden-brown crumb crust over roasted yukon gold potatoes. A gorgeous veal sauce with garlic, lemon, caramelized onion, and herbs adds the perfect finishing touch.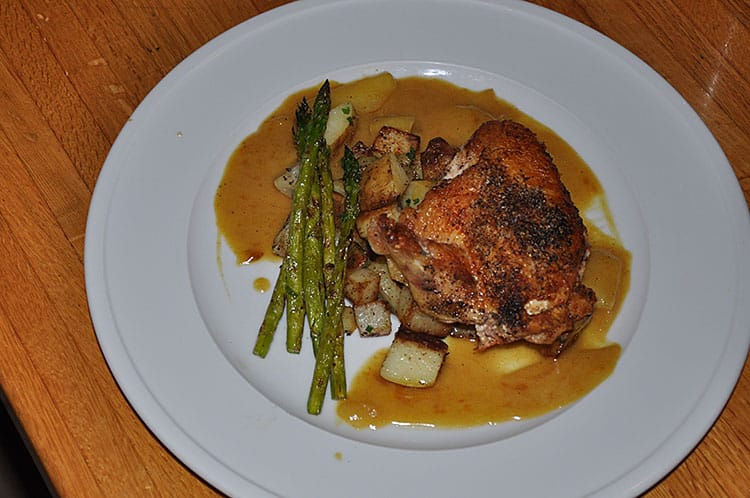 Another deliciously homestyle meal with a decidedly different twist is the Roasted Statler Chicken Breast. The aroma is enticing and the first bite doesn't disappoint! Nor do the second or third… The skin is salty, seasoned, and sinfully crisp while the meat underneath remains moist and succulent. The breast is served on chunks of roasted potato in a richly flavored apple curry sauce that emphasizes flavor over heat.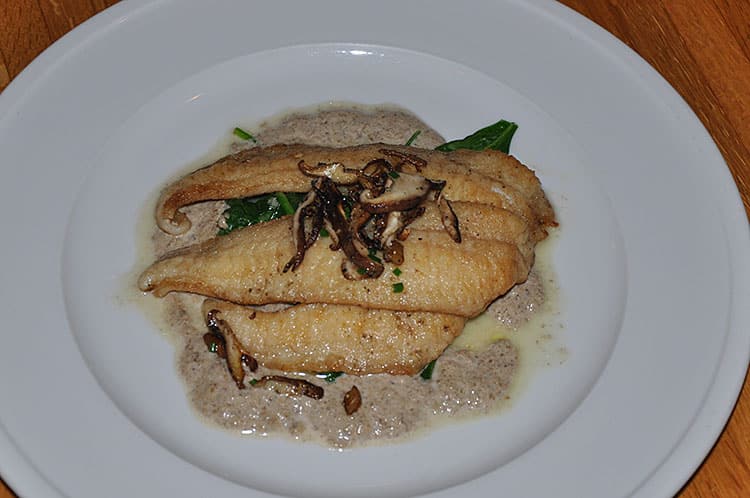 Chef Ridge's fish dishes often appear as evening specials so that he can take advantage of the island's fresh catch. We decided to try his new Pan Seared Fluke, and it turned out to be a dance of superb yet subtle flavors—each distinct, but none overpowering the others. Thick filets are expertly seasoned and golden. The fish is moist, flaky, and sparklingly fresh. Sauteed slices of porcini mushroom garnish the top and a delicate creamy mushroom sauce is underneath. Sauteed spinach cuts the richness of the sauce with a pleasant garden greeness.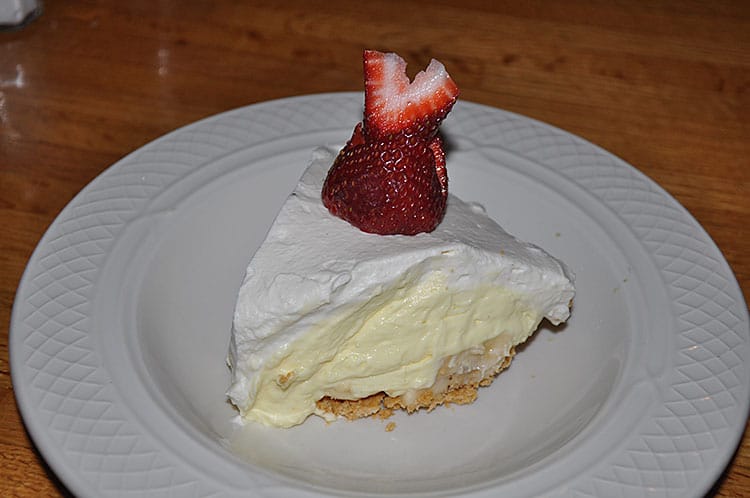 Dessert at Island Kitchen, if you have any room left after the generous entree portions, changes frequently. We finished our meal with a smooth, cool Banana Cream Pie on graham cracker crust,…
… a Flourless Chocolate Torte, dense and chocolately with great mouthfeel,…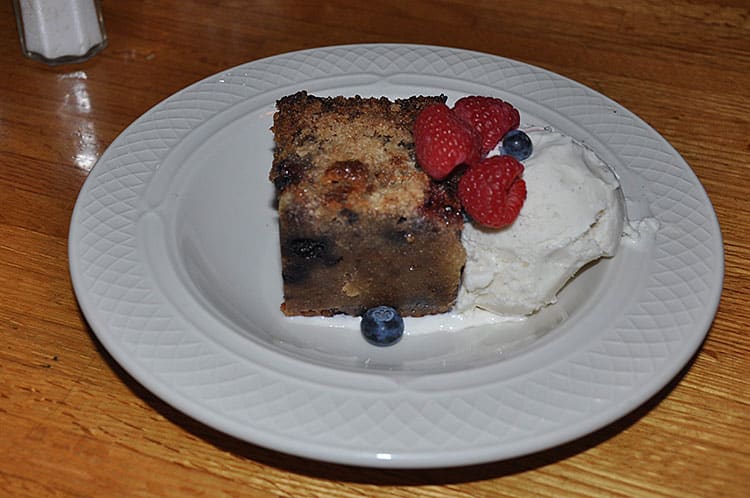 …and the Island Kitchen Bread Pudding, sweet and fruity, prepared using delicious made-from-scratch blueberry and raspberry muffins.
The next time you go out for breakfast, for lunch, or for dinner, avoid the rush of downtown and head to Island Kitchen, which has the soul of fine dining in the body of a casual café.
Island Kitchen
1 Chin's Way • 508-228-2639 • www.NantucketIslandKitchen.com
Breakfast daily 7am – 2pm, price range $6.95 to $15.50
Lunch daily 11am – 3pm, price range $9.50 to $13
Dinner nightly from 5:30, bar standards & entrees range $11 to $26
Children's Menu Available • Full Bar • MC, Visa, Amex accepted
Indoor & Outdoor Dining • Open Year-Round • plenty of parking