by Cara Godlesky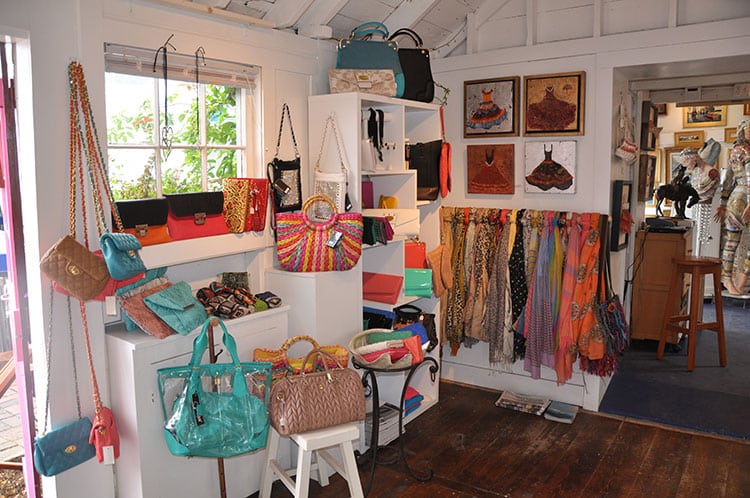 Near the end of the crushed seashell walkway down Old South Wharf on the left, you'll find the two-in-one shop Ireland Gallery and Nantucket Chic. The shops sit in a cottage-like building alongside the harbor. From the windows of the shop, you can feel the fresh ocean breezes and watch the docked boats bobbing in the waves.
Ireland Gallery and Nantucket Chic are owned by artist Lorene Ireland. The two share the same roof but feature two very different styles and items. Ireland Gallery is a gallery featuring with art and sculpture (much of it by Lorene) while Nantucket Chic is a trendy boutique. The shop may be off the beaten path, however Ireland Gallery and Nantucket Chic have items and a variety of styles that make the walk down the wharf worthwhile.

"I think this is the best little secret on Nantucket because we're down here on the end and most people don't get this far back to the wharf," said Ireland. "We're off in our own little world away from the chaos."
Ireland Gallery is a beautiful shop filled top to bottom with sculptures, paintings and other artwork. Ireland, who started doing art by the age of eight, has many of her own creations along with about half a dozen other artists. Many of the paintings feature traditional island scenes: perfect to remember your Nantucket visit or to give as a gift to couples holding their weddings here. Ireland explains that classic Nantucket landscapes and pictures are her favorite.
"I really enjoy painting the boats. I put my heart and soul into a lot of these paintings," said Ireland.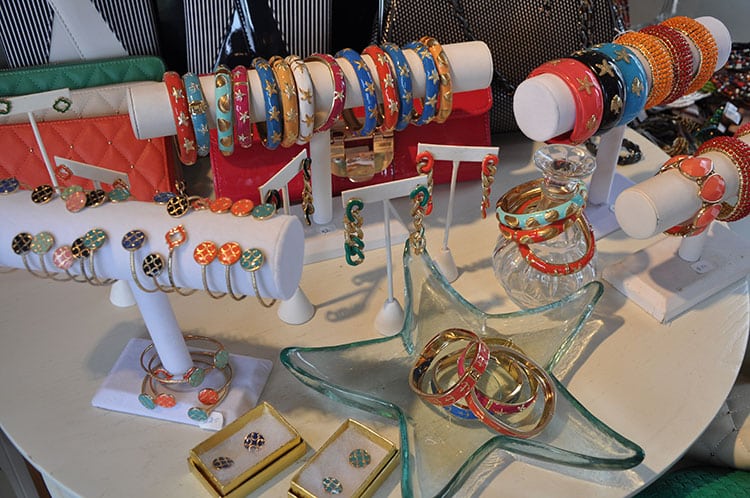 The gallery also showcases mosaics and slumped glasswork by Ireland. The mosaics in the shop often take the form of either large busts decorated with fine china, tiles, and seashells or miniature, framed bathing suits, shirts, and dresses made with seashells. "The mosaic and shell work is very, very unique, nationwide, worldwide," explained Ireland.
Ireland creates clay molds of the miniature bikinis and clothing. She even handmakes tiny hangers to put them on. Afterwards, she glues pieces of tile, fine china, and pearls and other ocean finds onto them. Ireland's grandmother had left her a collection of the tiny shells, which are often hard to find, and she uses them in her work.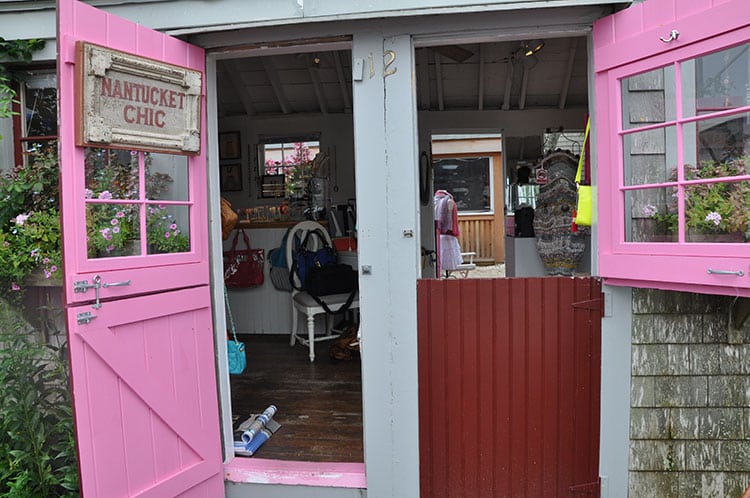 Once completed, Ireland may sometimes go back to add small paintings of Nantucket on the mini blouses or clothes. For the finishing touches, each miniature is placed in a frame with either linen or woven material that mimics the look of a lightship basket. The amount of detail in such a small piece of artwork is outstanding.
"[The miniatures] are just fun to do…this takes me back to when I was a little girl and played with dolls and made paper dolls," said Ireland. "I also made clay figures. I had a dollhouse and would sculpt little clay figures." Opposite the gallery is Nantucket Chic. The shop features a large selection of jewelry, purses and bags, and other accessories. Hanging on jewelry stands are colorful, boho tassel and pom-pom necklaces, key chains, and earrings. The bright colors stand out and bring fun to any outfit. The shop also has island themed jewelry, such as pieces made out of sea glass and bracelets molded with sand dollars.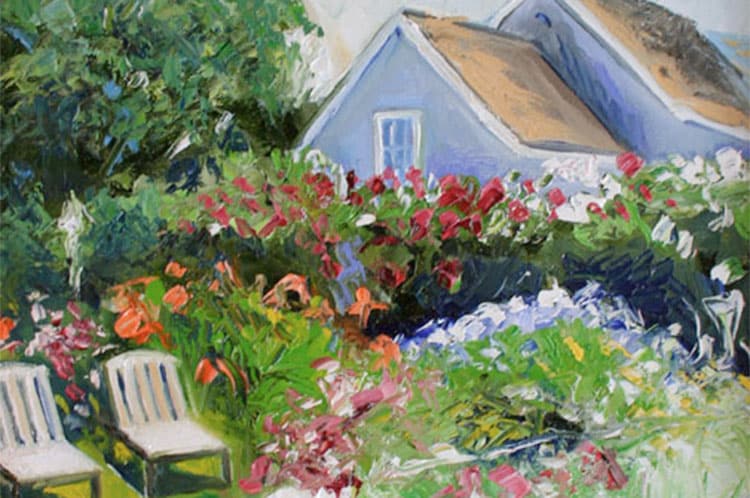 Nantucket Chic is known for having great deals on bags of all types, including totes, clutches, and cross bodies. They also carry a selection of fashion- forward backpacks. Some have tassels on them while others are leather. They are fairly small in size, which is ideal for a stylish way to carry your belongs, hands-free.
In addition to offering accessories, Nantucket Chic has a great selection of clothes. There is something for every style in this shop, from intricately beaded tunics and flowing sun dresses to long dresses for a casual night out. "We're called Nantucket Chic because its upscale beach and island wear," said Ireland.
Nantucket Chic recently added resort wear for children. Ireland's daughter, who does all the buying for the shop, was inspired to add the children's line to the shop by her own kids. The line, made in England, showcases nautical bathing suits, swimwear with built in floaties and outfits perfect for island weather.
Don't miss this special gallery and shop at the end of the wharf: it's a hidden gem to explore, browse, and shop.
"We're a happy place. It's fun to come in here," said Ireland. Irleand Gallery and Nantucket Chic is open daily from 10 am at 13 Old South Wharf. You can also visit their website at irelandgalleries.com.