Featured Restaurant: Dune
by C. Oscar Olson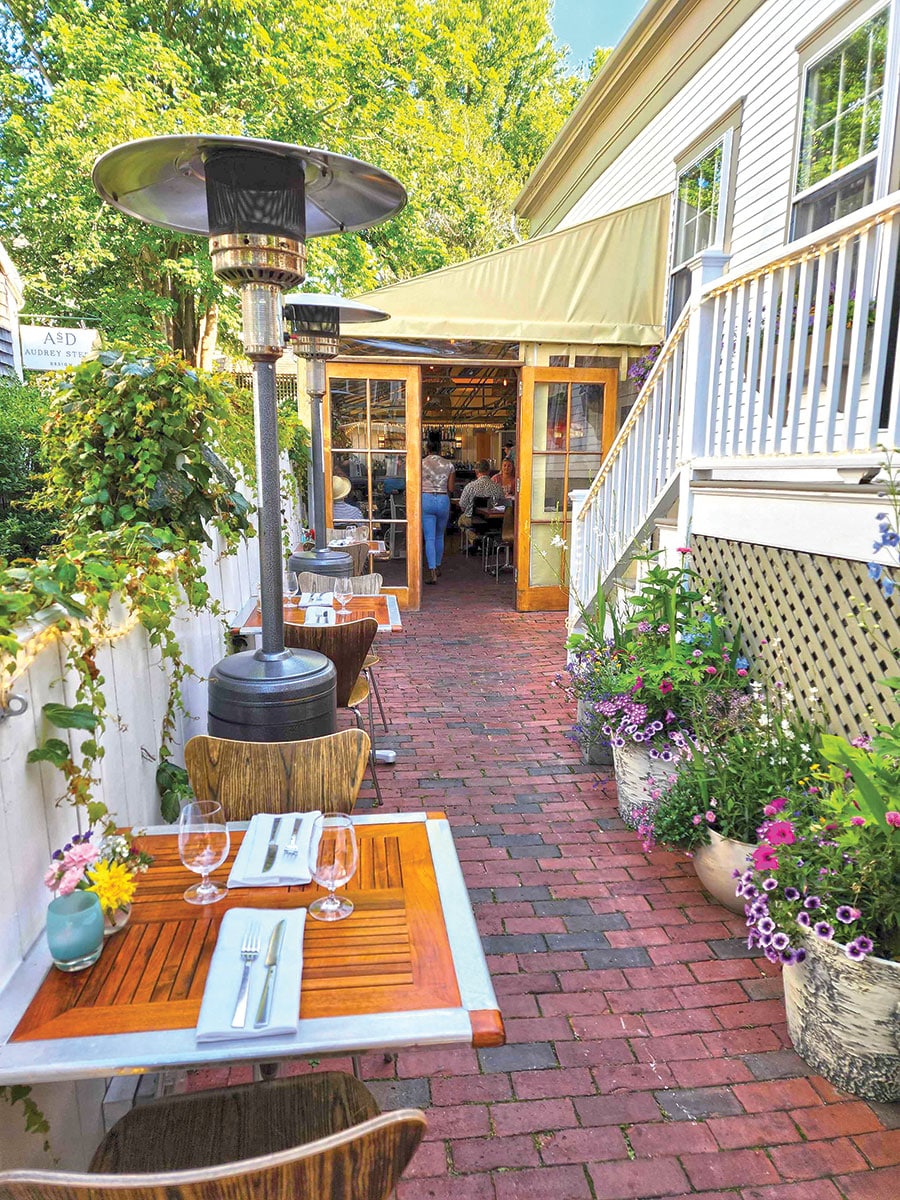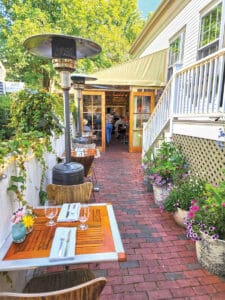 The old adage suggests saving the best for last, and there's certainly wisdom in that. The best should be studied and savored. The best takes time to truly understand and appreciate. But time is fleeting, which is why we enjoyed the best as our first Featured Restaurant of this summer season.
Located in the heart of town at 20 Broad Street, Dune is always fun, friendly, and fresh. Three distinct dining rooms offer feelings of relaxed sophistication, with loads of light when the sun is still shining or comfortably lit lounging while dining after dark.
What's more, the restaurant is complete with a breezy covered patio area just alongside, perfect for alfresco food and drink no matter the weather. This summer, Chef Michael Getter himself installed a bigger, better outdoor bar. With seating for seven and space for more lavish libations, there has never been a better time to dine at Dune. We not only enjoyed our meal but also took in some of the best people-watching Nantucket has to offer.
We try to revisit Dune again and again throughout the summer season and beyond. The menu is as fluid and everchanging as the ocean that surrounds us, and we would be fools not to keep up with it. There are so many marvelous meals to be had at this season's start—plus a few of our old favorites—we couldn't wait to see what new creations were being offered.
There were a few cold dishes to tame the early summer swelter on the hot evening we dined, so we took full advantage. To start, we took in the beautiful Bartlett's Farm Tomato Salad. Sweet, succulent chunks of honeydew melon mingle with ripe red tomatoes and mild Spanish olives, while red onion and a zesty vinaigrette tie it all together. The briny zest from Cricket Creek feta, a dairy farm located in Western Massachusetts, adds just the right amount of salt. 
We love the calamari at Dune, and the best part about it are the slight changes from one season to the next. This year the Crispy Rhode Island Calamari is served lightly breaded, flash fried, and perfectly tender with tangy giardiniera vegetables to balance the richness. It sits atop an herbal basil aioli with fresh baby basil on top, with jalapeno slices because some like it hot.
Our favorite first of the night was the Wild Gulf Shrimp Tostada. The plate was spread with a black bean puree and dotted with an achiote crema, while the most amazing mix of ingredients was resting on the crispy, crunchy corn tortilla: superb shrimp, pickled red cabbage, queso fresco, and chunks of surprisingly smoky pineapple.
Since their opening in 2009, Dune has been consistently rated one of the island's best restaurants. And for good reason! Chef Getter runs a tight ship with an impeccable crew of staff, but he simply couldn't make the kitchen magic happen without his Chef de Cuisine Joseph Ranstatler. Having honed his skills at the Culinary Institute of America, he's been a crucial part of what makes Dune delicious since 2013.
Chef/Owner Michael Getter has a passion and love for his work that is rare, and his genius with food is pared with a serious talent with wine. He is the recipient of the Wine Spectator Award of Excellence for his skills as a Sommelier, and his cuisine has been widely praised by internationally-known connoisseurs and critics. Years of accolades have not gone to his head: Chef Getter is kind and humble and his hospitality is reflected by his waitstaff who make every guest feel welcome.
Most nights Chefs Getter and Ranstatler add inspired specials based on fresh ingredients that are in-season. Lobster, a summer seaside staple, was the special on the night we dined. Delicate and refined, this dish offered a myriad of flavors. Fresh summer squash, local herbs, cucumber, and a squeeze of lime was all this dish needed to sing its soft, sweet and savory song of summer.
The classic porkchop may seem hard to elevate, that is until you dine at Dune. Their Grilled Heritage Porkchop is coated with a passionfruit teriyaki and served alongside lemongrass fried rice peppered with bits of Chinese sausage. Verdant bok choy add a fresh crunch while pickled red cabbage pops in every bite. Chef Getter is full of surprises, so it took us time to decipher what puree was on the plate: a slow roasted sunchoke that was sweet and nutty and was a wonderful stand-in for classic applesauce accompaniment .
Without question, our favorite main of the evening was Dune's Grilled Prime Sirloin Steak Frites. Medium rare with a strong sear, the meat was melt-in-your-mouth fantastic. The potatoes served alongside were browned yet so fluffy and flavorful, and the tarragon ranch dressing on the "chophouse" salad made this dish a steakhouse classic to die for.
Everything we tried was a balancing act of taste and temperature, texture, color, and more. There is a certain unique and relaxed elegance about Dune that is unmatched elsewhere on Nantucket.
A feast for the eyes and everything else, the Strawberry Shortcake was a real showstopper. The rhubarb jam reappears with fresh strawberries, ladyfinger-like shortcake, and sweet nectarines while sprigs of baby basil add a contrast we didn't know we needed. Even the whipped cream was enhanced with marscarpone and lime zest.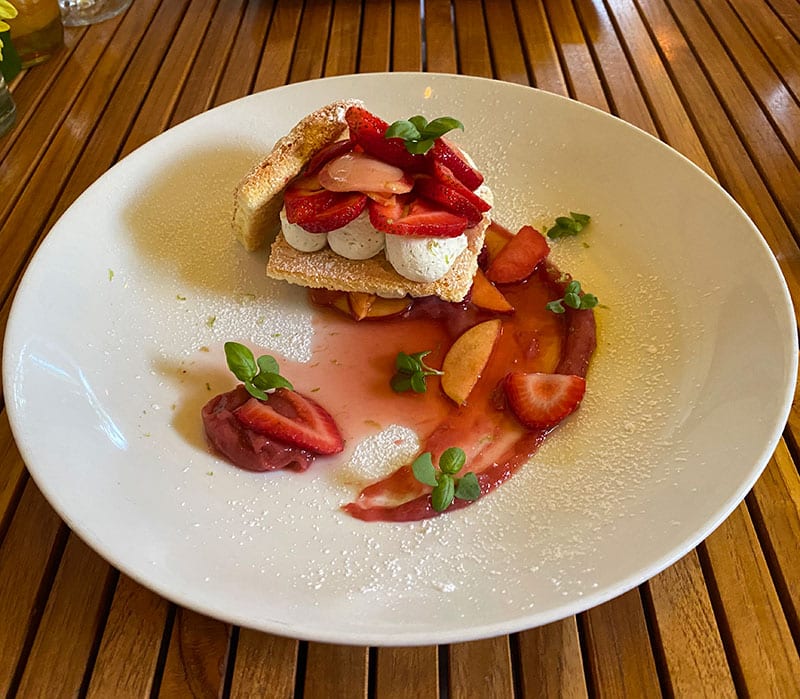 If you're aiming for just one dining experience to remember this summer, we urge you to make it Dune. The elements all come together both on the plate and the atmosphere around you. The service is unbeatable, the location is great, and the food is not to be missed.
Dune
20 Broad Street • DuneNantucket.com • 508-228-5550
Dinner nightly from 5:30 pm; Bar opens at 5 pm
Dinner entrees range in price from $47.50 to $52
Outdoor, Indoor, & Enclosed Patio Dining
Major Credit Cards Accepted • Full Bar
Call to ask about private dining options