by Catherine Macallister
Herman Melville was a young boy when he heard the true tale of the whaleship Essex and her crew, who sailed from Nantucket and met their fates in the southern Pacific Ocean after being sunk by a whale. The haunting story of Essex stayed with the writer, who would later base much of his book Moby-Dick; or the Whale on this tragedy. Moby-Dick was one of Melville's final books before he faded into obscurity, until a revitalization and respect for his talent as an author resurfaced in the 1920s.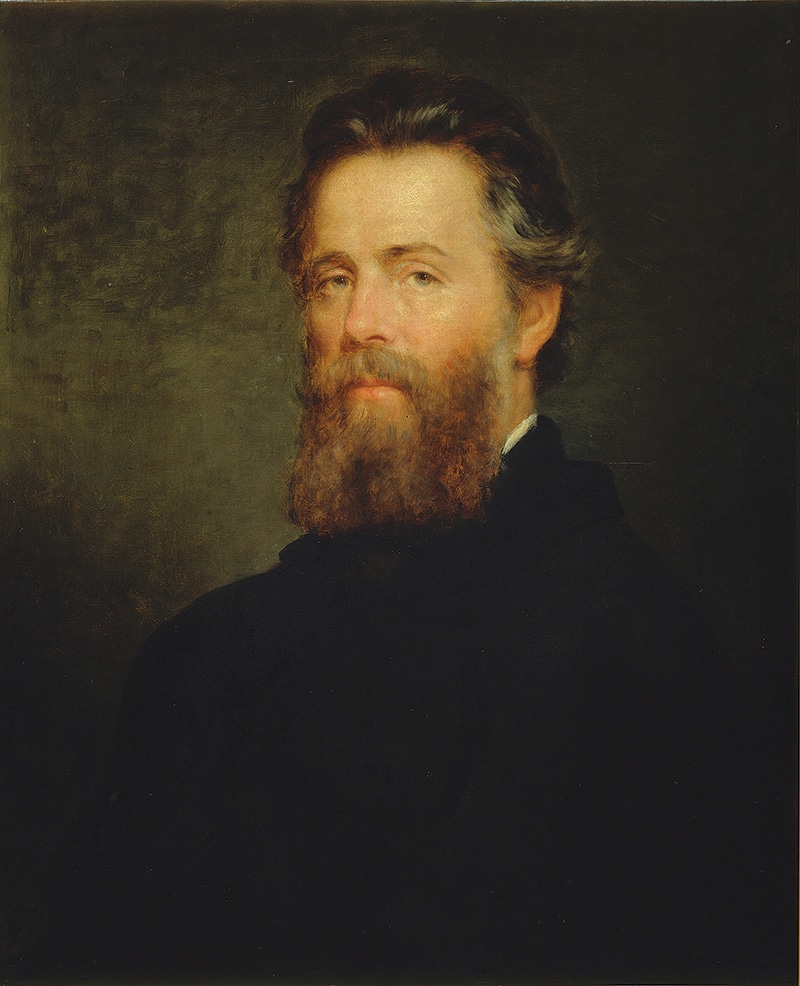 August 1, 2019 marks the 200th anniversary of Melville's birth. There are activities planned here during August and September to memorialize the author, who is now considered a great American writer—events that will teach about his adventures, inspirations, and his references to Nantucket.
After Moby-Dick was published, Melville visited Nantucket for the first time, meeting islanders like Maria Mitchell and her father as well as George Pollard, the surviving captain of Essex. While Melville's time on Nantucket was brief, his visit coupled with his sections about Nantucket in Moby-Dick have made him a lasting legacy on our island.
An exhibit at the Hadwen House, Melville on Nantucket explores the connection of Melville to Nantucket and shares the various pop culture references born of Moby-Dick. The Hadwen House on upper Main Street is open to the public daily from 9am to 5pm.
Nantucket's Department of Culture and Tourism is hosting an Instagram contest with a Melville theme: visit podiums at ten locations around Nantucket each with a passage from Moby-Dick, snap a picture, and post to Instagram using #ACKMobyDick to tag yourself reading at the podium. Those who post photos from all ten sites will be entered to win a gift certificate to a Nantucket restaurant For details and the list of podium locations, visit Visitor Services at 25 Federal Street or search #ACKMobyDick on Instagram.
Head over to the Nantucket Lightship Basket Museum at 49 Union Street on Melville's Birthday, August 1, from 11 am to noon for a special presentation of the "Moby Dick" Lightship Basket. Joe and Kathy Gallachio with talk about the creation of the basket, made by Michael Kane and scrimmed by Dorothy O'Hara. The event is $7 (free to museum members).
On Thursday, August 8 from 6-8 pm, the Artists Association of Nantucket will host an opening reception in their gallery at 19 Washington Street for the exhibit Not Down on Any Map: Herman Melville at Sea, an exhibit of contemporary works inspired by Moby-Dick. The opening night reception will feature sea shanties by Joe Flood, a complement to a night dedicated to the sea-faring adventures that inspired Herman Melville.
Monday, August 12 is another anniversary: the sailing of the whaleship Essex, the inspiration behind Moby-Dick. The story of the Essex has also inspired Nat Philbrick, a well-known and local author, to write In the Heart of the Sea. The film version, directed by Ron Howard, will be shown in a special screening at the Dreamland on August 12 at 7 pm. Additionally, tickets can be purchased to hear Philibrick speak as part of the Dreamland Conversations series on August 12. Tickets are $25 at nantucketdreamland.org.
On Thursday, August 14 from 8:30am to noon, the Nantucket Historical Association will present a Melville Symposium at the Quaker Meeting House. Whaleship log passages from both the NHA Log Book and Moby-Dick will kick off the symposium, followed by discussions by Nathaniel Philbrick, Dr. Jamie Jones, and Dr. Mary K Bercaw Edwards. Tickets are $75 ($50 for NHA members) at nha.org.