by Carl Oscar Olson
Way up on the north end of the Island of Nantucket there lies an out-of-the-way paradise known as The Wauwinet. The luxurious lodging and breathtaking views are some of the best on the island, but for most visitors the dining at TOPPER's is the reason for the drive.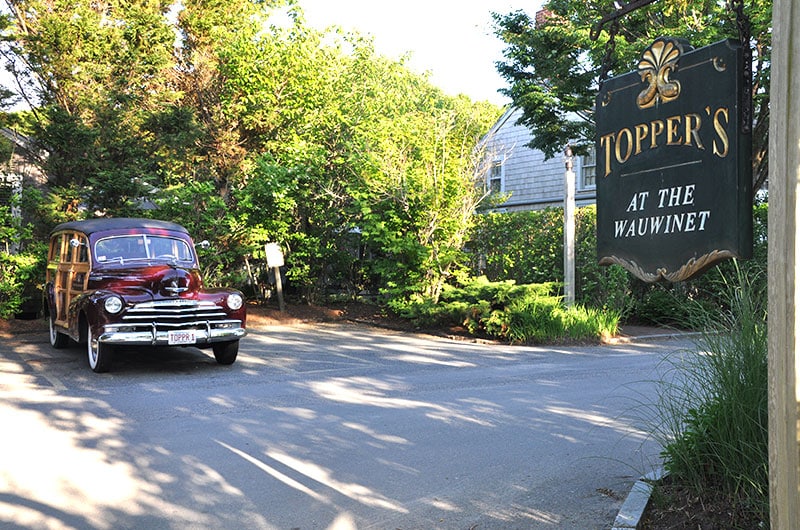 We arrived on a beautifully warm and sunny evening, so sitting outside on the covered, casual, bistro-like deck was perfect. Steps wandered down to an additional area with umbrella-covered tables on a perfect brick patio. Sitting inside is a kind of contrast with warm and elegant table settings and a more classic, high-end vibe. Both options provide views of the lush lawn and the meandering coastline.
The stellar wine list, topping out at just under 1,500 bottles, has repeatedly received acclaim including the Wine Spectator Grand Award. This, combined with their association with Relais & Chateaux and their coveted AAA 5-Diamond Award, makes TOPPER's an international, not just a Nantucket, treasure.
Click Images for Larger View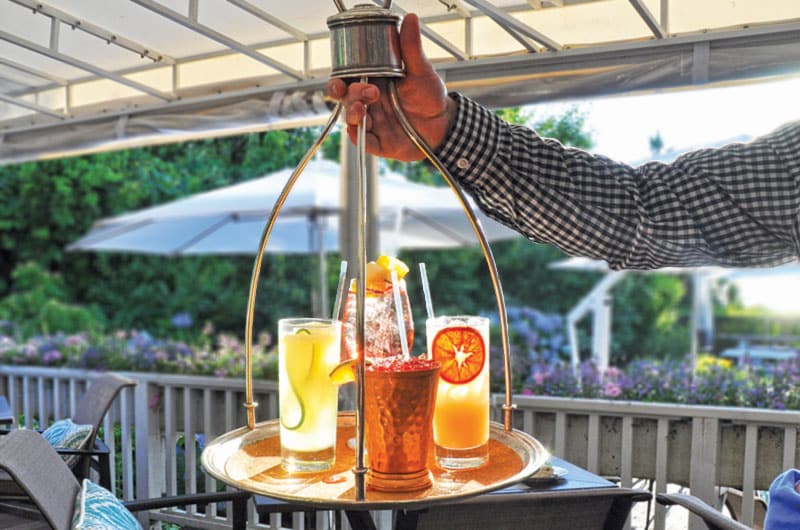 In addition to the wine list, TOPPER's has a vast selection of spirits and liqueurs from around the world and for every occasion. We asked our waiter, Justin, to bring us four fan favorites. The Wauwinet-ini mixed house-infused coconut vodka with pineapple and cranberry juices and a sparkling splash of Prosecco. This lively libation was like a "Cape Colada," New England's take on the tropical standby. Cucumbered was too cool with cucumber vodka, Lillet Blanc, lemon juice, and a splash of club soda. Green, herbal, balanced, and bright. A copper mugged Nantucket Mule brought house-infused cranberry basil vodka in with zesty lime juice and spicy ginger beer, while the crystal-red hue of the Elder Rose had us dying for a sip with florally fruity St. Germain, Prosecco and the ruby red glow of pomegranate liqueur.
At TOPPER's, there are a few ways to approach the menu. There is a Deck Menu for those sitting outside and a standard Dinner Menu if you choose the main dining room. A third option is the Grand Tasting menu: a 7- course journey through the eyes of Chef Kyle Zachary, which is also available for vegetarians. Both are offered with an additional Vitner's Tasting. It doesn't really matter though where you sit or how you order, because every aspect of your experience at TOPPER's is going to be one that stays with you for a very long time.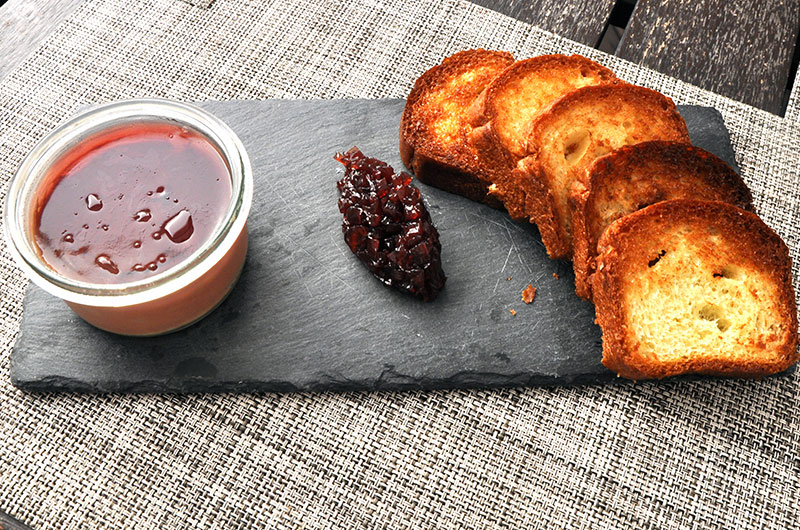 Served on a slate as smooth the dish itself, the Chicken Liver Paté is a marvelous marriage of textures and flavors. Creamy and rich paté is spread on a crispy, buttery toasted lavash and offset by sweet port jelly and red onion marmalade.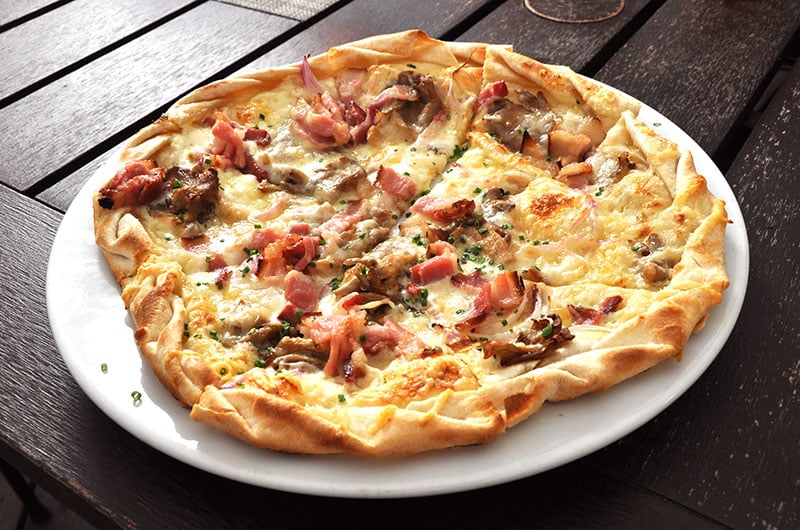 The Tarte Flambe is deceptively flameless but not at all disappointing with its sublimely smoky and savory aroma. Sized to share, the creme fraiche and cave-aged Gruyere melt deliciously under onion, bacon, and oyster mushrooms.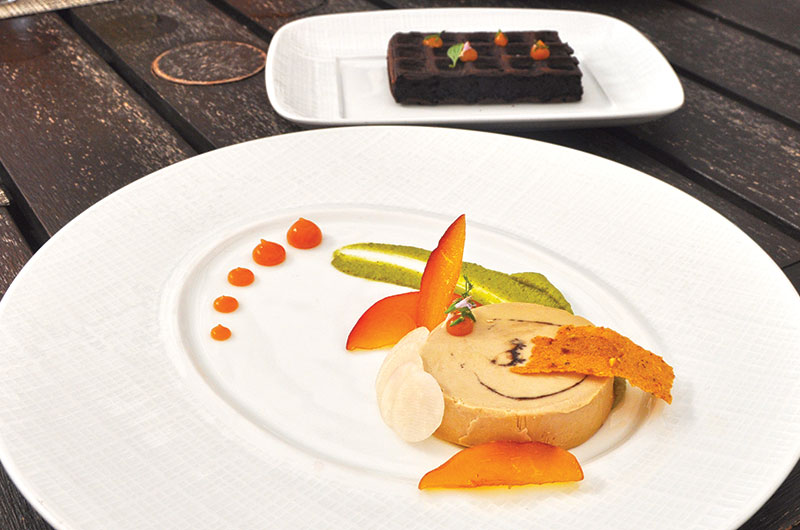 Each unique component in the Hudson Valley Foie Gras makes every bite something new and exciting: juicy sweet Frog Hollow Pond peaches, crunchy pickled discs of kohlrabi, and pureed pistachio all work to enhance the mild salty swirl of the foie. A cocoa waffle served alongside brings an earthy and bitter balance to the dish.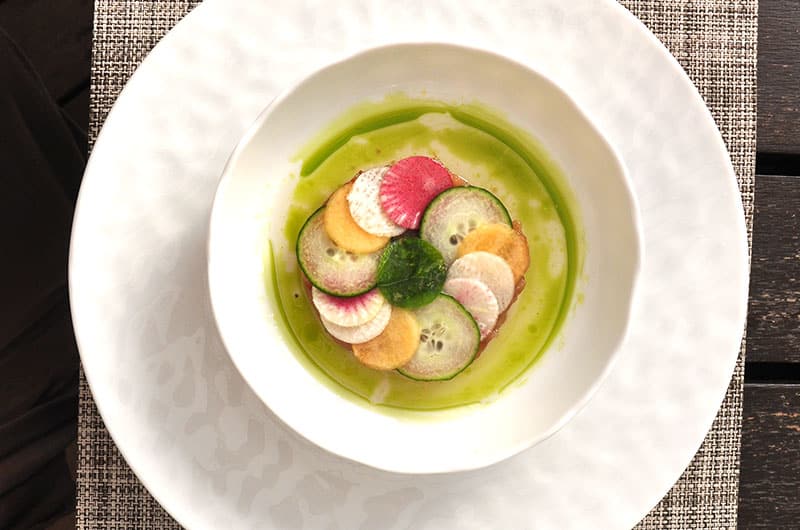 Chef Zachary thought it best we try one his favorite firsts of the summer, the Marinated Nantucket Tuna. Bartlett's Farm tomatoes are simmered and reduced until jam-like, at which point they are introduced to the tuna. The flavors of land and sea combine, displaying similarities never before noticed. The two are formed into a perfect patty and layered with rounds of cucumber, melon, and radish. Incredibly cooling and delicious.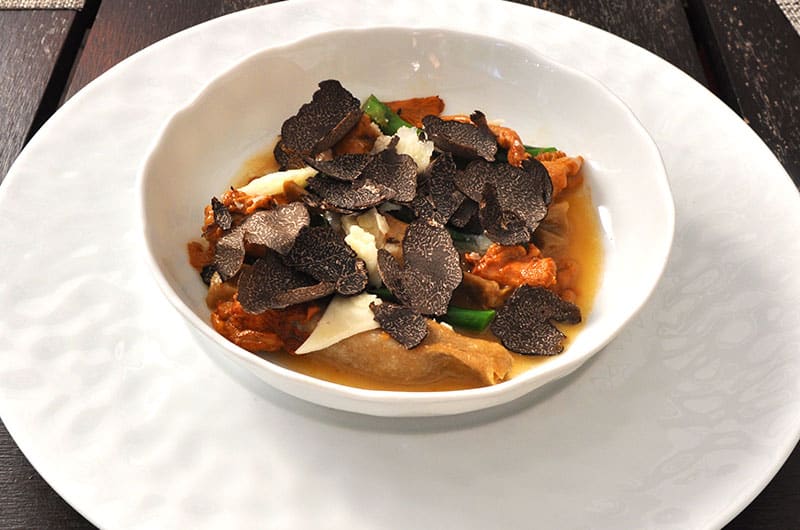 Mushroom lovers rejoice and order the Chanterelle and Mascarpone Caramelle. Saucy, subtle, and earthy with verdant broccoli rabe, shavings of pecorino, and razor-thin Australian black winter truffle.
Year after year, the options at TOPPER's are always on the move. Though there might be a few recognizable variations on old reliables and customer favorites, Chef Zachary tries to completely revamp the menu and start each season anew. There are items he offers that you simply won't see anywhere else, so get to TOPPER's and try them before they're gone.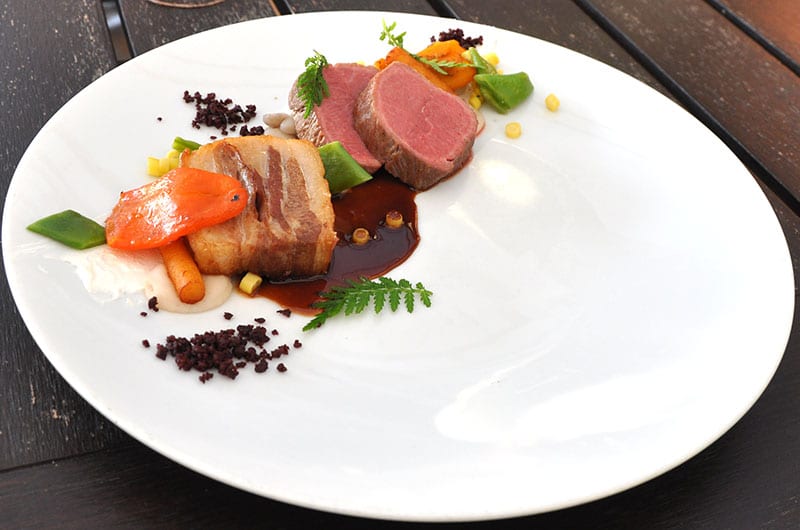 One such dish is the Salt Meadow Lamb. This exceptional cut is inspired by lamb raised on the coasts of Normandy, where the floodprone seaside pastures contain distinctly high levels of sodium and iodine. The lambs raised on these grasses are renowned for their tenderness, as the minerals affect the meat on a cellular level, giving it a fine grain and the ability to retain more moisture. Farmers in Quebec reproduce this effect with a special diet fortified by seaweed. Incredibly juicy and tender, it is served alongside summer beans, sweet roasted peppers, crumbled black olives, and dollops of tart yogurt.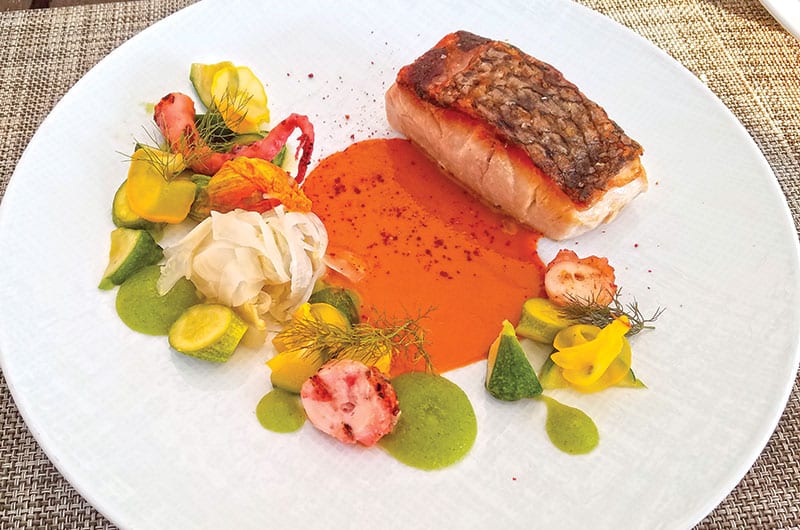 Locally caught and perfectly seared Nantucket Striped Bass shares a plate with slightly charred and superbly tender Spanish octopus, stuffed squash blossom, pickled fennel, and an unreal saffron bouillabaisse.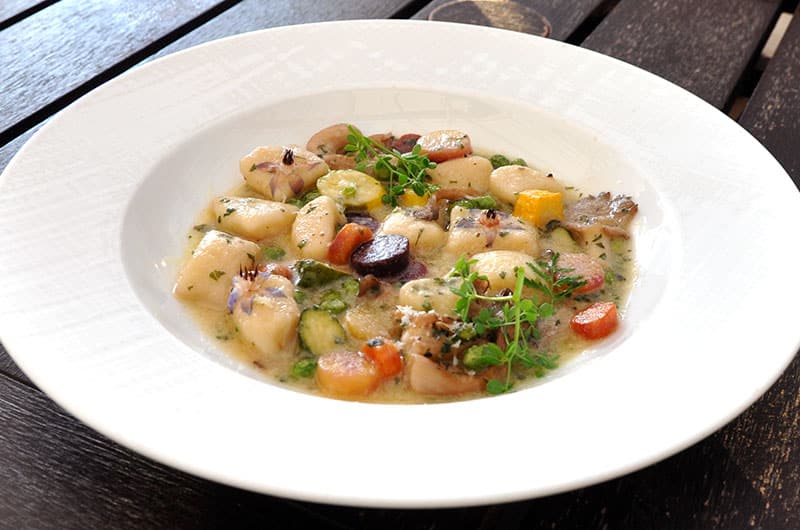 Vegetarian or not, the Potato Gnocchi "Primavera" is not to be missed. The bright, colorful crispness of summer squash, peas, and carrots are balanced by oyster mushrooms and summer truffle butter, while delightfully doughy nibbles of gnocchi soak in the rich stew-like sauce.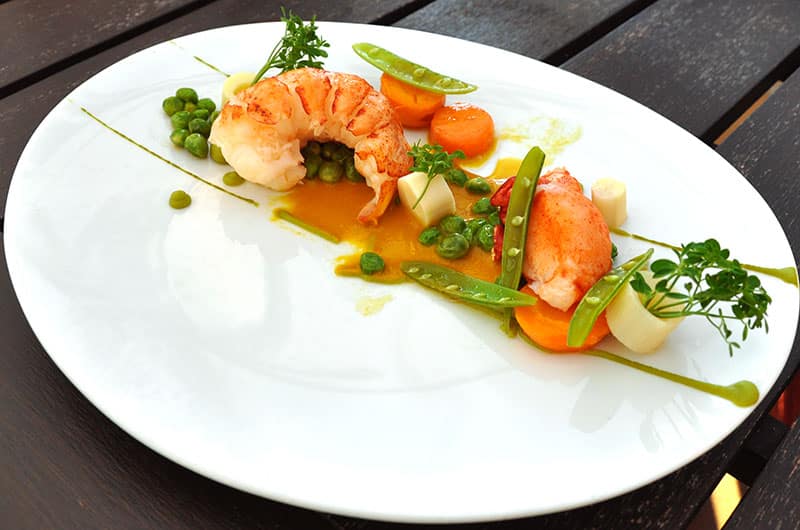 Of course we ordered the Lobster

, and, of course, it was spectacular. Poached in butter, it is dreamy and decadent with English peas, hearts of palm, carrots, and a golden madras curry sauce that had us in awe. The sweetness in the shellfish was turned up by the symphony of spices in the sauce.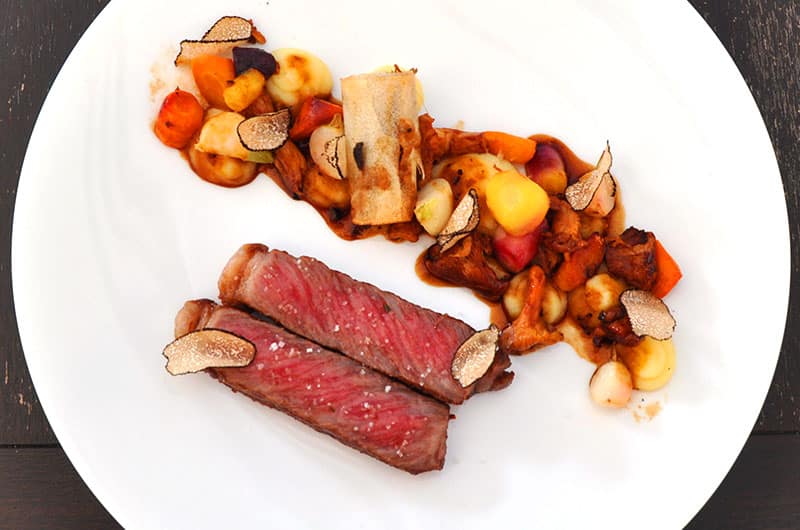 The star of the evening, the dish of a lifetime and the one for the books, was the Satsuma A5 Wagyu Strip Loin

. On the scale used to rate prime beef, A5 is the almost unattainable—the absolute highest possible score a cut of beef can achieve. A simple sear melts the marbling of fat into the meat, yielding a spoon-tender sublime steak dinner of the finest kind. And somehow the accompaniments stand up to it. A morsel of short rib ragout in a crisp shell sits atop chanterelle mushrooms, young vegetables, and a generous drizzle of sauce perigueux, a luxurious final touch flavored with Madeira, truffles, and black pepper.
Just as we finished our last bites, the shadows on the table grew longer and the sun began to set. Patrons left their seats, made a dash for the grass to bid farewell to another day on Nantucket. When we returned, fresh, neatly folded napkins sat patiently on our placemats, and we decided to discuss dessert.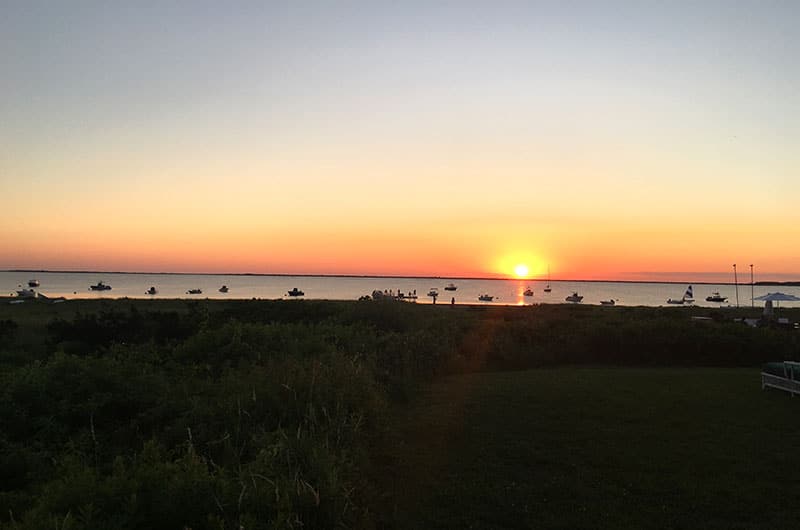 Pastry chef Giancarlo D'Attili works magic behind the scenes at TOPPER's. His final courses are thoughtful, unique, and all-around divine. In addition to desserts, the menu offers a wide selection of cordials, fortified wines, whiskies, and more.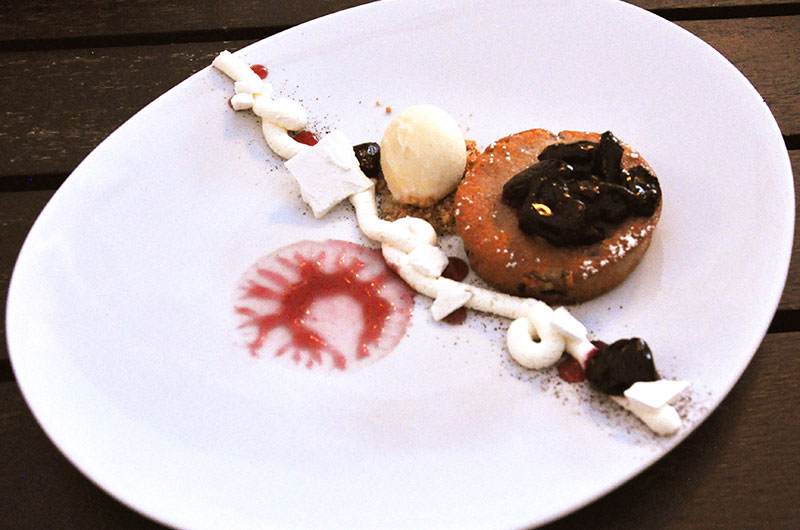 The warm, nutty flavor of the Almond Financier is brought to life with luscious, sweet bing cherries, toasted meringue, and a touch of tartness in buttermilk-vanilla ice cream.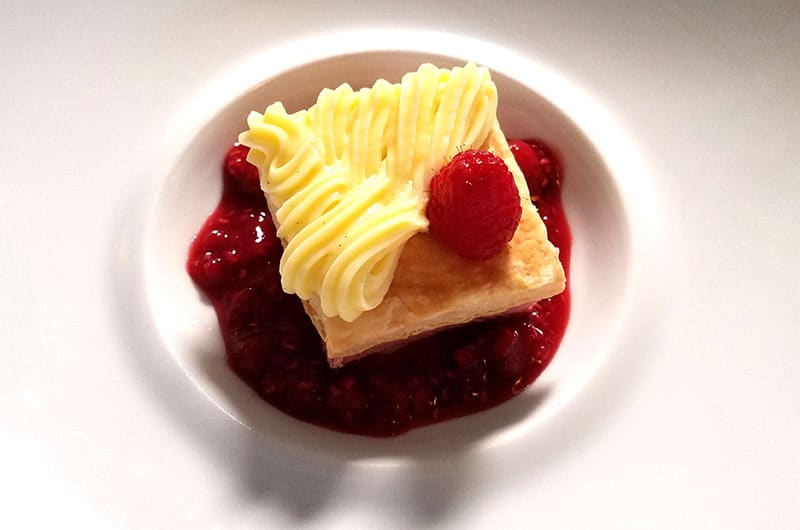 The Raspberry Napolean reminded us of the fruit that will be ready in our own backyard very soon. The flavor of raspberry sings when combined with Champagne cream and a fresh compote.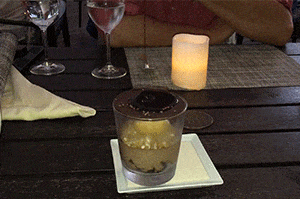 The picture-perfect presentation of the Chocolate Parfait

 tastes even better than it looks. A piping hot steady stream of chocolate sauce is poured over to melt its way through a disk of dark chocolate and onto sinfully scrumptious devil's food cake, snaps of salt in a candied pretzel crumble and caramel ice cream.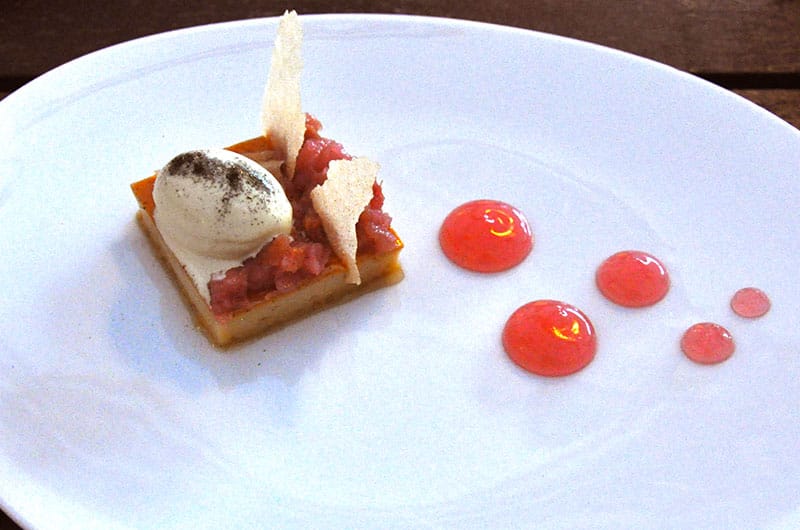 But our favorite finisher of the evening is the Rhubarb Flan

. Like a sweet stroll through a summer garden, pretty pink and terrifically tart rhubarb compote rests easy on dense vanilla flan. The mint ice cream on the side is something wonderful, tasting and smelling of real fresh mint, nothing like the store bought variety.
TOPPER's is the place for special occasions, or occasions that you want to make special. This season marks their 30th anniversary — as if you needed a reason to celebrate.
TOPPER'S at The Wauwinet
508-228-8768, reservations recommended • Wauwinet.com
Breakfast served 8 to 10:30 am; Sat & Sun Brunch 11:30 am to 2 pm
Lunch noon to 2 p.m. • Dinner served nightly from 6 p.m.
Deck Menu served from noon to 9:30 pm
Indoor & Outdoor dining • Award-winning wine list • Full bar service
TOPPER'S Bar open daily noon to 11 pm • Major credit Lobster cards accepted