Tickets are now on sale for two Nantucket events that are sure to be sell-outs:  an evening with acclaimed underwater diver and photographer Tony Wu, hosted by the Nantucket Historical Association on July 8, and the ever-popular Boston Pops on Nantucket concert, hosted by the Nantucket Cottage Hospital on August 10.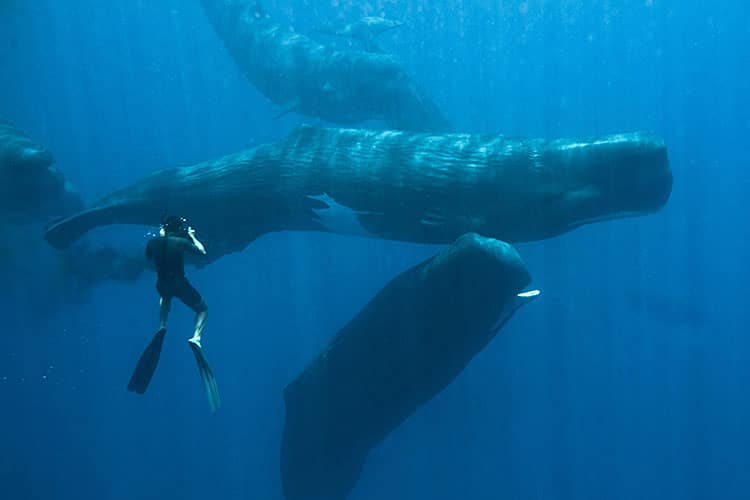 Tony Wu has spent his career researching, interacting with, and photographing underwater creatures of all types, including sperm whales, humpback whales, and blue whales.  To date, he has logged hundreds of hours diving in the Pacific, Caribbean, and Indian Oceans and has captured one-of-a-kind images, including the first photos ever taken of sperm whales consuming giant squids. In 2000, Tony Wu won his first major award in The Blue Earth Underwater Photo Contest, for a photograph of a sperm whale that had taken the photographer's leg into its mouth.
"As was the case with Melville's Ahab, such a close encounter changed my life forever, although it compelled me to view sperm whales as friends, not foes," Wu explained.  "Given the unique history of Nantucket, I'm very much looking forward to sharing this story and more, and explaining what I've learned about whales from firsthand experience.
"I love everything about the ocean.  Of all the ocean's amazing residents, whales are without a doubt my favorite animals to observe and photograph. As mammals, they are charismatic, intelligent, and inquisitive. When you make eye contact with a whale, there is no mistaking the fact that it is wondering about you as much as you are about it."
Tony Wu will discuss "My Life with Whales" in an astounding multimedia presentation on Monday, July 8 at 6 pm in Gosnell Hall at the Whaling Museum, followed by a Q&A and then a cocktail reception on the Whaling Museum rooftop observation deck.  Tickets for this event are only $25 per person and are on sale now at www.nha.org or by phone at 508-228-1894.
Considered by many to be Nantucket's best summer beach party, Boston Pops on Nantucket features The Boston Pops Esplanade Orchestra conducted by Keith Lockhart.  Every year of the 17 that Nantucket Cottage Hospital has hosted this event internationally known performers have been showcased, including Natalie Cole, Michael Cavanaugh, and Carly Simon.  This year the  special guests are Matthew Morrison and Katie Couric.
Starting early on the morning of Saturday, August 10, Jetties Beach will be transformed into a world-class concert venue in preparation for the two-hour show.  The evening of music ends with a stunning fireworks show.
General admission is just $30 for adults and $10 for children.  Gates open at 4:30 pm, and attendees often come in groups for a beach picnic before the show.  Those who prefer chairs to blankets on the sand can purchase one of a range of reserved seat tickets, which include a cocktail reception, wine and champagne service, a light snack, and (depending on the level) premium parking, a gourmet supper, and a reception after the show with dessert and dancing.
All tickets, general admission and reserved seating are on sale now at http://www.nantuckethospital.org/Events/Pops.html  In addition, general admission tickets can be purchased with cash or check at Murray's Toggery Shop, 62 Main Street; at Aunt Leah's Fudge in the Courtyard on Straight Wharf; and at Nantucket Visitor Services, 25 Federal Street.
All proceeds of this August event benefit Nantucket Cottage Hospital, the island's nonprofit community hospital.