by Suzanne Daub
What began as a way to fulfill her creative spirit has grown to become a place on Nantucket where you can fulfill your dreams.
Susan Lister Locke is an island jewelry designer with a studio and shop at 28 Easy Street, across from the waterfront Easy Street park. For decades her stunning designs have been sought after to mark special occasions and the milestones of life, for heirloom pieces, and as special gifts for birthdays, anniversaries, and holidays. She specializes in beautiful jewelry that is fun to wear and designed to be enjoyed.
Born in Boston and raised along the coast of Rhode Island, Susan has always adored the sea—it is an inspiration for many of her jewelry designs. "The sea is mysterious, serene, powerful… it's always changing… it's magical in its beauty and splendor." All of nature is reflected in her pendants, rings, earrings, necklaces, bracelets, charms, and cufflinks in their colors, patterns, and organic shapes. Susan is known for creating elegant settings for exceptional gemstones.
As have many, Susan first came to Nantucket on a family vacation. "We loved it! I came back when I was in my early 20s and loved the beaches, the small town village aspect, the architecture, and the fun vibe…I ended up marrying into the family who owned The Country Store and within a few years was running their Nantucket store in the 1970s."
After a time off-island, she returned to Nantucket in the early 1990s to start a new chapter in her life: a chapter that would allow her to nurture her creativity. "From the time I was a little kid, I would always draw and doodle, and I loved portraiture. When I came back, I thought I'd do that, so I took an oil painting class with Paul Longenecker…that first winter back, I didn't know what else I was going to do to stay busy, so I took a jewelry class. I made rings for myself and for each of my daughters. People saw us wearing them and tried to buy them off our fingers…I thought 'I should pay attention to this and take another jewelry class!"
As a single mother with two daughters to educate, Susan spent some time considering options. "I made lists… what interests me, what I'm good at, what I'm not good at, what do I need, what do I like… I wanted to keep my art alive and stay creative, but I also had my daughters to think of…" This led Susan to a career in real estate on-island that gave her ample time and the freedom to pursue her art and continue to take jewelry classes here and in Italy.
After a few years, "I shifted back to jewelry. I opened this shop nine years ago, when I was 69 year old… It's my second time on Easy Street!"
Susan Lister Locke Jewelers at 28 Easy Street is filled with jewelry that shimmers, sparkles, glistens, and glimmers—from fine, delicate pieces to bold, organic shapes. Much of the gold and silver has textures and patterns reminiscent of nature. Susan creates everything in her shop: "Some of it I make part of; some of it I make all of; and all of it I design." Many of her pieces have an organic appeal, and she emphasizes that each piece is both pretty and wearable: "this is jewelry to be worn and enjoyed, not to be left in a vault."
She primarily uses 18k yellow gold with an exclusive alloy that gives it a rich tone to beautifully accent the stones. And what stones they are! Each one is vibrant in color, internationally sourced, and very high-quality. Color, shape, size…the gemstones influence the design. "My dealers send me gems of a quality and color they think I will like. When they arrive, I lay them out, and they guide me."
Susan particularly likes working with aquamarines, sapphires, mint tourmaline, South Sea and Tahitian pearls. Some of the stones she uses are more rare than diamonds, like the Paraiba Tourmaline that is one of her favorites: "it glows like phosphorescence at the beach… like it's lit from within."
Many clients come to Susan for custom engagement and wedding rings: they want something unique that will be treasured. Though in most of her pieces she uses diamonds just as accents, she does source them for these rings. She likes taking the time with her clients to make sure the rings and other jewelry she designs will be just what they desire. "All jewelry has a story. That's one of the things I love about making jewelry for people…being part of their story."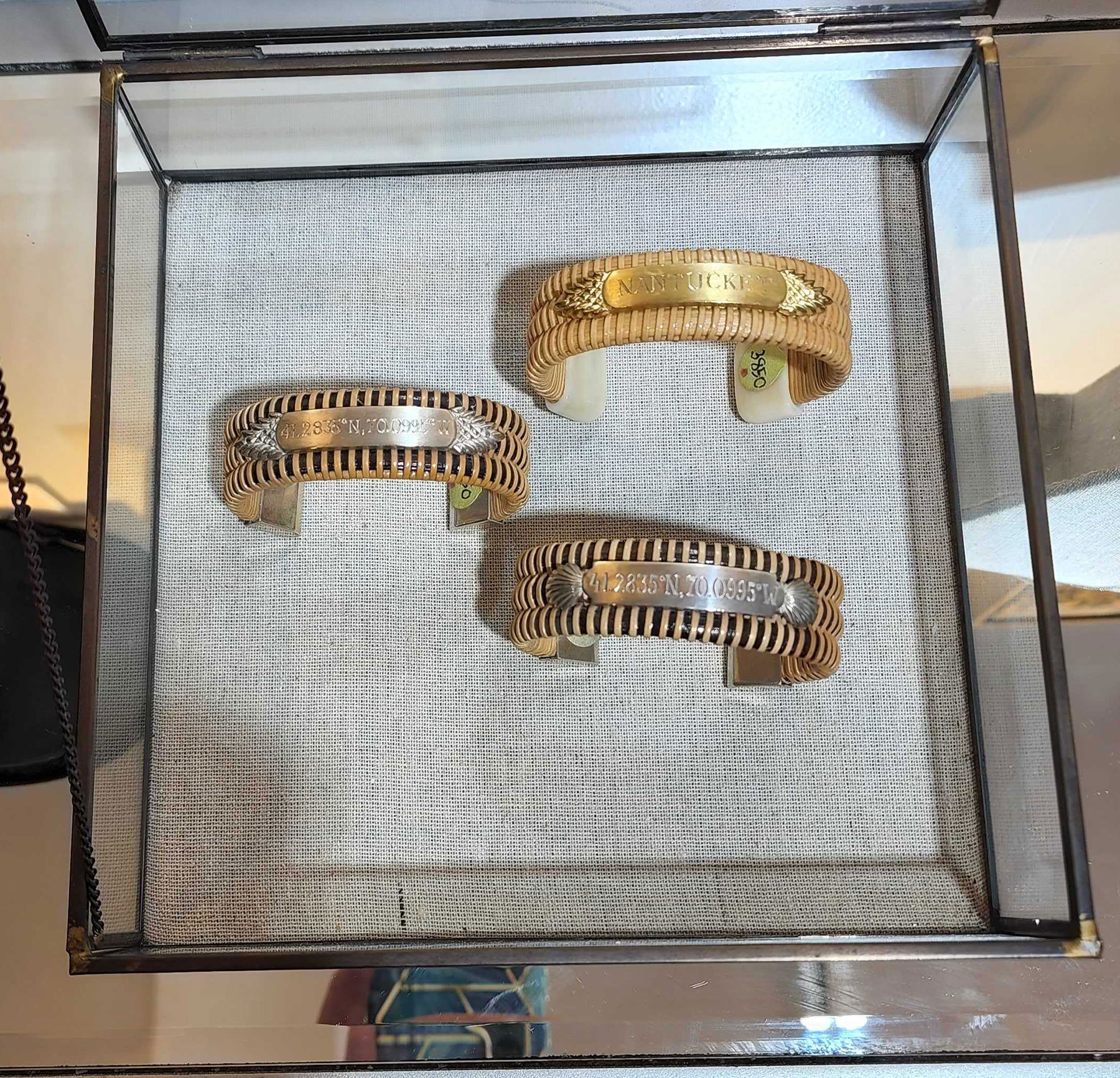 She also "recycles" family jewels: jewelry pieces that have family history and meaning but may not be to the taste of a daughter or granddaughter. Susan will take apart the piece and redesign it so that it will be worn again. "No one is enjoying it if it's sitting in a drawer. Life is short and jewelry is to be worn!"
Signet rings are also among her popular custom jewelry: "some people like them with initials, some with family crests," she explained, "I work with old world engravers to make them…I often make them for entire families: one for each child. I just had a family come in where one son is getting married soon and intends to use his signet as his wedding ring."
With designs that range in price from $75 to $80,000, Susan sells jewelry in her shop on Easy Street for every age, occasion, and style. Among her popular in-store items is her Nantucket Sign Collection of charms and cufflinks featuring 37 different Nantucket Town signs. Clients also love her Nantucket Collection of cufflinks, earrings, bracelets, and pendants featuring iconic island designs such as Cat Boats, stripers, tuna, the "Daily Catch," scallop shells, and Nantucket basket quarterboard bracelets. Her Nantucket Maps are made in three sizes and are available in sterling or gold or diamonds, and her Moby Collection of whale designs includes Magnificent Moby, Mini Moby, and Moby in the Middle.
Stop by Susan Lister Locke for jewelry that is exceptional and timeless: jewelry that will bring you joy.
Open daily at 28 Easy Street, Nantucket and online at SusanListerLocke.com