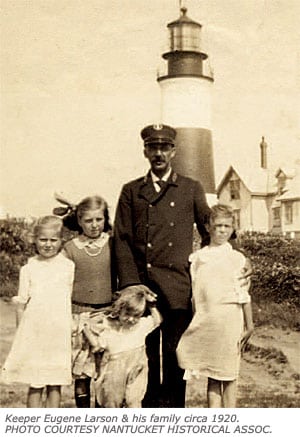 During the golden whaling era in the early-to-mid-1800s, hundreds of ships passed by Nantucket each day. The area saw more than 700 shipwrecks, bringing it the nickname "graveyard of the Atlantic." Before rescue became an organized effort, most shipwrecked sailors were doomed to die; so it is no surprise that Nantucket, a place with strong maritime ties, paved the way for rescue organizations to thrive. Today, the many islanders who served in and alongside the Massachusetts Humane Society, United States Life-Saving Service and the United States Coast Guard are honored by the Nantucket Shipwreck & Lifesaving Museum.
Each year, the museum adds to its display of over 5,000 artifacts, with 2012 bringing a tribute to lighthouse keepers and their families. Images and stories line the walls of the exhibit, allowing a look into the everyday life at a lighthouse.
You will see that some lighthouse keepers had rather large families who lived with them on the site, and there are plenty of tales to catch kids' interests. Period toys like handcrafted wooden blocks,
old-fashioned dolls and books make up a spot for young children to play. Also, local builder Ben Moore has crafted a climbable, kid-sized lighthouse, complete with a lookout station on top!
Tuesday, August 7 is National Lighthouse Day, and the museum is hosting a great family activity at 5 p.m. Both Sara Hoagland Hunter and Julia Miner, the author and the illustrator of the book The Lighthouse Santa, will be at the museum to give a talk about their work. The public is invited to
meet them and learn what led them to gain interest in the world of lighthouses and the little-known exploits of Edward Rowe Snow, who for nearly fifty years flew from lighthouse to lighthouse delivering Christmas gifts to the children who lived in them.
The museum has a wonderful picnic area outside, so why not grab some sandwiches from Cowboy's Meat Market & Deli or Sophie Ts Pizza and make a fun family day of it?
The winding drive out to the museum at 158 Polpis Road offers some of Nantucket's best views. Come on out and meet the lighthouse keepers that looked out for Nantucket. Try your hand at sailors' knots; see a real Fresnel lighthouse lens up close; see a light-up view of the locations of each shipwreck in the areas surrounding the island, and hear the story of a Nantucket "sea dog." But best of all, learn about and appreciate the real islanders who risked everything so that shipwrecked sailors might survive. The museum is open from 10 a.m. to 5 p.m. daily through October 8. Admission is free to members, $5 for adults, $3 for youth 5-18, and free to children under age 5.