by Jenny Benzie, Advanced Sommelier of Épernay
The holiday season is about the joy of giving. This could mean offering the generosity of your time, providing much needed funds for your favorite charity, or giving a most-thoughtful gift that has the recipient thinking fondly of you every time they see it. Here is a quick list of recommendations for a present that will keep on giving.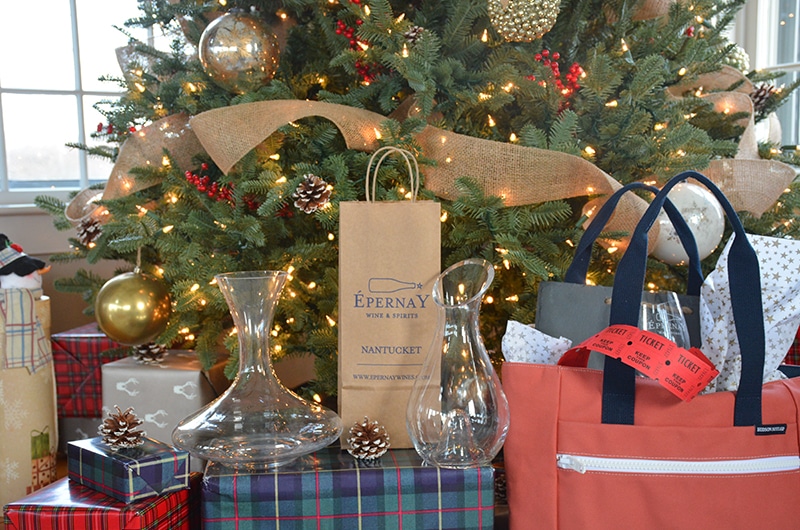 Owning and using a wine decanter can enhance your life and drinking pleasures like no other beverage accessory on Earth. Here is just a sample of the numerous opportunities that this one multi-purpose gadget can offer. Need a pitcher for that delicious Nantucket water for your holiday dinner table? Not only are most decanters effortless to pour for adult diners, they are also a gorgeous addition to any style of table décor. Beautiful flowers from Moors End Farm deserve a holding vessel just as complimentary, so leave the boring vase behind and channel your inner floral designer using your decanter instead. For those with a sweet tooth who want candy available but not too handy, a decanter makes a unique and unusual candy dispenser. Depending on the size of the mouth opening on your decanter, it can used to store and pour goodies as small as melt-in-your-mouth Sweet Inspirations Cranberry Creations. Decanters are not recommended for your favorite island fudge… keep reading for more on that.
For more practical uses, decanters can be used for any type of wine. The traditional use of a decanter is to remove the wine from sediment that has collected on the side of a wine bottle or to allow the wine to aerate, breathe, and open up after being stuck in the bottle for awhile (think: I Dream of Jeannie here). If you have a large crowd and choose to offer wine from a large format (including boxed wine), it is much easier to serve around the table in a decanter versus running to and from the fridge or bar every time you need a refill. It's also easier than pouring from a heavy bottle. Decanting white wine is fun as well, especially when it is into a Spanish porron. If you have never seen one in action, it is part decanter, part watering can—everyone can drink from the same vessel as you pour the wine into mouths with lips never touching the spout. Decanters are simple to clean, easy to pour from, and ready for action on a moment's notice.
Another thoughtful gift for the entertaining at home that Nantucketers do quite frequently in the winter, is a multi-purpose slate board. The most common use of a such an item is for the presentation of a glorious cheese spread, featuring Wasik's cheese, Creminelli finocchio salami, Jansal Valley roasted almonds and an assortment of yummy crackers (even gluten-free options). This functional gift is not just for cheese anymore. It can also be used to serve a beautiful layered green salad topped with grilled sirloin. What a memorable way to feature passed hors oeuvres, serve homemade slices of flatbread, or mini bites of dessert, including Aunt Leah's fudge. You can write on the slate with a soap stone (no chalk residue and it cleans quickly with mild soap and water) to identify the food items, or use the slate to welcome your family and friends visiting for the holidays just as you would a regular chalkboard. Using a slate as the base for your bar service is an excellent idea, as it will absorb any condensation or drips from wine bottles, making less of a wet mess on a table and reducing any potential stains. Make sure to dry the slate thoroughly after use and rub mineral oil into it every once in awhile to hide any scratches and keep it seasoned.
How lovely is it when you are out with your friend at Surfside Beach and you see they are gladly still enjoying the amazing present you gave them during Christmas Stroll years ago! Another functional, long lasting gift is a sturdy, re-usable tote bag. Totes can be used to carry your books to the Atheneum, your gym clothes to and from the Westmoor Club, fresh produce from Annye's, for overflow items when coming back on the Hy-line ferry…the list is endless and so are the opportunities. Not just any bag will do, however, to be the ultimate masterpiece.
We recommend the The Pocket Tote made by Hudson Sutler. Water resistant 18-ounce canvas with a reinforced nylon bottom and a "wipe clean" interior liner, this tote has two exterior pockets on both sides of the bag that are easily accessible. An additional zippered interior pocket aids in helping to keep things simply organized while you are on the go.
Whatever and however you decide to gift this year, may it be from the heart and filled with cheer. Remember to support your community, shop locally for your gift giving and holiday needs, and be sure to offer a little something to those who may not be as fortunate as you this holiday season.
Jenny Benzie is an Advanced Sommelier and owner of
Épernay Wine & Spirits at 1 N. Beach Street
You can follow her at @epernaywines and #yeswayepernay.