Staff Picks
As members of a small community, our favorite gifts to give are gifts that give back. When you Shop Local on Nantucket, you are helping the small makers and small businesses who make our island unique.
There's a wide variety of gifts for everyone from our local shops. If you're looking for a big present to wow your friends and family, stop by Young's Bicycle Shop to put a big smile on the faces of your little ones or visit one of Nantucket's fine galleries for original art that will become an heirloom.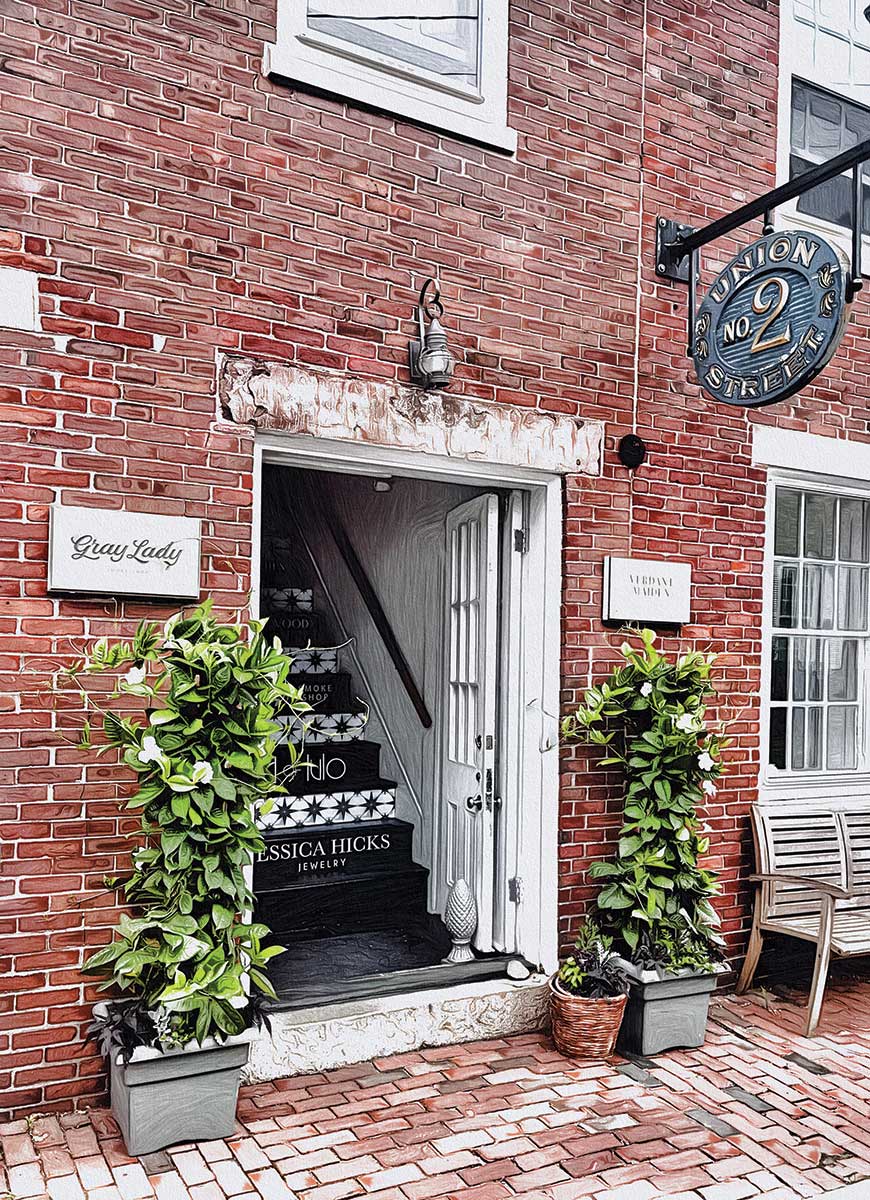 For something that fits in a holiday  stocking, the Gray Lady Smoke Shop upstairs at 2 Union Street sells fine cigars and glass accessories. And if you want a gift that shimmers and sparkles, then the perfect choice is handcrafted jewelry by Skar Designs, the Nantucket Pearl Company, Made on Nantucket, or the Susan Lister Locke Gallery.
Gifts of food are always a welcome treat, and Nantucket restaurants all offer gift cards that can be neatly tucked into holiday cards. Nantucket Cookie Company has sweet treats that you can deliver yourself or have shipped: we especially like their new Merry Mailbox gift tin filled with cookies and their Cookie Decorating Kits to keep little ones busy while Santa finishes wrapping. Both can be purchased at Easy Street Cantina, Broad St and online at NantucketCookie. net
Many of the non-profit organizations that keep Nantucket residents safe, warm, fed, entertained, and educated also offer ways to give that help them continue their good work this holiday season.
For years Nantucketers have started Thanksgiving Day early in the morning with a run into the chilly water at Children's Beach. Again this year the annual Cold Turkey Plunge is being held virtually. Though a virtual plunge doesn't offer the opportunity to gather at the beach on Thanksgiving morning, it does give you the chance to participate how, when, and where you want: in a nearby lake, a swimming pool or sprinkler, get creative! This event raises tens of thousands of dollars for the Nantucket Atheneum's Weezie Library for Children, and spectators can still watch the fun at NantucketAtheneum.org.
You don't have to get wet to give back: you can stay cozy and warm when you visit the Festival of Wreaths through November 27. While you're there, bid on a one-of-a-kind wreath to give as a gift—you won't even have to wrap it! The monies raised benefit the Nantucket Historical Association and their mission to tell the inspiring stories of Nantucket through its collections, programs, and properties. If you're on-island in December and missed the wreath display, you can still visit the Whaling Museum to enjoy their Festival of Trees. After you see all the beautiful decorations staged around the museum's collections, stop by the museum gift shop for a special Nantucket gift to take home.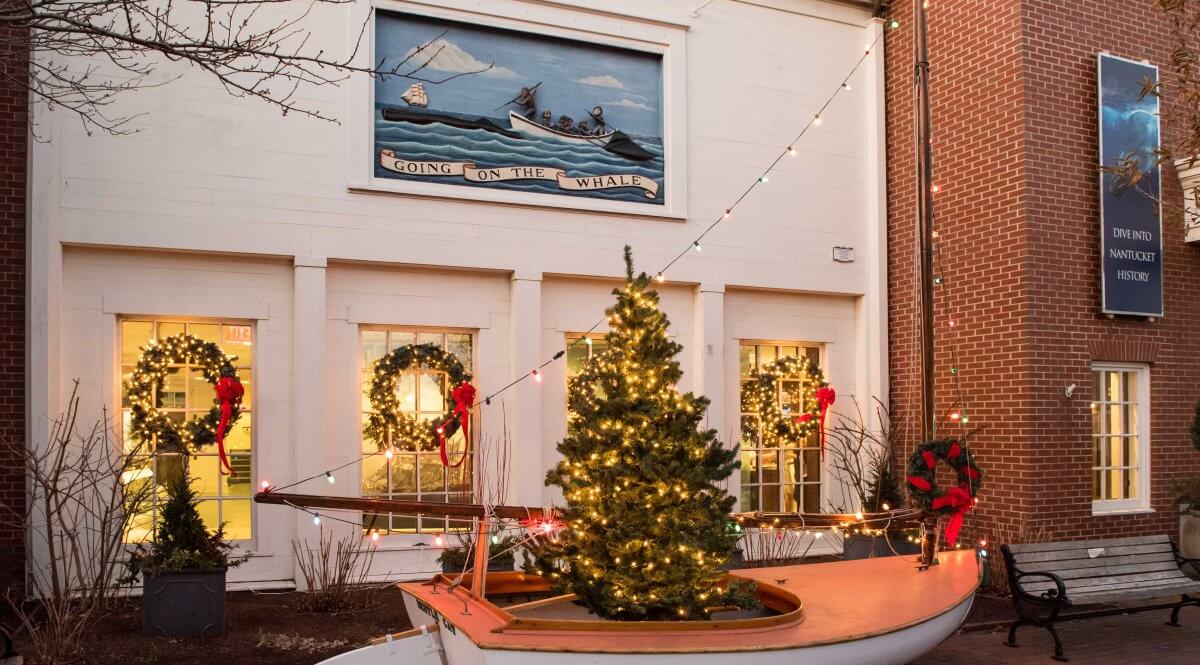 A great holiday gift for budding artists is a gift certificate toward classes at the Artists Association of Nantucket. These are available in any amount and can be purchased in-person at either the Cecelia Joyce & Seward Johnson Gallery at 19 Washington Street or at the AAN Visual Arts Center at 24 Amelia Drive. AAN also sells gift certificates that can be used to purchase works of art by AAN members. Both types of gift certificates may also be purchased by calling the Artists Association VAC at 508-228-0722 Monday through Friday from 9am to 5pm.
For those whose passion is science, the gift of a membership in Nantucket's Maria Mitchell Association will give the recipient a chance to explore the sky, sea, and land around our island with professional and student scientists. Members get free unlimited admission to the MMA Aquarium, Natural Science Museum, Vestal Street Observatory, and Historic Mitchell House, as well as free admission to Open Nights and lectures, discounts on camps, field trips, workshops, and other programs. To give a gift membership (and to renew yours) visit mariamitchell.org/membership.
For nearly a generation, Nantucket Cottage Hospital has honored islanders who were born at the hospital on their Wall of Nantucket Natives. The Wall of Natives has become a beloved tradition for many island families with new babies. For a $100 donation, the name of a Nantucket Native can be added to the Wall with an engraved tile. Buy one online at givenantuckethospital.partners.org/honoring- nantucket-natives: for details call the Foundation at 508-825-8250.
You can help island families and lighten your load after the holiday season by participating in the Christmas Tree pick-up offered by Montessori Children's House. With the help of many parents and volunteers, The Montessori Children's House will pick up your Christmas tree after the holiday season. For more than 40 years The Children's House has provided a warm, nurturing, and dynamic environment to children ages 2.9 to 6. Christmas trees at Moor's End Farm, Marine Home, and Island Lumber have tags with an order form that can be mailed to P.O. Box 2121, Nantucket, MA 02854 with a $25 donation. The school will also publish a page on mchnantucket.org where community members can request a tree pick-up online.
More gifts that give back can be found on Old South Wharf, where Kathleen Duncombe of Made on Nantucket along with Betsy and Gerald of The Brown Basket Gallery is hosting two benefit auctions this holiday season. To benefit Fairwinds: Nantucket's Counseling Center, you can bid on select items from the Seconds Shop. Fairwinds provides confidential, quality professional care to adults and youth on Nantucket who seek mental health and addiction services, regardless of ability to pay.
The second auction features special pieces from a private collection that are being auctioned off to benefit CatTrap Nantucket. CatTrap's mission is to lower Nantucket's feral cat population through a humane trap, neuter, return, care, and educate program. They provide sanctuary and find caring homes for socialized cats and kittens. Stop by 9 and 20 Old South Wharf to bid: both silent auctions begin the day after Thanksgiving and continue through Christmas Stroll. All auction money raised goes to these island organizations.
You can even give a gift of entertainment that gives back on-island. Wrap up a Dreamland gift card or membership to slip into a Christmas stocking or a holiday card. Memberships start at just $50 for students and seniors and at $175 for a family. If you have a real film buff on your list, consider the Brant Point membership. Details on memberships and gift cards are at nantucketdreamland.org.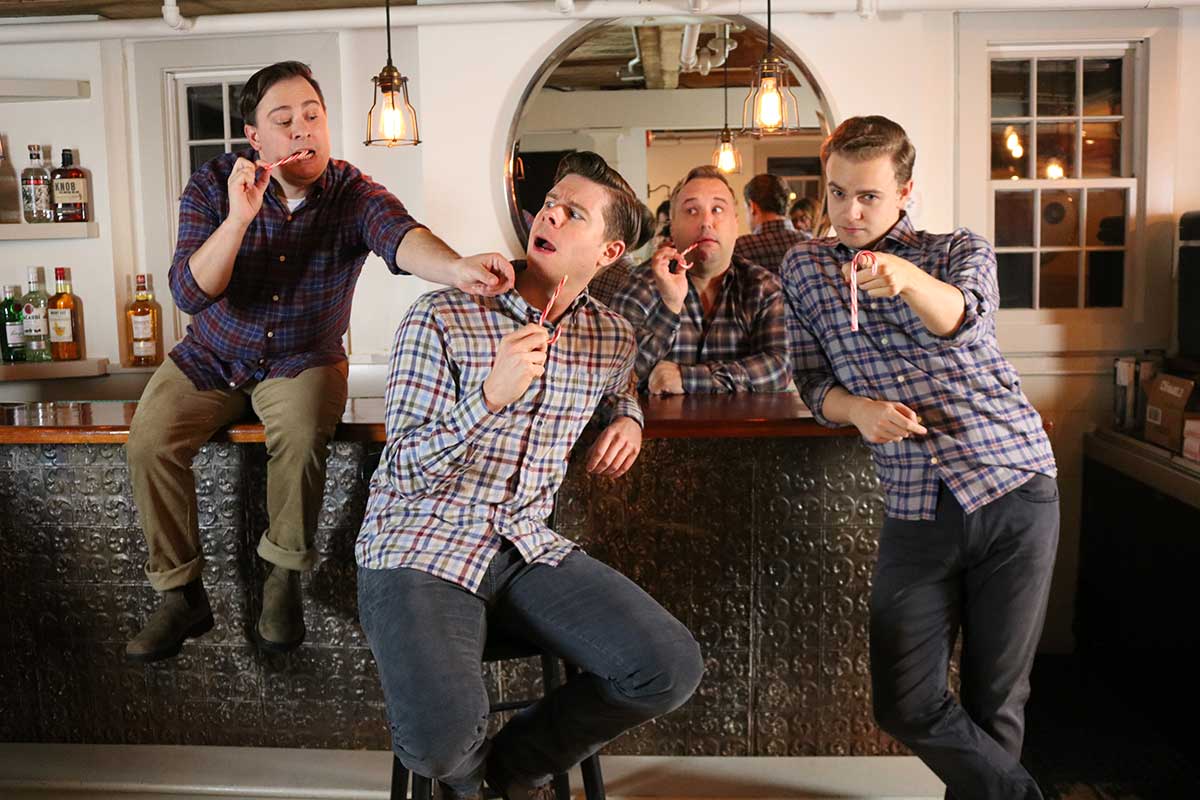 If your gift recipient prefers live theatre, then give memberships and gift cards to White Heron Theatre and to Theatre Workshop of Nantucket. Members of White Heron Theatre can purchase tickets before the general public at member discounts and get member-only access to special behind- the-scenes events. White Heron memberships start at $100 for two people: click on the Support Us link at whiteherontheatre.org. Theatre Workshop of Nantucket offers a variety of gift cards in denominations, individual subscriptions, and as season subscriptions that include Islander Pass, 40 Below Club, and Play Pass. All can easily be ordered online at theatrenantucket.org and printed or emailed.
Many island organizations also accept gifts-inkind as well as cash donations and, in some cases, volunteers. Reach out to:
A Safe Place: asafeplacenantucket.org
Nantucket Safe Harbor for Animals: nishanimals.org
Nantucket Food, Fuel, Rental Assistance: assistnantucket.org Housing Nantucket: housingnantucket.org/donate
Hospital Thrift Shop: hospitalthriftshop.org/donate
Nantucket Food Pantry: 10 Washington Street
Habitat for Humanity: Nantucket: habitatnantucket.org/ways-to-donate