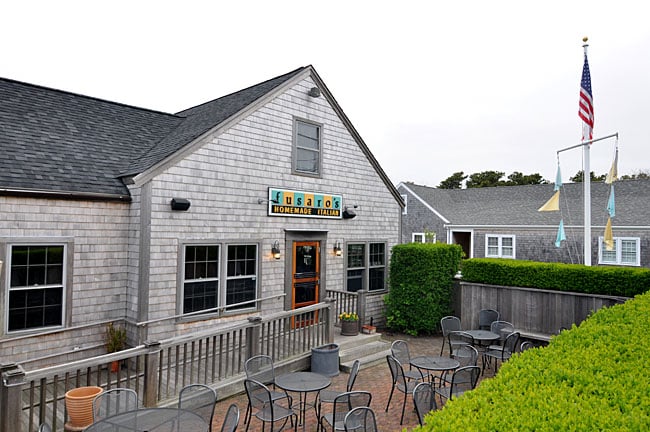 Just a little over a year ago, Tom's dream came true.
Last April, he welcomed his first guests into Fusaro's Restaurant.  They've been streaming in ever since for delicious homemade Italian food that is seasoned with memories, cooked with love, and served with pride.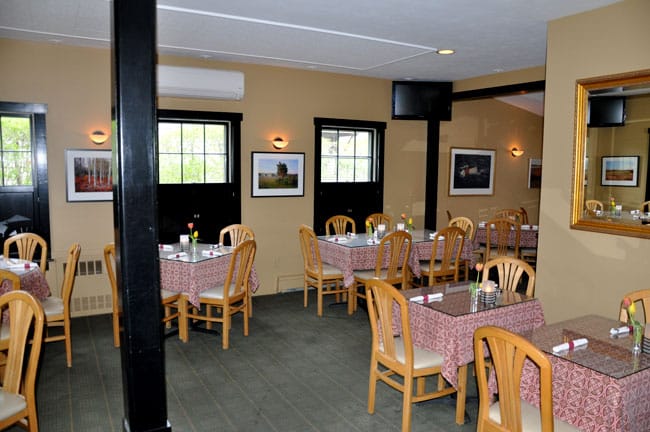 Fusaro's Restaurant truly is a family endeavor.  Early inspiration (and a number of the recipes) came from Tom's grandmother, Genevieve "Jean" Fusaro, whose big Sunday family dinners are warmly remembered by several generations.  The colander she used while preparing her traditional Italian dinners occupies a place of honor in the restaurant near the family photos.
Tom Fusaro is everpresent between the kitchen and dining room; and his wife and partner Stacy greets guests and makes sure they are well-tended.  Talented Chef Karen Thureson leads the kitchen—Tom's niece, she too remembers dinners at "Nana Jean's."  Come summer, several other family member will be at Fusaro's. "We counted: eight members of the family were working here last summer," Tom commented with a smile.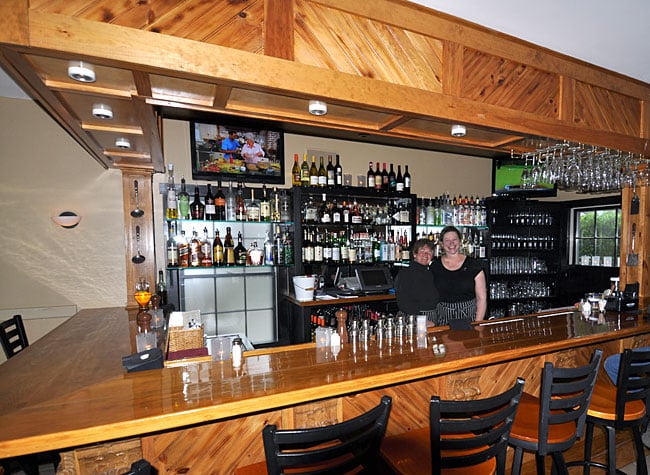 The Fusaro clan extends the genuine hospitality of Sunday dinner with family to the guests at their island restaurant.  Visit once and you'll be warmly welcomed.  On your second visit, you'll be greeted by name, asked about your kids, and, with a nod, bar manager Melissa Kniskern will have your favorite libation ready by the time you're seated.
Dinner at Fusaro's begins every morning with the milling of whole San Marzano tomatoes to prepare their special recipe red sauce, which cooks all day till it's rich and sweet and seductive.  This is red sauce done right, and it imparts it's deep flavor to everything it's served on and with.
The cuisine at Fusaro's is homey and rustic, and very, very good.  The menu goes well beyond pasta and meatballs, though Nana Jean's meatball recipe is fast becoming a favorite on Nantucket!   If you come to Fusaro's for a beer and snack at the end of the day, you can choose from a variety of Antipasti, Zuppa, and Burgers.
click on images for larger view
They have meaty Wings, classic or boneless, with your choice of three sauces: Buffalo, Italian, and Honey Barbecue.  All three are delicious, but we liked best the sweet Honey Barbecue and the seasoned Italian wings dusted with parmesan, particularly when paired with Moretti Italian beer.
Fusaro's also hits a homerun with their Ellis Street Eggplant Fries.  Made to order, the hand-cut sticks of fresh eggplant arrive hot and crisp.  They're appealingly light and flavorful and are served with a cup of Fusaro's marinara.  Add to these a tall, refreshing Melly's Pineapple Infused Margarita and you'll want seconds on both!
Chef Thureson's light touch also makes the Fritto Misto a standout among the Antipasti served.  The shrimp, scallops, calamari, and smelts in this Italian classic have just a dusting of seasoned flour to add a delicious crispness that is almost chip-like without masking the delicate flavors of the seafood.  A creamy roasted garlic aioli is served alongside, but we like these beauties unadorned.  Make the last bite the fried lemon slice.  Thureson uses the same light touch on her sensational Calamari Fritti, adding cherry peppers for a spark of heat.  Melissa suggests a crisp Dipinti Pino Grigio from Italy to accompany.
Entrees at Fusaro's are served with a House Salad that has several endearing touches.  In addition to the chopped lettuce tossed with slices of red onion and grape tomatoes, there are kalamta olives, carrot, and freshly grated cheese, as well as a homemade Italian vinaigrette that is much tastier than the bottled variety.  You can instead order a peppery Arugula Salad topped with proscuitto and shaved pecorino cheese or a classic Caesar that can be made into a light meal with the addition of grilled chicken or shrimp.
Be sure to try the Meatball Salad that makes Nana Jean's special recipe the star of the show!  The meatballs are moist, not too dense, and perfectly seasoned, it's no wonder this recipe has been passed along for decades.  We've never before tried salad topped with meatballs, but after trying this we're sure to order it again.  (Suggested pairing: Jade Mountain Cabernet Sauvignon 2009).
Fusaro's has just added pizza to the menu.  You can create your own from 27 different toppings or choose from a dozen specialty pizzas.  All are thin crust, crisp around the edges, satisfyingly chewy, and firm enough to stand up to the toppings.  Our favorites (so far) are the Anthony, topped with Fusaro's housemade fennel sausage, Nana Jean's meatballs, mozzarella, and plum tomato sauce, and the Puttanesca, a puckery mix of capers, anchovies, and olives, with artichoke hearts and fresh mozzarella over the plum tomato sauce.  We can't wait to try the Maria and the Melanzana!
You can indulge in a comfort food feast at Fusaro's.  They offer a full range of Italian classics and pasta dishes.  One of our favorites is the rustic Pappardelle Bolognese, which, as it turns out, is a chef's favorite as well.  This slow-simmered classic has endless variations, and Chef Thureson's is among the best.  It's clear she doesn't rush this sauce: it's fully developed, with layers of flavor (meaty yet delicate, creamy yet subtle) revealed as you tuck in.  Adding freshly grated parmigiano-reggiano may be guilding the lily, but when our server Meghan offered, who were we to refuse?  (Suggested pairing: Chalone Pino Noir  2009).
Another classic done very well at Fusaro's is the Sicilian Scampi.  What could be better than pasta in white wine and butter with plenty of garlic and plump jumbo shrimp?  Try artichoke hearts for a delicately nutty flavor, fresh grape tomatoes for brightness, and extra slices of garlic to amp up the heat.  Superb!    (Suggested pairing: Brancotts Estate Sauvignon Blanc).
Tom steered us to the Chicken Siciliano, and it's obvious why the dish (one of his favorites) is so popular.  For this entree, Fusaro's red sauce is spiced with garlic and cherry peppers and folded into a delicious jumble of big, two-bite chunks of moist chicken, slices of sweet Italian sausage, hefty pieces of mushroom, and ridged penne.  You get a new taste in every forkful. (Suggested pairing: Chalone Chardonnay  2009).
After one taste of the Beef Short Ribs con Rigatoni, we realized that at Fusaro's, you're not choosing between good and better, you're choosing between superb and over the moon!  The Short Ribs are over the moon.  This magnificently savory dish features meltingly tender beef from short ribs that have been braised in a sensuous mix of tomato and aromatics later incorporated into the hearty sauce.  The dish resonates with deep flavor.  (Suggested pairing: Chianti  Castello D' Albola DOCG 2008  Tuscany).
The portions at Fusaro's are so large that you'll have to plan ahead for dessert.  Watching what came out of the kitchen, their Brownie Supreme is a huge hit, not to mention huge.  We enjoyed their New York Style Cheesecake glazed with Fusaro's housemade limoncello (watch for bing cherry-cello this summer).
And their Cannoli, well, let's just say now we have a better understanding of the line "Leave the gun. Take the cannoli."
Throughout the winter months Fusaro's has been offering tempting all-you-can-eat specials.  They've just begun Sunday Supper for $14.95, described as "macaroni with beef short ribs, pork ribs, sausage and meatballs slow cooked in an all day Sunday gravy. Just like Sundays at Nana's!"
See you at Fusaro's.  Mangia!
Fusaro's Restaurant
www.FusarosRestaurant.com • 17 Old South Road  •  508-228-4100
Homemade Italian, open year-round • Spring hours: Tues-Sun. 4 to 9 pm
Open for lunch and 7 days & nights starting in June
entree prices range from $12.95 to $22.95
Takeout, Families Welcome, Full Bar, Wine List, Private Celebrations
Indoor & Outdoor Patio Seating • Reservations not accepted
Located near the NRTA Amelia Drive bus stop.