by Cara Godlesky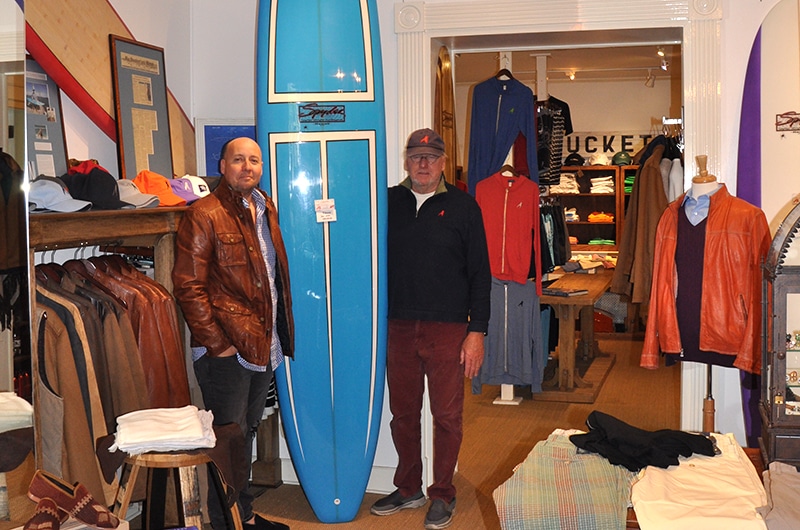 Many stores on Nantucket display glass cases filled with exclusive merchandise or the walls are lined with board shorts and casual apparel. Very few stores provide both. The Trinity Collection at 50 Main Street combines the styles with two shops in one. In the front of the shop are the high-end jewelry and luxury watches (many rare finds) that they've offered for years. Through the mid-shop arch is their newly expanded gentlemen's surf shop with fine apparel and accessories that will take men 18 to 80 from days at the beach to evenings out. In one stop, the Wrights can help you pair a classic Irish linen shirt or Loro Piana cotton/cashmere blend jacket with an attention- getting timepiece by Franck Muller, Patek Philippe, Rolex, or Audemars, and top it off with a very fine leather jacket.
The Trinity Collection opened its doors 20 years ago and mainly sold fine watches but four years ago, it expanded to carry quality surf apparel and the brand, Spyder Wright Surf. Edward "Spyder" Townsend Wright II, legendary surfer, originally opened the shop and now his son, Edward Townsend "Townie" Wright III, owns the store.
The Trinity Collection was not Wright III's first time in business. From his earliest days on Nantucket, Wright III has demonstrated an impressive entrepreneurial spirit.
When Wright III was just six years old, he and his family would come to Nantucket and stay on a boat. Wright III noticed everyone on the yachts moored around them would sit and drink coffee on the backs of their boats in the mornings. He thought that it would be the perfect time and place to sell pastries to those sitting on their boats.
Wright III asked his father to borrow 10 dollars, went down to the old Morning Glory Bakery, bought pastries and went around selling them on the docks. He paid his father back with the money he made.
"I've always wanted to work," said Wright III. Wright III also recalls collecting cans as a boy to get a nickel. "Back then a nickel was a lot of money.
I started saving and working. I used to go up at the end of the day and deposit my money right here at Pacific National," said Wright III. "That's actually where I started my first bank account with my parents. My parents were always like, 'This kid's crazy. He's not going out playing. He's trying to make money.' That's how it all started, I guess."
It isn't surprising that young Wright III was out there collecting cans and selling pastries, for the Wright family has a long line of businessme n .
Wright III's greatgrandfather started the family history of entrepreneurs by recycling steel from the railroad industry in the 1920s. "Spyder" Wright II started another generation of entrepreneurs as a professional surfer who created his own company, Spyder Inc., that sells surfboards and surf apparel.
Spyder Inc. remained dormant for a while until Wright III decided he wanted to revamp his father's brand and become his own boss. He redesigned The Trinity Collection's back section of the store by himself to house the new brand and clothing line, Spyder Wright Surf.
"I just hated answering to somebody. I kind a like to do my own thing," said Wright III.