by Carl Oscar Olson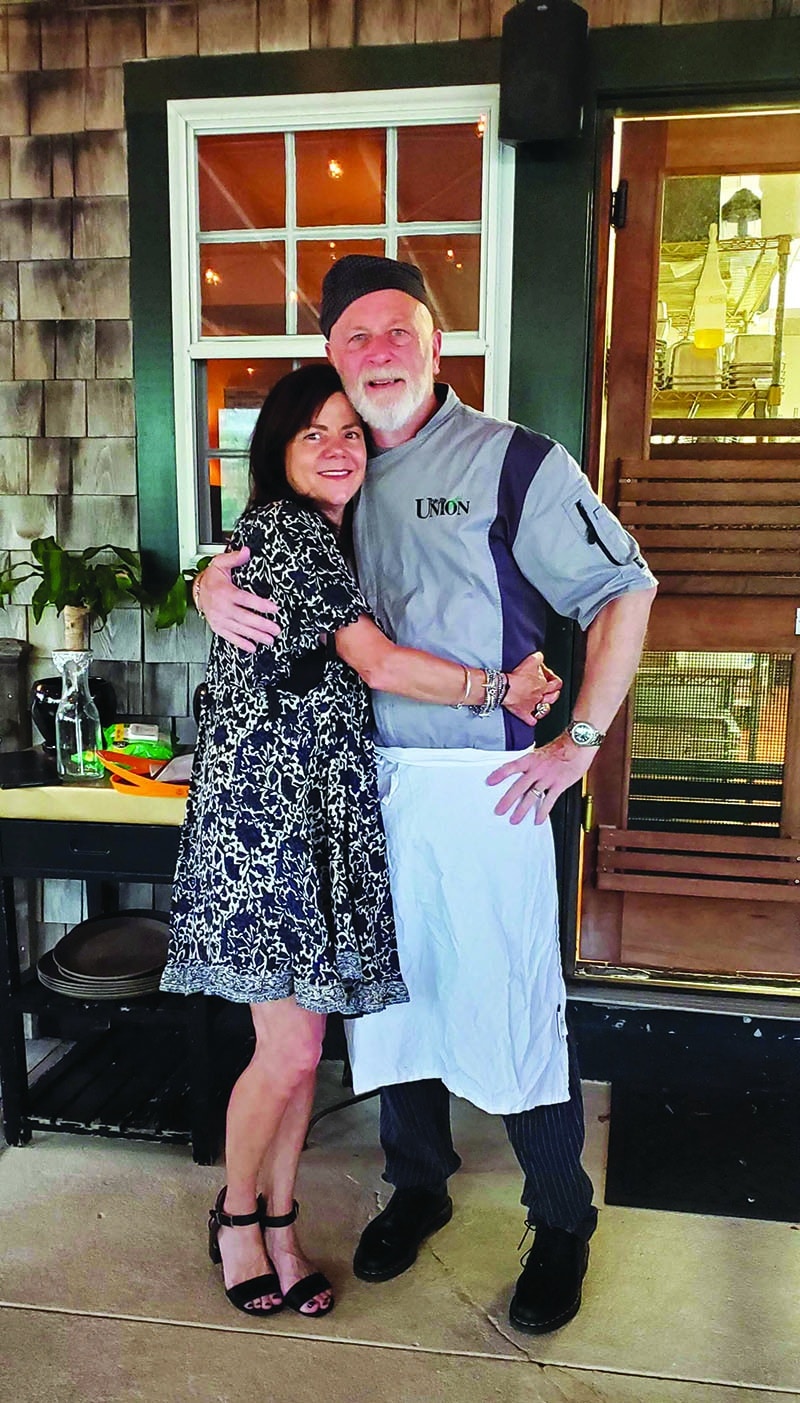 As the saying goes, "nothing good ever lasts," and this is especially true for many of Nantucket's much-loved eateries. Leases run out, head chefs move on, or it simply comes time to retire from it all. If you've never dined with some of our favorite islanders at one of our favorite locations, the time is now to head just out of town to Fifty-Six Union.
After 22 memorable years of serving the island community, Wendy and Peter Jannelle are closing the doors to their 56 Union Street restaurant and turning the page onto a new chapter. A family affair for more than two decades, the Jannelles have quite the story to tell.
Peter graduated from The Culinary Institute of America in 1978 and went to work on the Holland America Lines, and his travels around the world helped inspire the myriad of flavors on his menu today. From there he took a job as Chef de Cuisine at an establishment of yesteryear, The India House, where he met Wendy, his long-time partner in life and business. From there the pair worked in some of the best kitchens and dining rooms on the island. Their two sons are also part of the team, with chef-at-heart Andrew manning the line and Blair keeping eyes on the front of the house.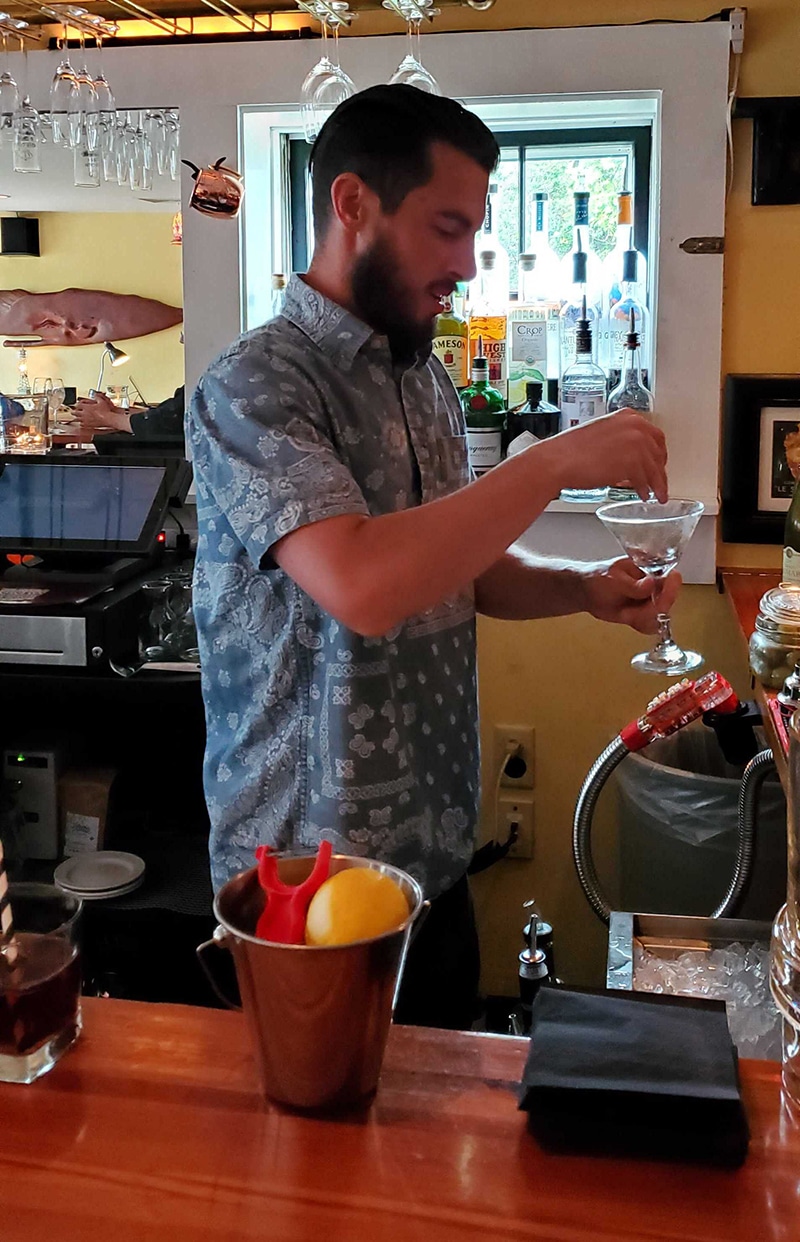 There are simply so many reasons why we will always love Fifty- Six, from Wendy's warm greeting to Chef Peter's global cuisine, the combination of which makes us feel right at home while traveling the world. Wendy's wine list mixed with bartender Evan's cocktail creations make for a perfect pairing before, during, and after your dinner.
With our refreshments in hand, fresh, warm rolls were delivered to our plates. Crusty and chewy outside but so fluffy within, a pat of soft, sweet cream butter made them the perfect start to our culinary adventure on Union Street. We watched and waited, taking in the beauty of our outdoor dining area and garden, for our starters to make their way to our table.
We'll be in a pinch trying to find a better Crab Cake than the one served at Fifty-Six. A crispy crust from the light breading crackles in every bite of Jonah and lump crab, while the flavor of bell peppers and scallions still make themselves known. The gleaming lobster americaine sauce underneath is brimming with complexity and just enough cayenne for a warming kick.
A long-time favorite and a meal in itself, Chef Jannelle's Curried Mussels are a Fifty-Six standard. A symphony of spice and seasonings with just enough sizzle, the dish piled high with the beautiful black bivalves in the creamiest curry imaginable. Have the rice in between bites or dip in some of the chef's famous Truffled Frites (if you haven't devoured them all). Or savor it as soup when the mussels are gone.
The restaurant not only boasts plenty of parking but four fantastic dining areas all with their own moods . The "front room" is the largest and liveliest area and provides a social setting with the bar within reach, while the "back room" is a calming escape for families with children or those looking for a quieter outing. Roomy and accommodating of parties of all sizes, the "patio," our favorite spot, brings the outside in with an awning and removable wall coverings as well as heaters and blankets to keep you cozy on those cooler evenings. 
 Finally, situated under a private cabana, the coveted Table 56 is a must-try dining experience. Enjoy a quiet night out in the garden with friends, family, or any large group gathering of 6 or more (book well in advance!) for a night to remember.
Our waitress, Ali, was prompt and on point with clearing our dishes just in time for our entrees to arrive. Though it's a vegetarian option, the Eggplant Involtini is so full flavored and filling you might never know it. This sampling of summer vegetables baked to order in an au gratin dish, is piping hot and served with a slice of crusty, buttery bread. Under the browned and bubbling blend of parmesan and provolone awaits eggplant, bell pepper, spinach, and ricotta in a rich Tuscan tomato sauce.
There is almost always a special or two on the menu, so be sure to ask your server. The night we dined, Seared Salmon was the one, and we'd have been foolish to pass it up. The fish was meaty and incredibly moist, the kind we all wish we could cook at home. Touches of heat from a coarse crack of black pepper ties in with the minted pineapple coulis, while a side of finely diced carrots, red onion, and pepper were as light as the lentils they mingled with.
You might not have known it, but dessert is a part of dinner at Fifty-Six Union, with lots we love to revisit and always a few new sweets to sample. The Lemoncello Creme Brulee will prove the purists wrong with just a touch of citrus wrapped in the impeccably light and creamy classic. The crackling crisp of toasted sugar on top passes the spoon test every time.
The Gelato Cookie Sandwich brings out the kid in all of us. This rustic, homemade classic combines chunks of chocolate, walnuts, and pretzels together with a salted caramel or dark chocolate gelato. We loved the salty pops from pretzel throughout every bite. This option changes a few times throughout the season and we can't wait to see what's next. 
Our all time favorite finale at Fifty Six, Strawberry and Blueberry Shortcake, is a Nantucket summertime staple. The shortcake is enhanced with the unmistakeable essence of orange while fresh summer strawberries and blueberries shine under peaks of whipped cream. This one is an ode to summer and the best epilogue to a summertime dinner. 
This won't be our last trip to 56 Union Street this summer, and though the island will be a poorer place without the love served up nightly at Fifty-Six, we thank Wendy and Peter for their years of hard work. As Wendy puts it, "The support from the community over the last 22 years has been overwhelming. We were able to live our dream of owning and operating a restaurant on Nantucket, and we are grateful to have a planned exit."
Thanks for the memories!
Fifty-Six Union
Fiftysixunion.com
56 Union Street • 508-228-6135
Bar opens at 4:30 pm; Dinner served from 5 pm
Entree price range is $32 to $48
indoor and outdoor dining; special Table 56; full bar
dining rooms available for private celebrations
major credit cards accepted • plenty of parking