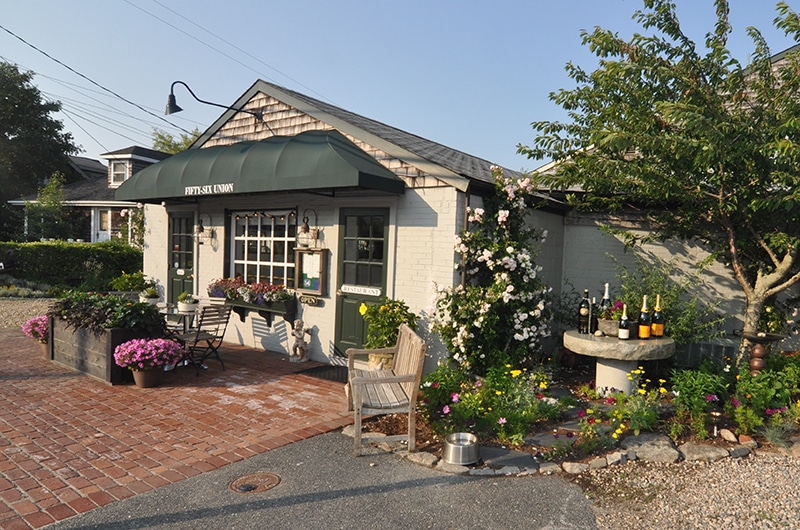 Magic happens when you add scrumptious food, superb libations, a dash of whimsy, and a bit of fun to summer on Nantucket, and this happens every evening just a short stroll from Main Street at Fifty-Six Union. This eatery on the edge of town has the body of a chic restaurant, the soul of a Michelin starred establishment, and the playfulness of those who love what they do and love to share it.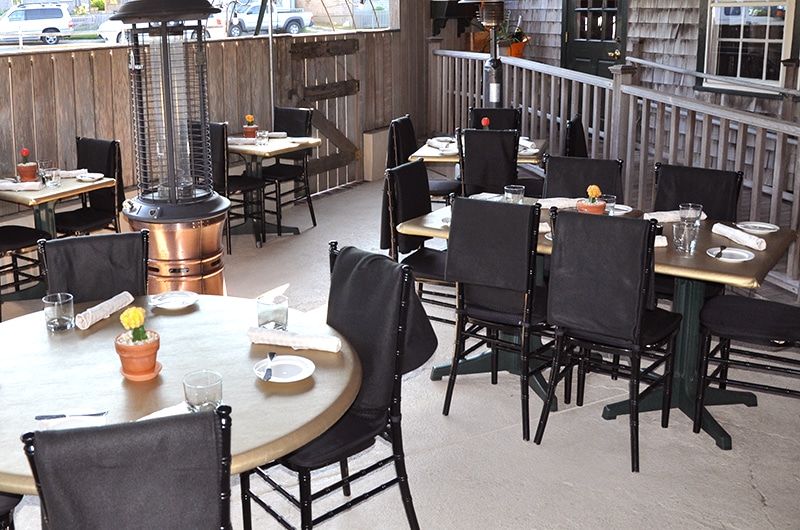 Owners Wendy and Chef Peter Jannelle are ever-present at their restaurant, ensuring a great experience for every guest. You can dine in the front dining room with its café ambiance and whimsical accents or in the quieter, more formal back room. Outside on the sheltered patio, the atmosphere is summery and festive, with paper lanterns and hanging plants. For added enchantment, reserve the private Table 56 in the garden.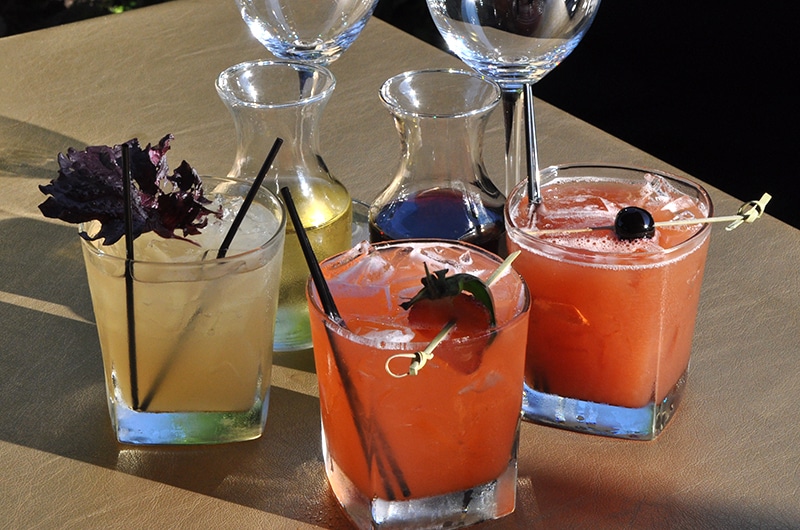 Part of the magic here comes from the bar, where mixologist Kat Turner has concocted several new and fun specialty cocktails. We recommend The Shihzu, an intriguing blend of Leblon Cachaca, shiso, yuzu, ginger, and lime topped off with soda with an appealing sharp sweetness. Two of her whimsical twists on the classics are winners— a Not So Old Fashioned with tasty notes of cherry and a Miacomet Margarita, leaning dry with an jalapeno and strawberry garnish.
Fifty-Six Union gets more serious when it comes to their wine selection. Carefully curated by co-owner Wendy Jannelle, all selections pair well with food and the list includes many lesser-known and superb bottles. They offer a dozen fine choices for wines by the glass, featuring a deliciously crisp Macon- Lugny, "Les Charmes," Burgundy and a particularly good Bourgogne, Houtes Cote de Nuit, "Les Dames de Vergy," Burgundy.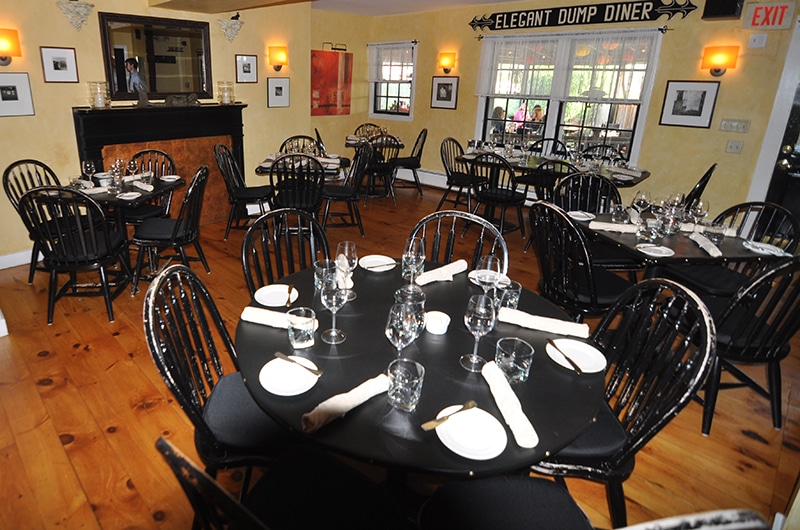 The kitchen magic flows from Chef Peter Jannelle's talent for creating dishes that are refined yet approachable with clear and definite flavors. His menu has selections that appeal to a wide range of tastes. Dishes that are usually considered casual like a burger and a lobster roll are elevated here by his use of fine ingredients, his impeccable technique, and a little something extra until they're not at all out of place as a main course paired with fine Burgundy or a glass of Veuve Clicquot.
If their special Fifty-Six Burger happens to be their Lamb & Sausage Burger or their Duck Burger the evening you dine here, you're in for a real treat!
Click images to view enlargements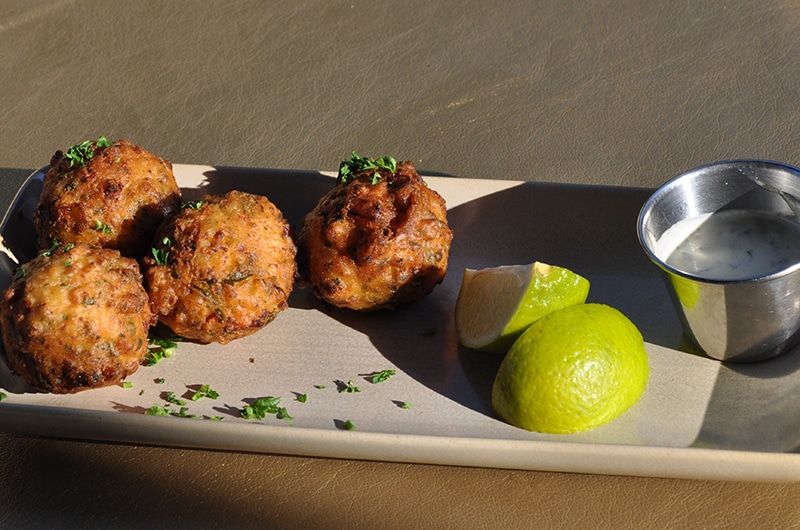 We began our dinner this week with Conch Fritters. Exteriors browned and crisp and interiors light as a feather, these nicely sized spheres were perfectly seasoned and full of surprisingly tender bits of conch. We like the fresh breath of cilantro and the pleasant afterburn from the habanero mayonnaise. Wendy suggests a sparkling glass of Veuve Cliquot to complement.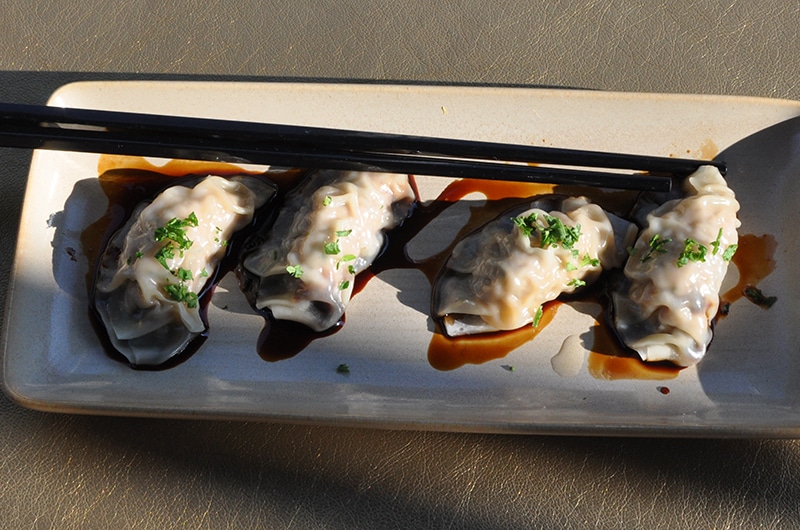 We celebrated summer with glass of Le Pavadon Rosé, Provence and the Chicken Dim Sum — a picture-perfect plate of delicious moist chicken, garlic, and ginger steamed till the paper-thin pleated wrappers cling tightly to the filling. Be sure to swipe each dumpling through the tracings of sweet soy glaze adorning the plate.
The Rosé is also a perfect pairing for our two favorite appetizers at Fifty- Six. One of us orders the clams or the escargot every time we visit, and they never disappoint! Chef Peter's Escargot Bourguignonne are plump and juicy with a clean, woodsy flavor drenched in butter with a delightful burst of garlic. You'll want to use the toasted slices of baguette to mop up every drop. Patrons of Fifty-Six know that this restaurant's famous Truffled Frites are also ideal for dipping into the delicious garlicky remains.
The chef's Clams Casino prove that little nibbles can produce big flavor. Freshly shucked, these tasty tidbits are served nestled in their shells with a sprinkling of seasoned crumbs, tiny bits of red and green pepper, and a piece of applewood smoked bacon. All the flavors are perfectly balanced, with nothing overpowering the delicate clams.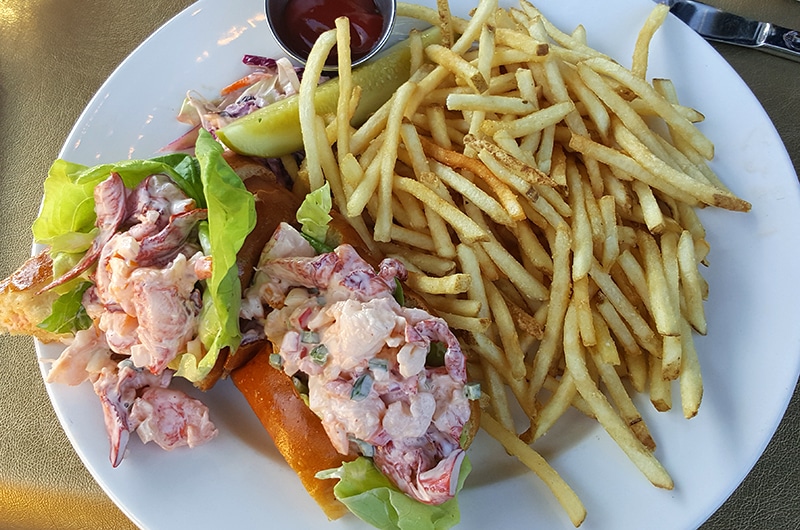 With perfect timing, entrees arrived as we finished our last sips of wine. High praise goes to the Lobster Roll at Fifty-Six. More like two, there's no skimping on this plate! With big chunks of sweet, succulent lobster meat, a crunch of celery and bell pepper, flickers of heat from some red onion, and just enough pernot-scented mayonnaise to tie it all together, Chef Jannelle's lobster salad is superb. The lobster is set in toasted brioche buns lined with fresh bibb lettuce. The butteriness of the rolls takes the place of dipping butter on a lobster dinner. A mound of salty pommes frites, thin, goldencrisp outside and fluffy inside, is the perfect accompaniment.
Fans of fish will adore the Pan Seared Day Boat Fluke. A coating of pecans crushed nearly to dust imparts the essence of the nut to the bracingly fresh fluke without masking its mild, sweet flavor. The moist fish is served on deep purple Forbidden Rice ringed by a colorful jumble of tendercrisp vegetables: golden sweet corn, red and orange bell pepper, asparagus, purple bits of onion, and red tomato. Lemon-thyme butter sauce adds luscious richness to this summer supper. (Suggested Pairing: Cakebread Cellars Sauvignon Blanc, Napa Valley)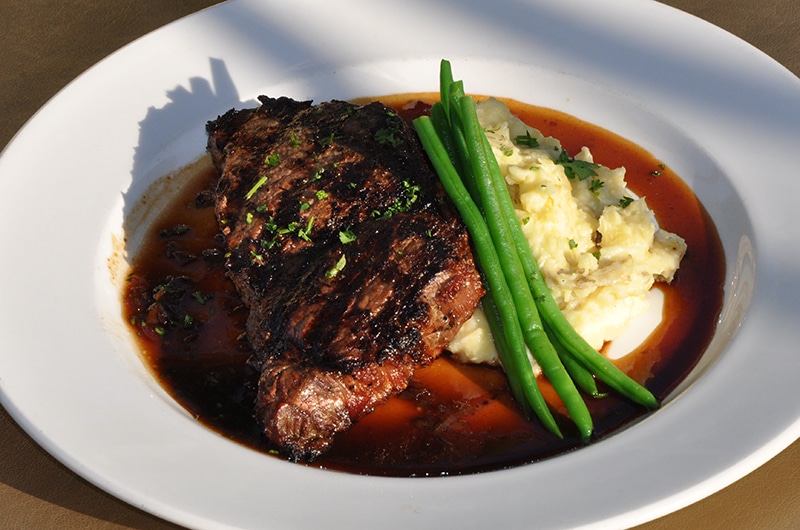 Steak on the grill is a favorite of ours, especially when it's cooked for us perfectly to temperature and the steak is an Aged Sirloin with full beefy flavor. This fulfills all expectation of what a great steak should be. A simple plate that is simply delicious, the sirloin is served with roasted garlic mashed potatoes and green beans in a dark and lustrous pool of red wine demiglace that is astonishingly good.
Even better (if that is possible) is the Colorado Rack of Lamb. An evening special, this may or may not be on the menu when you dine at Fifty-Six. If it is, order it! This entree this makes us appreciate the incredible quality of Colorado lamb. According to Chef Jannelle, the flavor and texture beats all others— it's the only lamb he'll use. The chops are robust but not at all gamey. Even medium-rare, the meat is fork-tender. Breaded golden brown and bathed in a lavish bearnaise sauce, tabouli is the light accompaniment that cuts the richness of the dish. (Suggested pairing for either the Lamb or the Sirloin: Justin Isosceles, unfiltered blend, Paso Robles)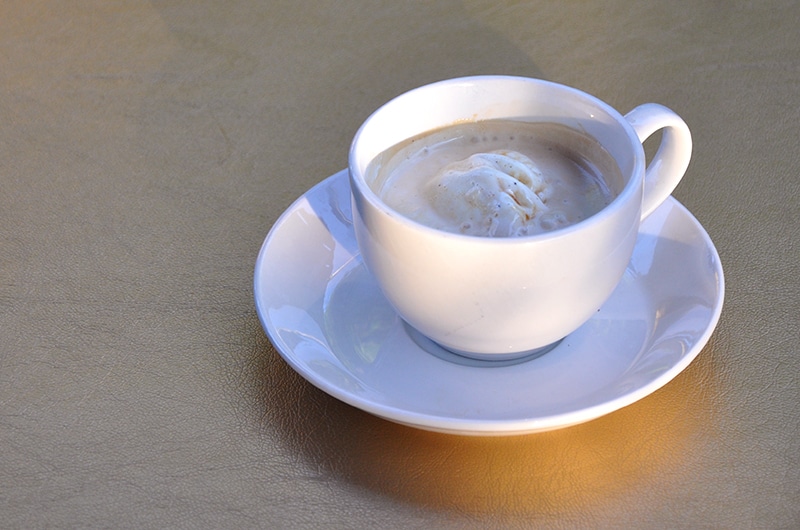 Our favorite way to end a meal at Fifty-Six is with espresso: either in the form of a true Espresso Martini (no Bailey's allowed) or the Fifty-Six Float made with single shot of freshly brewed espresso poured over a scoop of vanilla ice cream.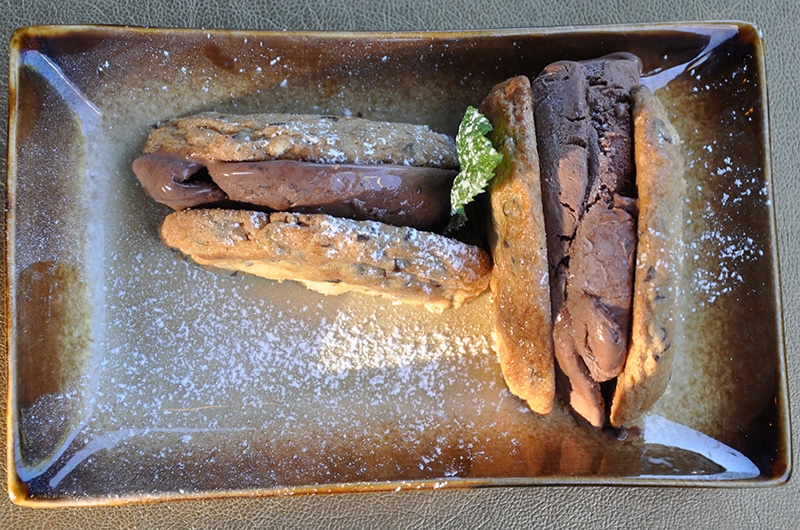 If homemade chocolate chip cookies sound like the ideal dessert, try them with Villa Dolce Italian gelato (chocolate, of course) sandwiched between them in the Gelato Cookie Sandwich. It's a delicious way to recapture the joy of childhood.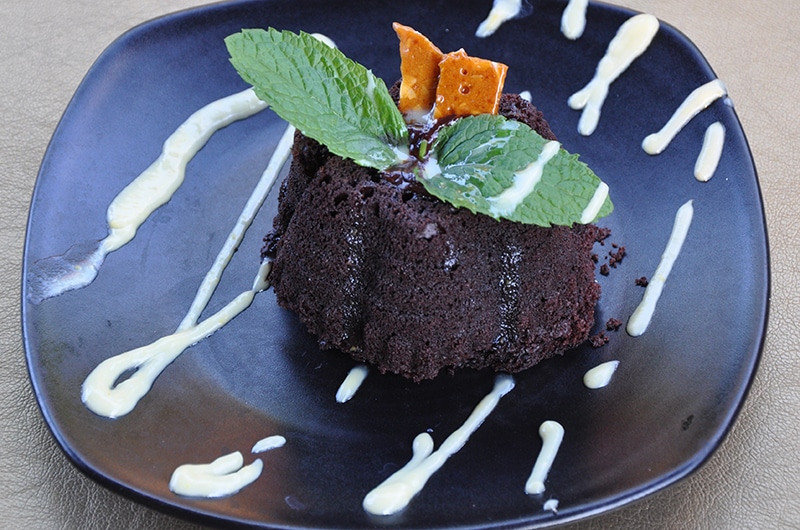 For a more intense hit of chocolate, you'll want to order the Chocolate Lava Cake. The center of this individually-sized dark chocolate bundt cake is filled with warm dark chocolate ganache and topped with almond brittle.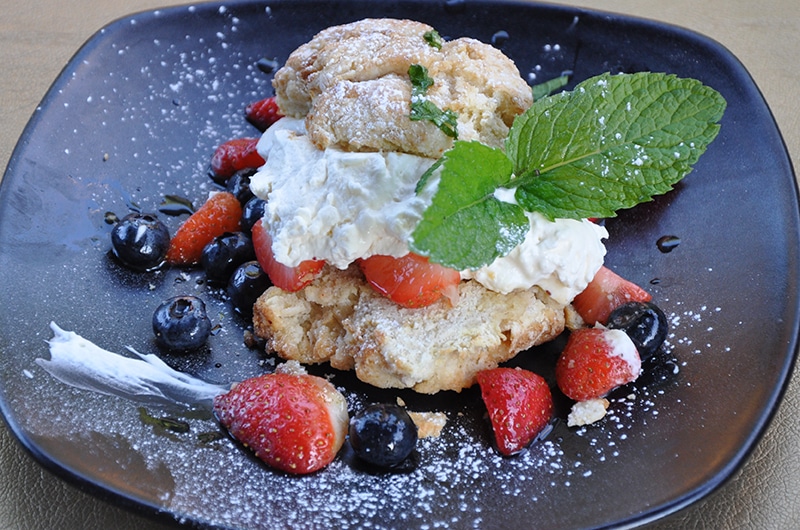 During the summer months at this year-round restaurant, we suggest you order Chef Jannelle's Fruit Shortcake. Strawberries and blueberries at their sweet and juicy peak are served on and around tender drop biscuits infused with a delectable surprise of orange. It's the perfect ending to a magical evening.
Fifty-Six Union
Fiftysixunion.com
Open year-round at 56 Union Street • 508-228-6135
Bar opens at 5 pm; Dinner served nightly
Entree price range is $30 to $47
indoor and outdoor dining; special Table 56; full bar
dining rooms available for private celebrations
major credit cards accepted • plenty of parking