by Sarah Teach
Two hundred thirty-six years after our country declared her independence, we still throw an annual commemorative party; and the little island of Nantucket throws an exceptional bash!  All day long on July 4th, Nantucket is bursting with activities, many of which are suitable for families but still cool enough for college kids.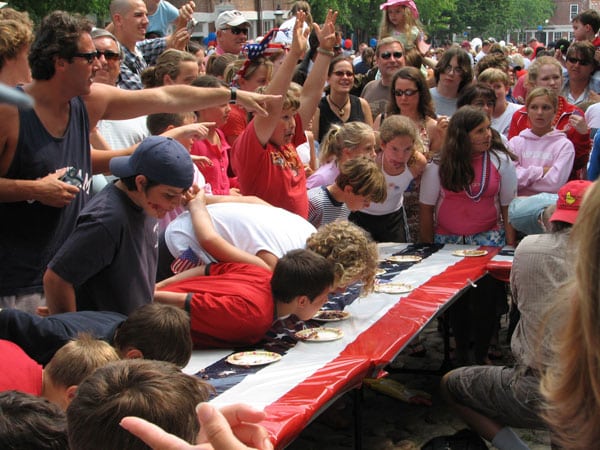 The day kicks off at 9 a.m. with a dramatic reading of the Declaration of Independence and singing of patriotic songs at the Unitarian Universalist Meeting House.  Everyone is welcome, and it's free!  Raffle tickets will be available for $5 each, and winners will be announced at the end of the program, when the grand prizewinner gets to climb the town clock tower and ring the historic Portuguese bell!  There will be other prizes, including two round trip flights to Hyannis with Cape Air.  Following the program, all are invited to sign a large copy of the Declaration.  The event grows in popularity every year, so the earlier you arrive, the better.  To be part of the fun, head to the Meeting House at 11 Orange Street, located just a stone's throw from Main Street.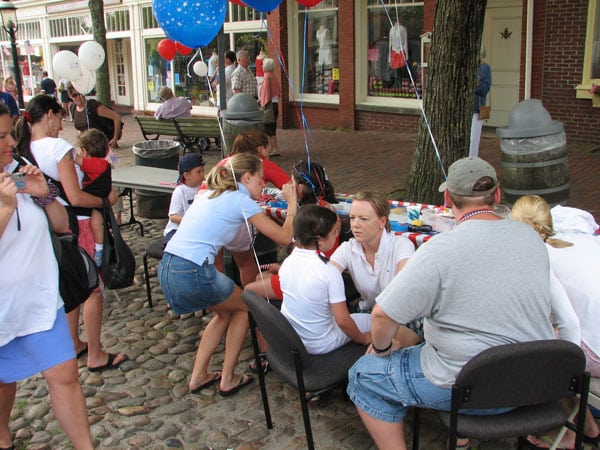 At 10 a.m., everyone congregates on Main Street, which is closed to cars from the early morning hours until mid-afternoon.  The kids can get their faces painted by local artists in front of 30 Main; create sand art in front of 25 Main, see a puppet show on the steps of the Methodist Church at the top of Main, and simply hang out with other children in a safe environment.  For grownups and kids alike, there are few things in life as satisfying as a dunk tank, so don't miss your chance to use the one that gets set up near Union Street.  The day also offers a bike decoration contest, a pie-eating contest; and no matter how old you are, you can take a stab at the annual watermelon-eating contest.  (It is split up into age groups to ensure fairness and fun for tiny mouths and bellies.)  By 11:45 a.m., Main Street is ready for the glorious 15-minute water fight between two fire trucks and their giant hoses! There are lots of kids with water guns, too, so be prepared to get soaking wet if you are in Main Street area.  If you're here with your own kiddos, you have a few short hours to recover before taking them to Children's Beach for an hour of the likes of tug-of-war, and potato sack, three-legged, and wheelbarrow races!  These games are suitable for ages 6-12 and will last from 5 p.m. until 6 p.m.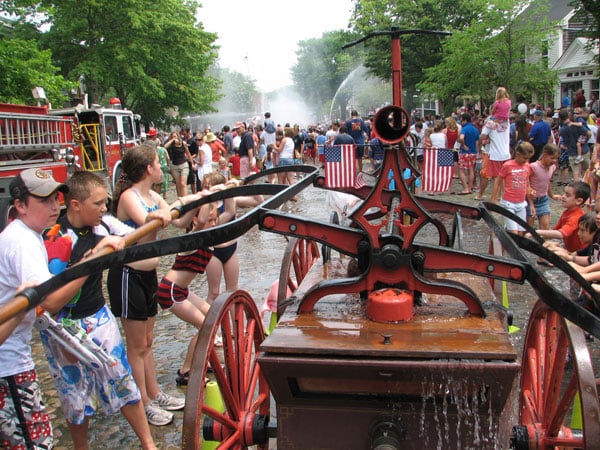 And of course, there are fireworks; but Nantucket does them island-style. At 9 p.m. on July 4th, fireworks are shot off from a barge anchored one mile out in the Nantucket Sound, and most everyone agrees that Jetties Beach is the best place to watch them.  There are public restrooms on-site, and if you forget a blanket to sit on, you can just pop over and get one at The Jetties, which is right on the beach.  (Incidentally, The Jetties is also the perfect spot to grab delicious beach picnic fare and delightful cocktails!)  Our local transit system, The Wave, will offer bus transportation from the Whaling Museum to the bus stop near Jetties Beach every 10-15 minutes starting at 6 p.m.  After the event, you can catch the bus from the Jetties stop back to the Whaling Museum.  A bus will make the run every 20-30 minutes until 11 p.m.  One-way fares are just a dollar for adults and fifty cents for seniors, handicapped persons, veterans and active military personnel.  Kids under age six ride for free.  For the fireworks show itself, we have 45 private donors along with Nantucket Visitor Services to thank for their generous sponsorship. You can even purchase a 20th Anniversary Edition Fireworks T-shirt from Visitor Services at 25 Federal Street. They're only $15 ($12 for kids' sizes) and make  great souvenirs!
Maybe it's our forefathers' British roots that steer us to island life on July 4th each year.  Or it could just be the lure of Nantucket's friendly faces and pristine beaches.  Whatever it is, there's no denying that this island is a spectacular place to be on Independence Day.  The spirit of Nantucket makes it easy to imagine Thomas Jefferson and the boys waving sparklers and singing America The Beautiful right next to us on Jetties Beach, enjoying the freedom we have to celebrate our nation, party 'til dawn if we want to, and take pleasure in each precious moment.