So Many Ways to Hav e Fun at The Crown
by C. Oscar Olson
Every city and town has one. It's that local spot that always seems to have a seat waiting or a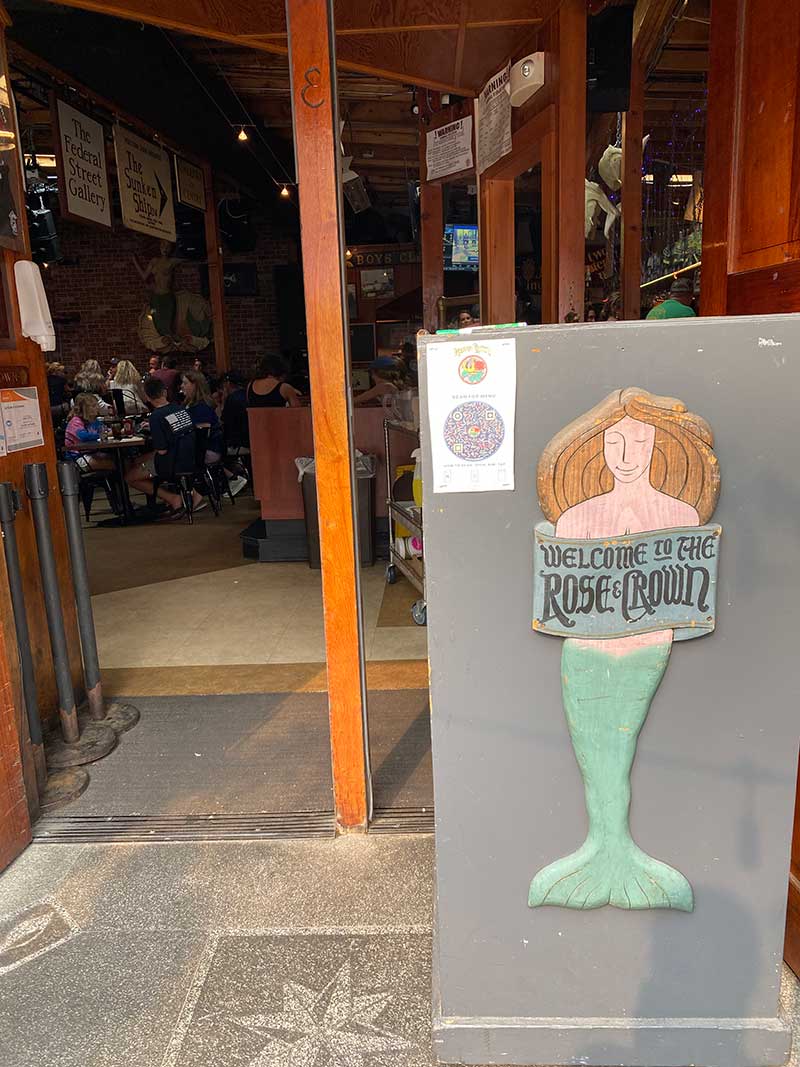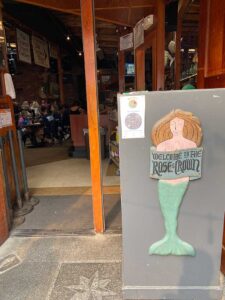 table ready, happy to serve up some delicious local fare at a fair price. The drinks flow and the smiles glow at Nantucket's own Rose and Crown.
Roomy and accommodating, this island standby is conveniently located in the heart of downtown. It's a special place on Nantucket where everyone is treated like a local. The menu is diverse, the drinks are delicious, and diners feel right at home. Signs of businesses past and present decorate the high ceilings and walls, bringing back memories of the past while we make new ones.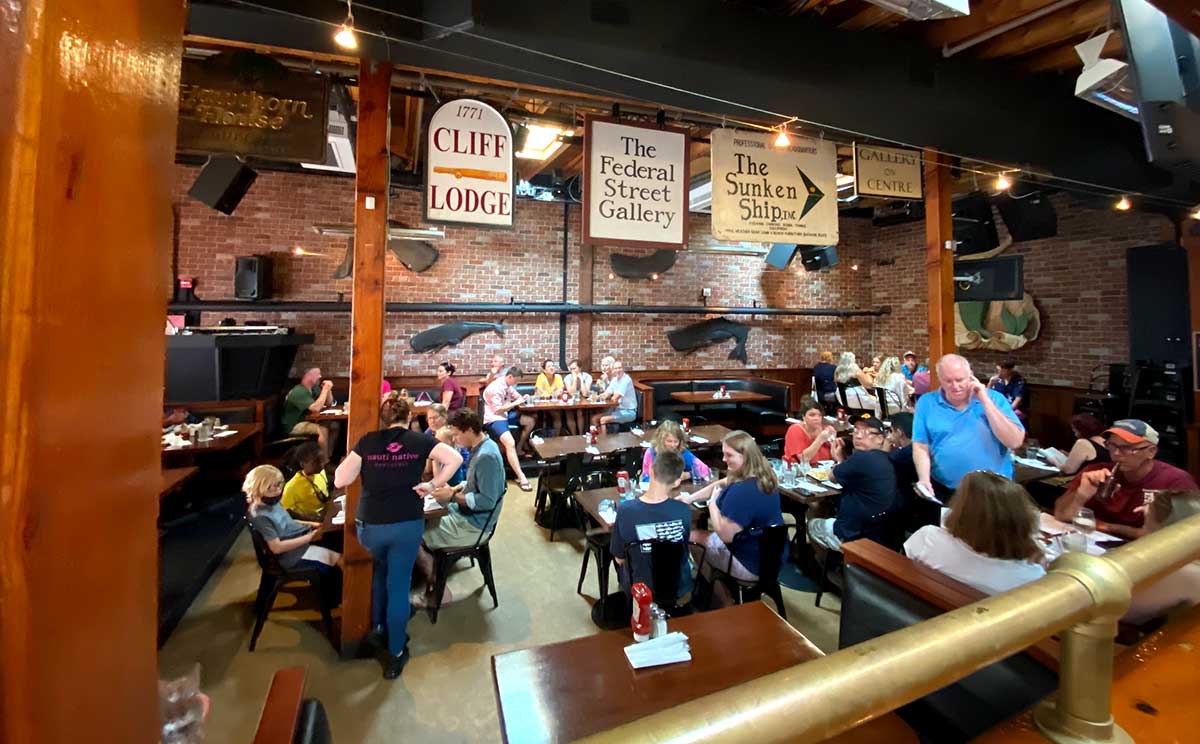 Erected in the 1800s, The Rose and Crown was originally a livery stable for keeping horses and carriages. After that it was home to a gas station and later an art gallery. In the mid-seventies it was transformed into the restaurant we know and love today. Their 40+ years of steadfast service is an island tradition we enjoy every chance we get.
Not many restaurants can transform the way Rose and Crown can. Televisions are strategically stationed for those keeping an eye on the game, and things heat up early with talented musicians playing all the hits. The party really gets started after dark with more live music. Take it all in on Thursday and Saturday nights with lots of local hitmakers and keep an ear out for special guest appearances. Check their website for details.
The drink list is long and diverse, offering everything from custom cocktails, classic wines, and a daunting list of drafts. Mocktails are trending for a reason on and off Nantucket. They're a fun, flavorful way to stay refreshed while keeping a clear head. The bar proudly provides several options, and we just couldn't pass them up. The Virgin Lavender Lemonade is sweet and soothing, pretty and pink, with herbal notes of lavender that are far from understated. Our favorite is the Pineapple Ginger Beer. It's opulent and opaque, slightly fizzy, and a beautiful blend of sour and sweet.
There are lots of new dishes on the menu this summer, and every one is worth ordering. We started our meal with Nantucket's new favorite finger-food: The Crispy Chicken Skins. Addictive as they are delicious, these are crunchy, satisfying, and not at all greasy. Perfectly seasoned, too, so who needs French fries? 
Worth ordering again and again, we loved the slow sizzle of the Cajun-style shimp in the Shrimp and Cheesy Grits. All six of them tender, toothsome, and cooked to perfection. The dangerously cheesy cheddar-laced grits served underneath ties it together and brings it all home. 
Our favorite first is the Shrimp and Citrus Salad. It came as quite the pleasant surprise: a marvelous medley of color, texture, and taste and absolutely loaded with perfectly tender tasty shrimp. Enjoy the cool crisp of fresh greens, ripe and buttery avocado, sweet pineapple and mandarin oranges, with the satisfying crunch of pecans. 
For comfort food no matter the weather, go for the fork-tender Braised Short Ribs. They glow with a glossy demi-glaze and are served alongside buttery steamed peas and carrots. And we loved the mouth-water contrast of crisp, spicy cabbage, and slow braised beef in the Short Rib Tacos. Served wrapped in fluffy naan bread, the avocado crema adds a spark to every bite.
Kids and the kid in all of us will cheer for the Cheddar and Caramelized Apple Grilled Cheese. It's as good as it sounds with the flavors of sharp cheddar cheese and sweet caramelized apples, smoky bacon jam on crisp, toasted pumpernickel. The fries on the side that came with everything on the Hand-Held section of the menu were crispy on the outside and fluffy inside, with just enough seasoning to keep you coming back for more. 
Dessert did not disappoint with two Crown classics. The Fried Cheesecake is sweet, crispy, and cool with a delightful tang, served with vanilla ice cream and a caramel drizzle. Two perfect Red Velvet Cupcakes were served a la mode and topped with sweet and satisfying whipped cream. 
You'll find Debba, the Queen of The Crown, working every angle of the restaurant. If she's not showing you to your table, she'll be taking your drink orders or bringing you dinner. It's an obvious display of the passion she and the rest of her crew have, making it their mission to see that you and yours leave happy. She and long-time chef Mark Adams make a terrific team, bringing each other's culinary dreams to life. So come alone, come with friends, or come with family. Sit inside or out or take your fantastic food to go. There's no wrong way to do it at The Rose and Crown. 
Rose & Crown
23 South Water Street • 508-228-2595 • theroseandcrown.com
Serving food continuously from 11:30 am to 10 pm; entrees from 5pm
Entree prices range from $16.99 to $32.99, plus
burgers, meal-size sandwiches, & salads most under $17
Sunday to Wednesday 11:30 am to midnight
Thursday to Saturday 11:30 am to 1:00 am
Entertainment • Air-conditioned