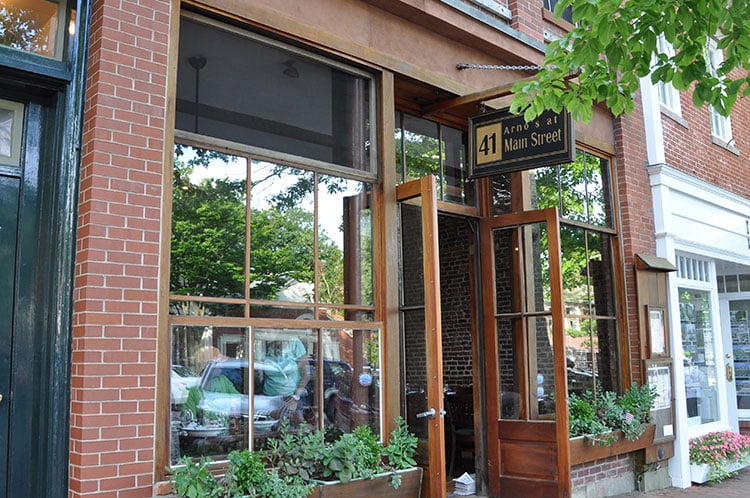 Everyone knows about the bountiful breakfasts they serve at 41 Main Street in the landmark island restaurant called Arno's Breakfast and Seafood Restaurant—they're legendary! There's a constant flow of happy guests starting their days with Omelettes big enough to satisfy the heartiest appetites, deliciously crunchy French Toast with real maple syrup, fluffy Belgian Waffles, perfectly prepared Eggs Benedict, and authentic Huevos Rancheros. It's no surprise that Arno's makes the perfect combination of breakfast and seafood: Lobster Eggs Benedict. All are made to order with organic eggs and fresh ingredients. Even the coffee here deserves high praise. If you haven't had breakfast at Arno's, you're missing one of the essential island experiences.
What is not as well-known is that Arno's also serves superb dinners.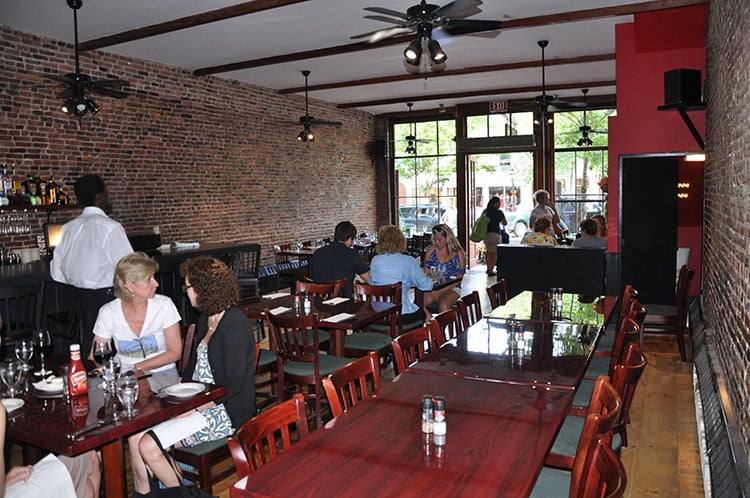 From 5 to 9 pm, this casual, unpretentious eatery on Nantucket's Main Street serves a menu that features a wide selection of sparkling fresh seafood, skillfully prepared with fresh ingredients so that even the simplest dishes are impressive. Jose Carmen Uribe and Danovan Whims demonstrate their creativity and culinary talents with a classic and deliciously unusual sauces that adorn their perfectly cooked meats and seafood.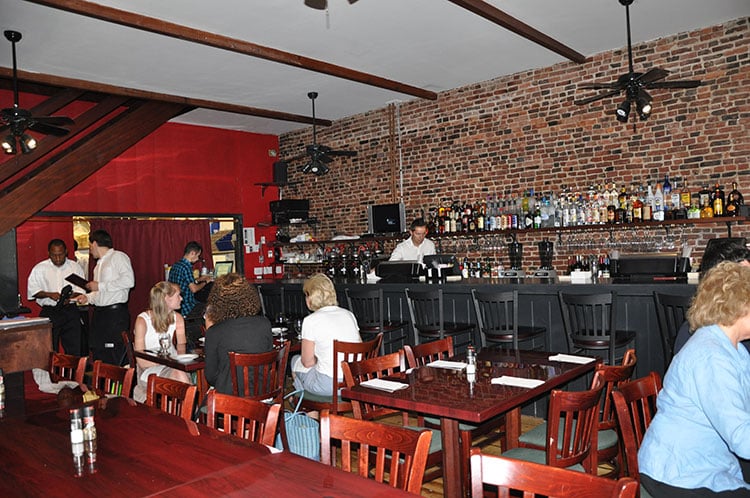 This season service at Arno's is also stepped up. At our recent meal, Oleg, here for the summer from the restaurant world in Miami Beach, gave us energetic and professional service on a level you expect from fancier eateries.
Click on images for larger view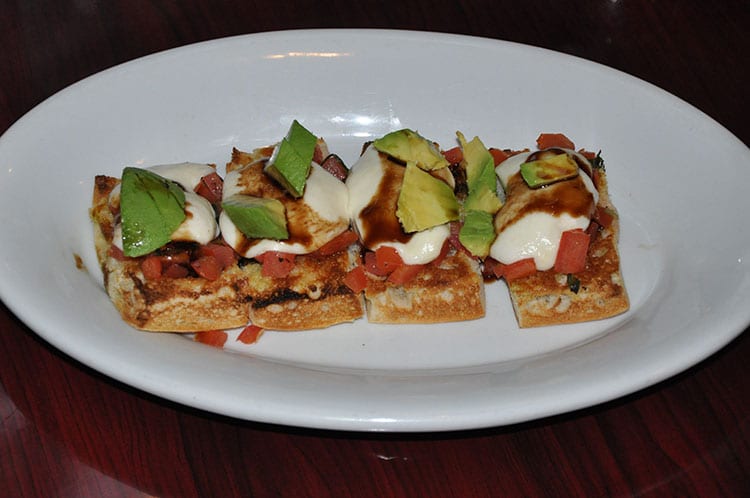 Several starters on the Arno's dinner menu show true flair, the Arno's Bruschetta is one. This arrives at table with a delightful char-grilled aroma. The concept is simple; the execution is spot-on. The bread has just the right amount of toasty crispness to resist getting soggy without being so hard that it hurts the roof of your mouth. The topping of juicy diced tomato, fresh mozzarella, and creamy chunks of avocado is drizzled with balsamic.
Oysters Florentine is a classic showcase for this delicacy. Warm through but not overcooked, the sea-salt flavor of the oysters was enhanced by a topping of baby spinach with touches of garlic, lemon, and cream.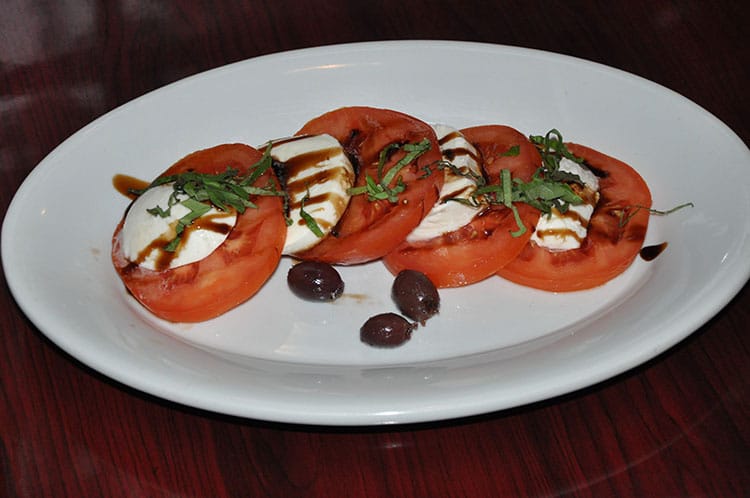 You can enjoy similar flavors in a classic summer dish if you order the Caprese Salad—an illustration of how very well the kitchen here executes simple dishes. The tomatoes are deliciously juicy and sliced very thick. The usual basil garnish adds fresh summer aroma and taste, and the chef showed imagination, too, by serving the salad with some kalamata olives.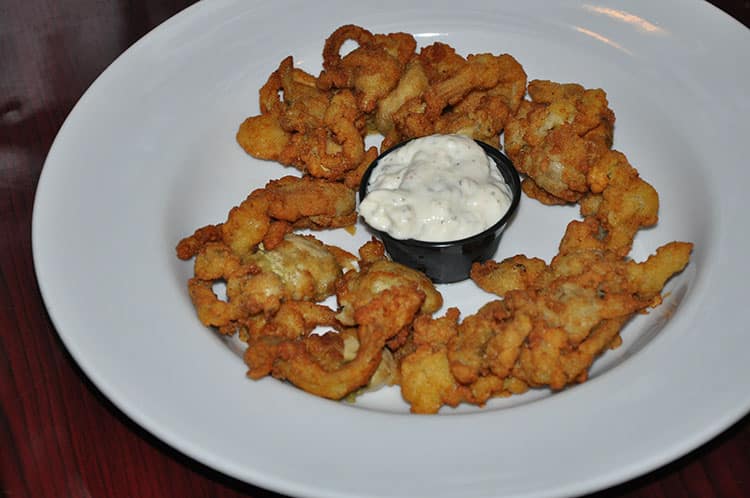 Fried clams have long been a summertime favorite on Nantucket, and too often they are not quite right. Perhaps a bit overcooked or the breading is too thick, or they arrive cold. Arno's takes pride in knowing how to do seafood well, and the Fried Ipswich Clams here are just the way they should be: tender, whole-belly clams with a light and crispy breading served piping hot with a very nice housemade tartar sauce with hints of citrus.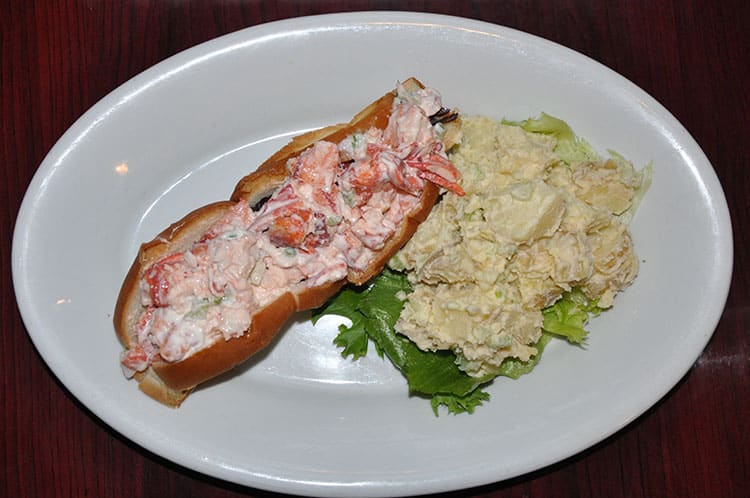 There are nearly a dozen restaurants on Nantucket who claim to have the best lobster salad or lobster roll on the island. We haven't tasted them all, but we can tell you that the lobster salad served at Arno's is very good. Whether you order it to top your Classic Caesar Salad or Baby Spinach Salad or you do as we did and order the New England Lobster Roll, you'll be pleased with sweet, tender lobster meat (knuckle and claw, of course), very light dressed, with just a enough chopped celery for a tasty crunch. The Lobster Roll is served in a classic split-top bun, buttered and toasted, with a side of German potato salad. It's a seaside summer picnic on Main Street.
Dinner entrees at Arno's Breakfast & Seafood Restaurant feature haddock, flounder, salmon, swordfish, halibut, scallops, shrimp, lobster, oysters, clams, and crab. All are well-crafted to show off the fish or shellfish starring in the dish, with accompaniments and sauces designed to enhance rather than mask.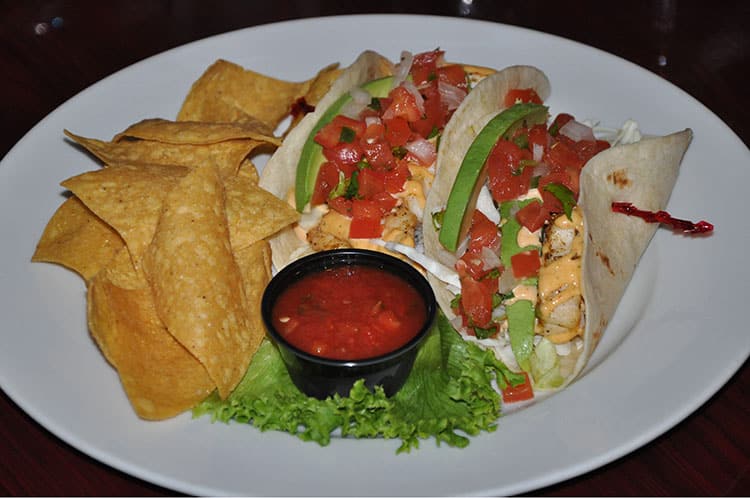 We're big fans of the Seafood Tacos at Arno's. Six varieties are offered: haddock, flounder, salmon, swordfish, jumbo shrimp, and halibut, which is what we sampled. Halibut is nicely seasoned and sauteed, tucked into a warm medium-sized flour tortilla on a bed of cool, crisp lettuce, drizzled with a smoky chipotle aioli, and topped with slices of avocado, and a chilled relish of tomato, onion, lime, cilantro, and jalapeno. The mix of different flavors and temperatures make these tacos very special. Fried tortilla chips are served alongside with salsa that has a superb back-of-the-throat bite.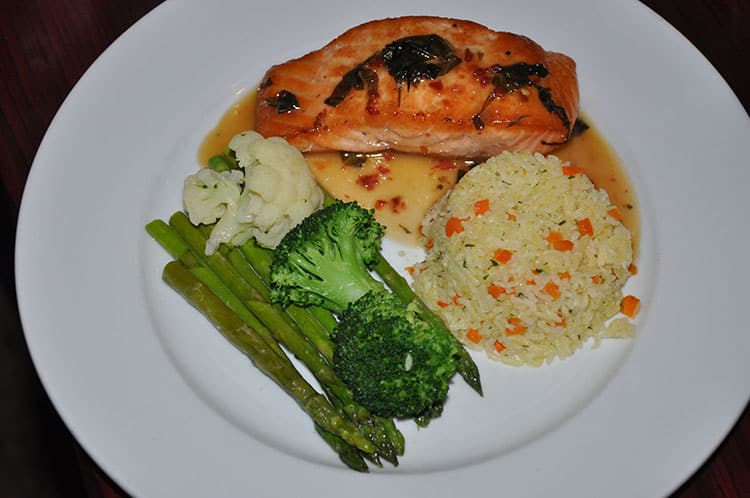 The Grilled Norwegian Salmon here is also very good: the salmon steak is cooked through with a slight crust top and bottom and a gorgeously moist interior. It comes apart in big, rich tasting flakes into a slightly sweet ginger-basil sauce. Even the sides on this entree deserve high praise. The vegetables (a mix of cauliflower, broccoli, and asparagus the evening we dined, but that could change) were cooked to a tasty tender-crispness. The rice is moist but not clumpy and studded with carrot and herbs.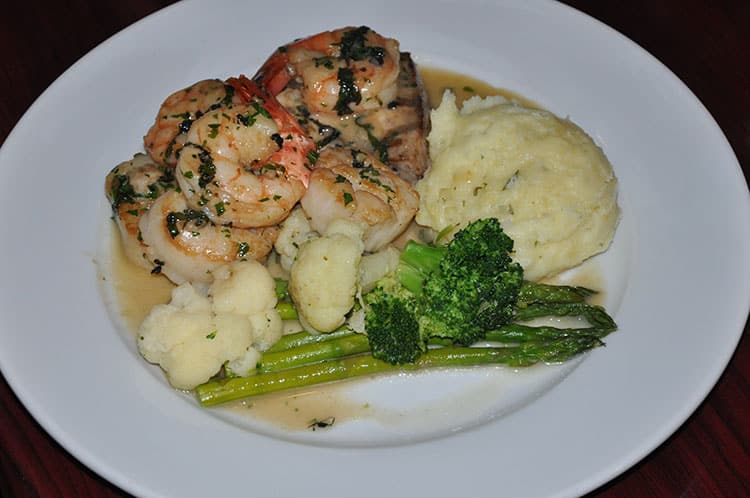 If you cannot decide which fish or shellfish will satisfy you, then try Arno's Seafood Trio. We usually avoid combo platters: all too often everything is overcooked and the flavors muddled. Not here, though! Each element—swordfish, sea scallops and shrimp—retains its individual flavor and integrity of texture. A pan sauce with lemon and garlic ties them together, and the trio is served with more of the beautifully cooked veggies and mashed potato that is ideal for mopping up the remaining sauce.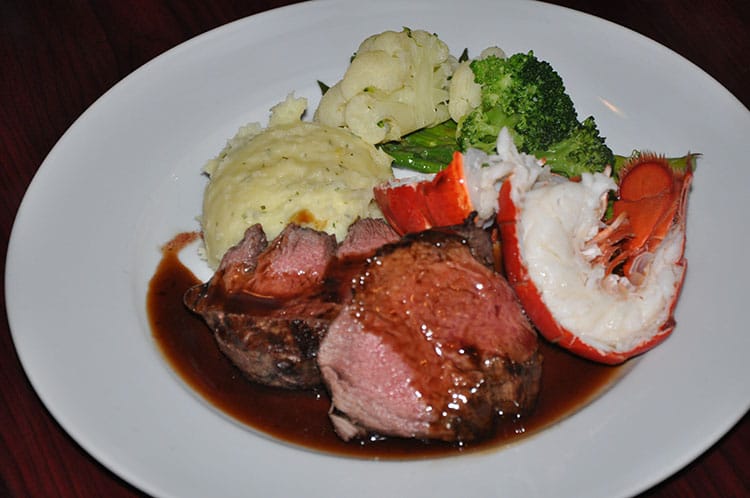 Chicken Marsala and Filet Mignon are on the menu for the meat-and-potatoes crowd, but our favorite among Arno's meat entrees is their pairing of Filet Mignon and Lobster Tail. The lobster is moist and sweet; split to make it easy to pop out of its shell. The beef filet is fork tender and cooked perfectly to temperature. A rich dark reduction is served over the beef and pools lusciously around the mashed potatoes.
Portions at Arno's are generous, so you're more likely (as we were) to forgo dessert. If you do indulge your sweet tooth, the dessert choices at Arno's change frequently, and often feature Key Lime Pie or Cheesecake
Arno's is open continuously from 9 am to 9 pm, with lunch sandwiched between breakfast and dinner (great time for the Lobster Roll or the Tacos!). The long hours makes this a great spot to duck into mid-afternoon. You can perch on at seat at the dining bar and connect with friends not so lucky as you to be able to enjoy a cocktail and a bite to eat on Main Street, Nantucket, while you post your vacation photos.
Arno's Breakfast & Seafood Restaurant
www.ArnosNantucket.com
41 Main Street • 508-228-7001
Breakfast served 9 am to 2 pm • Lunch 11 am to 9 pm • Dinner 5 to 9 pm
Dinner Entree prices range from $19.95 to $32.95; Sandwiches from $16.95
Children Welcome • Take-Out Available • Handicap Access • Dining Bar
8 Drafts Beer, Wine, & Cocktails • Major Credit Cards Accepted • WiFi
Upstairs dining room available for private celebrations