Featured Restaurant: Gyp-Sea Café
by Suzanne Daub
Sitting by the beach on a hot summer's day, enjoying fresh ocean breezes and beautiful views is one perfect way to savor Nantucket. And a short stroll from the heart of downtown you'll find the seaside café where you can enjoy this quintessential island experience.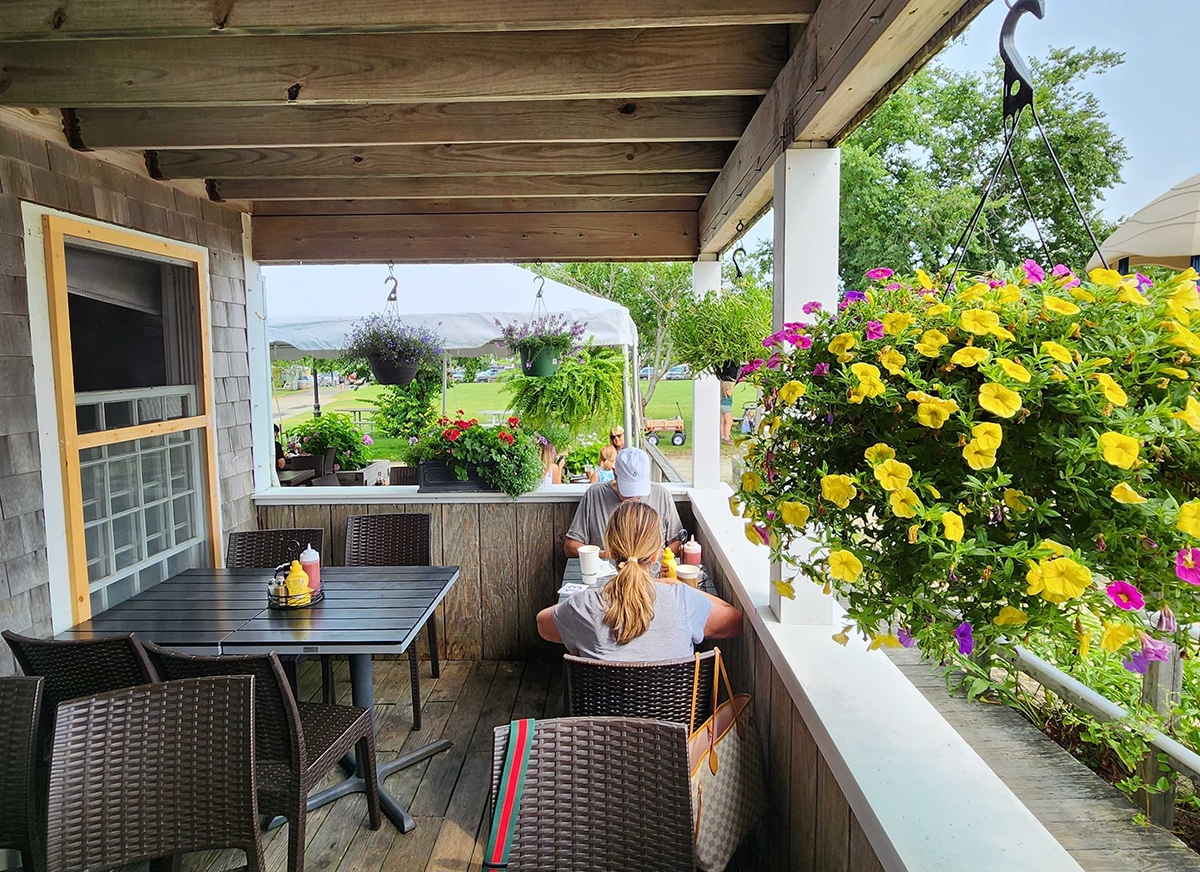 Gyp~Sea Café at Children's Beach is operated by Abby Shaw and Stacey McEachern, the same successful duo who brought The Surf to Surfside Beach. New this season is covered seating on a beautiful garden patio surrounded by plantings and flowers. Now guests can be seated for breakfast or lunch at a table with harbor views just steps from the sand and be sheltered from the heat.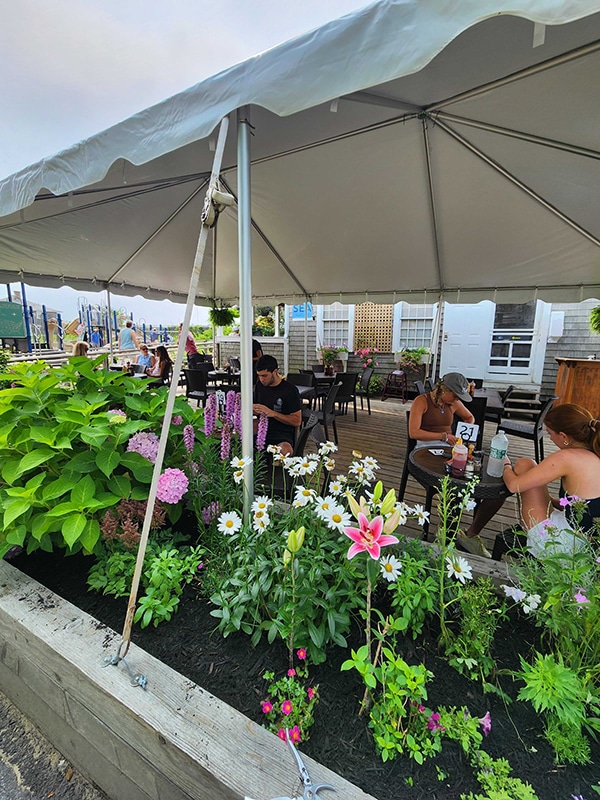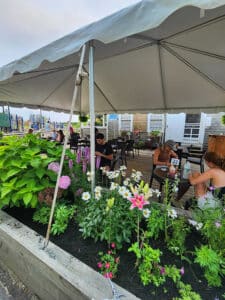 There is still some seating on the front porch overlooking the playground, giving parents the opportunity to sip coffee and enjoy a meal while they keep an eye on their children's play. And, of course, there's the spacious grassy lawn of the park at Children's Beach, where you can perch at a picnic table or spread a blanket and dine on some of the best take-out the island has to offer!
This season it has been difficult to find a restaurant serving breakfast in the heart of town. Gyp~Sea serves a full breakfast menu starting at 7:30 every morning, offering seasonal Bowls, made-to-order Avocado Toast, Eggs and Omelets, Breakfast Sandwiches, and classic favorites like Belgian Waffles, Buttermilk Pancakes, and French Toast.
Starting at 11 am, the lunch menu takes over, with a tantalizing selection of hearty salads and sizeable sandwiches served with some of the tastiest fries we've had so far this year.
We arrived at Gyp~Sea one recent morning just on the cusp of lunch service (the menus overlap on Saturdays and Sundays), so we got to taste dishes from both. With temps already in the high 70s and climbing, it promised to be another scorcher. We were pleasantly surprised at how cool and peaceful we felt sitting around a table on their lush garden patio, watching sunshine dance across the water through the shimmer of heat coming off the beach. Our second surprise of the day was how welcome their friendly and well-trained waitstaff made us feel. This café runs smoothly with fast, attentive service (thank you to experienced and efficient manager Liliana Dougan)—this is one island eatery where there's usually not a long wait (on the rare occasion there is: a stroll along the beach is just steps away).
Table service is offered at Gyp~Sea, but guests place their orders in the main building. While they do sell grab-and-go items designed to take with you to the beach or the boat or even to your job site, you'll find it hard to resist ordering from the dozens of choices made to order by thier chef. Nearly everything on the breakfast and the lunch menus is prepared fresh daily on-site.
Once we placed our orders, we returned
to our table with delightfully refreshing
and not overly sweet housemade
Watermelon Lemonade and freshly
brewed Iced Tea as we waited for the food
to arrive. Since it was brunch time, we ordered
breakfast and lunch dishes. First to
arrive was an Acai Bowl, with freshly
sliced banana, strawberries, and plump
blueberries surrounding Chef Conrod
Davis' crunchy granola sprinkled with coconut
flakes and drizzled with honey.
Upon dipping our spoons deeper, we discovered
the acai underneath was frozen,
like a deeply flavored sorbet. This is a true
breakfast treat and a healthy one!
Each one of us was impressed at how fluffy Chef Davis makes his eggs. In both his Classic Egg & Cheese Breakfast Sandwich and his Avocado Fresh Herb Omelette, the light texture and full flavor of the eggs are a real standout. As promised, the breakfast sandwich is a classic: scrambled eggs folded over cheddar cheese (along with bacon or sausage, if you choose) is served in the middle of a lightly toasted English muffin. It's perfectly portable if you need a meal on the go. If you have time to sit, though, order the omelette. For this dish, the chef folds his marvelously fluffy eggs over creamy slices of avocado, diced fresh tomato, basil pesto, and crumbled feta to create a sophisticated summery way to break your fast. And be sure to order a side of Gyp~Sea's Home Fries Medley alongside. White potatoes and sweet potatoes are sauteed with onion till they're creamy on the inside and crisp on the outside, then diced red and orange bell pepper are tossed in till they are tender-crisp.
One in our party can never pass up a burrito (must be the Texas influence), and she pronounced Gyp~Sea's Breakfast Burrito to be sensational. She was right—there's utter deliciousness stuffed into the flour tortilla: scrambled egg, smoky chorizo, peppers, onions, potatoes, cheddar, and guacamole. Sour cream, plain and spicy, are served alongside if you want to add a little tang.
Speaking of Texas, Gyp~Sea's Classic French Toast is Texassized, with thick slices of cinnamon bread dipped in an egg batter spiked with vanilla and cinnamon. Chef Davis grills the bread to a delectable golden brown and adorns the slices with fresh strawberries and bananas and a dusting of powdered sugar. You don't even need syrup (but if you don't eat French Toast without it, true maple syrup is available).
The four salads served on the patio at Gyp~Sea Café are freshly made, full of flavor, and very filling. We love their splendidly summery Sunburst Salad, with a pile of romaine tossed with candied pecans and topped with ripe strawberries and feta cheese. For something heartier, try their Crunchy Asian Salad. This colorful layered delight starts with tender romaine, then a crisp layer of shredded green and purple cabbage, finished with a top layer of red and yellow peppers, julienne carrot, red onion, and cilantro, tied together with a brightly flavored ginger dressing. You can enjoy the salads as prepared or add on avocado, chicken, shrimp, bacon, burger or impossible burger.
Speaking of burgers, their Surf Burger (made famous at their Surfside Beach location) is thick and juicy with a delicious char. American cheese melts luciously overtop. It's served on a toasted brioche bun and piled high with crisp lettuce, a slice of ripe tomato, thinly-sliced kosher dills, and red onion.
When properly prepared, falafel is moist and nutty mix of chickpeas, garlic, and spices surrounded by a crunchy, dark brown crust. Gyp~Sea Café serves an outstanding version in a spinach wrap. Chef Davis uses buttery green chickpeas to make the star of their Falafel Wrap, which he pairs with crisp cucumber, red onion, tomato, feta, and housemade tzatziki. The final step is to grill the wrap before slicing it to serve.
All the sandwiches served at Gyp~Sea come with very tasty Fries… hot, crisp, and not greasy, these fries are addictive! Even better, you can order them as Truffle Fries or as Rosemary Parmesan Fries, which is our favorite add-on version.
Portions at Gyp~Sea are generous, and prices won't break the bank (our third pleasant surprise of the morning!). This café is open seasonally (through September), so don't delay: you'll want to come back more than once (as we did), and taste something from every category. Every choice here is a good one… and you get a side of harbor views and ocean breezes free with every meal.
Gyp~Sea Café
Children's Beach • 774-333-3807 • gypseacafenantucket.com
patio dining and take-out • children's menu
serving food continuously every day from 7:30 am to 2:30 or 3 pm
Breakfast Mon-Fri. from 7:30-11 am; Sat. & Sun. from 7:30 am-2 pm
Prices range from $10.95 to 16.95
Lunch Mon-Fri. from 11 am-2:30 pm; Sat & Sun from 11 am-3 pm
Prices range from $12.50 to 18.95
Ask about holding your summer celebration on the Gyp~Sea Café patio.