by Steve "Tuna" Tornovish
It was looking very much like one of those days. Three plus hours into our beach charter excursion and nary a hookup. Each of us had at least one fish blow up on our respective fishing lures, but somehow all of the attacking fish had dodged our hooks. The only thing biting were the mosquitoes and green head flies. Alas, our time was up and it looked like we had to take the long ride back from Great Point with a skunk tagging along. That is not my favorite thing, let me tell ya…
The Sickels family took it in stride. Larry Sickels, his wife Sarah and their sons Charlie, age 14, and Oliver, 11, have been on a beach fishing charter with me for each of the past three summers. Larry tried to ease my pain: "We plan to come here every summer and fish with you each time. Sooner or later we were bound to get skunked. So if this is the year that it happens, that's ok. We'll get fish on all of our trips to come."
I was grateful for Larry's optimism. And yes, for each of the three years that I have been a beach fishing guide, I have had the pleasure of taking the Sickels family out to Great Point for a fun day of surfcasting. Both of our prior trips had been successful. The first year involved some hunting around, but we eventually ran into some bluefish in the area of Great Point that is referred to as the South Lot. Charlie and Oliver were just little guys then, but they put a couple of fish on the beach with the help of their parents.
I loved it—as a new guide, still trying to figure everything out, the Sickels family was a godsend. They just made things fun. I loved seeing how they all interacted with one another. This family clicked along on all cylinders. Larry was outgoing and led the way. Sarah was quiet but also very fun. And strong, in the way that an awesome mother is. Sarah's family has roots on Nantucket back to 1660, when Christopher Hussey became one of the first ten landowners on the island. Sarah's dad, Warren Hussey Bouton, wrote six fun children's books that featured Sarah and her brother as characters having great Nantucket adventures (note: these books are still available at the downtown bookstores). Charlie and Oliver, the two boys, are fantastic. Born three years apart, they have a great big brother-little brother relationship. Yeah, this looked like a perfect family.
Wrong. As much as I dislike having to say this, there were two tiny flaws in the awesomeness that is the Sickels family. At the risk of embarrassing this wonderful crew, it can honestly be stated that both Larry and Charlie are left-handed. There, I said it. Those two guys are definitely southpaws. Reel handles had to be moved from one side to the other in order to accommodate this terrible affliction. Yes, I can hear some of you out there now, protesting loudly that being a lefty is hardly a crime. Oh yeah? Have you ever boxed against a southpaw? I have, on more than one occasion, and I generally got beat like a drum. Dino Almodobar was the first lefty I ever stepped into the ring with, and he thumped me! I have been uncomfortable around those lefties ever since (including my left-handed daughter, Anna). When I taught martial arts, I referred to my left-handed students as ERLs (evil rotten lefties). I always keep my distance.
Ok, let's not dwell on this relatively slight flaw in the amazing Sickels family. They were a blast in 2021, so when Larry hit me up to go out again with them in 2022, I was very excited. We had a slow start on that afternoon but eventually found our way down to access point #7 at Coatue. The wind had died off and the water was like a mirror. I spotted some birds working to the right of where we were. Charlie and I ventured after them, and our efforts were soon rewarded. We had found a big school of chopper bluefish in the 4 to 6 pound range. Larry, Sarah, and Oliver soon joined us and we caught fish until dark. Charlie also managed to catch a nice striped bass in the middle of the bluefish melee. It was a fun and memorable trip.
But sadly, here we were in 2023, driving back down the outside edge of Great Point with the never subtle smell of skunk permeating the cab of my F-150. The fog that had surrounded us all day had finally started to burn off, and we could see much more clearly than when we first started out. And with that clarity came opportunity. Sarah said, "Perhaps we should stop and pick up that little fish back there. At least we would have caught something."
Little fish, you say? Where exactly was that little fish, Sarah? "It's in the wash, right on the water's edge." I quickly found the brake pedal, followed immediately by the reverse gear. And just as Sarah had said, there was a little baitfish flopping on the beach. And another one. And another. There's only one reason why baitfish would be choosing the beach over the ocean and that would be big fish feeding aggressively. Oh baby, here we go!
I grabbed a fishing rod from the back of my truck and quickly put on a Hellfire 180. I lobbed a cast about 30 feet off of the beach and ka-pow—a mutant sized bluefish gobbled that thing up as soon as it hit the water! I handed the rod to Oliver (yeah, the righthanded kid), and he soon found himself in a battle with a fish that was almost his size. Larry and Charlie grabbed their leftie rigs and soon were hanging on their own giant bluefish. It was absolute madness.
Sarah had her camera going, trying to capture everything that was happening. It was no small task, let me tell you. Her husband and both sons were hooked up to fish. A brown shark came slashing up to the surface as a hooked bluefish jumped out of the water to escape it. A seal cruised by, feeling confident that some sort of free food was about to be served. I tried to keep up with all of the action—assisting young Oliver, unhooking fish, securing the catch for a quick picture, and then getting the fish back into the water to be caught another day.
This frenzy continued for about 20 minutes. A few other fishermen saw the mayhem and pulled up to join in the fun. What a blast that day was: the kind of day that I know that I cherish as a guide and as a fisherman. I know that the Sickels family won't soon forget it either. We ended up with all four of them catching at least one fish. We returned to my truck, all of us tired from our battles with the giant blues. As we drove back to the gatehouse we couldn't help but notice that the truck smelled like a beautiful summer day. The skunk was gone! And, in spite of having to hang out with a couple of lefties, I can't wait for my next opportunity to fish with the Sickels crew.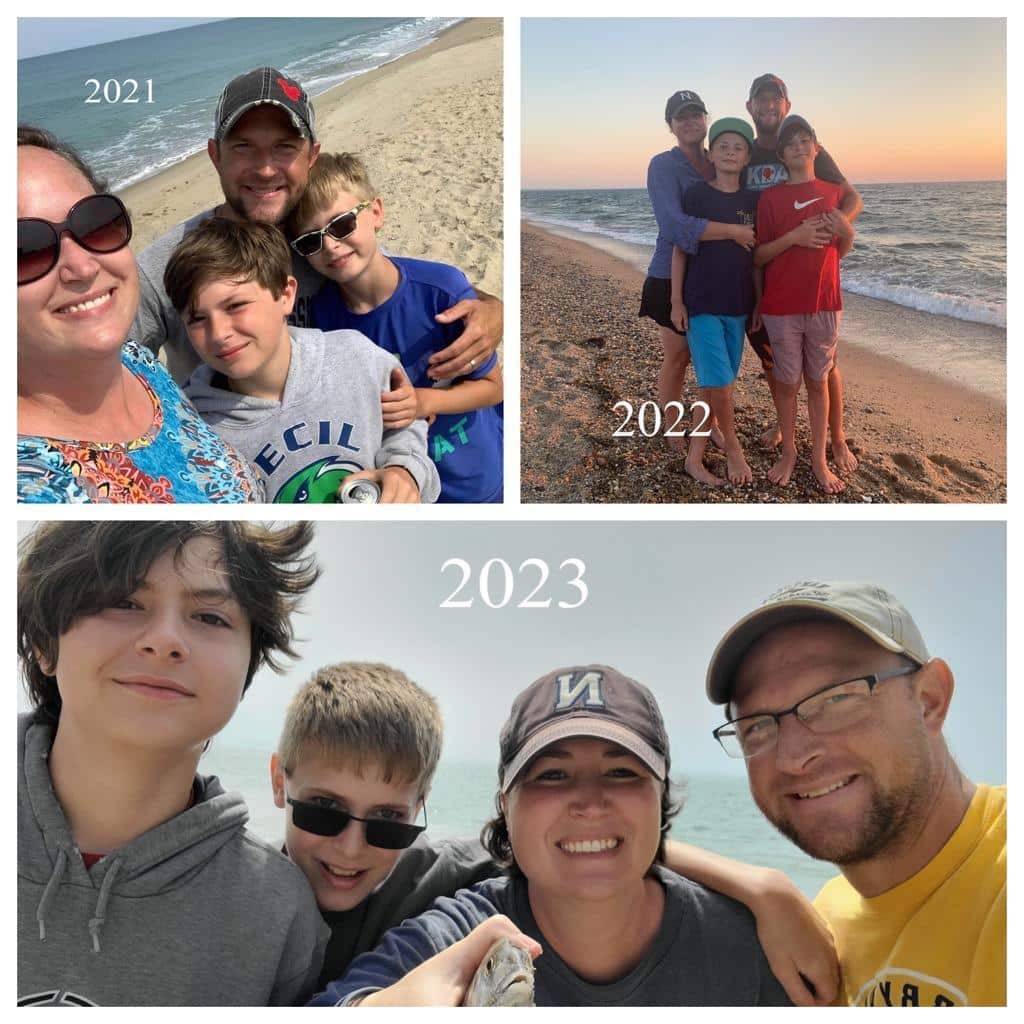 Steve "Tuna" Tornovish is a Nantucket native who has spent his life fishing from
the beaches of his beloved island. He loves to introduce clients to the
joy of fishing with his Nantucket Island Fishing Adventures: stevetuna.com