by Sanibel Chai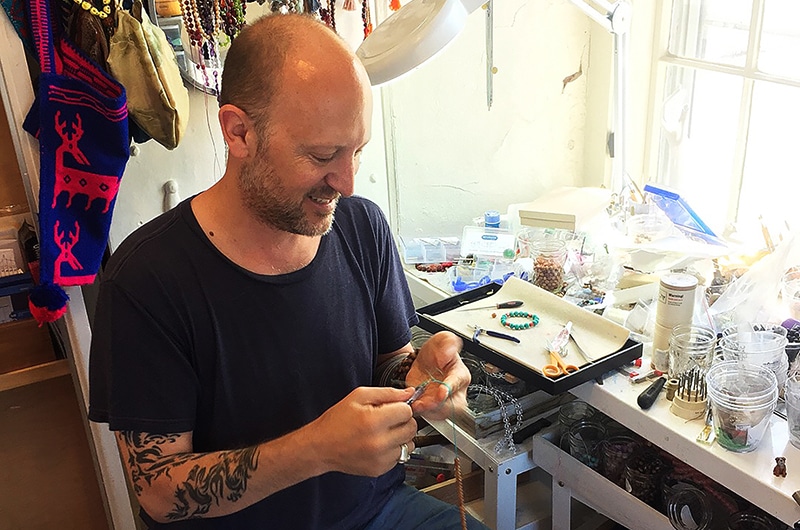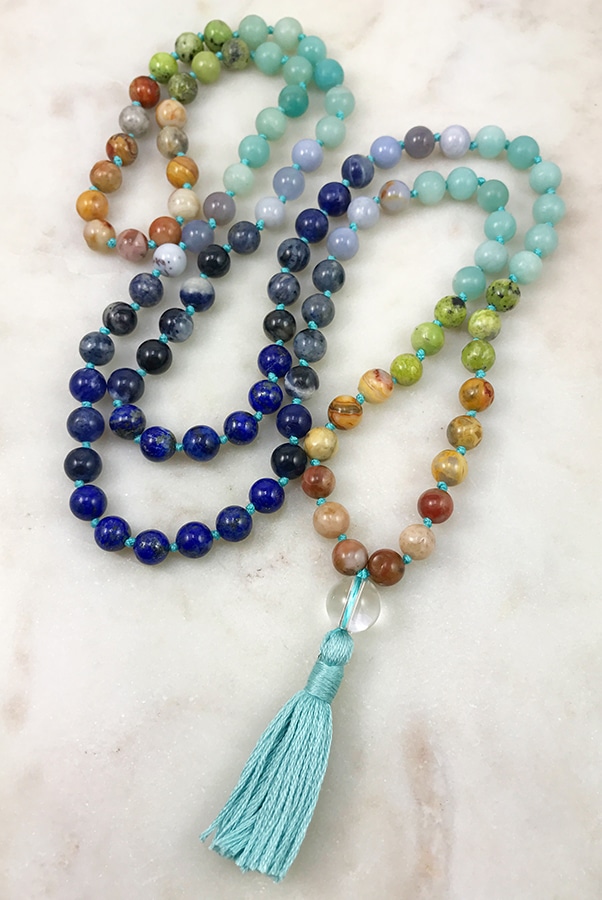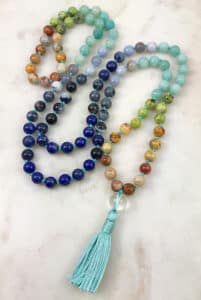 The spiritual, the yoga inclined, and the fashionable all love Clay Twombly's mala inspired jewelry. When you enter Clay's store, the soothing colors and energy emanating from spherical beads and natural shaped stones immediately calms you. The beautiful colors range from earth tones to soft pinks and brilliant blues to gleaming blacks. Many of Clay's pieces are traditional mala styled necklaces— long beaded necklaces with a knot between each bead. As he tells me about the various stones he uses and their properties, his hands fly in front of him with a life of their own as he knots and beads a mini sandalwood mala seemingly without thinking.
Clay has a great deal more to offer than malas alone. As you peruse Clay's store, you will see delicate necklaces of miniscule glass beads, organic shaped rings, and bracelets that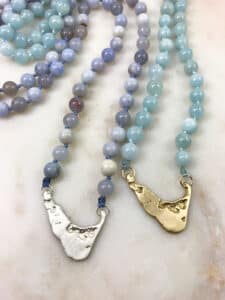 wrap around your wrist multiple times. Clay has expanded creatively and taken classes in lost-wax casting. He shares with me a mold in progress of a succulent shaped ring that is sure to be a masterpiece when completed. Using the lost-wax casting technique, Clay has designed and created beautiful necklaces that feature a Nantucket pendant in gold or silver alongside the exquisite mala beads.
Clay began beading five years ago without the express intention of selling his work. However, it became clear after many inquiries about his designs that it made perfect sense to open a store. Clay explains that he designs intuitively, having come to know the stones through his experience with them. Through trial and error he discovered what beads go well together and what cords make sense for certain designs. Clay compares stones to vegetables. You may need green vegetables for one reason and purple for another: likewise, stones hold different energies for different ends.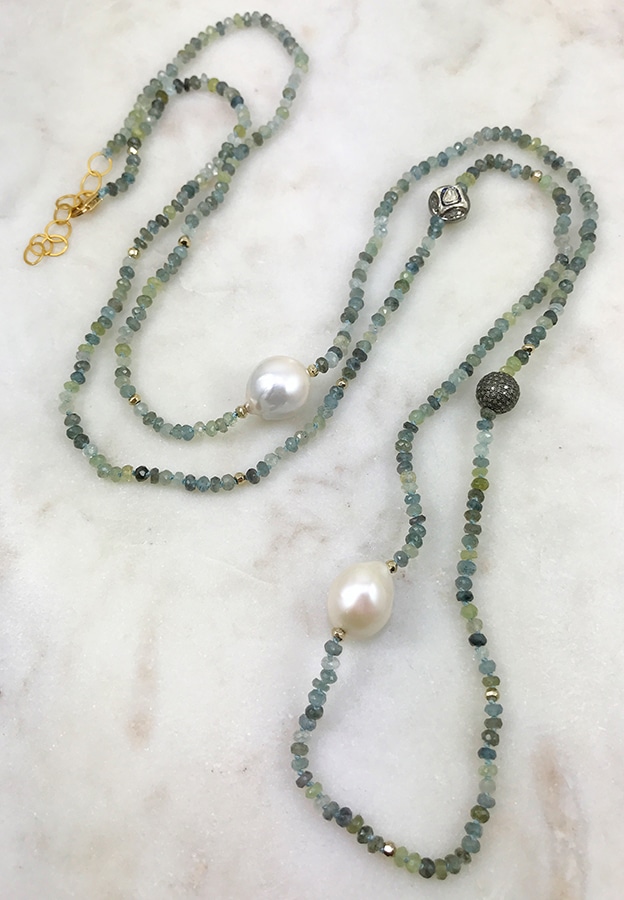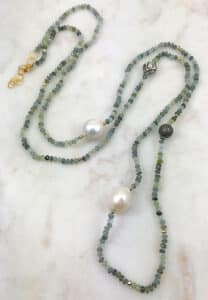 Some of Clay's jewelry incorporates pendants made by fellow Nantucket artists Jessica Hicks, Melissa Dudley, and Megan Anderson. Other pieces feature special additions such as vintage Japanese glass beads and baroquepearls. When asked what pieces are most popular, Clay is quick to point to two beautiful collections in different hues of blue. The first is the amazonite collection which features aqua colored beads. Amazonite is known as the peace stone and it has soothing and calming qualities in addition to inspiring courage. Also popular is his Blue Chalcedony Collection which uses light greyish-blue colored stones. Blue chalcedony is known as the speaker stone and is associated with balancing and grounding the wearer. Clay's Steps Beach necklace is an incredible work of art. He was inspired by the vista at Steps Beach where you take in sea, sand, and grass all at once. The necklace is a features these three natural colors fading into and out of each other to create a remarkable visual effect.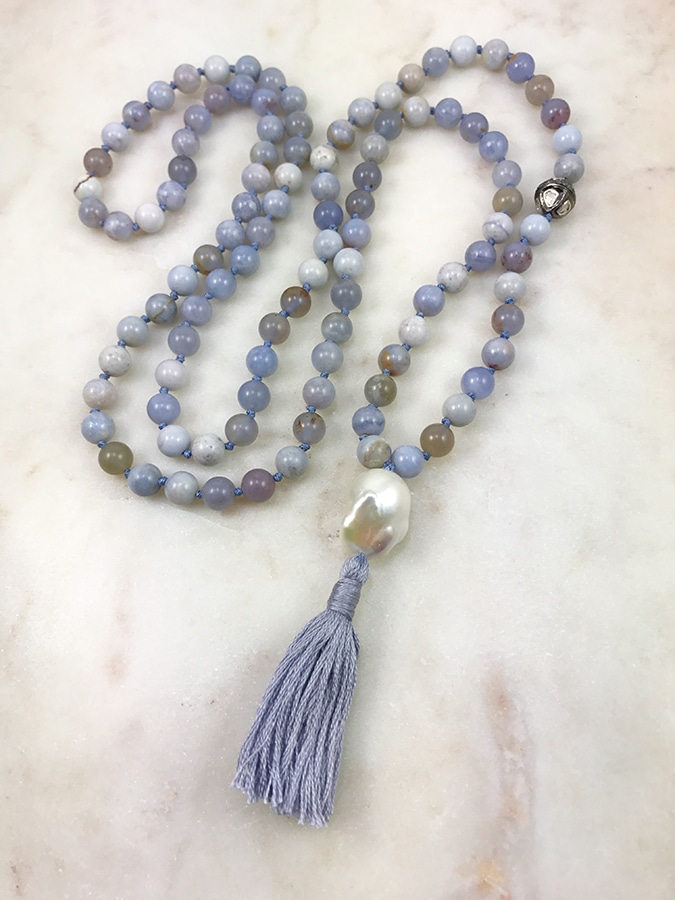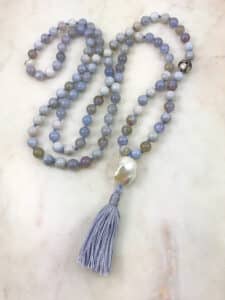 Before finding success in beading, Clay was a full time yoga instructor in Boston, California, and Maine. He has lived on Nantucket for fourteen years and you can find him teaching at The Yoga Room on 49 Fairgrounds Road. You can admire Clay's jewelry in his shop and studio upstairs at 2 Union Street, where he has been since 2015. You can also find Clay's jewelry at Space on Old South Wharf and The Yoga Room as well as online at claytwombly.com.