Live Lightly
There's only one of them in the country, and it's right here on Nantucket Island. Kyle Housman visited our island every summer as child, bicycling out to Surfside with his parents and enjoying the natural beauty here. Decades later, when he decided in 2018 to open the first store in the USA for his Vancouver based company Native Shoes, he knew Nantucket was the perfect fit.
Native Shoes are comfortable and durable, with simple, modern design that suits all ages. Ideal for island life boating, fishing, going to the beach, outfitting kids for summer camp the shoes are constructed with materials that are light- weight, soft, and flexible and don't absorb water or odors. They are hand-washable and come in a wide range of colors and styles including walking shoes, sandals, and slip-on mules from toddler sizes to mens 13. The shop on Straight Wharf even has an exclusive Nantucket Collection: designs that are available nowhere else.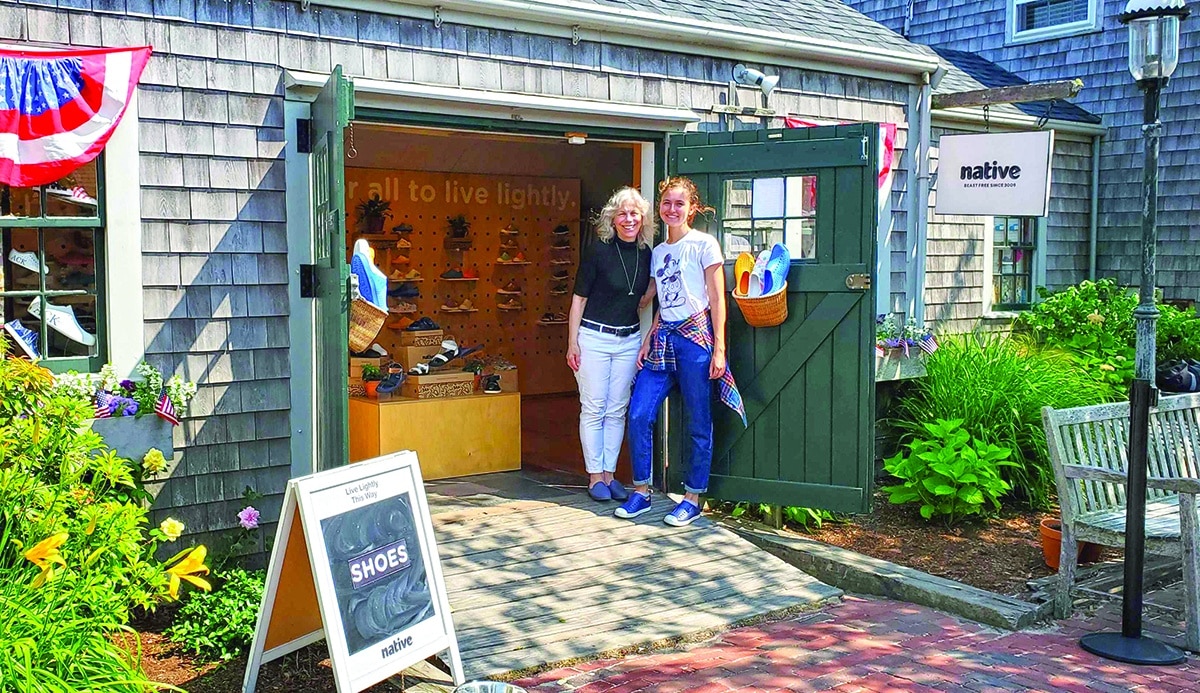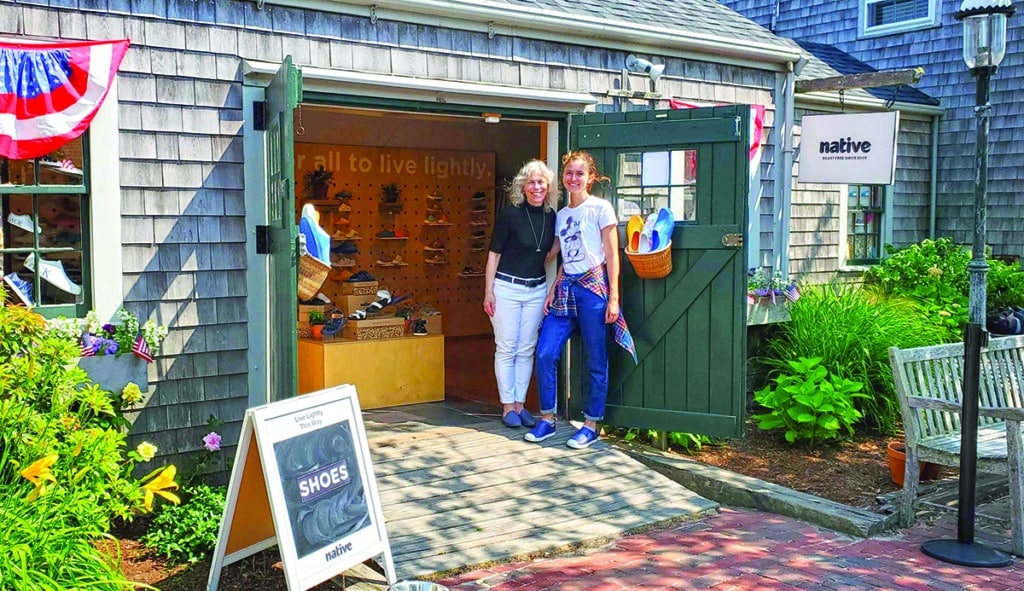 And the company, with their shoes and their ac tivism, are helping the planet. Retail manager Beth Lloyd-Thomas sat down with me recently to explain how Native Shoes—the company and the products "make it easy to live lightly." Two of the top company goals of Native Shoes are to do the right thing and to practice "tiny activism," which they aptly describe as "creating a better world one tiny step at a time." They encourage innovative ideas ("ask more what ifs"), and although they are serious about their endeavors, they don't want to take themselves too seriously.
This environmentally aware company is doing all they can "to have less of a footprint on our world," Beth explained. They are seriously pursuing the goal for the company to become 100% lifecycle managed by 2023.
The same year Native Shoes opened their store on Nantucket, they also introduced their RemixTM Proj ect, which is now the brand's flagship sustainability initiative. Through a proprietary regrind process, the unique composition of Native Shoes is transformed into a versatile and colorful material that can and is being used in the creation of comfortable seating, bouncy playground flooring, insulation, and other products recycle used Native Shoes. In the past four years, more than 35,000 shoes have been converted to help in the construction of five new playgrounds. On Saturday, August 14, Beth will be hosting a commu nity-wide event at the Nantucket store, where people are invited to bring their old shoes all shoes to be recycled and get a 10% off coupon on a new pair.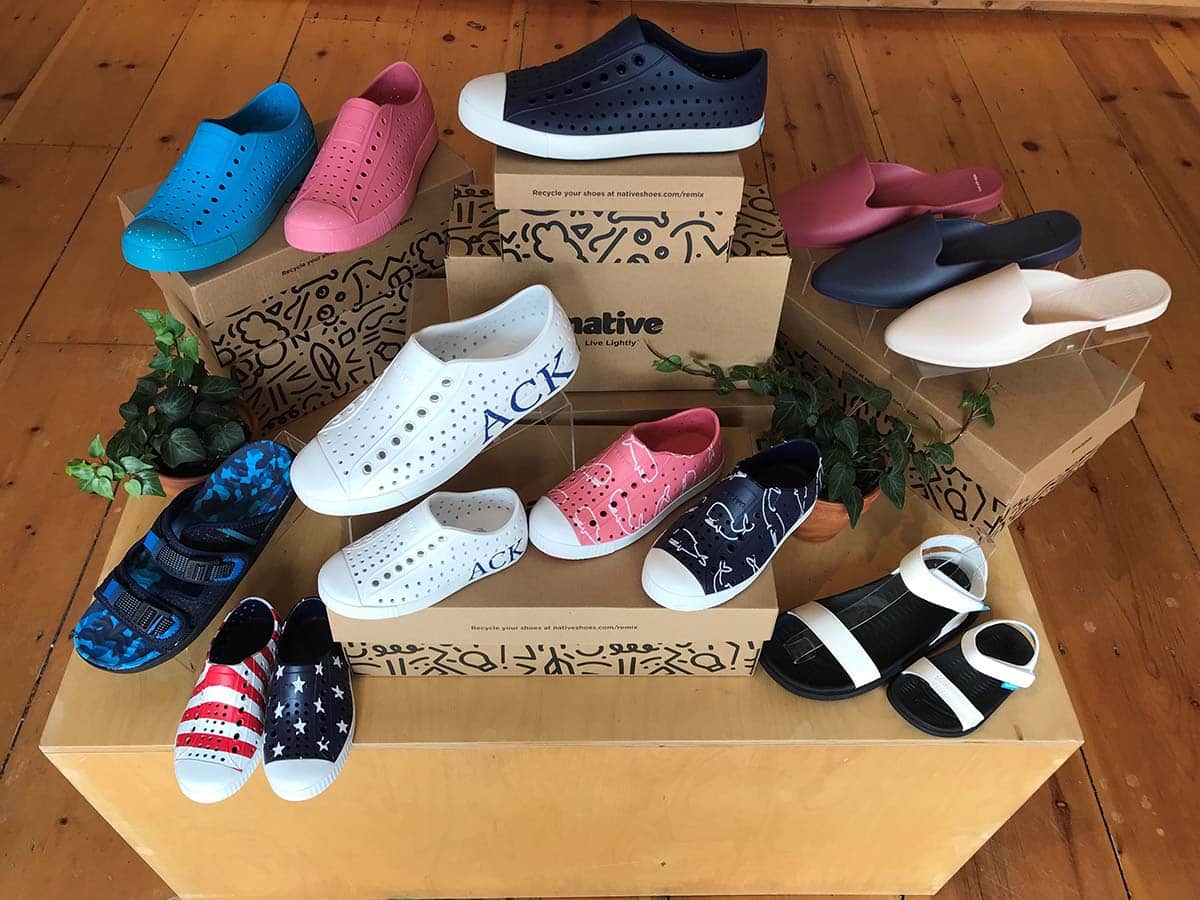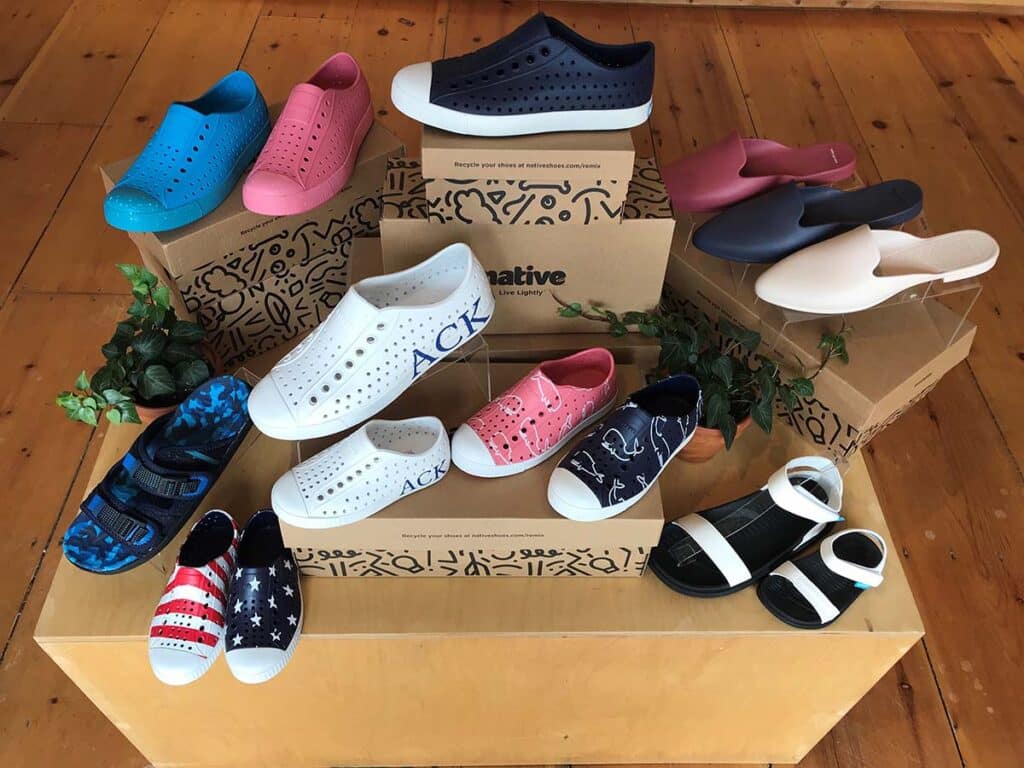 In 2019, Native Shoes launched another innova tive program to help the environment called Bloom. This involves a new manufacturing process called Rise Technology that incorporates repurposed toxic algae swept from lakes and freshwater ecosystems into the lightweight EVA upper of shoes in their Bloom Collec tion. The effect is to clean up to 80L of water and 50m3 of air per pair!
Not only can customers feel good about buying Native Shoes—Native Shoes feel good! Comfortable, lightweight, and breathable, they're ideal for summer fun. As Beth commented, Native Shoes "are happiest by the water."
Kids love the Jefferson style, which looks like a sneaker and comes in dozens of fun colors and pat terns. The Stars & Stripes Jeffersons (one blue shoe with white stars and the other sporting red-and-white stripes) are very popular, particularly during July!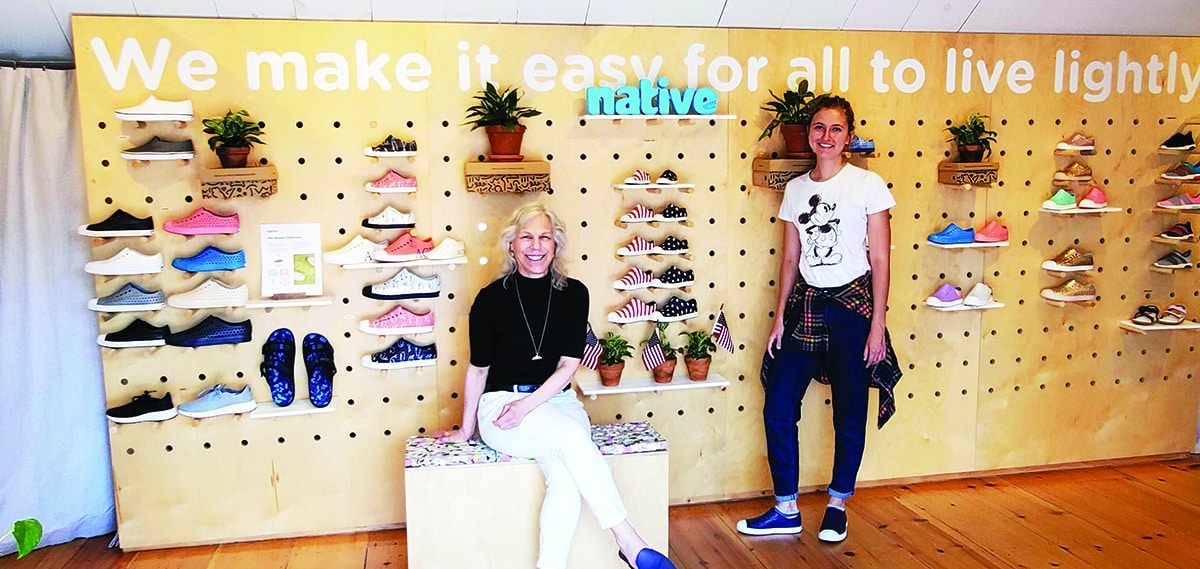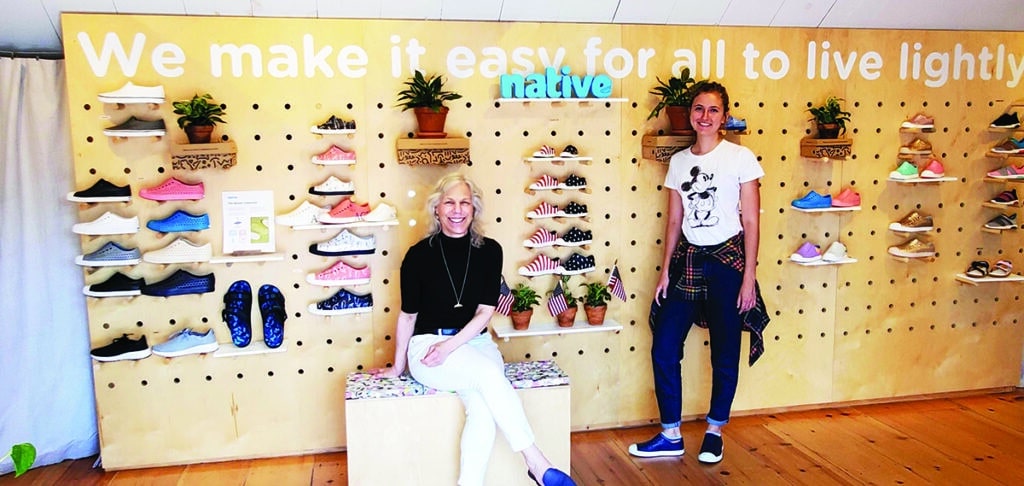 Also sized for adults, the Jefferson is a Native Shoes classic and is also available as Jefferson Bloom, made with the company's Rise by Bloom technology. A va Bloom is their slip-on mule tht helps to clean wa terways with every step. Native Shoes also has a line of sandals: their Davis RePurpose Sandal gives waste material a second life by keeping remnants of leftover fabric out of landfills—no two are alike.
All the Native Shoes styles, including Bloom, are in stock at their store on Straight Wharf, still the company's only shop in the US. As sustainable as they are stylish, Native Shoes are a must-have for summer on Nantucket.
Native Shoes • Open Daily at 40 Straight Wharf
and online at nativeshoes.com • 508-221-7223