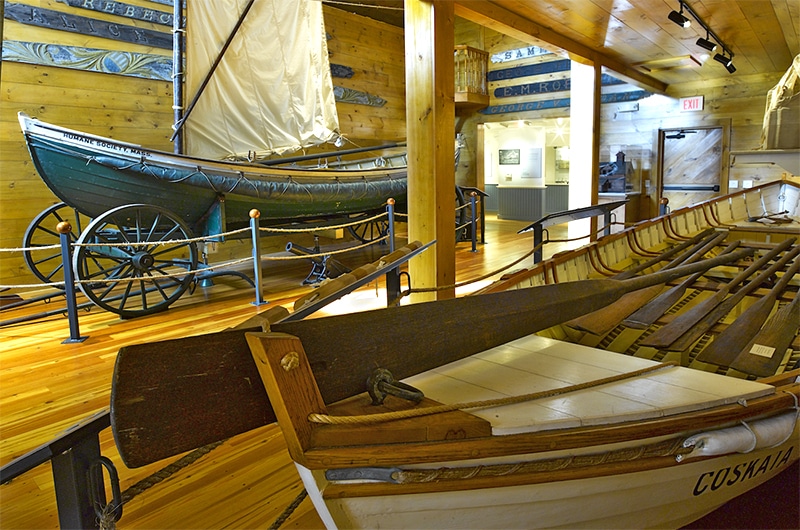 Egan Maritime Institute will host An Evening of Shipwreck Stories at the Nantucket Shipwreck & Lifesaving Museum this Wednesday June 7 from 5:30 to 7:30 pm.
Local Nantucket actors will give dramatic readings of famous Cape and Islands shipwreck stories, like that of the W.F. Marshall or the Andrea Doria. Between each story, local musicians are joined by the actors in singing lively sea shanties used by sailors to stay synchronized while working on a ship. The evening is particularly poignant because it is held in the Shannon Gallery surrounded by shipwreck memorabilia. A Massachusetts Humane Society Lifesaving Boat and the Coskata Lifesaving Station Surfboat, along with many quarterboards that washed up on Nantucket's shores create an enchanting maritime setting to inspire guest's imagination.
Tickets are available by calling 508-228-2505 and are $20 ($10 for Egan Maritime Institute Members). This annual event sells out every year, so advance ticket purchase is recommended.
The Nantucket Shipwreck & Lifesaving Museum shares the heroic stories of yesterday's maritime heroes through permanent and changing interpretive exhibits and special events. The Museum houses a collection of more than 5,000 artifacts, including beach carts, lyle guns, vintage life jackets, quarterboards, and more.
Open through October 9 (Columbus Day), the museum is located at 158 Polpis Road, just 3.5 miles from Nantucket Town and open Monday-Saturday from 10 am to 5 pm and Sundays from noon to 5 pm. It is accessible by car, General admission is $10, $7 for seniors and students, $5 for ages 6-17. No admission fee is charged for children younger than 6, Egan Maritime Institute members, and members of the military and their families. For details on other special events at the museum, nantucketshipwreck.org or call 508-228-1885.