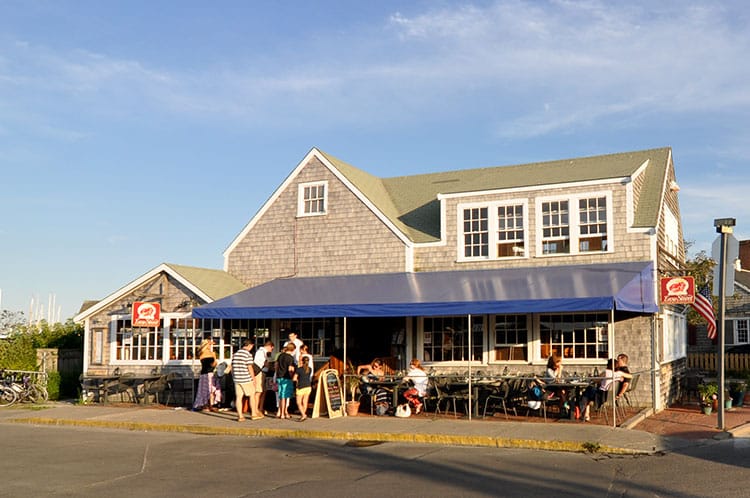 What better place to enjoy a meal on Nantucket than by the water?
And what better food to savor on this island off the coast of Massachusetts than New England seafood?
Easy Street Restaurant and Seafood House offers both.
This landmark eatery has gone through a number of transformations during its decades long history. Many on the island still have fond memories of fun nights spent there when it was Schooners. Last year the restaurant was managed by a team who tried to bring Cajun fare to the island. This year owner Joseph Arno has returned Easy Street Restaurant to its roots as a casual eatery serving local New England seafood.
Easy Street Restaurant & Seafood House offers both indoor and outdoor dining. Their patio is an ideal spot for people watching along the busy corner where Easy Street meets Steamboat Wharf. An awning shelters the outdoor tables on this sidewalk café, but diners can still enjoy fresh breezes as they tuck into breakfast, lunch, or dinner.
The airy, spacious first floor dining room of Easy Street Restaurant is surrounded by windows and has a casual, relaxed ambiance. There's plenty of room here for large parties, and it is a favorite of families. Centrally located is a large wrap-around bar well-stocked with top shelf liquors, where you can enjoy a dozen draft beers, another half dozen by the bottle, and a tempting assortment of specialty cocktails (try the Arno's Bloody Mary, their Nantucket Cosmo, or the sparkling Mimosa Blush).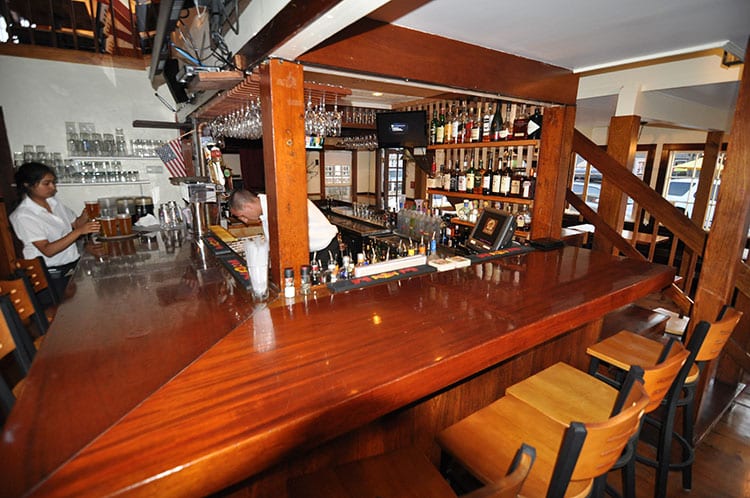 By day, the dining bar is also common spot for a quick lunch. And if you need to emphasize "quick" so you can catch the boat Off or get back to work, Easy Street has a special Express Menu with more than a dozen selections that can be prepared in just a few minutes to get you on your way, including Quahog Chowder, Shrimp Cocktail, Spinach Salad, Fried Haddock Sandwich, and Lobster Roll.
Upstairs at Easy Street Restaurant & Seafood House there are two dining areas with sweeping views: one overlooks Easy Street and the bustling streets leading to Steamboat Wharf; windows in the other overlook Easy Street Basin. Set apart from the main dining room, this second floor space is ideal for private celebrations.
The choice table upstairs is tucked into a corner of windows overlooking the water, and it was here that we sat during our recent dinner at Easy Street Restaurant and Seafood House. As the first two of us waited for the rest of our team, we gazed out at the water of Easy Street Basin sparkling in the last rays of the summer sun. Gracefully stepping at the water's edge, near blooming rosa rugosa, was a white egret, perhaps fishing for its own dinner.
Click on images for enlargements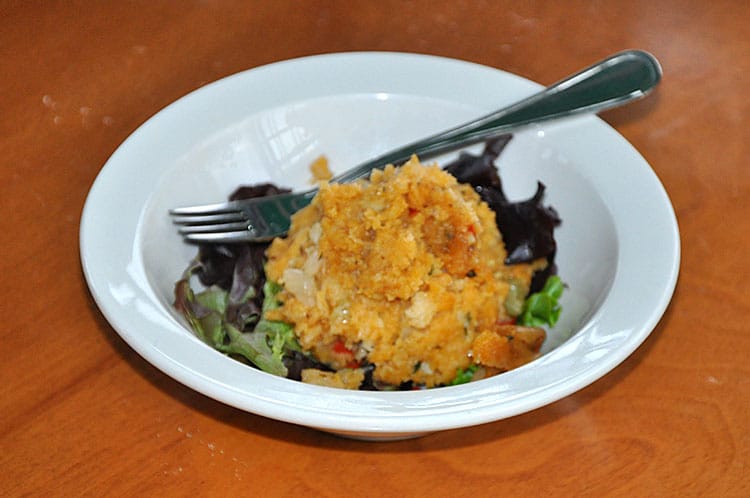 Our waiter, John, went out of his way to make sure we were comfortable throughout our meal. He was attentive without hovering, and eager to assist with every aspect of our evening. At John's recommendation, we decided to start with Stuffed Quahogs. Prepared in-house from fresh clams, steamed and chopped and folded into a nicely seasoned stuffing, these are a nice introduction to New England Seafood.
If you are already a fan of clams, though, we recommend you order the Fried Ipswich Clams, which features fresh whole belly clams, breaded and lightly fried. Also very tempting is the Fried Calamari: we watched a family at a neighboring table devour a plate full of the tender rings and tentacles.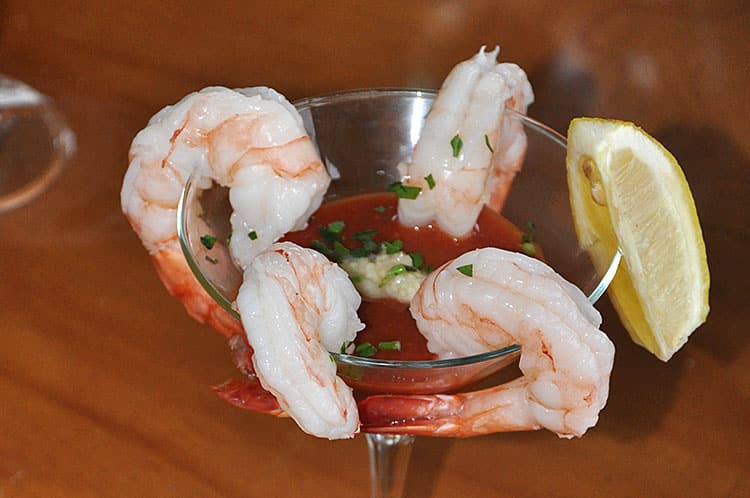 Even better is the Jumbo Shrimp Cocktail served at Easy Street Restaurant and Seafood House. You can order as many shrimp as you like and they arrive plump and succulent, chilled with a spicy cocktail sauce that you can make even spicier by stirring into it the dollop of horseradish served on top as a garnish.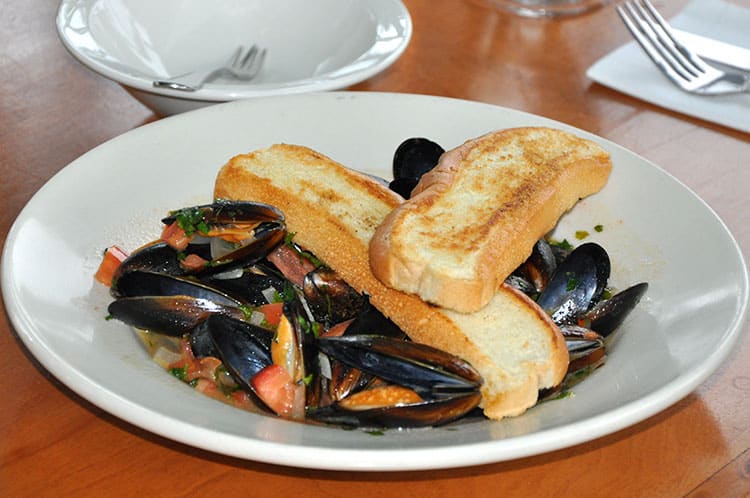 We were quite impressed by the Steamed Live Mussels at Easy Street. The plump mussels were cooked just right, tender, and deliciously flavored by a pool of broth with white wine, garlic, onion, tomato, and herbs. When we ran out of the toasty bread served with the mussels for dipping, we used our spoons. It was that good!
There are four different summer salads served at Easy Street: Classic Caesar, Baby Lettuces, Baby Spinach, and Caprese, and four toppings you can add to any one of them to make them a meal instead of just a side: chicken breast, grilled salmon, jumbo shrimp, and lobster salad. We opted for the Baby Spinach Salad with Lobster Salad, and it was enough to make a light summer meal. The Lobster Salad — the same, we were told, that is used in their Lobster Roll — is prepared from freshly steamed lobster meat, tender and sweet, in a very light mayonnaise dressing with chopped scallions and celery for a tasty crunch.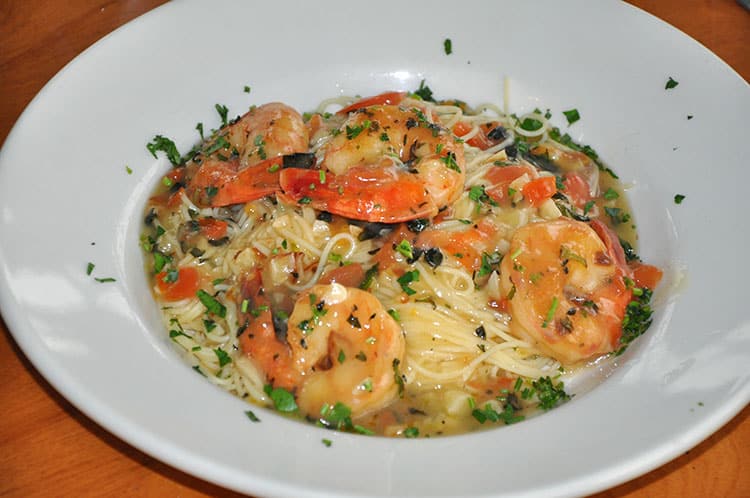 Of the thirteen entrees on the Easy Street dinner menu, all but two feature seafood: haddock, salmon, swordfish, clams, shrimp, and lobster. We particularly liked the Sauteed Jumbo Shrimp Scampi over Cappellini. The shrimp were plump and firm and succulent; the pasta al dente and tossed in a flavorful garlic sauce.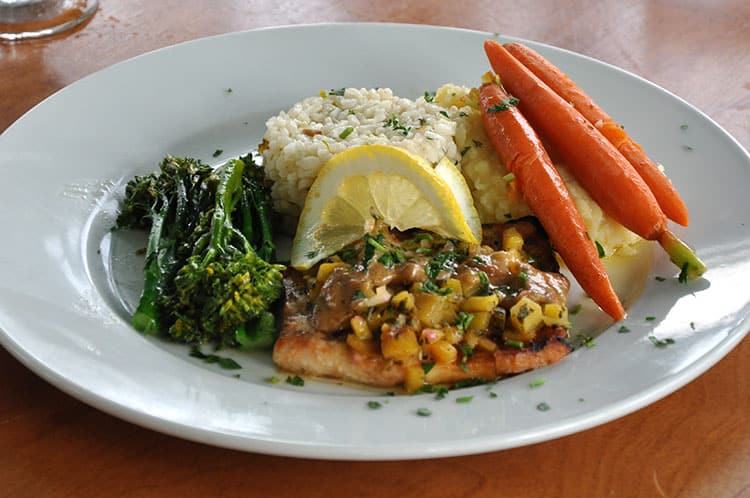 We were also quite fond of the mango-cilantro relish that is served on the grilled Center Cut Swordfish Steak: it gave the moist and meaty fish a delightfully cool and juicy topping. The Pan-Seared Scallops also have a distinctive sauce of oyster mushrooms, ginger, and scallions that gives the dish a land-meets-sea flavor. Each entree comes with your choice of risotto or mashed Yukon Gold potatoes. The rice is quite good, but the potatoes are even better, creamy and buttery.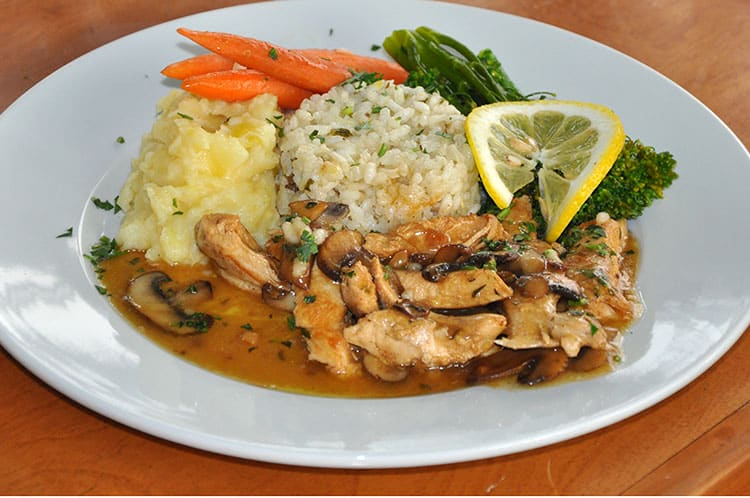 If any in your party prefer meat to seafood, then you can order either the Filet Mignon with green peppercorn sauce or the Chicken Breast Marsala with its tender strips of white meat, fresh mushrooms, in a rich and slightly sweet sauce.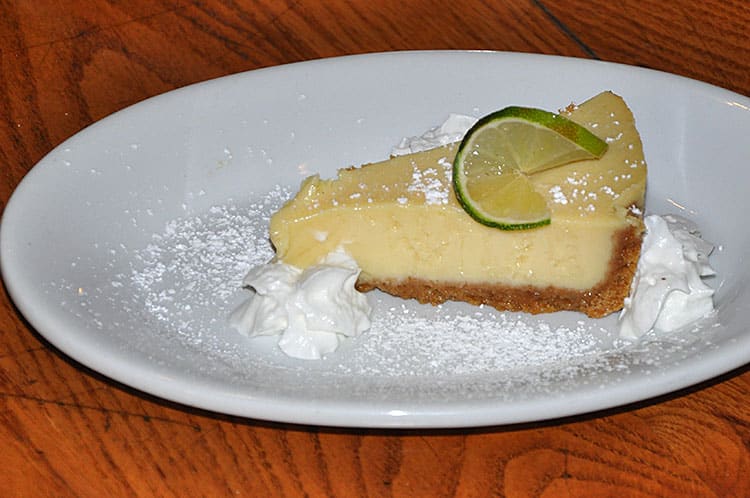 Desserts at Easy Street are sure to satisfy any sweet tooth. The Key Lime Pie is sweet and tart …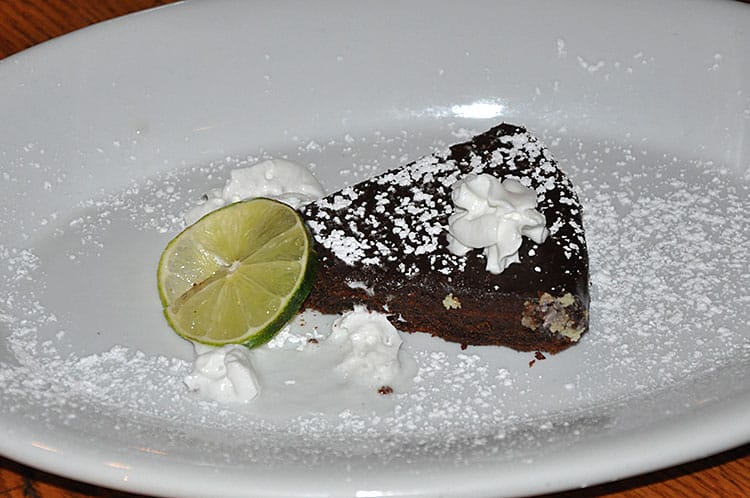 … the Flourless Chocolate Cake dark and rich.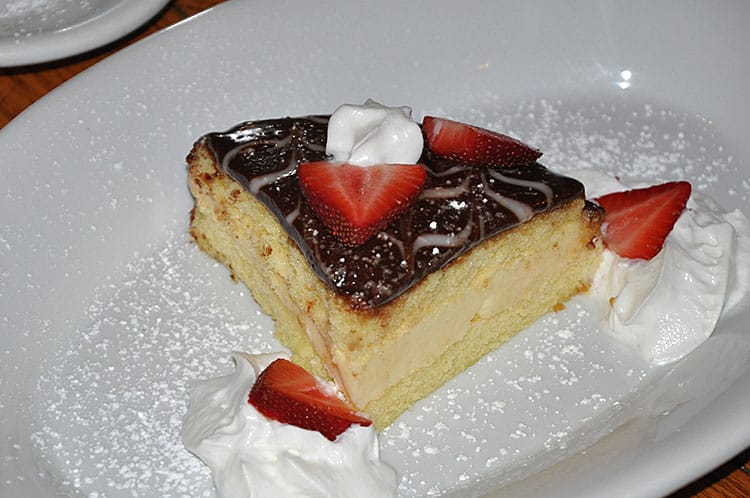 Our favorite was the Boston Cream Pie, another New England classic, with its moist cake, creamy custard, and sweet chocolate glaze.
We left the restaurant just after a large party arrived. We had a few blocks to walk to get to where we had parked, but a stroll along Easy Street and up Main on a warm summer's night after a hearty meal was a very pleasant way to end our evening.
Easy Street Restaurant and Seafood House
31 Easy Street, corner of Easy Street & Steamboat Wharf
508-228-5031 • www.easystreetnantucket.com
Breakfast served from 9 am to 2 pm • Lunch served from 10 am to 9 pm
Dinner entrees from 4 to 9 pm, starting at $21.95
Sandwiches platters with fries & slaw or potato salad starting at $14.95
Full Bar with 12 draft beers • Indoor & Outdoor Dining
Families Welcomed • All menu items available for take-out