by C.Oscar Olson
There is no arguing the fact that this has been the most challenging summer in memory for island businesses, and harder still for for our many marvelous restaurants. From forced closures to takeout-only to better weather and expanded outdoor seating, it has been a roller coaster to say the least. By meeting the innumerable challenges head-on with constant adjustments and adaptations, Dune has never missed a beat.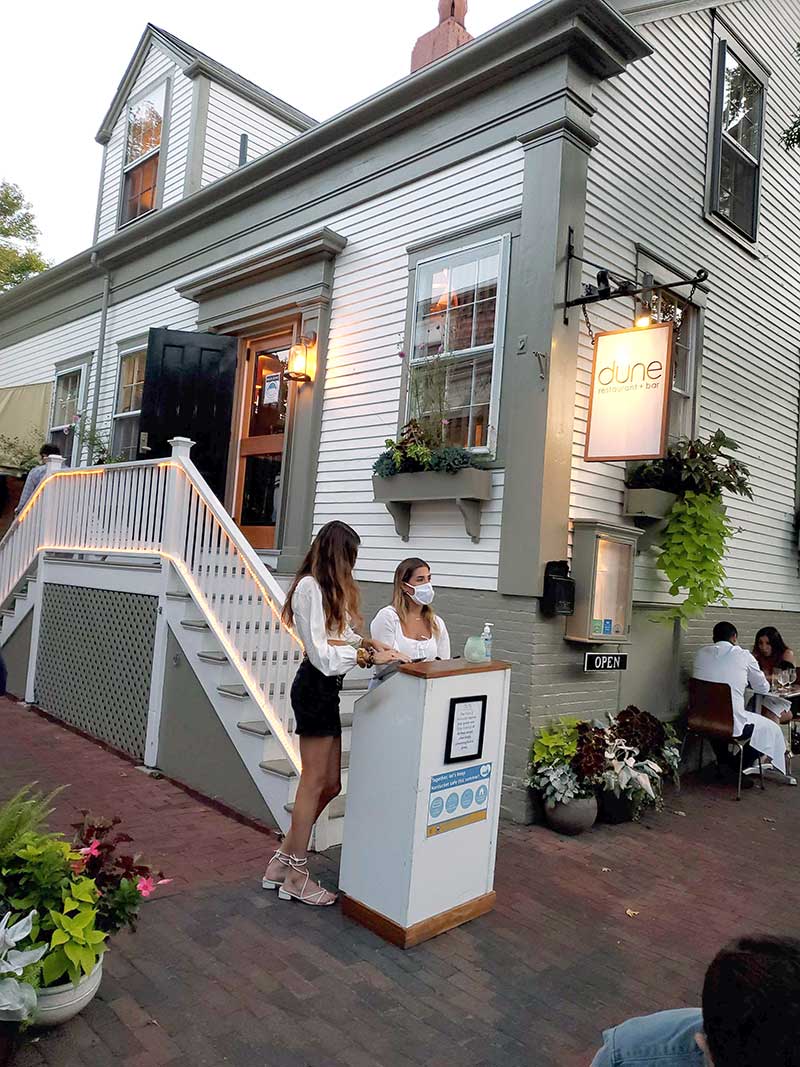 Located in the heart of town on Broad Street, Dune is always fun, friendly, and fresh. Three distinct dining rooms offer feelings of relaxed sophistication, with loads of light when the sun is still shining or comfortably lit lounging while dining after dark. The restaurant is complete with a breezy patio area just outside, perfect for food and drink no matter the weather. And, new this season, are tables just outside on the sidewalk. We not only enjoyed our meal from here, but also took in some of the best people- watching Nantucket has to offer.
With more than 20 years of industry experience under his belt, Chef Michael Getter knows how to work every angle of the restaurant. A graduate of Culinary Institute of America, he has catered for thousands in a sitting and at just 21 years of age was put in charge as executive chef of the island hotspot 21 Federal. From there he took on the role of chef/owner at the acclaimed American Seasons, received the Wine Spectator Award of Excellence for his talents as a Sommelier, and worked briefly as executive chef of MAX Ultimate Foods, one of Boston's premier catering companies. His cuisine has been praised in Bon Appetit and Gourmet.
Chef Getter has assembled a crack team for Dune: Chef de Cuisine Joseph Ranstatler, Sous Chef Andres Titus, and Cocktail Master Joshua Loughlin. At Dune, ultra-fresh and hyperlocal ingredients combine with expert technique to allow the quality of every dish to shine as bright as can be. This was evident in every dish we had, but especially so in our starters.
For a heartier starter, we went with the multi-dimensional Sweet Soy Glazed Pork Belly. Spicy house-made kimchi cuts through the crisp, luscious richness of the pork, while toasty cashews provide a buttery crunch. Drizzles of carrot gel add a bright and tangy touch, and each bite could be made unique by adding and subtracting the different components.
The vegetarian option, a Farm Zucchini Risotto, was our favorite first of the evening. The depth of flavor that infuses the rice comes from truffled mascarpone, preserved lemon, and parmesan broth that combine to create a beautiful backdrop to the pureed and fresh paper-thin rings of squash atop it all. Toasted hazelnuts add texture to this light but fantastically flavorful option.
If good help is hard to find, then it might be because Chef Michael Getter has found all the good help. No matter when we go or what we order at Dune, no matter who seats us or serves us at this restaurant, the quality is never in question. Our waitress, Martha, was as professional, clear, and confident as can be. Every question was answered without pause, and not a single detail was overlooked.
We thought it best to cleanse our pallets between courses, and a couple craft cocktails really did the trick. All of mixologist Josh's drinks are dynamic, complex, original, and not to be missed. Truly a scientist, he has an uncanny ability to combine unexpected ingredients and create something altogether surprising. The Smoke Signal gets its name from slightly smoky Del Maguey mezcal and heavily peated Laphroaig Scotch. The two spirits mingle in El Jimador aged tequila with the added fruity complexity of pineapple shrub, peach bitters, and a squeeze of fresh lemon. A super refreshing and vibrant summer sipper, the Watermelon Apertivo mixes blanco tequila, aperol, and black cardamon with fresh lemon and a dash of pithy orange bitters.
Dune not only boasts a fine-tuned and lengthy wine list tailor-made for menu pairing, but also select beer, mocktails, and a full bar selection. There are so many options to easily enhance your meal.
Every dish served at Dune is a work of art. It is the food that dictates the design, and each one is a symphony for the senses. It is impossible not to take a moment to exhale, admire the presentation, and breathe in the aromas offered up. Our entrees began arriving a few moments into our drinks, and each one was an absolute showstopper.
Slightly seared edges of thick-cut Grilled Yellowfin Tuna surround the deep, ruby-red flesh of the fish. Still cool within, it's served atop chilled toothsome soba noodles laced with a mango vegetable salad. The broth under it all is begging to be mopped up, with delicate flavors of sesame, lime, cucumber, and ginger combining to create something completely new.
Unbelievably moist Grilled Atlantic Swordfish is summer love on a plate with a Greek salad of cucumber, tomatoes, olives, and chickpeas over a smear of whipped feta. The saltiness of the cheese brings out the sweetness of cubed, juicy watermelon served alongside and fresh oregano and mint add an aromatic and herby edge.
It's hard to go wrong with a steak, and it's harder yet with an aged steak prepared just right from Dune. The Grilled Prime Angus Beef Sirloin is served sliced and was cooked exactly as we ordered it: a perfect medium rare. Al dente French lentils, sweet and succulent grilled peaches, red onion jam, and blue cheese butter ensure every bite is as delectable as the first.
The Pan- Seared Wester Ross Salmon has one of the most perfect flakes we've laid eyes on. It's served medium rare, and you wouldn't want it any other way: tender and juicy alongside a piping of refried beans and tomato orange salsa, mild shishito peppers, and chayote squash with red onion, cotija cheese, a dash of chili aioli, finished with a lively sprinkle of citrus powder.
Our all around favorite main course was the Pan-Roasted Jumbo Sea Scallops. Sweet, smoky, crunchy, and creamy all at once, the dish is brought together with sweet grilled corn, earthy parsnip puree, tender flageolet beans, spicy and savory poblano peppers, a salty crisp from prosciutto chips, smoked mushrooms, and a divine douse of rich lobster broth.
Dessert is usually far from my favorite course, but it is essential to save room for it at Dune. The Pot de Creme is borderline sinful in its dark, dense, silkiness. It's topped with a dollop of otherworldly whipped cream and a salty sweet chocolate peanut crumble. Pair it with a cup of coffee for a grand finale. A balancing act to our first sweet finish, the flavorful Lemon Olive Oil Cake is only slightly sweet, moist, and light as a feather. It comes paired with a peach compote that retains its texture, whipped mascarpone, and buttery candied walnuts.
Fine dining may seem like an adventure to some and others may be intimidated by high caliber and quality of food and flavor. At Dune Chef Getter's haute cuisine is accessible to all: from the timid to the jaded, dining at Dune is an experience one mustn't miss!
Dune
20 Broad Street • DuneNantucket.com • 508-228-5550
Dinner nightly from 5:30 to 9:30pm
Dinner entrees range in price from $33.50 to $43.50
Outdoor, Indoor, & Enclosed Patio Dining
Major Credit Cards Accepted
Call to ask about private dining options