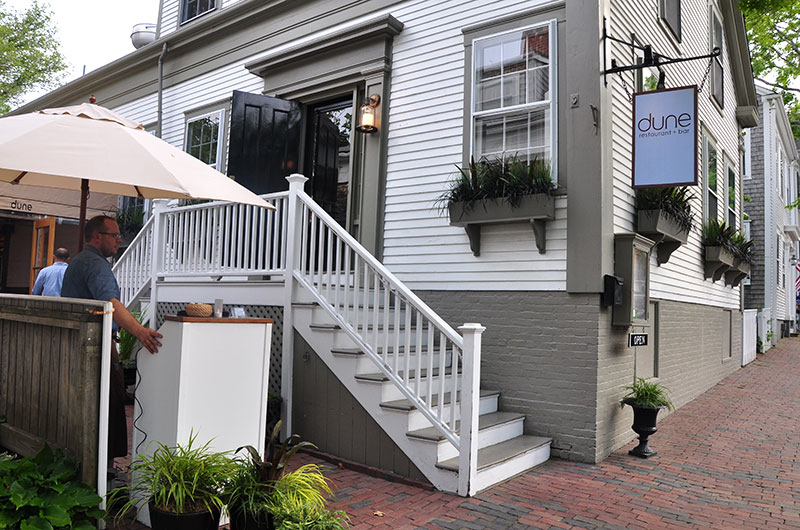 Sometimes during our featured restaurant adventures we try a dish that is so unexpectedly good that it dominates our conversation and haunts our dreams. This happened last week at Dune. When we returned to this downtown restaurant just two evenings later for the same dish, it was every bit as good as the first time.
Chef-Owner Michael Getter opened Dune eight years ago, after creating the island's iconic American Seasons restaurant and cooking at 21 Federal. We've enjoyed many fine meals he's prepared and have come to respect his technique and his broad scope of talent. This is a chef who fully understands the intricate relationship between texture and taste, the interplay of flavors, and how to create exciting and worldly fare from very fresh local ingredients.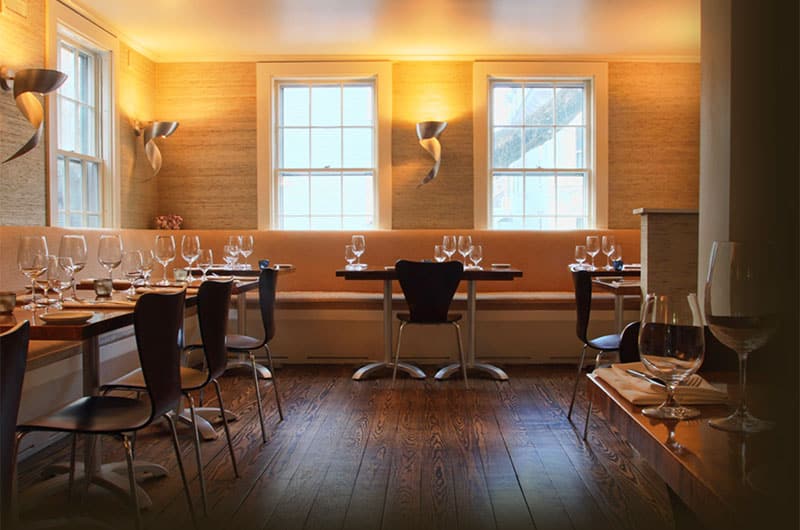 This season, Chef Getter is sharing the reins with Chef de Cuisine Joseph Ranstatler, who's been by his side in the kitchen for the past four years. "He's grown to take a more active role in menu development," Getter explained, "and his creativity is showing." We saw it in the variety of preparations and the international influences in appetizers and entrees. Chef Getter's perfect pitch is still strong and clear, but with now with some engaging new notes for a dinner menu that is robust yet refined.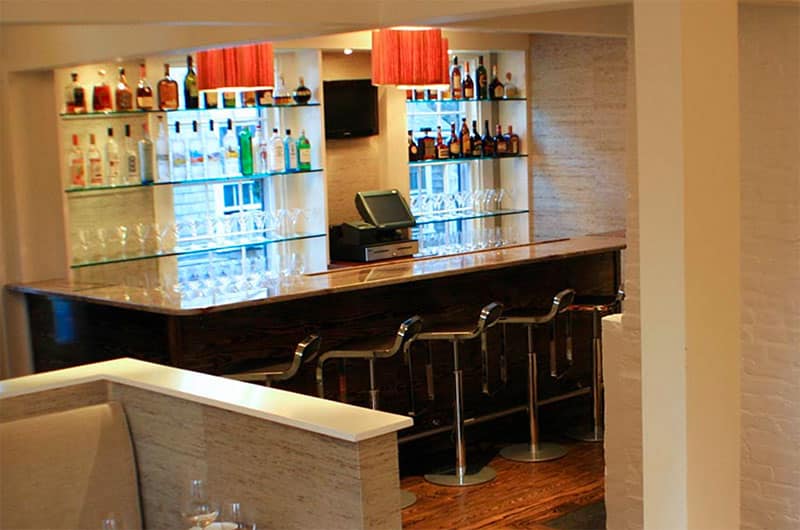 We like Dune's sheltered patio for outside dining at lunchtime or for a light dinner and cocktails (there's an outdoor bar at the back of the patio), but the dining rooms inside have an elegant beachy feel that is perfect for Nantucket. The poised and professional staff does credit to the stylish tone of Dune, but if you're lucky enough to have Bill as your server, your evening will be complete. Offering spot-on suggestions with a warm and friendly manner, he's living proof that good service can make the meal.
Click images for larger view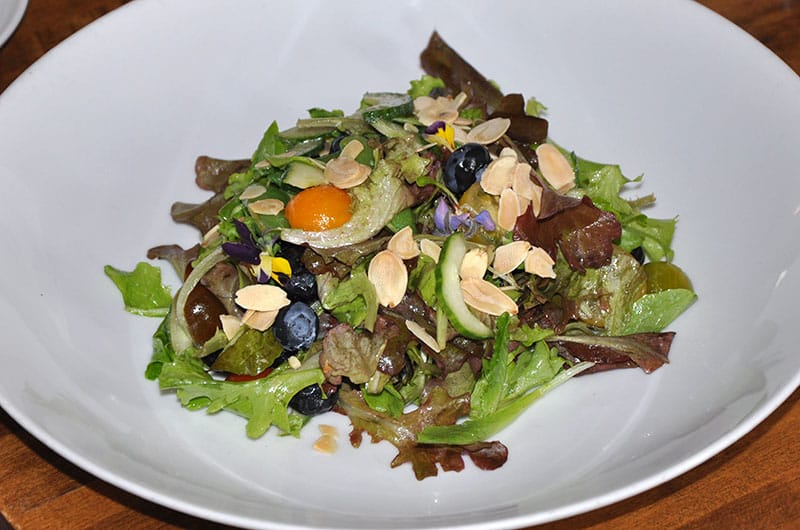 Chef Getter emphasizes local ingredients for nearly all his dishes. The Organic ACK Sweet Water Farm Greens is a showcase for island produce— a delicious jumble of tender greens tossed with toasted almond slivers, plump, sweet blueberries, juicy and colorful heirloom tomatoes, and crisp slices of cucumber. The preserved lemon vinaigrette adds a bright backdrop for the variety of textures and flavors in this salad. (Suggested pairing: Cisco Whales Tale)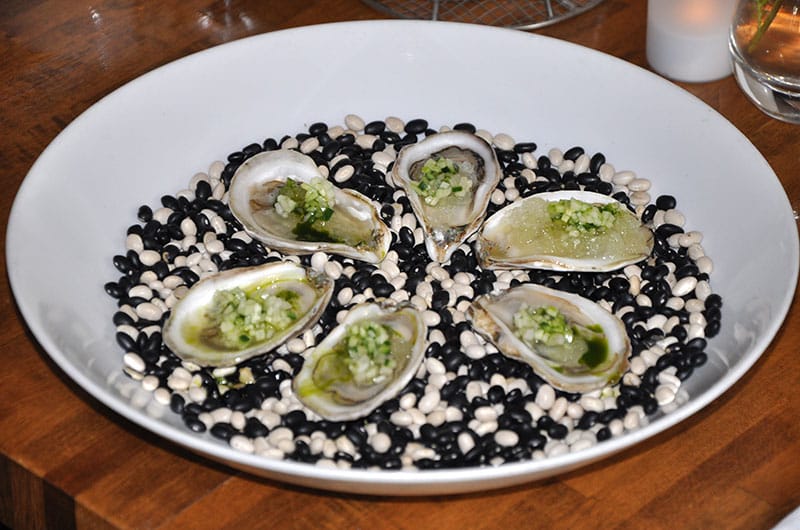 Local reigns supreme again in the Chilled Nantucket Grey Lady Oysters. Farmed in the waters around Nantucket, these gems are as fresh as they come! How do you improve on something this good? The chefs at Dune highlight their freshness and balance the brine with a melon-champagne shaved ice mignonette with tiny dice cucumber and a dash of basil oil. Makes delicious sense to us! (Suggested pairing: Huber Hugo, Rose of Zweigelt, Austria)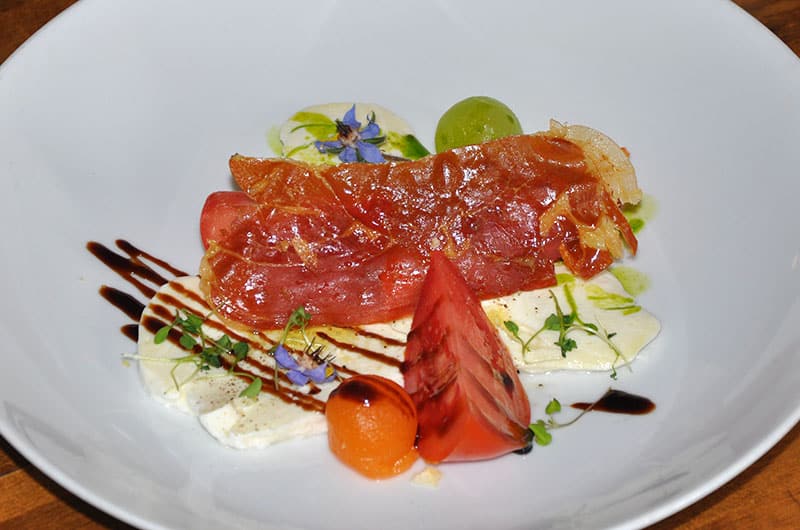 Just about every eatery on Nantucket has a version of caprese salad as we head into tomato season — while Dune's Housemade Mozzarella is not really a caprese salad, it does have those elements and then some. Delicate, milky, tender slices of mozzarella are anointed with basil oil and balsamic vinegar and arranged around wedges of ripe red tomato, melon balls, and a shatteringly crisp slice of prosciutto. It's the sweet surprise of juicy melon that really sets this apart. (Suggested pairing: a lively Albinea Canali Lambrusco di Romagna)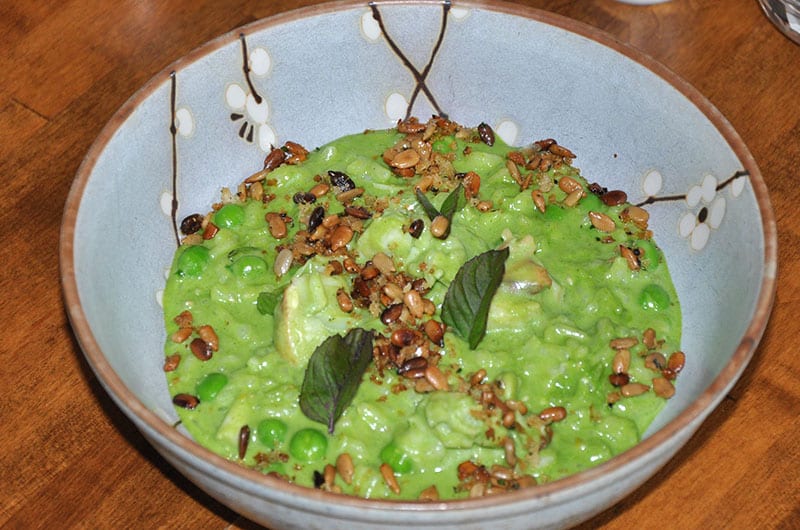 Vibrant in color and in flavor, we highly recommend the Sweet Pea Risotto and suggest you hurry to Dune to order this delight while it's still offered! Its perfect consistency (saucy not gluey), intense flavor of fresh peas plus a scattering of fresh sweet peas, and lots of tender lobster meat stirred in makes this a dish of big flavors. We love the textural contrast of the salty sunflower seed gremolata and the hints of lemon and mint. (Suggested pairing: Camino Roca Altxerri from the Basque Region)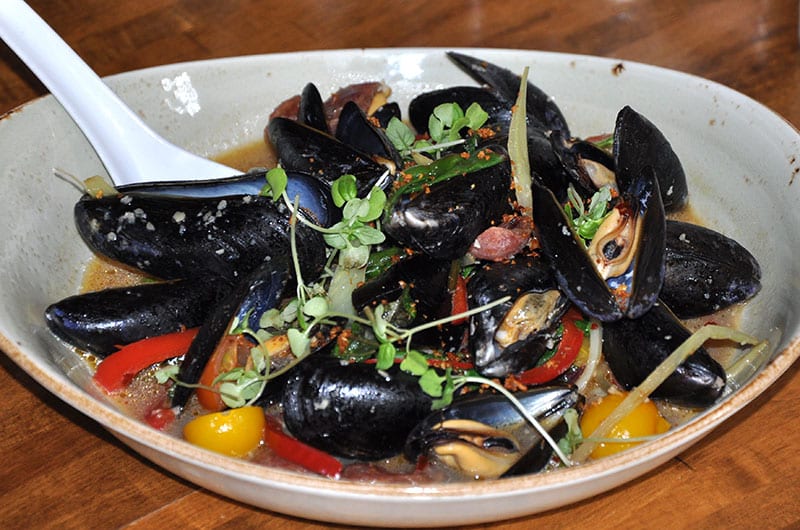 We adore mussels, but rarely are they served as part of a composed dish that is worth finishing. Dune does them just right in their Pan-Roasted Maine Mussels. Perfectly cooked, just till their blueblack shells open, the mussels are served in a hearty broth with slices of sweet sausage, cherry tomatoes, strips of red bell pepper and fennel, and a few chile flakes to add a touch of heat. This is so good that we spooned it up like a soup after devouring the mussels. We suggest you ask for bread to mop up every drop. (Suggested pairing: K Vinters Viognier from Yakima Valley)
A very satisfying meal can be made from the appetizers at Dune, but then you'd miss the delightfully varied entrees offered at dinner, each with a different flavor profile to please a range of palates.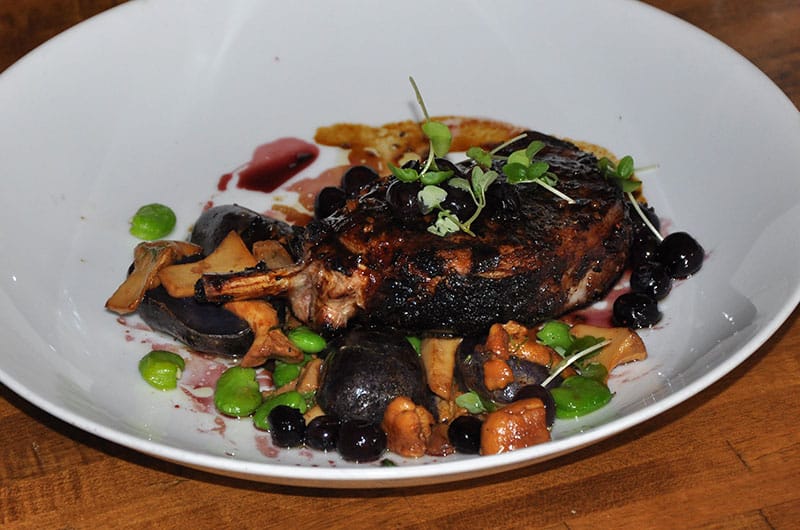 Thick cut and tender, the Grilled Heritage Pork Chop arrives with a nice char. Porcini mushrooms, chanterelles, fava beans, and truffled pork jus add richness and amplify the deep flavors, and pickled blueberries and lemon thyme supply a bright contrast. (Suggested pairing: a Blackberry Caipirinha followed by a Poggio al Tesoro, Sondraia, Bolgheri)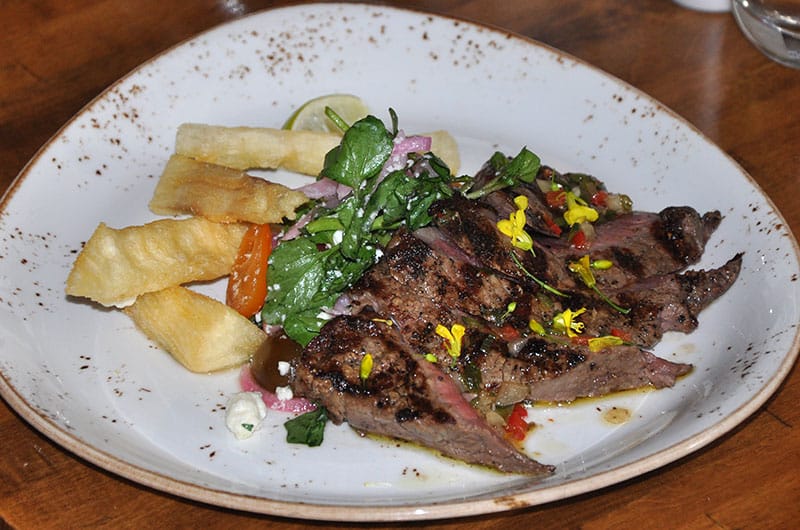 If what you're really hungry for is a great steak, Dune has one— their Grilled Sirloin Steak "a la Corazon." Supremely tender even when medium rare, this steak is simply served with a chimichurri salsa, hot and crisp yucca fries, and a fresh salad of watercress, picked onions, and queso fresco. (Suggested pairing: start with a Cabron Cocktail and follow with Pascual Toso Malbec)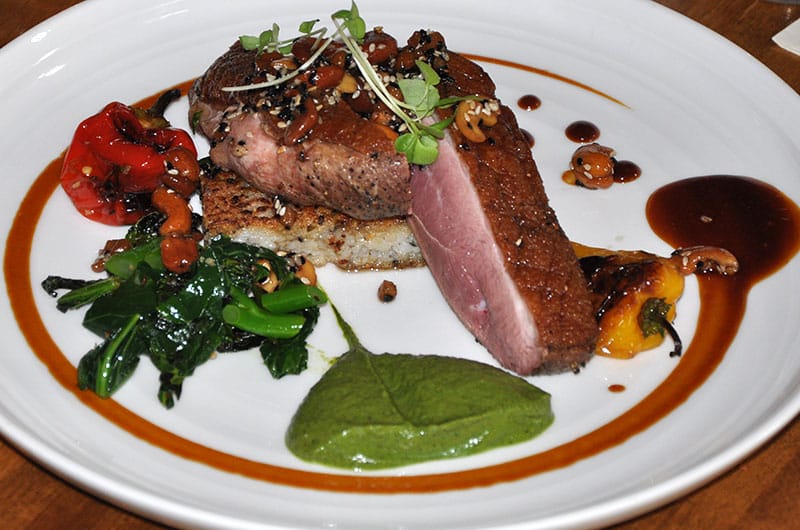 Duck is always a great choice at Dune, no matter what the preparation. We enjoyed it this week as Pan- Roasted Long Island Duck Breast set on an appealingly crunchy rice cake flanked by roasted baby bell peppers. The scrumptious crisp duck skin is drizzled with honey and strewn with cashews. (Suggested pairing: Talisman Adastra Vineyard Pinot Noir)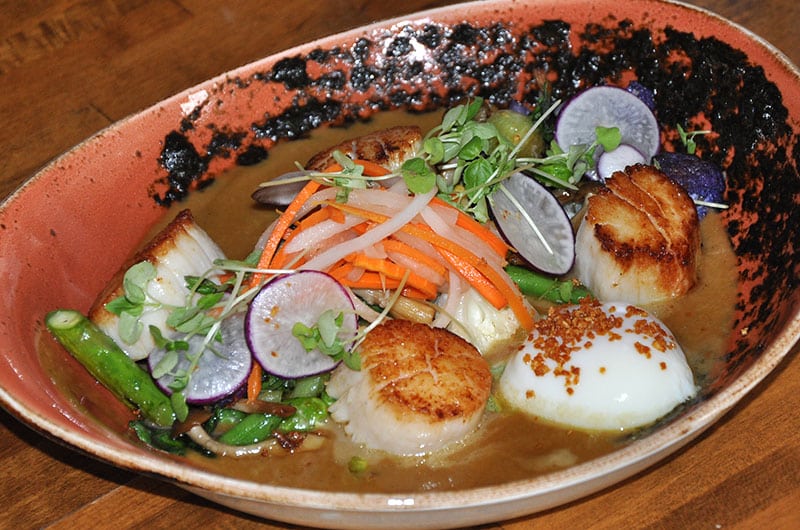 We rarely order scallops after April 1, but at Bill's encouraging, we tried the fresh Seared Georges Bank Scallops and found them astonishingly good! Nicely browned top and bottom, the sea scallops were sweet and succulent and served in a vivid gingery broth of coconut and lemon grass made even richer when we broke open the poached egg. Chilled pickled daikon and carrot with thin slices of radish and beans added a tasty contrast in taste and texture. (Suggested pairing: a Sazerac or Dr. Loosen Riesling from Germany)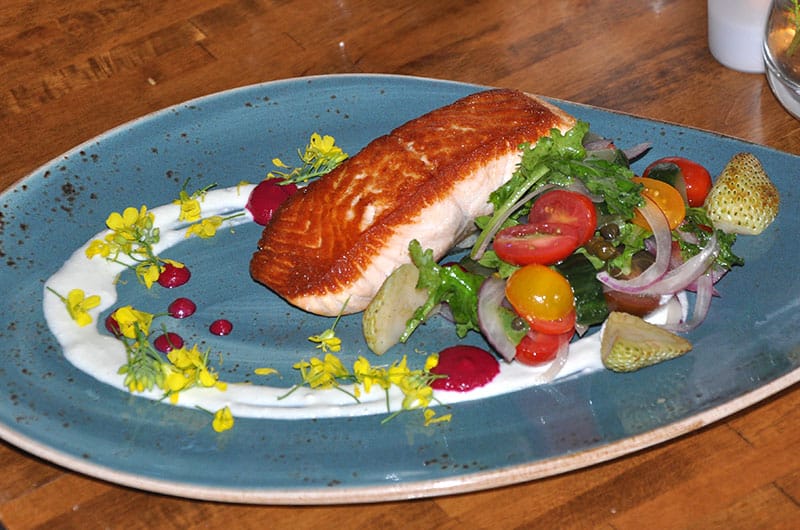 The summery Pan-Seared New Zealand King Salmon is a dish of simple, focused flavors. Stunningly fresh, the fish has a sear that gives it a delectable top crust while keeping the interior moist. It's presented on a tracing of feta cream next to a toss of juicy tomatoes, cucumbers, greens, red onion, and capers in a light vinaigrette. (Suggested pairing: Pretty in Pink Cocktail)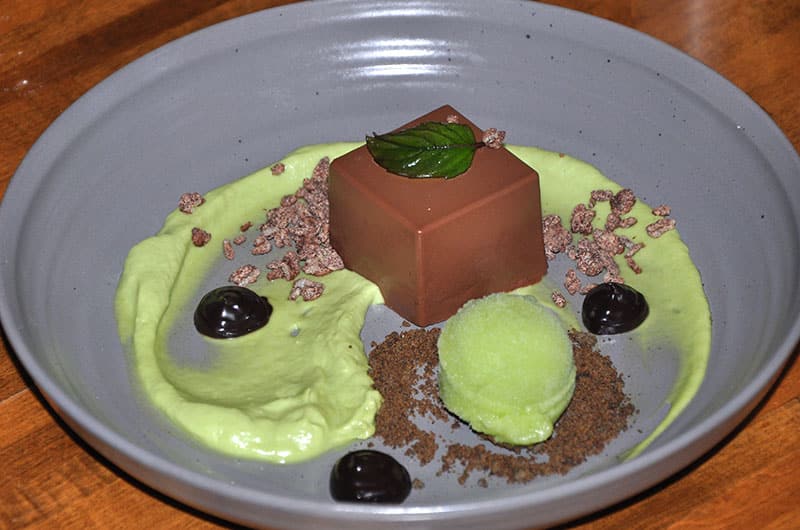 It's a lot to expect for dessert to keep up with a meal so full of flavor, but Pastry Chef Michael Winkelmanis up to the task. His Chocolate Ganache is a geometric treat: a cube of satiny sweet ganache set on a colorful schmear of mint buttercream next to a scoop of mint sorbet surrounded by dollops of dark chocolate.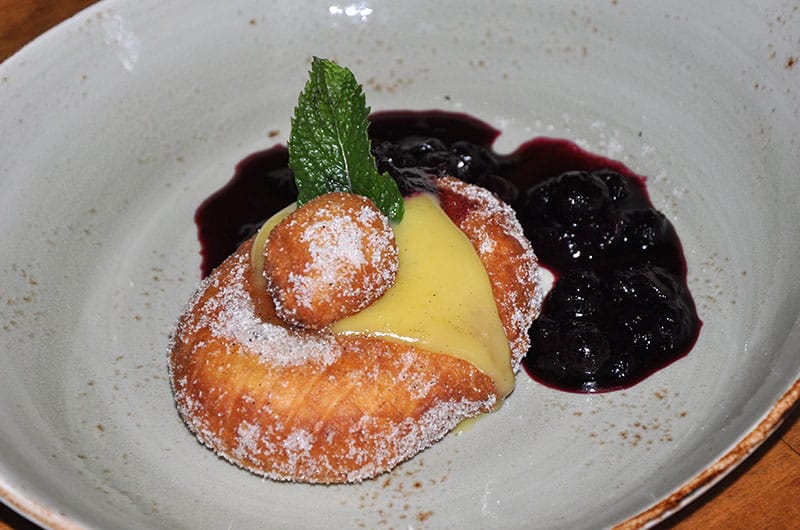 But If you really want to give in to your sweet tooth, order the Warm Brioche Donut. Surprisingly light, the puffed warm donut is rolled in earl grey sugar, filled with tart-sweet lemon curd, and surrounded by a luscious sauce of fresh blueberries.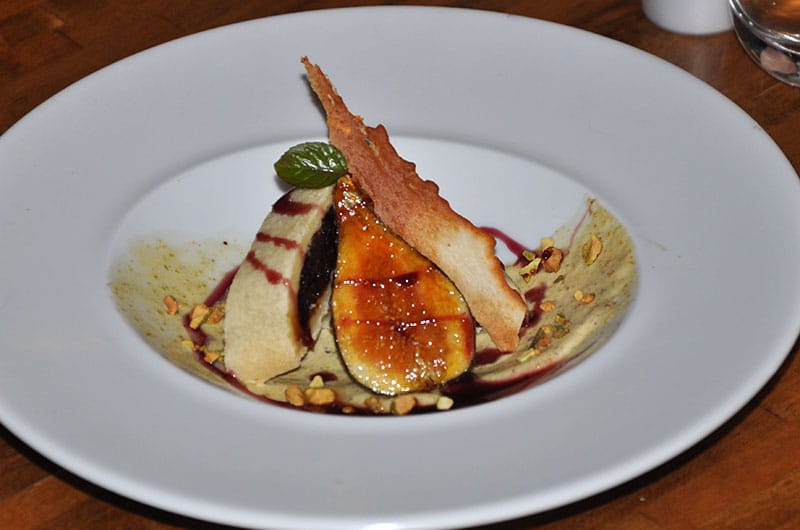 After a satisfying meal like this one, we often like a more savory finish. The Caramelized Mission Figs is a terrific alternative to a cheese plate, our only complaint is that we'd like a touch more of the pistachio cream. YUM!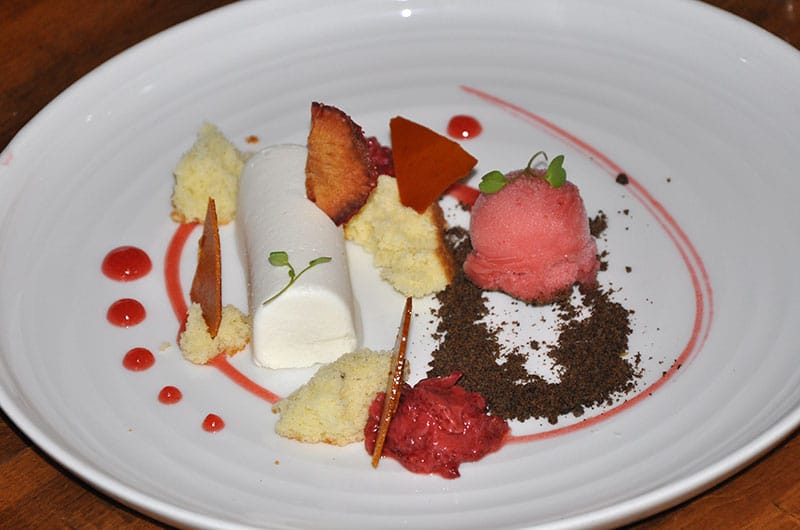 Strawberries & Marscarpone Mousse is a heavenly dessert of torn vanilla pound cake and strawberries four ways (compote, gel, sorbet, and dehydrated) arranged around a light yet indulgent marscarpone mousse. Add a glass of Inniskillin "Ice Wine" to this for a truly seductive finish.
Dune
20 Broad Street • DuneNantucket.com • 508-228-5550
Lunch daily from 11:30 a.m. to 2:30 p.m. • Dinner nightly from 6 p.m.
Bar opens at 5 p.m., Cocktails served until 1 a.m.
Dinner entrees range in price from $38 to $44
Full Bar • Indoor & Enclosed Patio Dining • Major Credit Cards Accepted
Private Dining available for 8-60 people, call to arrange your celebration