by C. Oscar Olson
For many of us, summertime blockbusters are a longstanding seasonal treat and tradition. There's something exciting about checking showtimes, lining up, and sitting down with your friends, family, and popcorn to take in the newest blockbuster. The Nantucket Dreamland has been part of this pastime for almost 100 years.
This summer has been a bit different, though: Massachusetts residents have been stuck with streaming since mid-March, leaving lots of us longing for the big screen. Well, the wait is over and the show is about to start, because the Dreamland Drive-in is about to begin.
Joe Hale, the theater's executive director, recalls a March 12th meeting with the Dreamland board of directors. Another busy season would soon be upon us, and they were excitedly planning the summer's cinema events. "We were moving along at 70mph, then five days later, on March 17th, all of our planning came to an abrupt halt. Everything had stopped." Revenue ceased, programming was cancelled, The Dreamland was closed and know one knew for how long.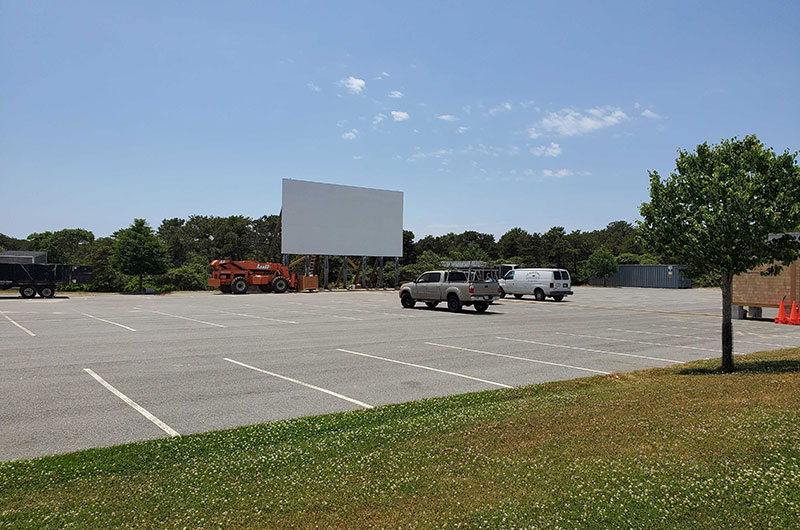 A call was quickly convened and board member Denice Kronau had a thought: What about a drive-in? "That comment spurred us to action," recalls Hale, "but we had no money to pay for a drive-in, if it could even be created on Nantucket." He suggested a crowd funding campaign. "Maybe the community would help us make this dream a reality?"
Nantucket's visitors and residents all share a deep love for this island and its traditions. When the idea for the drive-in was hatched in early March, organizers of the non-profit cinema and members of the board weren't sure what to expect. To everyone's shock, the nearly $140,000 goal was not only met but exceeded in less than 6 days, and the donations are still coming in.
The Dreamland is an institution with a rich and storied history. Originally constructed in 1832 as a Quaker meetinghouse, the building was also used to host meetings in support of the abolition of slavery. It was a straw hat factory, and in 1880 it was converted in to a skating rink.
In those days, the building was known as The Atlantic Hall. In 1883, it was dismantled and moved, piece by piece, to Brant Point where it was put back together and transformed in to the Nantucket Hotel. The hotel sold in 1905, and a year later it was once again ferried across the harbor to where it stands today. The building's life as an entertainment venue began in 1906 when it was reopened as Smith and Blanchard's Moving Picture Show.
Finally dubbed The Dreamland in 1911, the newly named venue not only showed the newest movies, it also hosted various Vaudeville entertainment acts. The theater stood proudly as Nantucket's primary entertainment venue for more than 80 years.
Of course, the decades took their toll on the much-loved building, and in 2007 the building was purchased one last time by the non-profit Dreamland Foundation and they quickly went to work with restoration. With help from the endless generosity of private donors, the theater was reinvented for the last time as a world-class performing arts center and, following a complete renovation, opened its doors in June of 2012.
This new day in Dreamland history is projected to begin soon at 7 Nobadeer Farm Road. They'll plan to play classic films along with first run films as they become available, and there is no better movie to get things started than Jaws! Movie tickets must be purchased in advance online at nantucketdreamland.org – no tickets will be sold or changed at the gate. Singles in a car will be just $15 and two or more passengers will be $30, but it pays to be a member of The Dreamland. With a membership, tickets are just $10 and $25, respectively. Showtimes depend on daylight, so to start they will be around 8:45 pm and gradually get earlier as the nights get longer. Plans include a private food truck to be on-site to sell snacks. Don't be late: the gates will be closed 15 minutes prior to the start of each movie.
Memberships support everything The Dreamland does for our island: from films and theater, live comedy, music, broadcast, community and special events, and more. Free popcorn, ticket discounts, and priority seating are an added extra, and since you're donating to a non-profit, all membership fees are tax deductible.
The theater's South Water Street location won't be staying silent this summer. Hale is hopeful he can welcome moviegoers back inside next month, and there's even more fun happening upstairs. "We're converting our stunning Harborview Room, compete with outdoor deck overlooking the harbor, into the Harborview Lounge, which will be open for sundown cocktails each evening from 4 to 8 pm. It's going to be THE place to have a safe, socially-distanced sundown drink on Nantucket this summer!"
None of these things would have been possible without the incredible generosity of this island community. In times as trying as these, it is more important than ever that we come together. "We are so very grateful to the community of Nantucket for making this project possible," Hale says. "Over 525 families and individuals have contributed nearly $200,000 to make this dream a reality. This is a community project and it would not have been possible without the support of the Nantucket community. We can't thank Nantucket enough."
The Dreamland has shined a spotlight on what was a dire situation and found something good in the shadows. Summer at the movies has always been a way to come together, and we are all grateful to get the chance this year. "The beauty of The Dreamland Drive-In is that it allows Nantucketers to gather together this summer – albeit apart in our cars. We yearn for human contact in the midst of this pandemic, and the drive-in is a way we can be together."
For more information on the theater and to become a member, visit nantucketdreamland. org.