by C. Oscar Olson
Going out for dinner during the busy season can be challenging. Sure, it can sometimes be a fun and relaxing, ideally delicious experience. But it can also and all too often boil down to stressful, overpriced, and disappointing dining. With all of the alternatives on this tiny island, sometimes the latter is simply an inevitable part of the process. The other course to take is the third option: give up the gamble and choose Dune.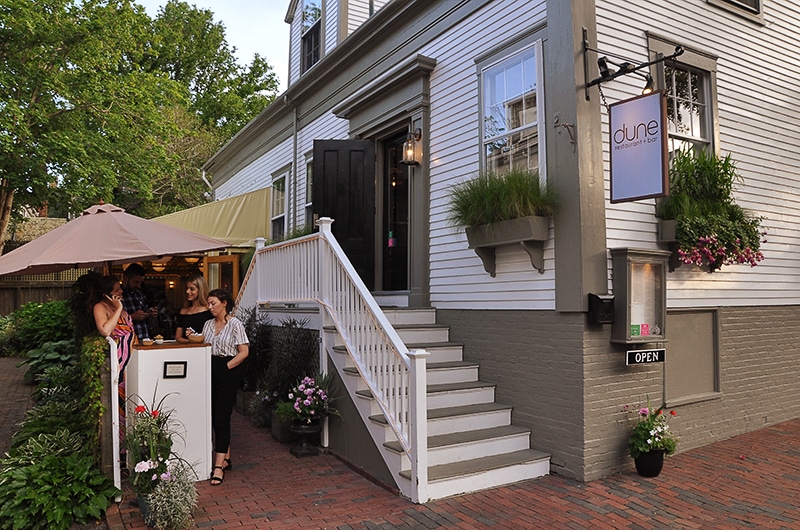 Located conveniently on Broad Street in the heart of downtown, Dune is accessible and never stuffy or snobby. Three distinct dining rooms offer feelings of friendly sophistication; the evening brings out relaxing, comfortably lit lounging while dining during daytime invites loads of natural light in through the many windows. There's also a breezy patio area just outside, perfect for lunch, dinner, and cocktails. The portions are perfect, so you'll have a hard time leaving hungry; and the prices are so reasonable, your wallet can stay full, too. It's truly fine dining for all.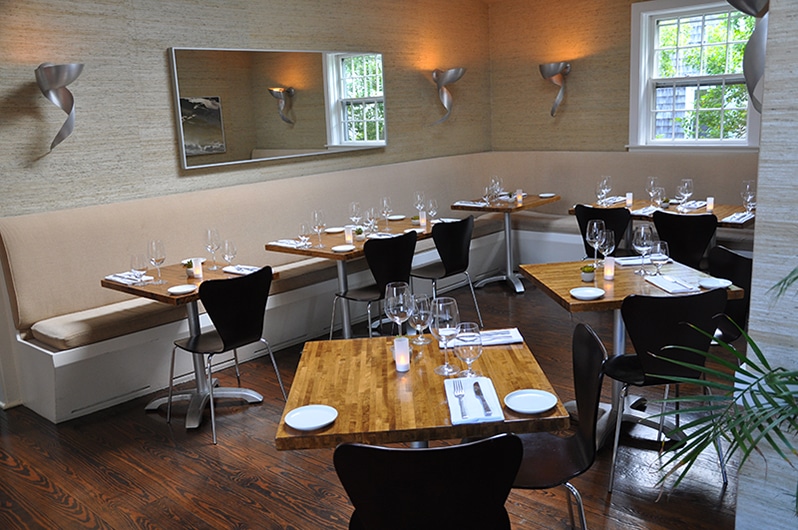 We walked in during the middle of the week on the earlier side of the evening and the main dining room was already humming. We were seated and greeted by a basket of fresh, slightly sweet bread and soft butter topped with a sprinkling of pink sea salt. We were not too far from the bar — this turned out to be a very good thing.
Dune not only boasts a fine-tuned wine list tailor made for menu pairing, but also select beer, mocktails, and a full bar. Best of all, though, is bartender and cocktail connoisseur Lucas Hererra. Just 23-years-old, this is Lucas' first season on the island, but not his first behind a bar. He hails from Minnesota where he honed his skills in mixology, and his focus is on pre-prohibition style classics with a modern twist. He sent us his favorite four.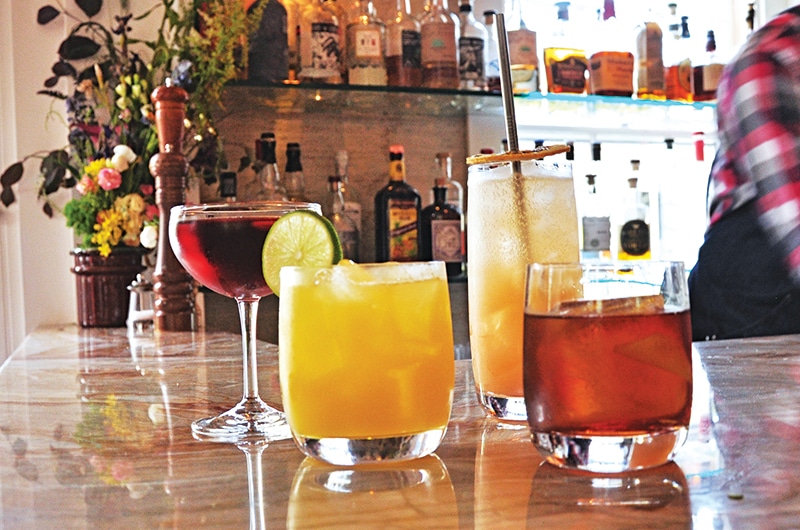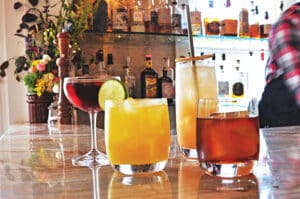 X Marks The Spot is what Lucas calls a "Patio Pourer," so belly up to the outside bar because you might be here a while. It combines white and spiced rums, mango, lime, and coconut water to form a brilliant, refreshing, sipper made for the summer months. The Pink Slipper takes a jalapeño infused gin and mixes in lime, pink guava, and a splash of soda. The exotic fruit flavor is unique and satisfying with just the right sizzle. The next two drinks had more of a night-time feel. Hearts of Darkness takes the world famous Sazerac and kicks it up a few notches. Bourbon is enhanced with digestifs Averna and Campari and few dashes of absinthe, bitters, and sweet vermouth bring it home. The Italian ingredients frame the bourbon flavor beautifully while the rest of the mix enhance the herbaceous edge. Lastly was the tequila based Meadowlark. El Jimador Reposado marries Cynar and Pimm's and is finished with a sprinkle of celery bitters. The liqueurs bring out deep, earthiness and oaky tannins in the tequila that might have otherwise gone overlooked.
Chef and owner Michael Getter likes to keep things fresh. The menu, consisting of about 16 options between first and main courses (plus specials!), is always on the move. For us, it's just another reason to visit again and again throughout the season. With more than 20 years of industry experience under his belt, Michael knows how to work every angle of the restaurant. A graduate of Culinary Institute of America, he has catered for thousands in a sitting and at just 21 years of age was Executive Chef of island hotspot 21 Federal. From there he took on the role of chef/owner at the always acclaimed American Seasons, received the Wine Spectator Award of Excellence for his efforts as a Sommelier, and worked briefly as executive chef of MAX Ultimate Foods, one of Boston's primer catering companies. His accomplishments have been reported in several prestigious publications such as Bon Appetit, Gourmet, and The Boston Globe.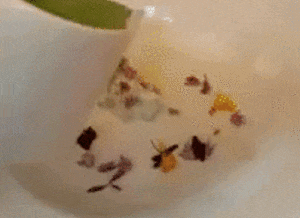 Since soup was atop the menu, we thought it appropriate to start there. The Spring Pea Bisque is poured tableside: a cascade of verdant green, piping hot, and velvety smooth soup blends the bits of chives, lemon, and peas in a bowl together until just a peak of the lavender yogurt protrudes while edible flowers swirl to the surface. There was enough bite in the peas to contrast the smoothness of the soup, and the yogurts adds a bit of creamy brightness to every spoonful.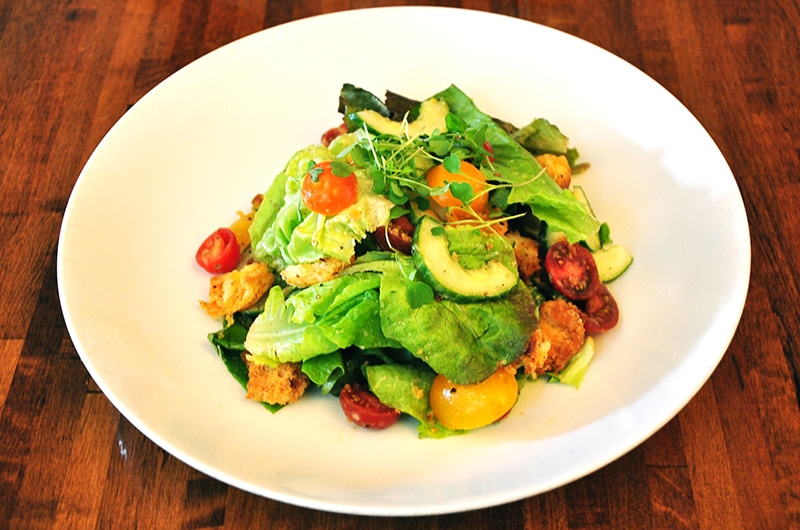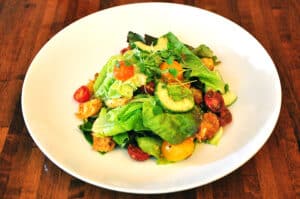 The ACK Sweet Water Farm Greens Salad was the next logical step. A perfect pile of locally grown greens were tossed among cherry tomatoes bursting with sweetness, cool and crunchy cucumber, sweet and spicy basil, migas, and a perfectly tangy, sweet, and slightly bitter preserved lemon vinaigrette. The dressing enriched every bite and brought out the flavors in each piece of produce.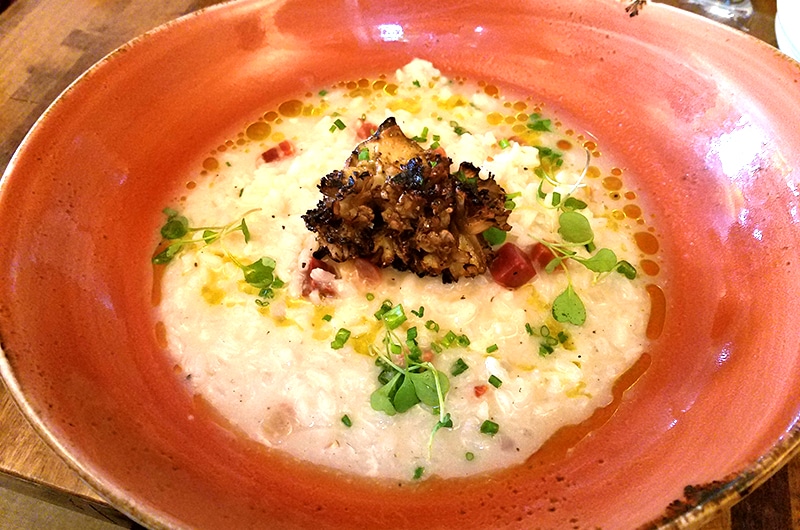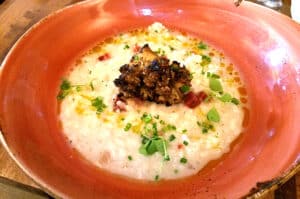 Risotto is a cornerstone of high-end establishments like Dune, so our last order from the first courses was the "Cacio e Pepe," or "cheese and pepper." The rice was perfect and made extra creamy with pecorino and parmigiano broth. The once delicate flavor of the maitake mushroom is somehow boosted by black pepper, micro arugula, and crunchy pieces of pancetta.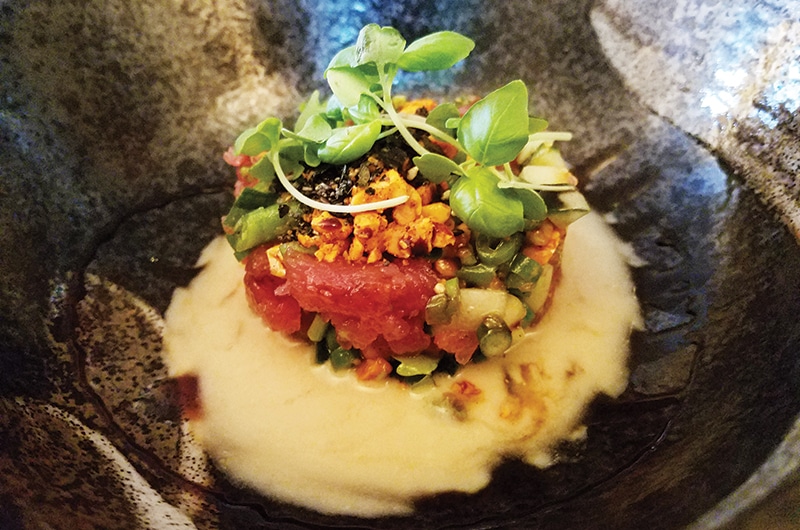 One of the specials of the evening was a cool, refreshing Tuna Tartare. Ruby red fish flirted with Asian inspired flavors and a crunch from spiced peanuts and nori. The often intense aspects of the other ingredients were quieted, almost neutralized, as the tuna acted as a delivery device for it all.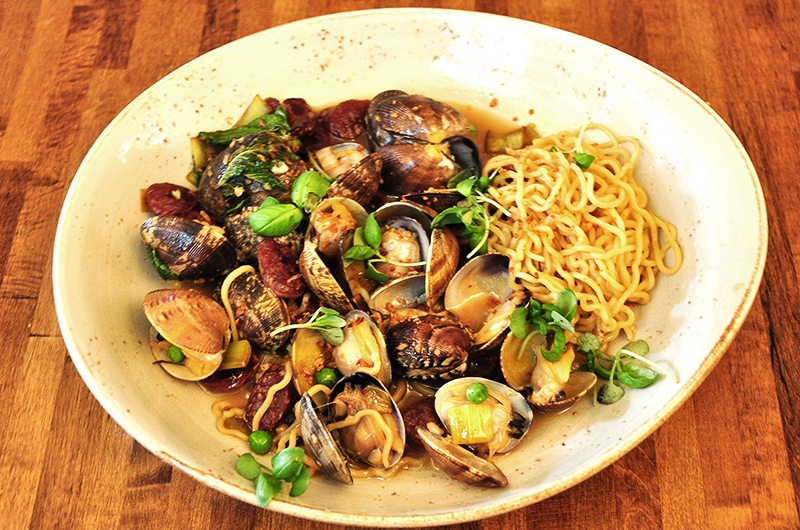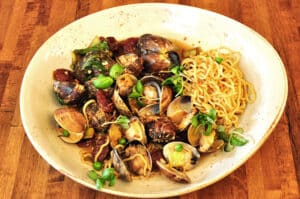 Just when we thought we were ready for our main courses, Michael sent over what turned out to be one of the highlights of the evening, the Stir-Fry of Manila Clams. Quarter-sized clams were tossed until open with sweet Chinese sausage, ginger, scallions, lemongrass, fried garlic, and herbs. Beautifully balanced, the subtle flavor of the clams still manages to shine through the other bold components . Ramen noodles help soak up the sauce but you might want to hang on to some of that bread I mentioned earlier.
Every plate at Dune is a work of art. It is the food that dictates the dish and each one is a symphony for the senses. It is impossible not to take a moment to exhale, admire the presentation, and breathe in the aromas offered up.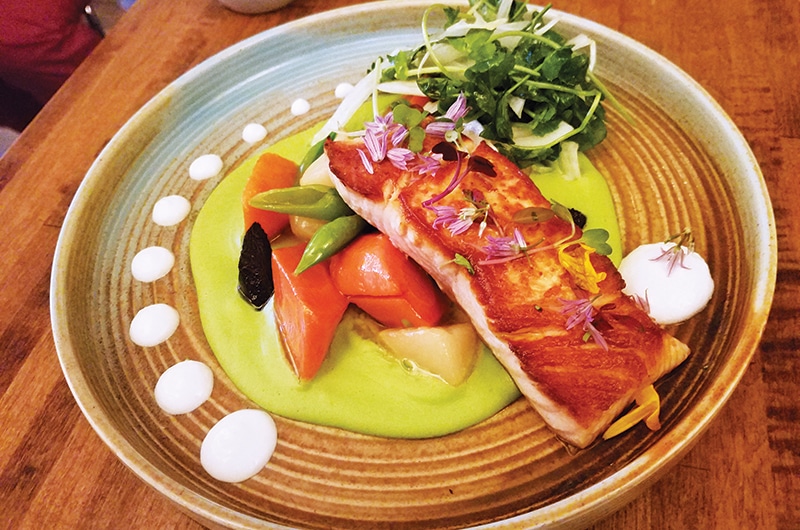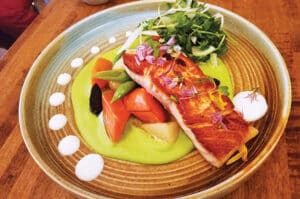 Moving on to main courses, the Pan Seared Wester Ross Scottish Salmon has one of the most perfect flakes we've laid eyes on. It's served medium rare, and you wouldn't want it any other way: tender and juicy alongside the al dente crunch of pearl onions, baby turnips, and carrots, all served on a bed of creamy green spring pea puree. The razor-thin fennel in the pea green salad and a few dollops of horseradish crema add that essential herbal zip to offset the savory, summery flavors.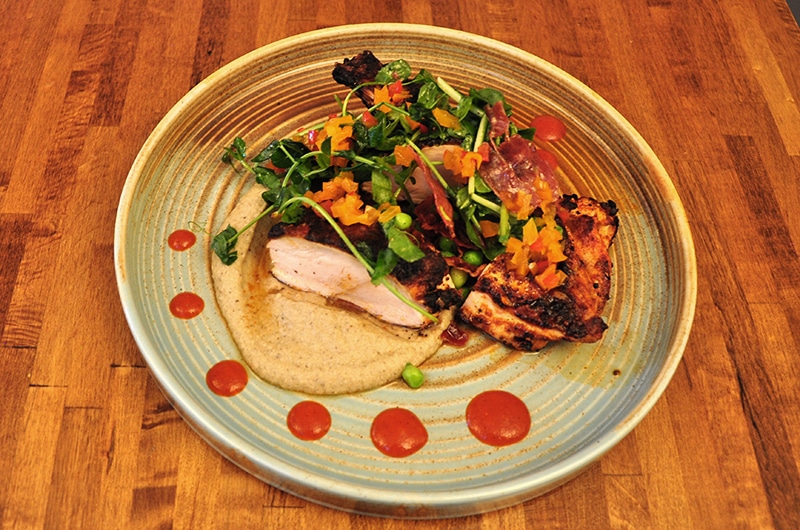 We were so glad we included the Grilled Statler Chicken Breast, and it just might change your mind about the standard go-to grilling grub. Marinaded in a garlic-sherry vinaigrette, the smoked paprika enhances the flavors from the fire. A sweet pepper relish carries those features further, lemon olive oil brings an indispensable citrus component, the crispy prosciutto sends over some salt, and arugula and sweet peas add some green. The hummus that surrounds it all is so light and airy we think it was whipped.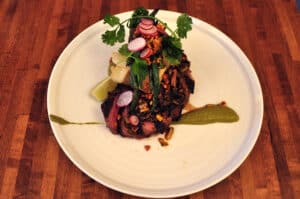 The grilled Angus Sirloin took the word "elevated" to a whole new level. Cooked a perfect medium rare, sliced thin, and stacked high, the steak still proves tender under a sprinkling of crunchy spiced peanuts, smoky charred green beans, and crispy tempura fried yucca reaching well above the table. A roasted poblano crema and emerald chimichurri made every bite a new adventure. For those who like a spicier side of life, try the Sautéed East Coast Halibut. A broth of coconut and lemongrass surrounds the wonderfully white flesh while baby potatoes, mushrooms, spring vegetables, and fried garlic mingle in the mix. The flavors in this dish are so complex yet so focused, and the fish is flawless and sublimely seared.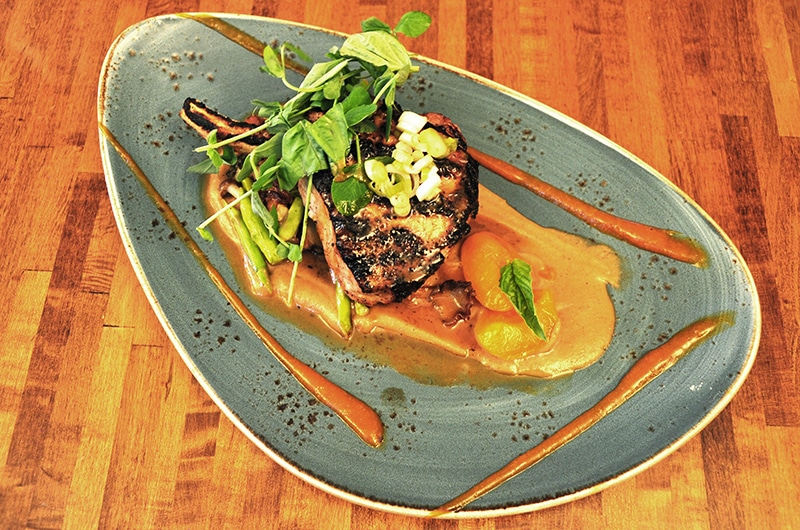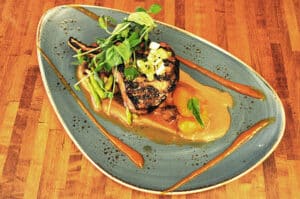 Once again Chef Getter thought we were missing something, so he presented us with the Grilled Bone-in Pork Chop. We loved the way soft, subtle apricots were used to compliment the boldness of the meat, while roasted sunchoke, chanterelle, and broccolini added some divine earthiness to the dish. A bacon miso jus kept things moist and enhanced the smokiness of it all. Sweet summer perfection.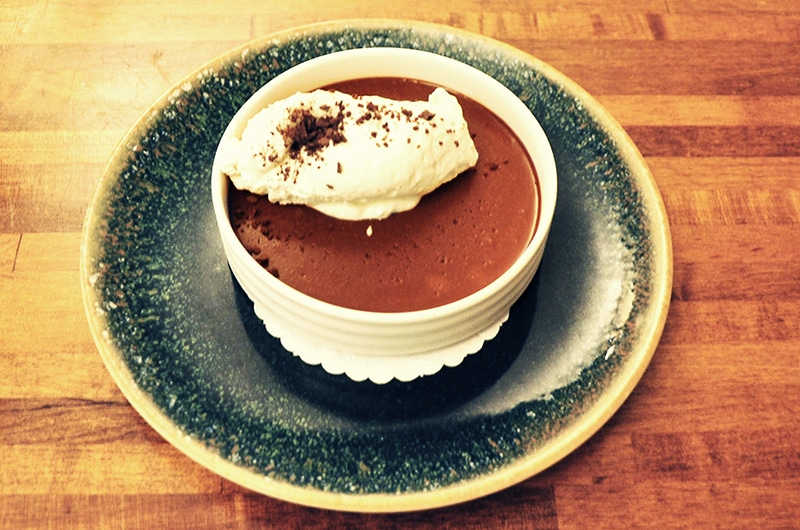 Dessert is far from my favorite course, but it is essential to save room for it at Dune. We tried a little bit of everything: the Pot de Creme was borderline sinful in its dark, dense, silkiness. It was crying for a cup of coffee, so we didn't make it wait.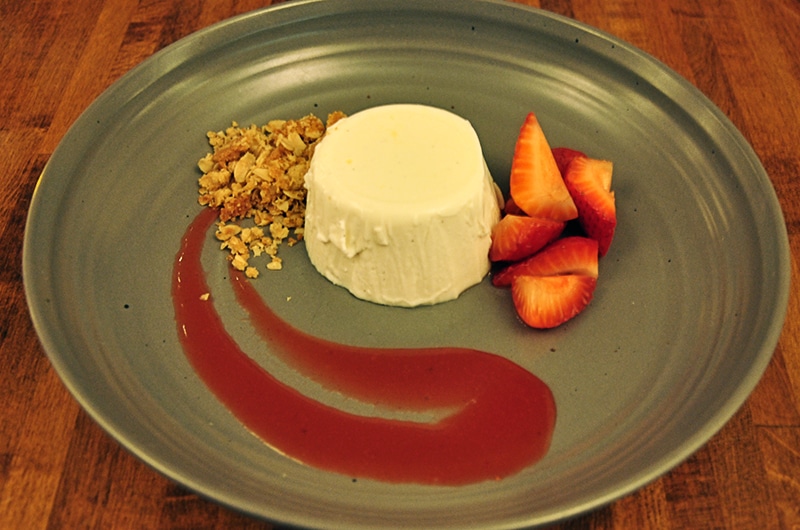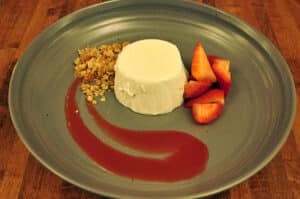 On the lighter side was the Vanilla Panna Cotta. Naturally sweet, tart, and light as a feather, it was sized to share but we won't judge. Dune also offers a range of house-made Ice Creams, Gelato, and Sorbets, too, so those looking for just a taste of something sweet can have their "cake," too. Coconut Gelato was incredibly creamy with small bits of coconut for texture, Strawberry Sorbet was icy, bright, and vibrant.
Chef Getter and Dune pride themselves on freshness and originality. Though the menu is ever-changing, their dedication to keeping produce local and seasonal, fish and meats select and regional, and customers happy and satisfied will never change. You can depend on it!
Dune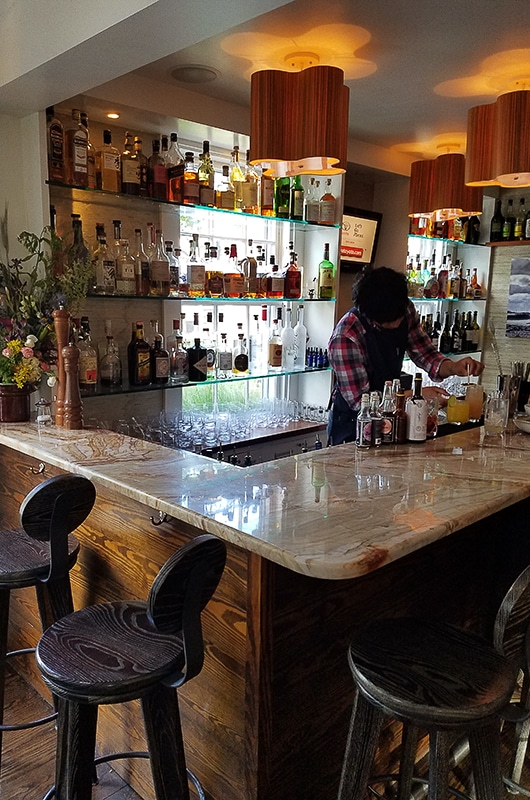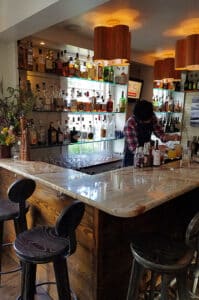 20 Broad Street • DuneNantucket.com • 508-228-5550
Lunch daily from 11:30 am to 2:30 pm • Dinner nightly from 6 pm
Bar opens at 5 pm, Cocktails served until 1 am
Dinner entrees range in price from $30 to $44
Full Bar • Indoor & Enclosed Patio Dining • Major Credit Cards Accepted
Private Dining available for 8-60 people, call to arrange your celebration