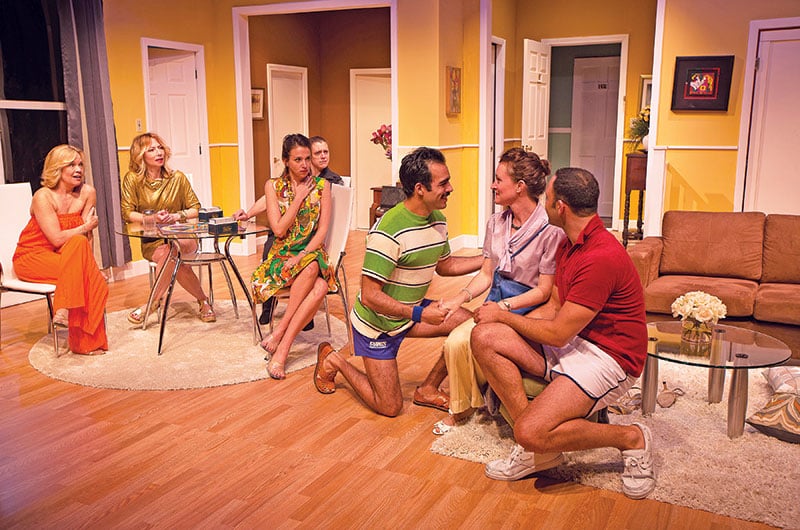 We all have that one friend. She's single. She's messy. And when you go over to her house the only thing in her fridge are condiments. And we all have that other friend. She's married. She's a neat freak. And she thinks she's Martha Stewart or at least pretends to be on Facebook. Now, what if these two friends moved in together for a week, a month, or even a day or two? It would be pretty funny, right? That is the basis for this hilarious comedy, The Odd Couple, a Neil Simon classic that has been repeated in theme ever since its original debut in 1965. We've seen it a thousand times, whether its with two very different cousins in the eighties sitcom Perfect Strangers, or simply redone for today's television with actors Matthew Perry and Thomas Lennon on CBS. The gist of the humor never ages, even as the play itself continues to do so. And here, for Nantucket audiences only, we are FINALLY gifted with a female version, a delightful re-mix using the play's original language and lending it to the female voice of 2016.
Directed by Justin Cerne, this hilarious play opens with four women effortlessly juggling dialog that makes the sides of your belly ache with laughter as they sit around a table playing Trivial Pursuit. Like any other girls night out, the fun is almost contagious, and you just want to run up on stage and grab a seat next to them for some gab, some jabs, and some trivia.
Olive (impressively played by Nantucket's own Sarah Fraunfelder) is the hostess, and also that messy, careless friend we all know and love. When her guests, a still-in-uniform policewoman named Mickey (played by Casey Boukus), a chain-smoking bleached-blonde named Sylvie (played by Ellie Cornell), a leopard-print-loving straight talker named Renee (played by Felicity Seidel) and a prim, slightly out-of-it friend named Vera (played by Mary Patricia Seidel) mention they are hungry, Olive offers sandwiches that are so old that they are green, and stale potato chips with warm Pepsi to boot. Rolling their eyes, the friends continue to play, and everything is going swimmingly until an unexpected phone call informs them that their neurotic friend Florence (played by Aleisha Force), the Martha Stewart-type mentioned earlier, is missing. It is her husband on the line, and he says that she went missing as soon as he informed her he was leaving her. This news rocks the entire crew until suddenly there is knock on the door and it is their distraught and highly dramatic friend who enters, reeling from her heartbreak.
Both in part to comfort her distraught friend, and to seek some company for herself, Olive asks Florence to move in. The offer immediately lights Florence up like a Christmas tree. "I can do so much with this place!" She teems, looking around the messy apartment. Olive, who personally has not had much luck in love, with a recent break up from her gambling addict husband, should have taken heed at Florence's intentions then, but if she had we would never be able to watch the hilarity that ensues between this truly odd couple.
The second act is where the real laughs are, when Spanish neighbors Manolo (played by Adam Sodofsky) and Jesus (played by Chris Costa) enter the scene with their language barrier flirtations and surprising emotional empathy for the distraught Florence. But the real magic is how this play, and all those versions that have come before it, can highlight a standard in our society – marriage – and successfully make it hilarious. Seeing this relationship sour between friends makes us laugh at our own struggles with spouses, and reminds us to keep the humor alive.
The Odd Couple is playing at Bennett Hall at 62 Centre Street Wednesday through Sunday until June 18. For tickets, visit theatreworkshop.com.