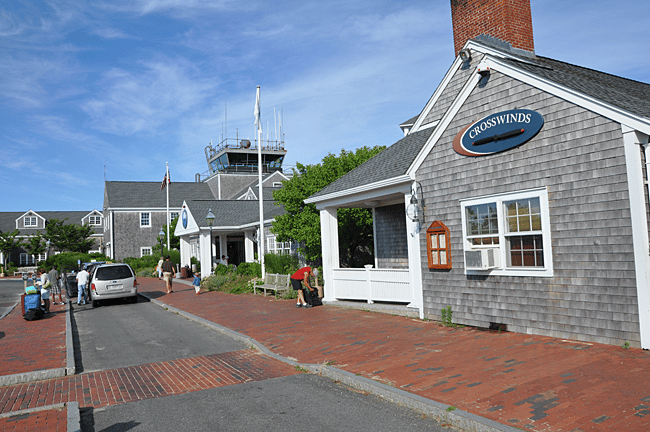 Some of the best advise we've heard when it comes to finding a restaurant with great food and great value is to "go where the locals go" – Crosswinds Restaurant & Bar.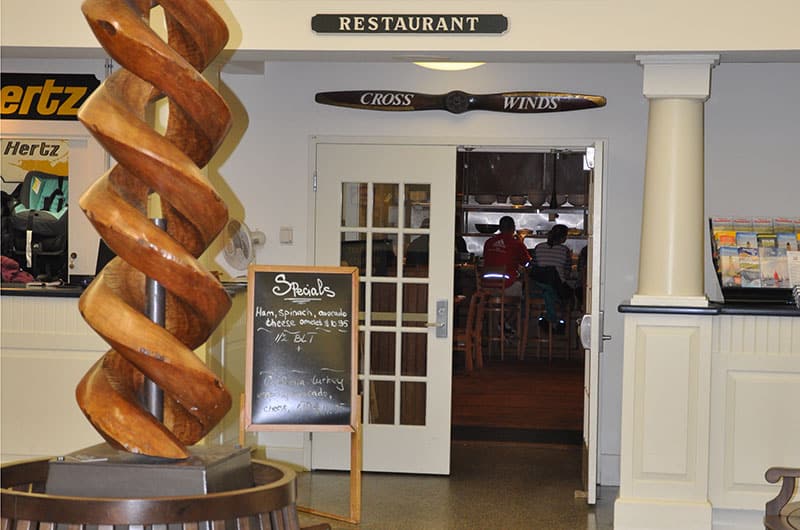 If you've flown on or off Nantucket, you've probably seen this eatery at the airport. But it's not just a place to stop for coffee and snack when your flight is delayed: this is a destination for many island residents looking for a bountiful breakfast, fast lunch, or affordable dinner out. On Wing Night, you might actually have trouble finding a seat!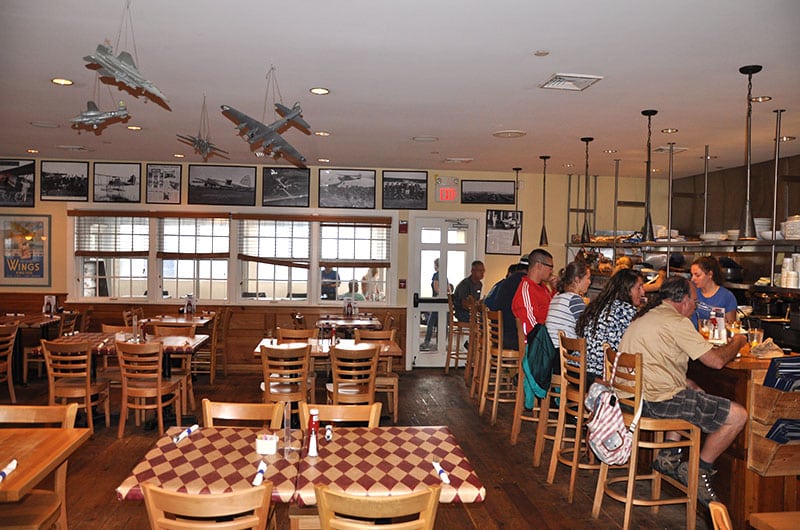 Crosswinds serves continuously from 5:30 in the morning until 9 at night. And, there's plenty of free parking, a real plus on busy weekends and in-season. Indoor and outdoor seating is offered at Crosswinds. It's a bit unusual to dine on a patio just a few yards from the tarmac, but it's one of our favorite spots for breakfast and discovered that the patio is warm, bright, and nowhere near as noisy as you'd think. Most of the planes land and depart a good distance away and are fun to watch—you won't have to entertain any youngsters you've brought along, they love to see the planes. Inside, there is a roomy and comfortable dining room that has recently been renovated. Separated from the dining room is a bar with counter seating and a couple of tall tables. We know a number of die-hard fans who say it's a fun place to watch the game.
The day starts earlier at Crosswinds then at any other island restaurant, and breakfast continues well past lunchtime, so whether you get up early or are on "vacation time," you can have breakfast most of the day. In fact, Crosswinds even has a section of their dinner menu called "Breakfast at Night" featuring three of their morning favorites.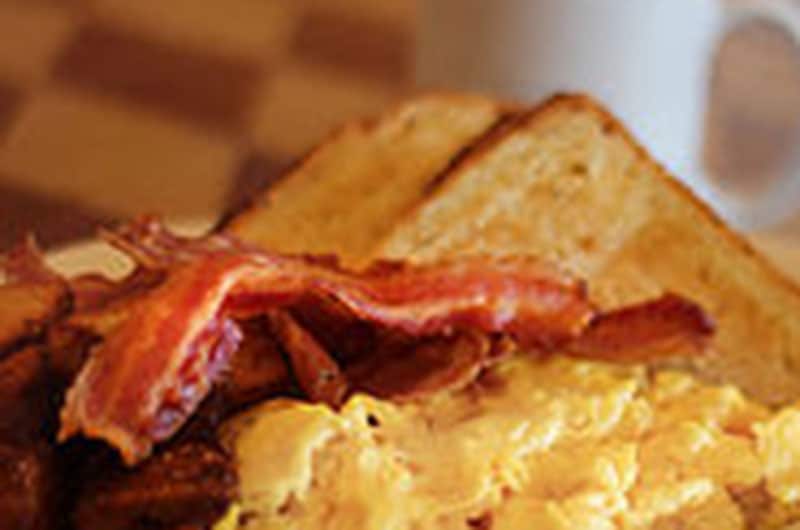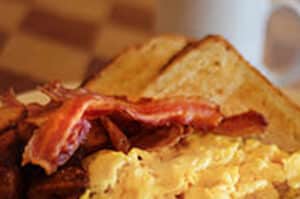 They serve it all—from a hearty Breakfast Sandwich to a Smoked Salmon Benedict. They offer short stacks and tall of Buttermilk Pancakes and Thick Cut Brioche French Toast, and just about every version of eggs you can think of…Over Easy, Scrambled (try their flavorful Portuguese or Greek Scrambles), Steak & Eggs, Hash & Eggs, Breakfast Burrito, and generous Omelettes with a variety of fillings Go at 8 am, call it brunch, and indulge in a Bloody Mary, Mimosa, or Screwdriver from their bar (from 11 am on Sundays).
For a light morning meal, there's fruit and berries, yogurt and granola, bagel and cream cheese, oatmeal with raisins and brown sugar, and coffee how you like it.

At 11 am, soups, salads, appetizers, sandwiches, and lunch entrees are added to the offerings. In addition to a Black Angus Burger, B.L.T., Tuna Salad, Grilled Cheese, and Grilled Chicken Sandwich, lunch also features a Classic Reuben, a Chipolte Pastrami Melt, Philly Cheese Steak, a Fish Sandwich, Chicken Pot Pie with puff pastry lid, Cobb Salad, and a very popular and well done Beer Battered Fish & Chips.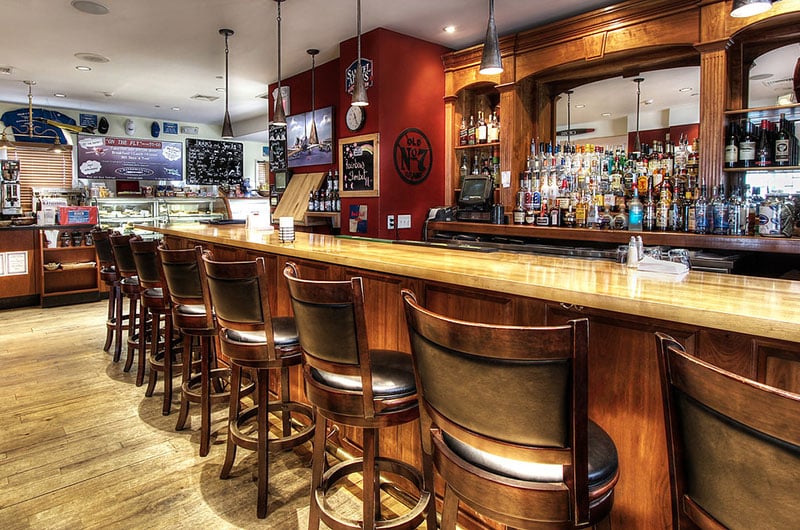 "Classic American comfort food" is how the dinner menu was described to us. We think it's apt though it leaves out some of their creative specials, like the "Taste of India" and Chef's Showcase offered every Saturday evening. In addition to those Saturday night specials, Monday is their Home-Style Chicken Dinner Special for just $10.95; Tuesday is Steakhouse Sizzle ($12.95 for a 12 oz Prime Rib or a 10 oz. NY Strip or an 8 oz. Filet with mashed potatoes and vegetable). Arrive early on Wednesday nights: their Endless Pasta Night ($8.95 for all you can eat Alfredo or Bolognese) AND Wing Night (50 cents apiece for their jumbo wings) is very popular.
Thursday Night is when they serve the Crosswinds Famous BBQ Ribs (half rack of pork ribs with cornbread, potato salad, and coleslaw for just $11.95); Friday Night they serve Fish & Chips for just $9.95, and you'll see half the island there; and their Sunday night special is a Traditional Turkey Dinner with all the fixin's for just $9.95.
Click on images to see enlargements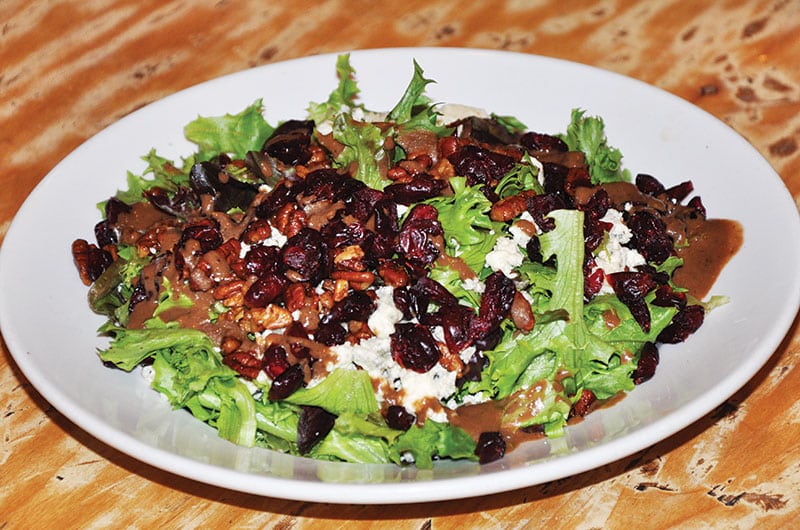 Make sure you're hungry when you dine at Crosswinds—even with the affordable prices, their portions are very generous! We started with their House Salad, bigger and better than most house salads. It's served in a large shallow bowl filled with a nice mix of field greens with just enough tangy balsamic vinaigrette to flavor the greens without making them soggy. Sweet dried cranberries, crunchy toasted pecans, and lots of blue cheese are tossed throughout the salad, not just sprinkled overtop.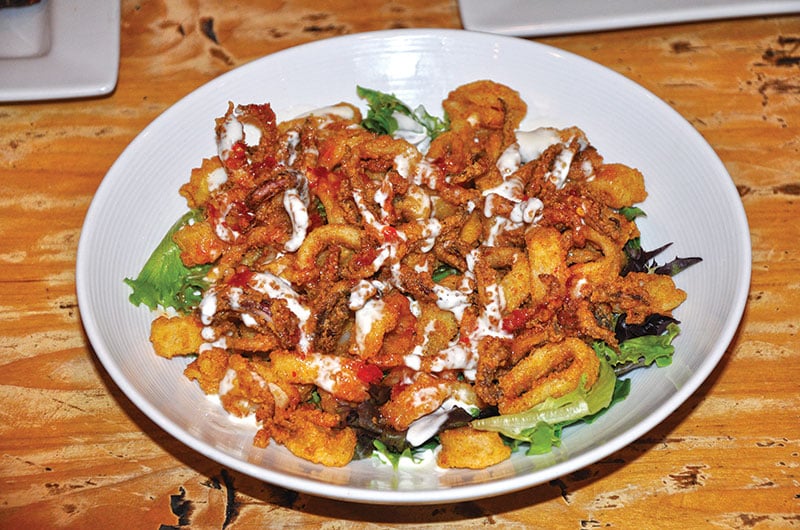 Fried Calamari is another top choice to start your meal, and in portion big enough to share. The rings and tentacles have a ligh, crisp breading, and are cooked just right so they're tender. Two toppings are drizzled overtop— a tangy garlic aioli and a sweet Thai chili sauce. The sauces are also very tasty on the salad of fresh field greens that is tucked underneath.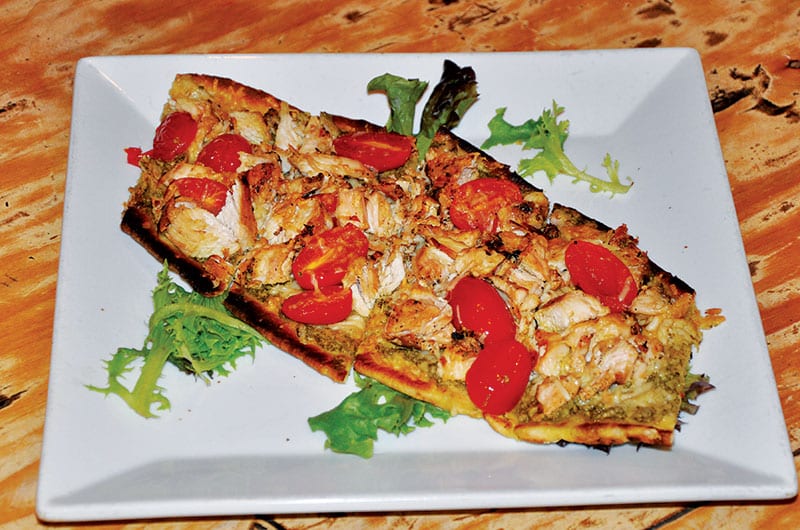 Also listed under Appetizers is a Grilled Chicken Pesto Flatbread that is large enough to be a meal! The flatbread is spread with tasty basil pesto and parmesan, then topped with loads of chicken and fresh sweet grape tomatoes. The kitchen then fire roasts it till the edges are crisped and serves it sliced and ready to share.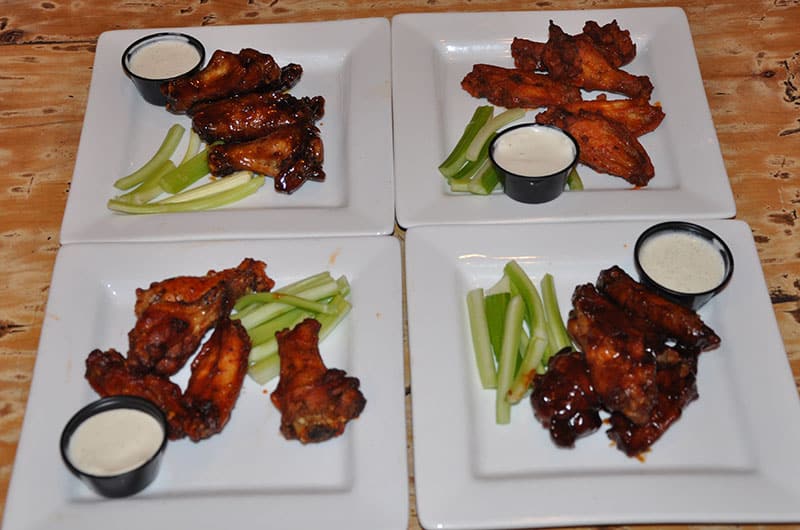 We were at Crosswinds on a Wednesday, and the dining room quickly filled with customers clamoring for their Jumbo Wings. At 50 cents apiece, they must go through hundreds every Wing Night! The kitchen sent us out an assortment to try. They come in four versions: very spicy Buffalo (with Frank's hot sauce), smoky-sweet BBQ, tasty Teriyaki, and (our favorite) Honey Sriracha that starts out sweet and end with a spark of heat. Each wing section was moist and meaty with crisped edges and served with crunchy celery sticks and either ranch or blue cheese dressing.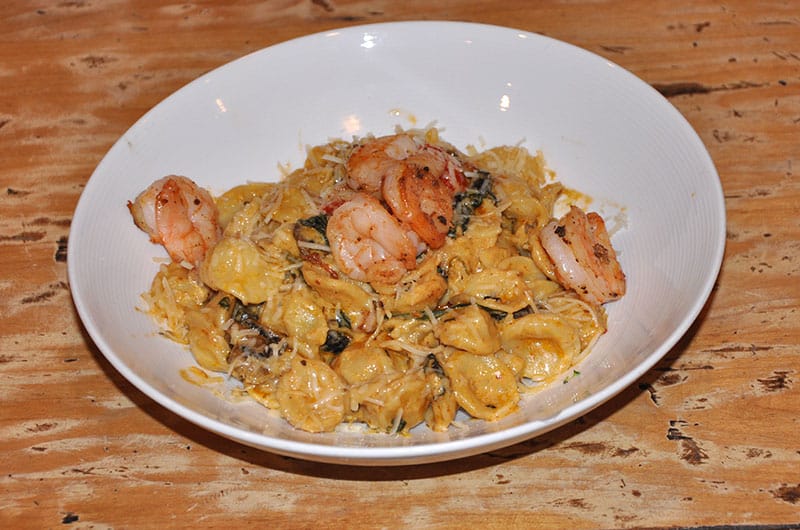 One of the chef's specialties is Crosswind's Orecchiette Pasta, comfort food taken to the next level! For this dish, the chef combines the pasta with sauteed pancetta, mushrooms, baby spinach, cherry tomatoes, and fresh basil in a luxurious cream sauce with a whisper of chipotle. This pasta dish is delicious as is, but we recommend that you order it with sauteed shrimp that are plump and perfectly cooked. You also have top option to order it with grilled chicken or NY strip steak.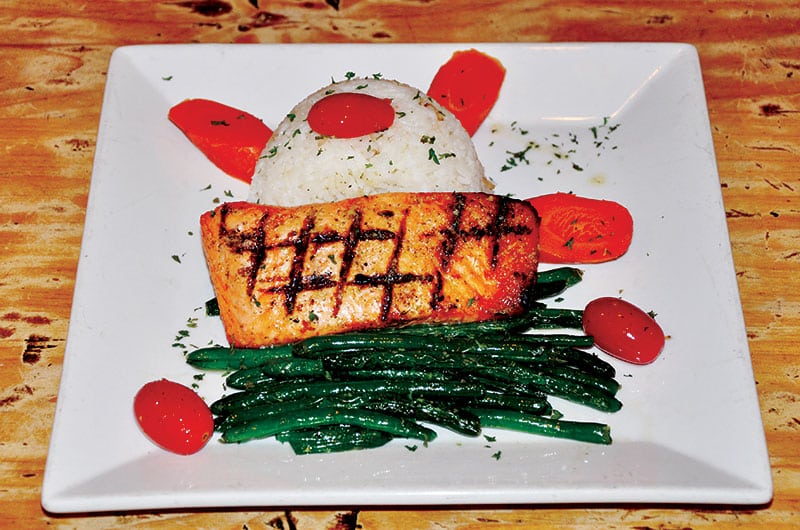 Fish lovers will adore the Atlantic Salmon served at Crosswinds. The fish is beautifully cooked, nicely seasoned, and served with a very good white wine garlic butter reduction. Served alongside are jasmine rice and an assortment of seasonal vegetables (we had tender-crisp green beans, carrots, and sweet grape tomatoes).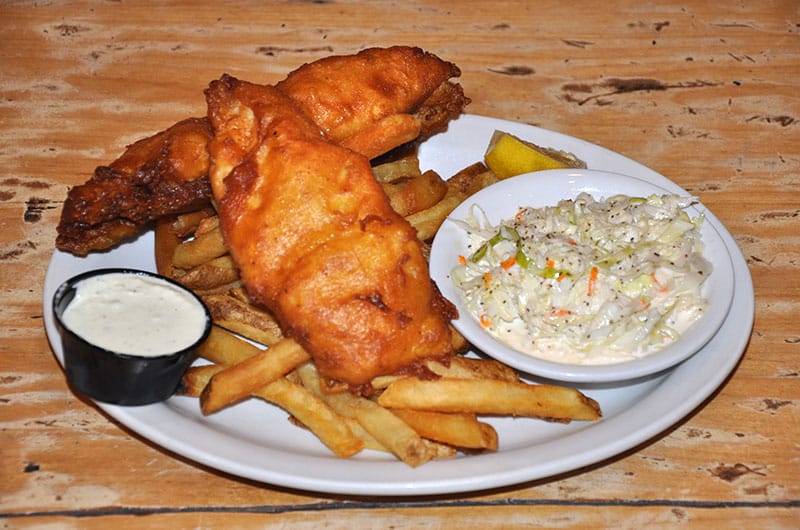 We adored the Crosswinds Fish and Chips dinner! Two large pieces of fresh Atlantic cod, beer-battered and fried till golden brown outside and flaky inside, are served over tasty fries with sides of house made tartar sauce and cool, crisp coleslaw.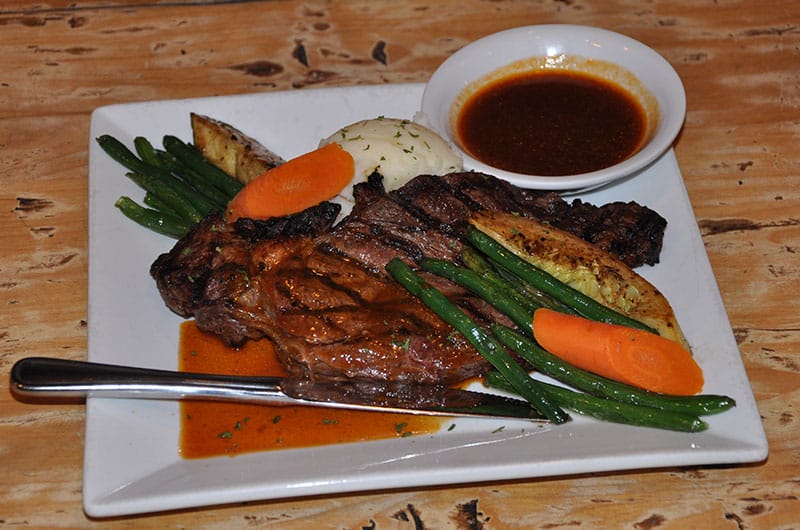 The final entree we sampled is their Grilled Rib Eye. The slab of beef arrived cooked a perfect me d i um- r a r e, with a luscious char around the edges. We were grateful for the extra red wine veal reduction and poured it over the mashed potatoes served alongside with grilled squash, carrot, and green beans.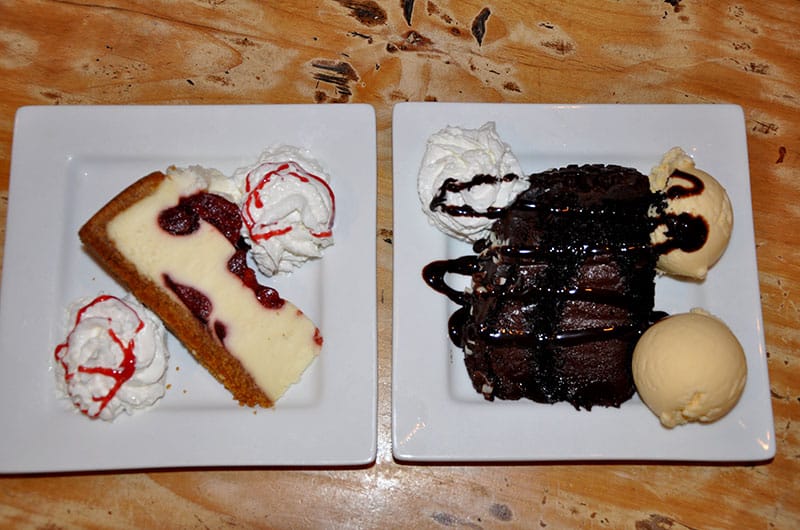 Few people have room for dessert after a meal at Crosswinds, but if you do, they offer a changing selection of sweets. If they have it, don't hesitate to order the sinfully good Rich Double Chocoate Cake. Or you can just order a sweet Tranquili-Tea or fruity Crosswinds Cooler from the bar.
Crosswinds Restaurant & Bar
508-228-6005 • CrosswindsNantucket.com
Open year-round, 365 days a year at Nantucket Memorial Airport
Breakfast served 5:30 am to 2 pm (plus "Breakfast at Night")
Lunch served 11 am to 5 pm • Dinner from 5 to 9 pm
full bar • indoor & outdoor seating • families welcome, children's menu
Entire menu offered for takeout • "grab-n-go" counter
Dinner Entrees range from $9.95 to $19.95, most between $12.95 to $13.95
private celebrations can be arranged
plenty of free parking