by Rebecca Nimerfroh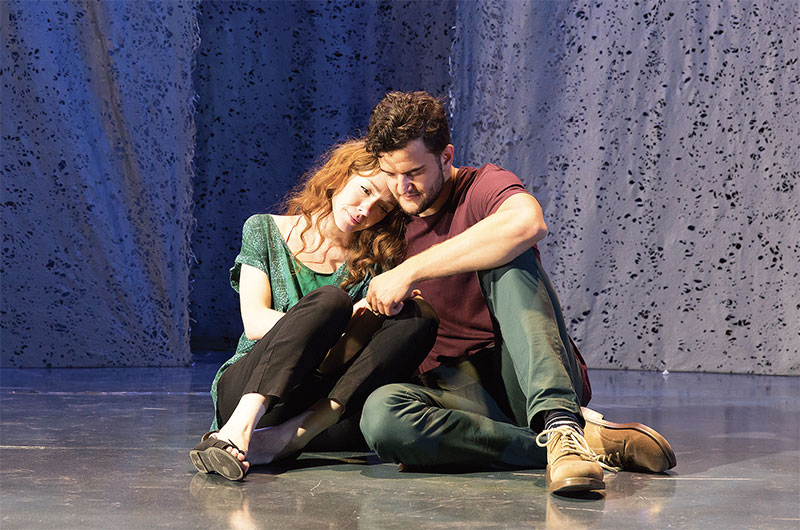 Talk to any arm-chair theorist and they'll tell you that anything can happen, anywhere, and it does. What does that mean, really? Well, for short, it means that when you were five and narrowly avoided being hit by that neighbor's car, in another version of reality you might not have been that lucky. Or that, years later, when you struck out at the big game and the opposing team hit a home run, in another vortex you were the one slung over your teammates shoulders in victory. In another reality you never uttered that first word to your spouse at the bar, and instead married the next flame to come along. The thought here is that although we are on one trajectory, cruising along, making choices, encountering chance, all other options are possible, and exist on another plane. Trippy, right? This is just the premise of Constellations, the latest play to run at The White Heron Theatre, from now until September 23.

Often referred to as the "rom-com for astrophysicist," this play, written by a then-28-year old British playwright Nick Payne is a buffet of possible scenarios in the classic story of boy-meets-girl. In this two-person production, we watch as Roland and Marianne meet at a friend's barbeque. Varying scenarios are separated by a brief darkening of the stage; one in which Roland is married, and his wife is talking to friends across the way, and alas, in another, with flickering chemistry, the two are single, and the meet cute is official and complete.
The audience then enjoys vignettes into the relationship as it could possibly evolve – with a drunken first date, then an awkward one, followed by a combative one, and a loving one, too. Pitfalls of infidelity are then addressed, with one partner guilty of it, then the other, followed later by a clumsy marriage proposal with a sweaty and nervous Roland on one knee, juxtaposed by a smooth and stalwart Roland sweeping Marianne right off her feet. White Heron veteran actor Brian Krinsky seamlessly perfects the role as Roland, both boyishly lovable and caring, while Caitlin Clouthier astonishes as Marianne, sweet, funny and smart. Directed by White Heron's own Lynne Bolton, this performance undeniably hits home at the introspective question of how our experiences are affected by our own emotions on any given day, and by just how very different our reality could so easily be.
Although at first unfamiliar in its form, it soon becomes impossible to look away, especially as the characters rapidly change position under the darkening light of the stage to perform their next possible reality. This play may be just the reason why we as individuals should return our focus to the stage; the well beaten path of theme in cinema is so well traveled, it is nearly crumbled macadam, but if we allow ourselves to follow these strangers into the forest of unexplored thought, we emerge with a map, showing footpaths into unexplored realms of the heart and mind.
To purchase tickets for Constellations, visit Whiteherontheatre.org.