• by Sarah Teach •
This Saturday, August 9, Nantucket welcomes the Boston Pops Esplanade Orchestra and conductor Keith Lockhart back to Jetties Beach for the Pops' 18th annual concert to benefit Nantucket Cottage Hospital. Though many of us know the back of Lockhart's head better than we know his face, we all immediately recognize his inimitable conducting of the Pops. Endowed in perpetuity by the late philanthropists, Julian and Eunice Cohen, Lockhart is thriving in an exceptional career. But growing up, he never expected to land where he is today.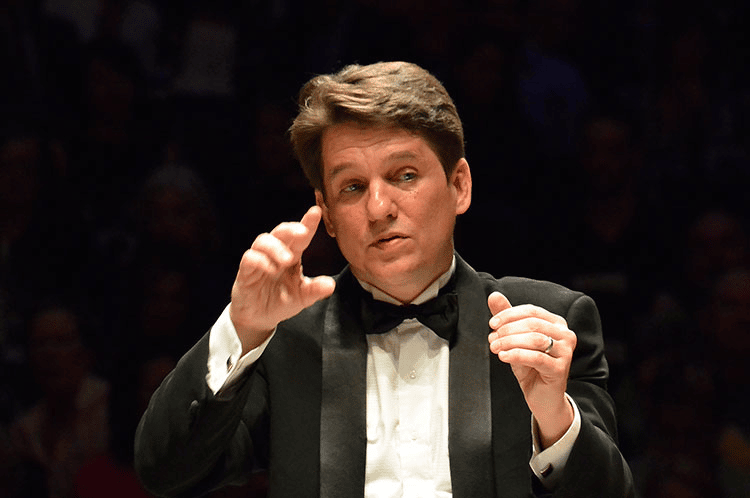 As a kid in Poughkeepsie, NY, Lockhart's life looked pretty normal.
He says, "My parents were of the Depression Era. They didn't have great opportunities as children, so they were committed to making sure their kids did." The Lockharts bought their son a piano when he was just six, and he opted to study the instrument at age seven. "I don't know how many informed decisions seven-year-olds make," he jokes. "But that said, I did take to it, and liked it very much. It slowly took over my life."
By high school, music had planted strong roots in the young man. Lockhart recalls, "I played in the band, orchestra, jazz band. I sang in the chorus and directed school musicals. Basically, it looked like a pre-professional music career, except that I had no intention of moving forward in that fashion. I thought I'd go to a good liberal arts school, take my LSATs, and go to law school. But," he adds with a chuckle, "it didn't turn out that way."
The good liberal arts school part he predicted correctly. Lockhart attended Furman University, where he earned dual bachelor's degrees in German and piano performance. It was an inspired professor who finally urged him towards conducting. When Lockhart tried his hands at it, it was a natural fit, and he underwent an intensive conducting program during the summer after his junior year at Furman. He went on to earn Masters of Conducting from Carnegie-Mellon, and has since received honorary doctorates from several American universities.
"Conducting is a coaching profession,"
Lockhart explains. "It's my job to get a whole lot of people to do what they do better. A conductor is akin to someone who is a good football player, but not the NFL's top draft pick. It's someone with that teaching mentality who has a way of analyzing others' work. Conductors are students of the game."
Lockhart has studied the game with forte since his decision to enter the conducting world. He began his professional career in the early 1980s as director of Carnegie-Mellon's orchestral activities and conductor of the Pittsburgh Civic Orchestra. In 1988, he became assistant conductor of the Akron Symphony Orchestra; and the following year, went on to become a conducting fellow at Los Angeles Philharmonic Institute. A year later, in 1990, Lockhart was named assistant conductor of Cincinnati Symphony Orchestra. From 1992-93, he was associate conductor of both the Cincinnati Symphony and Cincinnati Pops orchestras, as well as music director of Cincinnati Chamber Orchestra. Finally, in 1995, Lockhart became the 20th conductor of the Boston Pops Orchestra, and only the third Pops conductor since 1930.
Lockhart's immediate predecessor as conductor of the Pops, John Williams, is one of the world's most renowned composers, so people often ask Lockhart if he too writes music. He explains, "Conducting and composing are very different disciplines. Sure, I have some practical composing skills. It's sort of like how most good play directors could probably write a decent script because they've spent their lives looking at play after play after play, but that might not necessarily be their strong suit. So while I occasionally have to fix an arrangement, I've never been inspired to write. I'm a performer more than a creator."
As a performer, Lockhart thrives in front of a crowd.
He says, "Crowds have been taught to be more polite around classical music than other genres, like pop. But the Pops exists to bring the two things together; we try not to draw those distinctions. Too much of the time, we draw these artful dividers between genres. After all, what is classical? Does it have to have violins? Not too many decades ago, we were at a point in history when classical and pop music were much the same. If you look back, a big, lush orchestra was playing along with Sinatra!"
From Sinatra to Madonna, Lockhart believes that musicians and performing artists are the people who remind the rest of us of the 'whys' of living. He says, "We're so obsessed with the 'hows' and the 'how muches,' but music cuts through all of that. It is the collective soul of people. It represents everything we aspire to, everything we enjoy, everything we hate. All those things find expression in music. Those of us who make music are continually amazed that it has the effect that it does on so many people with so many different backgrounds, without the hindrance–or aid–of words."
Equally as diverse as the reach of music are the experiences that Lockhart has had within the musical performance world. He says, "As conductor of the Pops, I've gotten to meet absolutely wonderful people. It's been strange too, because of the visibility that comes with it. Years ago, when I had just turned 40, I was buying bottle of wine at a store in the Back Bay. The guy checked my ID—which I almost kissed him for—and asked, 'Does anybody ever hassle you because of your name?' I said, 'Uh, why would they?' and he goes, 'It's the same name as that guy who directs the Pops.' I said, "Wow, is that so?' Many people have said to me, 'Has anyone ever told you that you look like Keith Lockhart?' and I always say, 'No, I've never heard that before.'"
Yet another fun aspect of Lockhart's job is the annual concert on Jetties Beach.
This year's repertoire includes a song that was commissioned specially for this year. Lockhart says, "It celebrates 'The Star Spangled Banner' on the 200th anniversary of it being written. The song has been received well, and has been striking a chord with people." He also mentions this year's guest performers, ARRIVAL From Sweden, a world-class ABBA tribute band. They'll be playing covers of the popular Swedish group's music from the '70s and '80s. Lockhart says that if you have a favorite ABBA song, you'll probably hear it on Jetties Beach this year. "What I love most about Nantucket," says Lockhart, "is actually the off-season. It's truly beautiful. I love getting away, and it's hard to do that in the hustle and bustle of the high season. We march out there, hang at Jetties and run back to the dock. If I can, I try to grab dinner at Straight Wharf. But in the summer, it's a beautiful place to be, and it's great to be a part of people's Nantucket experience. We try to make it a big party, and that works well because a lot of the people there are very much ready to party! Plus, how can you go wrong with a dance party on the beach? This is one of the things on my calendar that I look forward to the most each year."
Get to know Keith better through his radio show, Keith's Classical Corner, which is live on 99.5 WGBH each Wednesday morning at 8:30. Joined by Classical New England's Laura Carlo, Keith brings listeners a higher understanding of the music through stories about the composers and performers.
Editor's Note: at press time there were still general admission tickets available for Saturday's Boston Pops on Nantucket. Tickets are being sold at www.NantucketHospital.org. If some are still available the day of the concert, you can purchase tickets on Saturday for cash or check (no credit cards) downtown at Murray's Toggery Shop at 62 Main Street and at Aunt Leah's Fudge Shop in the Courtyard on Straight Wharf.