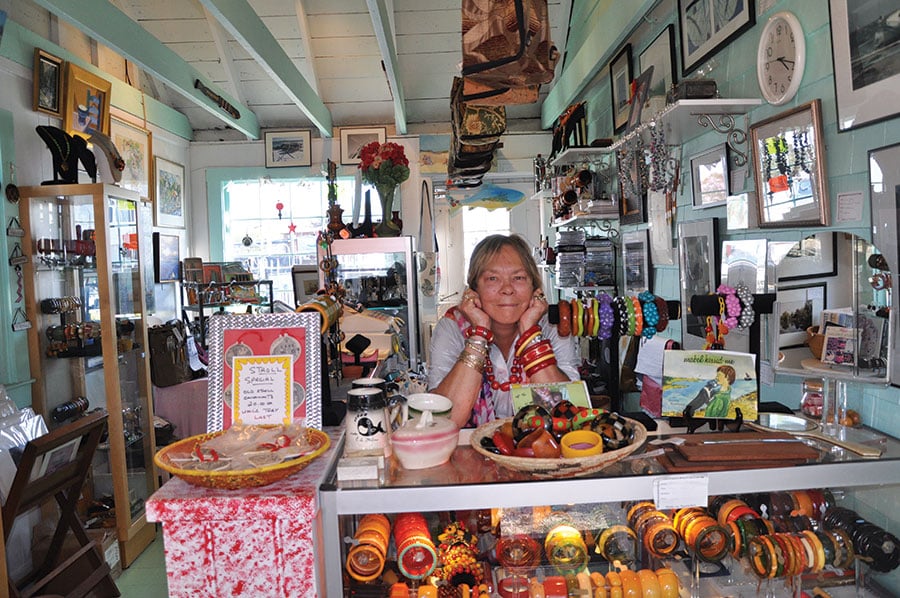 Since before she joined the Artists Association in the 1970s, Kathleen Duncombe has been a part of the Nantucket arts scene, both creating and curating and even teaching. She's always been particularly drawn to island talent, and 20 years ago she opened Made on Nantucket, now located at 18 Old South Wharf, which is the place to go for a wide variety of art, jewelry, ornaments, gifts, by more than 18 different Nantucket artists and island craftspeople. Last week Kathleen shared with us some of her insights about art on Nantucket.
What do you consider the highlight of art on Nantucket?
"I became a member of the Artists Association of Nantucket 70s…that was when the Kenneth Taylor gallery was open. The art scene was vibrant, and primarily local Nantucket artists. There was traditional art and there was experimental art — not as much in the middle, as I recall. Some of the greats were still here and working, and a lot of peoople were experimenting with mediums and methods, and that that was exciting."
What does art mean to you?
"Art is very emotional… It's a form of self expression for the artist, and it gives pleasure and happiness to those who have it and can look at it every day. Art can be very spiritual: it's good for you, it's calming… healing.
"Art is universal: most people can learn in their own way to express themselves artistically. You don't have to be gifted to create art, but not everyone will be a great artist… those who can are very fortunate.
"And art isn't just a canvas: it can be photography, craft, jewelry, textiles."
What art do you collect?
I have a ridiculous amount of art in my house. Most of it is Nantucket art… I have it because it's work that I truly loved when I bought it. For years I've collected Tom Burke, Jack Brown, Polly & Bobby Bushong, Larry Vienneau… I've tried to get one piece by every artist who's work I like.
"Most people buy art because they love it [not as an investment]. I just had a woman come into the gallery here on Old South Wharf who fell in love with a Donn Russell. She said it was the first piece of art she's seen in six years that she would buy."
Can you share a favorite memory of an exhibit in your gallery?
"The Resale Shows that I did when the gallery was located on Main Street were amazing. I did one for Ray Dawson and one for Peter & Paul… these were private collections of Nantucket art opened up for sale when the owners were downsizing and wanted to redistribute. The Resale Shows featured pieces that had not seen the light of day in years—classic Nantucket art created by the Old Guard in the 1950s, 60s, and 70s… artists like Maggie Meredith, Katherine Seeler, Donn Russell, and others. People were arguing over the pieces—we had to have a doorman, and the lines to get in went down the street. I'd love to do another. These shows are fun to put together: you see pieces you've never before seen, and you meet interesting people."
Where do you think art on Nantucket is headed?
Nantucket will always be a place where artists paint and create, and people will always come here to look and buy art because of the tradition of Nantucket, and its history as an art colony. There's a lot of diversity, and I think it's cyclical…
Computers have completely changed photography, but there are still artists here using [time-honored methods]…I still create my monoprints the way I was taught in the 60s—I still create my jewelry the same way.
What advice would you give to a young artist on Nantucket?
They must hone their craft and make connections with other artists —feedback, both good and bad, is very important. You don't have to be solitary to do art. Learn something every day. Try different formats—during your artistic travels you may come up with different approaches and formulas—don't eliminate possibilities."
What's ahead for you and for Made on Nantucket?
"I'm finishing the ornament for this year, so there will once again be an exclusive Nantucket Stroll Ornament for 2015 that will be sold only at Made on Nantucket.
"I've had so many people who want to see the Nantucket work that I have outside of the time they are physically here on the island and who want to see what my artists are doing that I'm working on a website. Look for Made on Nantucket to be online this winter.
"And I'll be doing some trunk shows. I've been approached by different people around the country who want me to show my huge collection of vintage bakelite…it's become known as one of the largest collections in the East… jewelry, barware, kitchenware, martini shakers, bracelets. I've liked it since I was a teenager—the color, the design—so I started buying pieces for myself and found so many others who like it, too.
You'll find Kathleen Duncombe in her gallery Made on Nantucket at 18 Old South Wharf Thursdays through Sundays.