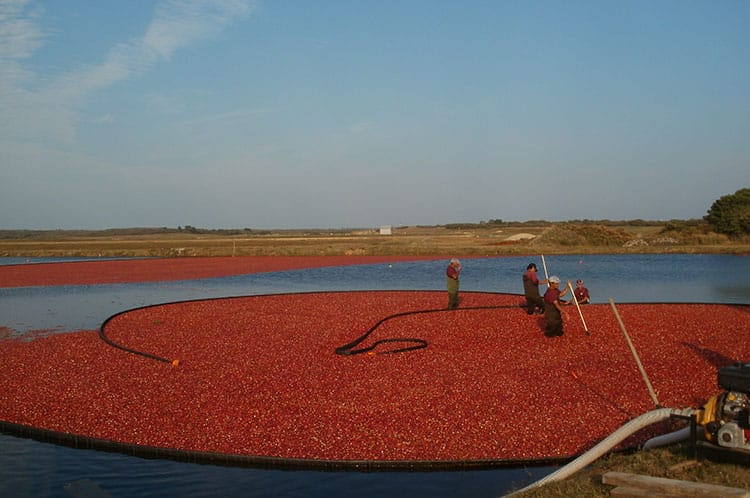 The Nantucket Conservation Foundation's 11th Annual Cranberry Festival will have approximately 880 million guests of honor. On Saturday October 12, 2013 from 11 am to 4 pm, the little red honorees will be on full display as they are harvested in the traditional way out at Milestone Cranberry Bog.
Festival goers will have the chance to learn about the history of cranberry farming on Nantucket, and take tours of the bog either with a guide or alone. Kids and parents can participate in fun activities like sack races, face painting, hay rides, sheep shearing demos, and a petting zoo featuring farm animals. Barnaby the Bear will be present to meet kids and sign copies of his book Barnaby and Wood Lily. Everyone can enjoy live music against the spectacular autumn scenery of the bog at its peak harvest time.
There will be plenty of food, including BBQ, snacks, drinks, and various cranberry treats available for your enjoyment. Or you can spread a blanket out and enjoy your own picnic while you watch the activity and enjoy the live music. Of course, cranberries themselves will be available for purchase. Don't be afraid to buy them for this year's Thanksgiving feast as freshly harvested cranberries keep very well in the freezer.
Never been to the Milestone Bog? No fear. Here's how to get there from town: at the Rotary head east on Milestone Road toward 'Sconset. At 4.2 miles from the Rotary there will be a brown rock on the left hand side of the road with the number 220″on it. Continue on Milestone Road for another 100 yards and turn left. Admission is free; parking is $10 per car. Keep in mind that this is a working farm and that there is heavy machinery and equipment operating throughout the Festival area all day.