Celebrate with the Artists Association of Nantucket (AAN) this Friday, June 28 from 5:30 to 7:30 pm, when they host a festive reception for Folk Tales to Fine Art: A John Lochtefeld Retrospective. On exhibit since June 3 in the AAN Visual Arts Center at 24 Amelia Drive, the show celebrates the life and artwork of long-time Nantucket artist John Lochtefeld.
"This retrospective exhibition in John's 50th year on Nantucket will delight everyone in the family with his whimsical subjects, where he often uses maritime subjects," said Robert Frazier, AAN's Artistic Director. It is an honor to put together this exhibition with a wide range of his work: woodcuts, intaglio prints, watercolors, oils, and sculptures in wood, along with John's quotable wisdom." Speaking about his art, John Lochtefeld says, "My work often has the quality of folk tales, but they are my tales." His art is rich with the images of the unconscious and the fanciful.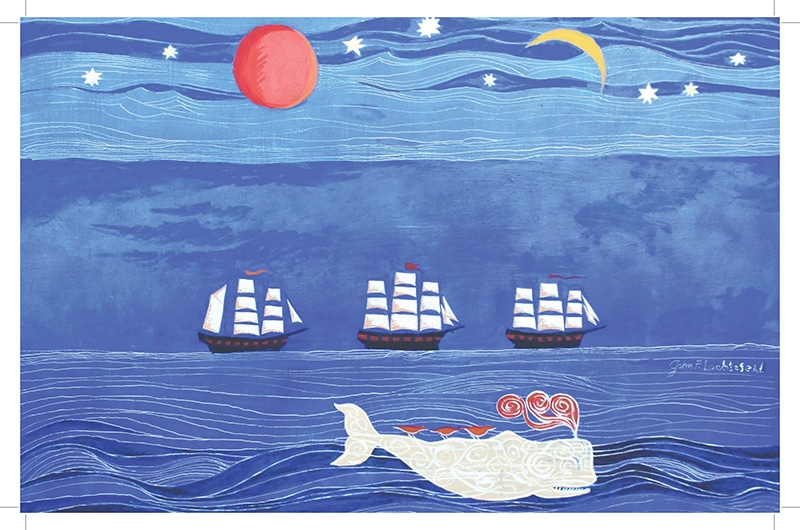 John Lochtefeld has been painting and printmaking on Nantucket for 50 years and Fair Street has been his home since 1973. Living year-round on Nantucket for 29 years, Lochtefeld can be found six days a week (during the summer) in his studio, working on new paintings or carving one of his wooden sculptures. He displays his art in his Fair Street gallery, Old Spouter Gallery, and in AAN's Cecelia Joyce and Seward Johnson Gallery.
"We are thrilled to host this show of the work of Nantucket icon John Lochtefeld. He has been a talented and steadfast artist member since 1969, and we are lucky to have his artwork grace our gallery walls all these years," adds Courtney Bridges, AAN's Executive Director.
The exhibition will run through early September 2019 at the VAC Gallery, 24 Amelia Drive. Hours are Monday-Friday, 10 am to 5 pm.